Ladies, I moved to the idyllic Charleston, SC in March of this past year. I am so thankful I did because it is a girly girl's dream town.
It is everything I ever dreamed it would be and I can't wait to share with you my favorite spots for dining, drinks, activities, sight seeing, shopping, flowers, etc. We have you covered in everything and anything you should be doing while here. I have spent the past almost year working my way through this city and so this guide is not going to be touristy (I don't think)...it will be things that I think a girls or ladies group would want to do or know about while here.
This 2018 Charleston Bachelorette Guide will be a continuous effort where we update it regularly with new additions, delete and edit things so it is up to date always.
So let's shaking bacon. Its time to PARTY Charleston style.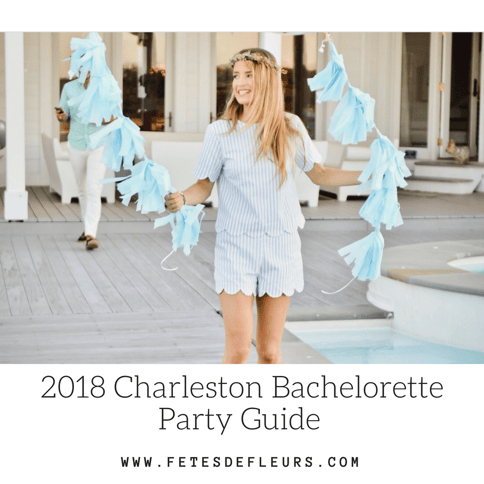 If you know me at all I love a few things: anything girly, pink, wine, flowers, ocean and beautiful architecture. Guess what? Charleston, SC has all of those things and those are some of the reasons why I moved here to start Fetes de Fleurs and my new life as a single woman helping bachelorettes have the best bachelorette parties ever.
If you are looking for a downtown scene with wonderful restaurants, cool bars and lounges for your nights out, great brunches to awaken you and activities on the shore and ocean we have the spot for you, sistah, sistah!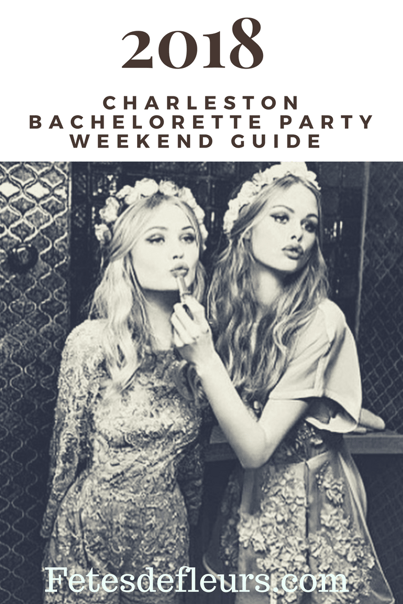 We will be editing and adding in/deleting as we think necessary so stay tuned.
A lot of people tell you to go to Hominy Grill but I think it is a tourist trap and over-rated. You can get a good breakfast at a lot of places that have less lines and are not so touristy. Also, side note- I love you Hominy Grill but I just think there are so many other cooler bachelorette kind of brunch and breakfast spots you can go to. BUT there is a super cool art mural outside of Hominy Grill if you do end up going. PPS- the food here is AMAZING. I just don't like LINES!
Quick coffee/tea shops in Charleston, SC
Dinners out in Charleston, SC on your Charleston Bachelorette Party Weekend
In general I love to follow along on Eater for any city that I am visiting because they always know what's up and have great HEAT MAPS to help you plan out your eating. So I would suggest in general following Eater Heat Maps when planning your weekends away or even in your own city that you live in.
If you are coming to Charleston you can follow the Charleston Eater Heat Maps here.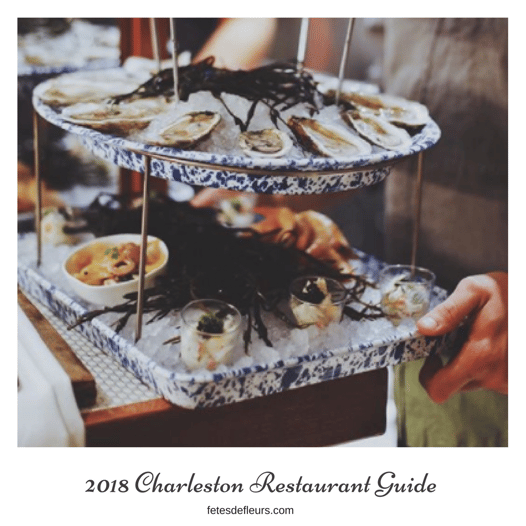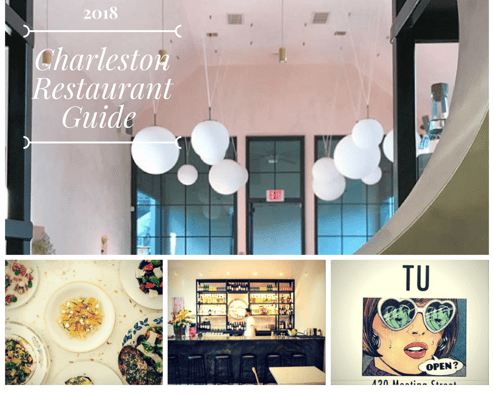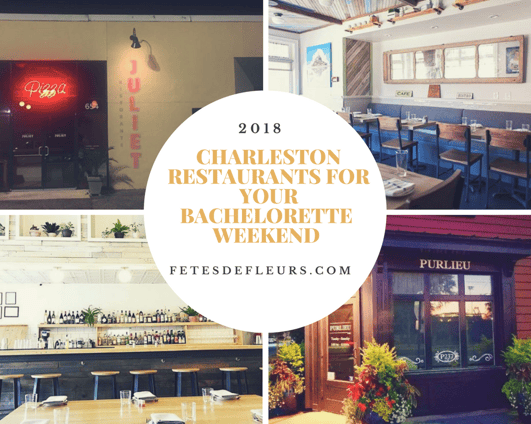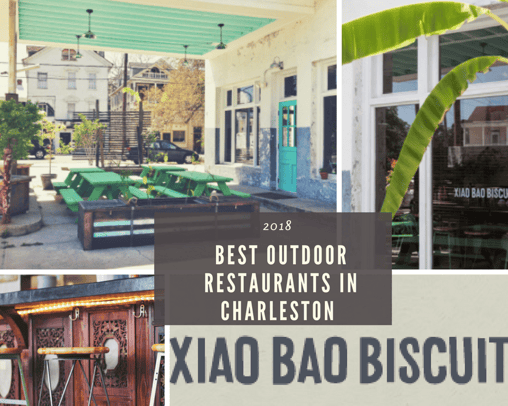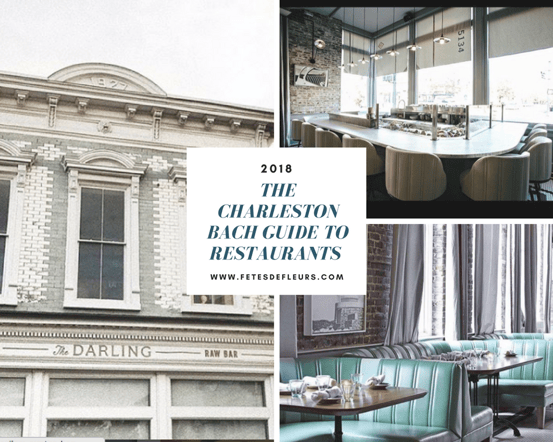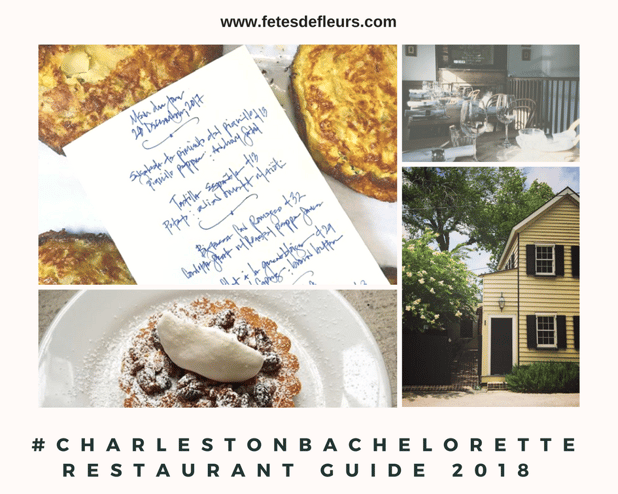 The Best Cocktail Bars for Your Charleston Bachelorette Party Night Out on the Town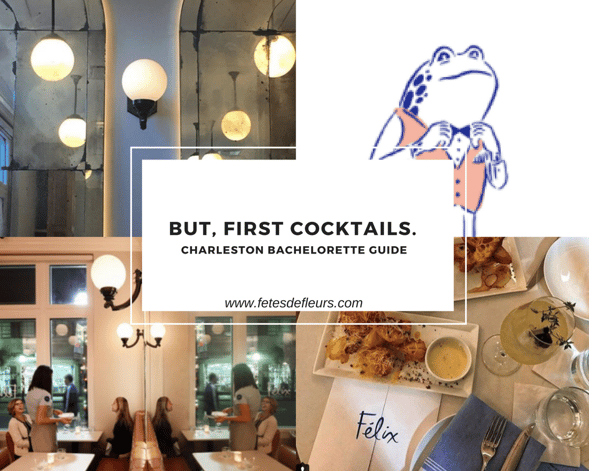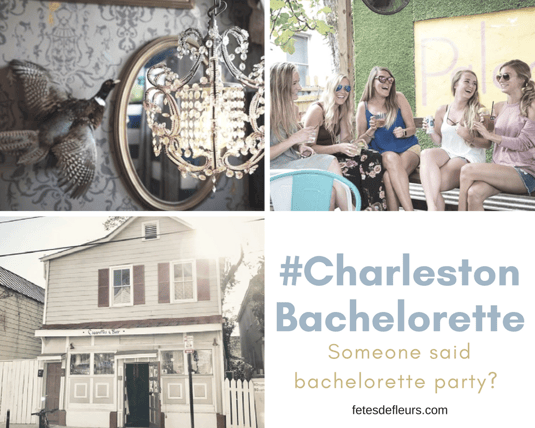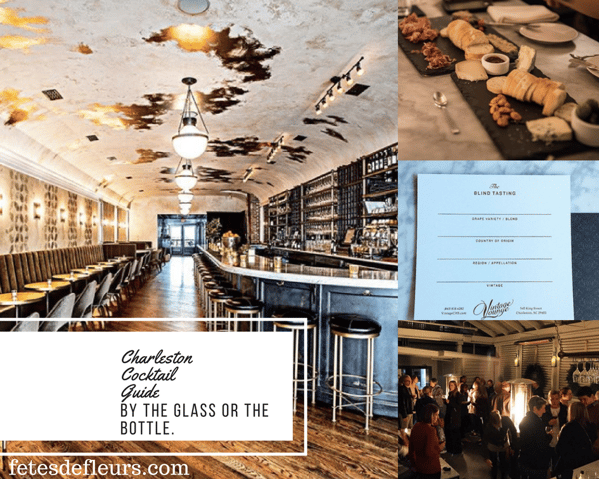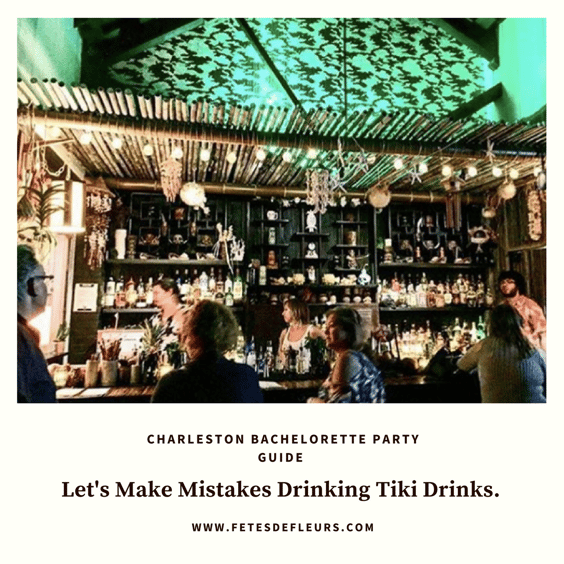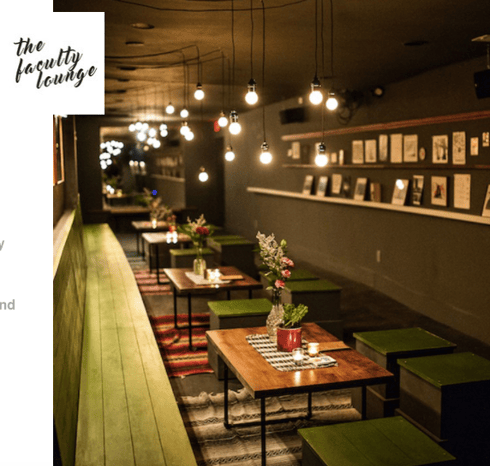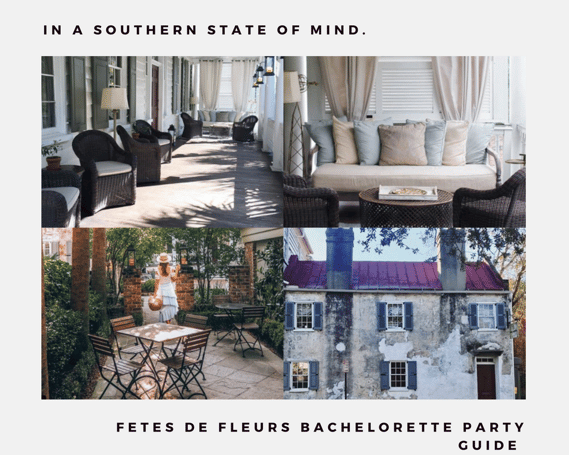 Sweets and Treats for your Charleston Party Weekend: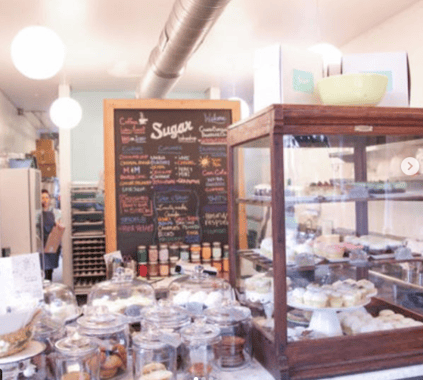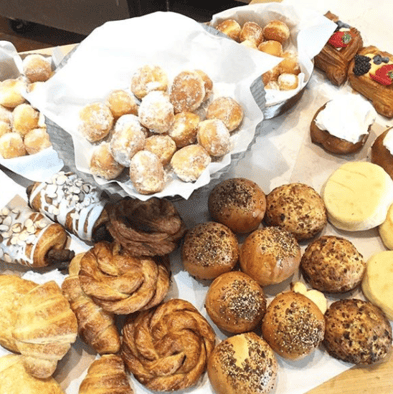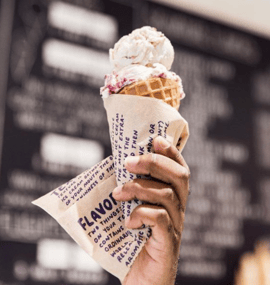 Rooftop Spots to watch Sunset for your Charleston Bachelorette Weekend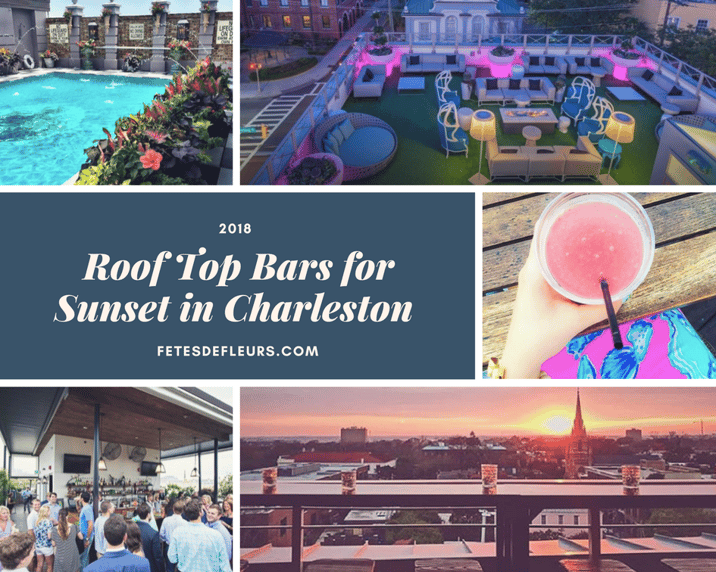 Boutiques to Hit Up on your Charleston Bachelorette Party Weekend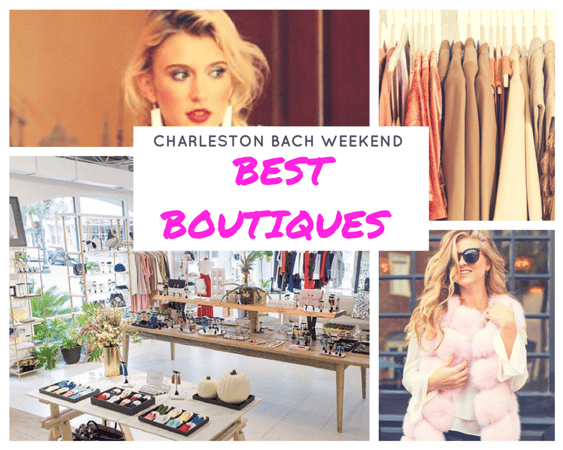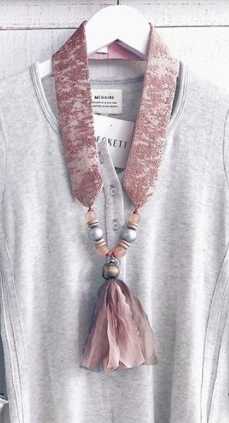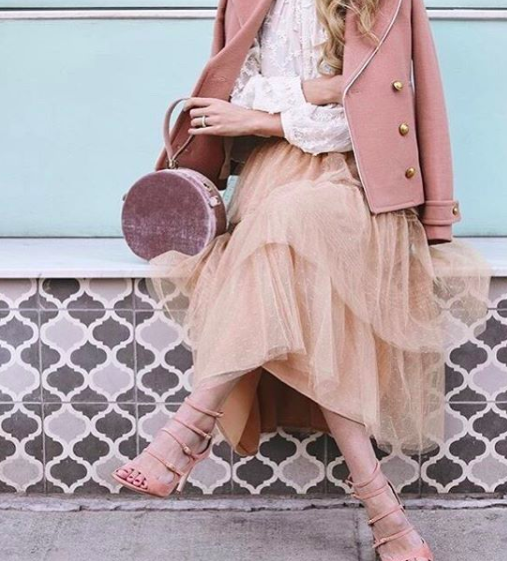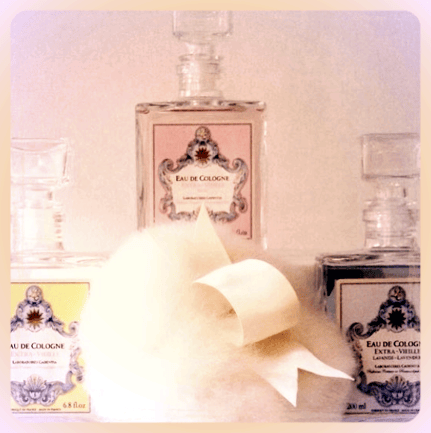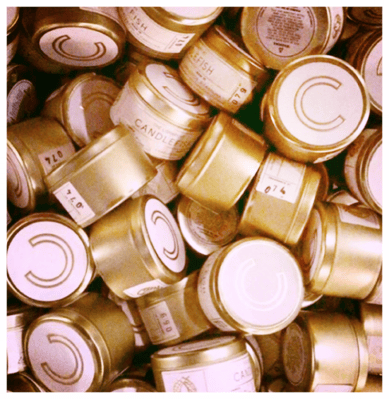 The Best Local Charleston Brands for Bachelorette Party Favors
Tassel Earrings in Charleston are a HOT item. We have the top places for you to get your tassel on with our fave ladies making these chic earrings.
Hart Studio
:
This is not an actual store but you can order her earrings online and also find them in stores here in Charleston including at our friend's over at
Maris DeHart
. Tassel earrings are staple here in Charleston. All the best Charleston bloggers and influencers love them so we think they would make for a great addition for your bride to be or as bachelorette party favors.
How cute would it be to have matching tassel earrings for your bachelorette night out in Charleston? You could also get the white ones or the bride to be or the disco darlings.
She also has a
great Charleston city guide
on her site too that you can check out. If you sign up for her newsletter you get $5 off each set of earrings too so that is sweeet!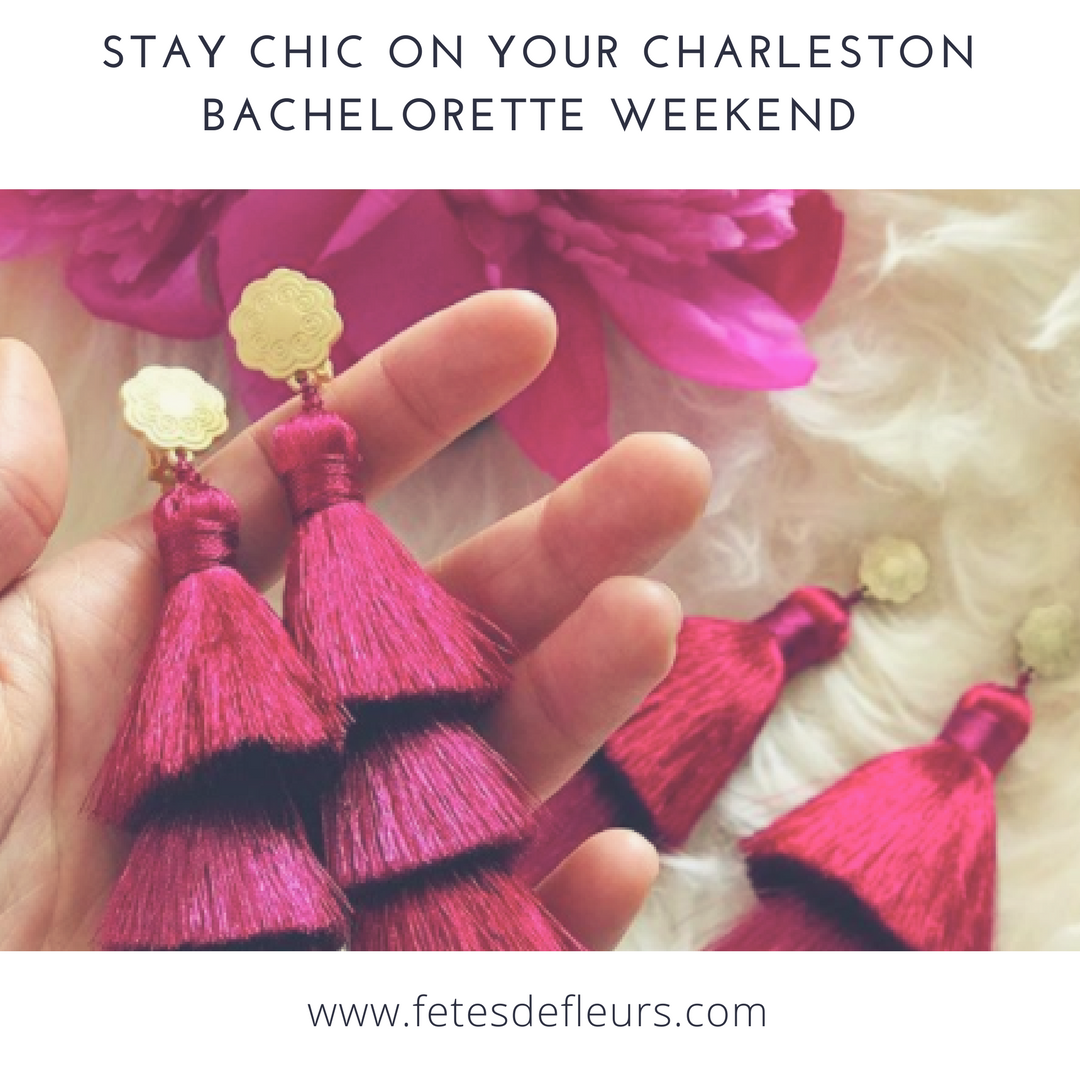 TheTinyTassel
: Our friend Mimi Striplin owns the TheTinyTassel. She is a #GirlBoss here in Charleston and also creates some amazing, cute tassel products that could be great options for bachelorette party favors for the bachelorette group or part of a bigger present for your bride to be.
Tiny Tassel goodies can be found at her shop called
Cannonborough Collective
185-A St. Philip Street Charleston, SC 29403. This is actually in my neighborhood so we highly suggest you check it out. There are great local Charleston makers in this store. You will definitely want to hit this up on your shopping and wandering around Charleston.
We love the hot pink, light pink and white ones. She also has other Charleston made goodies like adorable gingham printed tops, skirts, etc. Check her stuff out along with other Charleston maker products at
Cannonborough Collective.
Cannonborough Collective
: TinyTassel goodies can be found at this store along with other local Charleston makers. You can stop in here while wandering the pretty streets of Charleston. We suggest picking up your balloons here as they have a balloon bar where you can get custom balloons made to decorate your Charleston airbnb or Charleston hotel rooms for the big bachelorette weekend.
Coastal Kelder:
Coastal Kelder is a local Charleston maker who's here to help personalize your bachelorette party! She can make custom tank tops, cups, or sunglasses to match your theme. Or send your friends home with monogrammed oyster shell ring dishes to remember the fun times in the lowcountry!
Suite33
:
My girlboss friend Emily owns Suite33. I met Emily when I first moved to Charleston and we did a photo shoot at my house downtown together. She is gem and she has amazing Charleston made cosmetic cases that you could use as bachelorette party favors for your weekend in Charleston. You can check out
Suite33 here
and her cosmetic cases too.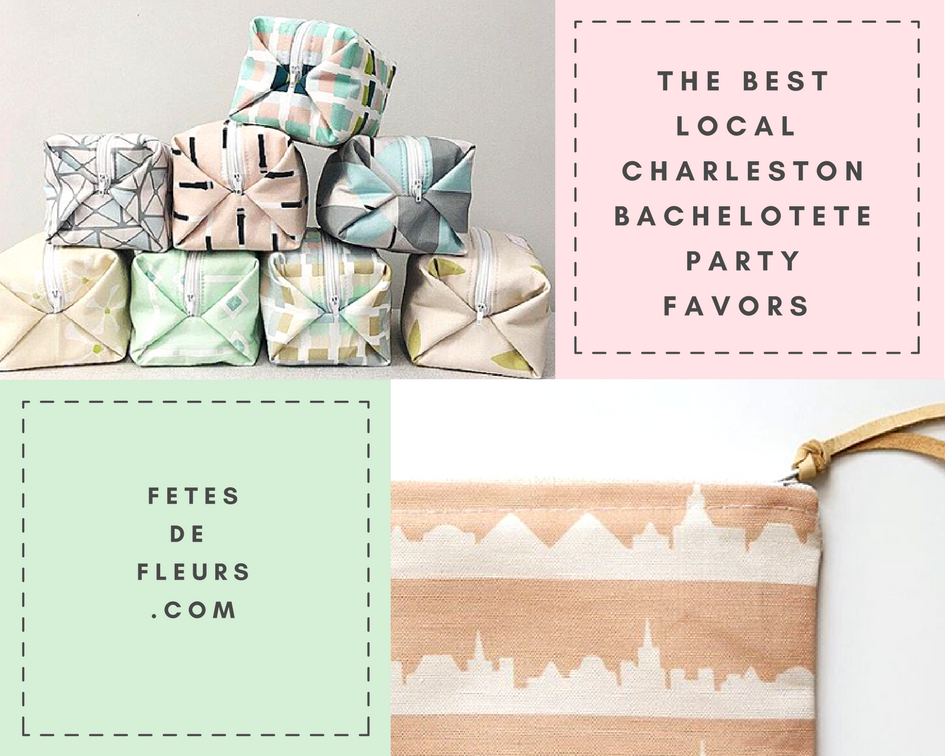 The Blue Root
: My friend Melissa owns The Blue Root. I met her early on in my time here in Charleston because we did a photo shoot together over in Isle of Palms at the most amazing home called
The Bea's Nest
owned by our friend
Mary-Jo from @Port2Palm
.
(Side note and maybe to come in another post, if you need a place to stay while here in Charleston and want to stay in the best home ever we highly, highly recommend The Bea's Nest. If I could live there I would!)
Melissa of
The Blue Root
believes that all special occasions deserve a meaningful and beautiful gift. The Blue Root puts together custom gift sets with Charleston artisans that are dedicated to using the highest quality ingredients and materials to create their goods. All items are thoughtfully selected to create a unique and impressive collection of products that showcase The Holy City. Everything down to the hand crafted keepsake box has been sourced from Charleston.
Wine Bars to get Fancy at on Your Charleston Bachelorette Party Weekend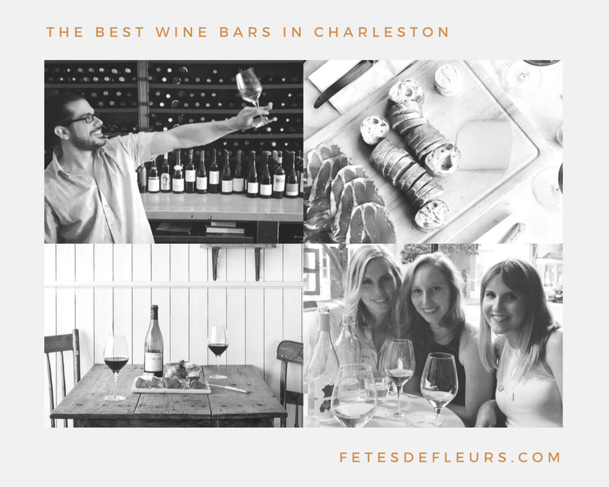 Vintage Lounge: This place just recently opened in Charleston and is definitely a HOT spot. If I was coming to Charleston and liked wine and cheese and meat I would put this on your list. This place is super swanky looking and they have an amazing wine list and champagne list. There is an outside area as well that is just dreamy.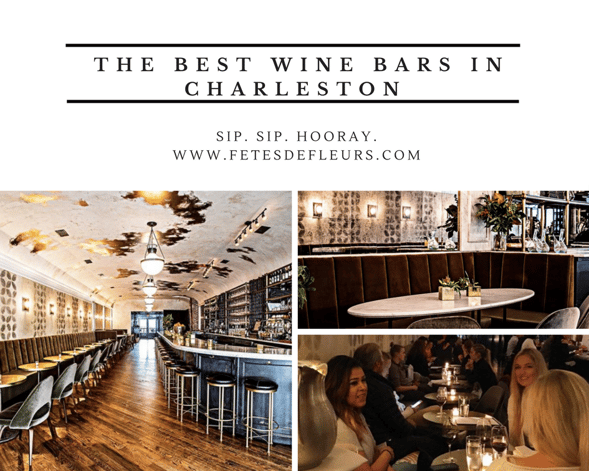 Goat Sheep Cow North: I don't even know where to start on this one. I love it here. Everything about this place screams amazing wine, cheese and meats. Go here and sit outside on the patio. Eat cheese, meat plates and drink all the rose you want.
Wine and Company: This is a really cute place to pick up wine for your weekend in Charleston. They are super helpful here and a sweet couple owns it. You can sit down with your friends here at a table or at the bar and drink glasses or bottles of wine with cheese and meat.
Elliotborough Mini Bar: This is owned by my sweet neighbors. They moved here and bought mini bar this past year shortly after I moved here. It is in my neighborhood and such a great spot to pop into and listen to some live music or a comedy show.
Here you can see me on the right in a flower headband, Pam the owner and our friend who just moved to a different neighborhood. If you like to try good wines and beers I would suggest going here. Also, Pam the owner is the best and she is so so so sweet.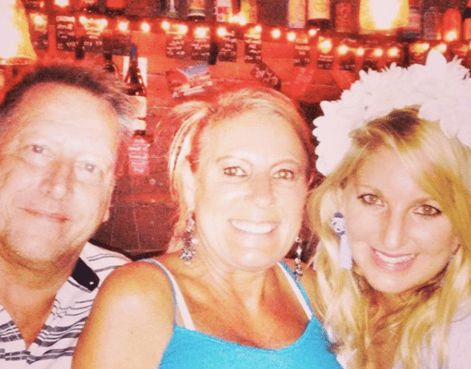 Pour Taproom: This place has the coolest deck up on their roof for watching sunsets and sittting outside soaking in that Charleston sun. You can use their "taps" to dispense wine, beers, etc. You pay by the ounce here, not by the glass. This is the tallest rooftop bar in Charleston and located at the Hyatt on the 9th floor. You open a tab and you start pouring!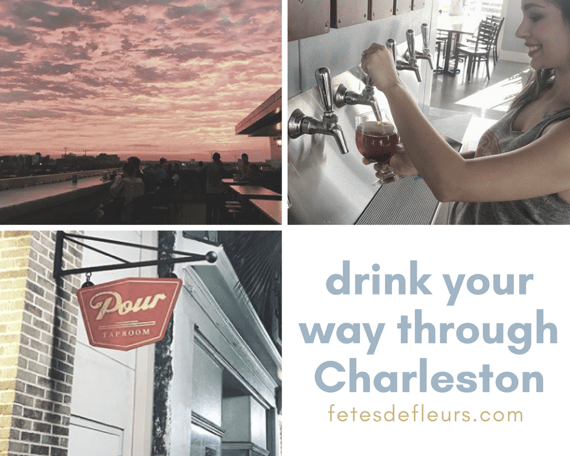 Rudi's Caffe E Vino: Coffee and wine bar located at the Skinny Dip Charleston (also somewhere you should stop in for shopping). Hit two birds with one stone by stopping in here. You can get your shopping on and drink some FROSE on their roof top. If you want to have a bachelorette party up on their outside patio you can book the patio for $50. For $50, you get the space to yourselves, the bride gets free Skinny Dip swag, and your party gets 10% off their purchase at the Skinny Dip! Sounds like a good deal to me! They also have a cool flower wall at Skinny Dip that you can take a picture in front of. If you need flower crowns as part of your bachelorette party just ask us and we can get you all dolled up for your visit to have some frose.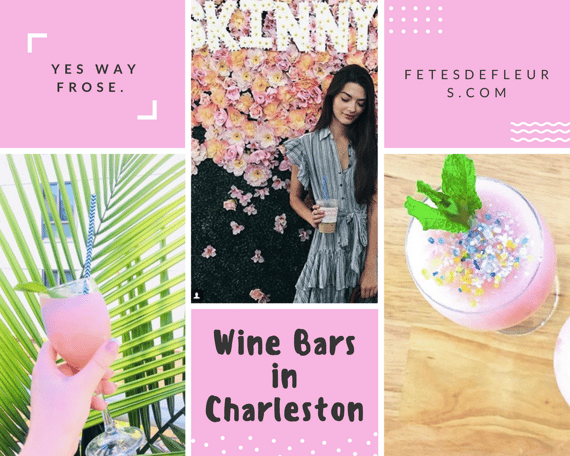 Where to Get Your Beauty on for your Charleston Bachelorette Party Weekend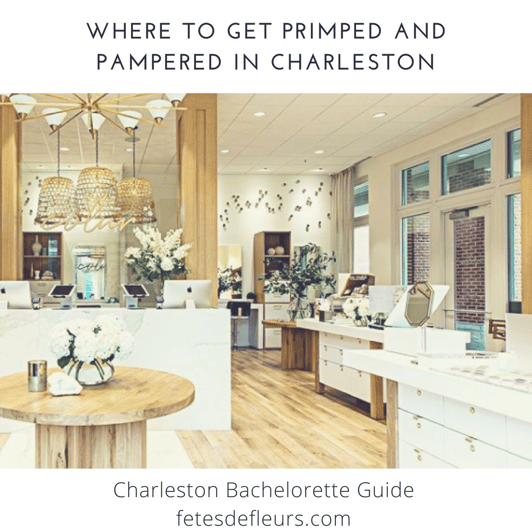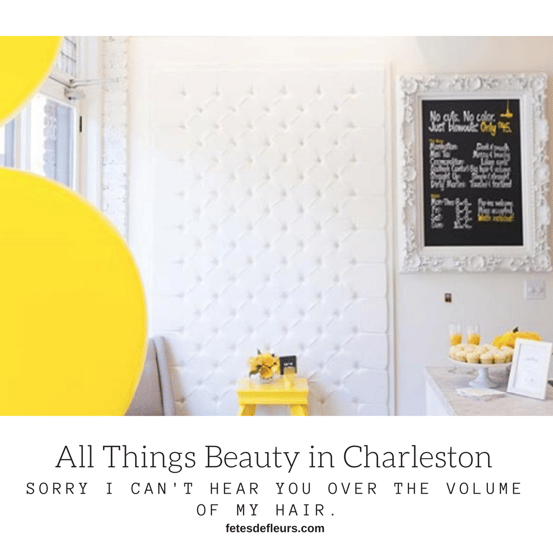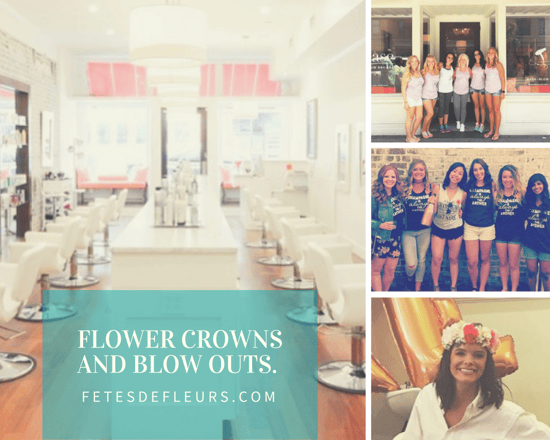 The WoodHouse Day Spa Charleston: Just over the bridge in Mt Pleasant as well we would like to invite you to the Woodhouse Experience. Experience a tranquil, transformational environment that's both memorable and healthful. From beginning to end, their dedicated spa team ensures that your visit enhances your well-being. Upon entering, you're treated to a warm smile, a luxurious robe, and reflexology sandals that release the day's stresses. You'll relax in their Quiet Room, where a selection of specialty, loose-leaf teas begins your journey to relaxation and rejuvenation. Sounds like a dream start or end to a bachelorette party weekend to me. They have girl's getaway weekend packages that you can call their spa about.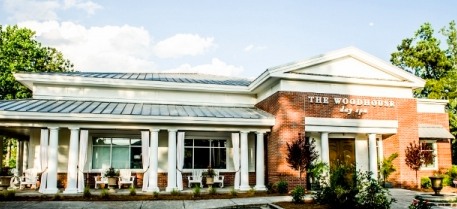 The Dewberry Spa: This is for the bride and bachelorette party that really wants to get their relaxation on in a chic, high end way. RELAX, RESTORE, REJUVENATE
The Dewberry is also a great option for your stay while here in Charleston. But if you aren't staying there that doesn't mean you can't head over for cocktails, or dinner or even spa treatments.
This is a luxe spa in the heart of the Historic Charleston, John Dewberry looked to his own backyard for inspiration. The source, a charming carriage house, set the tone for the hotel's resulting Cypress-lined sanctuary. Handcrafted wallpaper and artwork by Southern masters adorn the relaxation spaces. Inside the five treatment rooms, services developed by renowned spa expert (and fifth generation South Carolinian) Lydia Mondavi draw inspiration from Lowcountry botanicals and marine extracts. To reserve your experience call 843-872-9045 or email spachs@dewberryhotels.com
We hope this line up helps as you plan your Charleston weekend or Charleston bachelorette party weekend. If you have questions about anything at all just email us at ali@fetesdefleurs.com. We hope we can add in a flower crown party to your Charleston bachelorette weekend activities. Could be a great combination with a spa treatment or beauty service at one of these fine places in Charleston.
Follow along on Instagram at #Charlestonbachelorette. We can't wait to flower party with your for your Charleston bachelorette party here.
If you are looking for more help than just this we have 2 lovely friends who run bachelorette party planning businesses here in Charleston that you should check out: