Request More Information on an Atlanta Flower Party Here.
---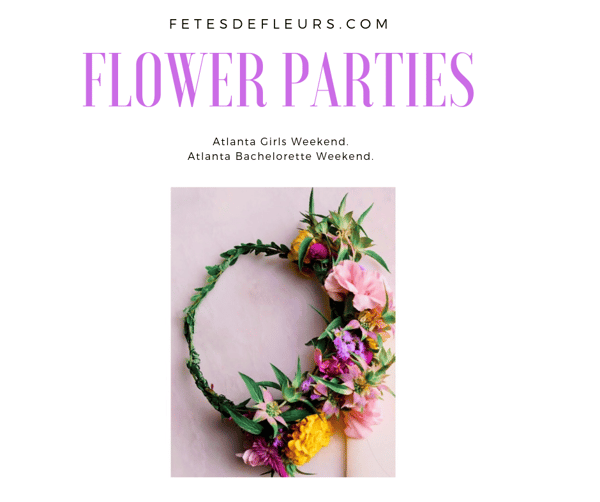 BABES WHO BRUNCH: WHERE TO BRUNCH ON YOUR BACHELORETTE PARTY IN ATLANTA
---
Atlanta is home to hundreds of restaurants with equally as exciting brunch menus to pick from! To make your decision easier, I have found the best brunch spots in Atlanta for you and your girls to head to while here in ATL.
(Fun fact: ATL just passed the Brunch Bill or "Mimosa Mandate" allowing Sunday alcohol sales to start at 11AM!)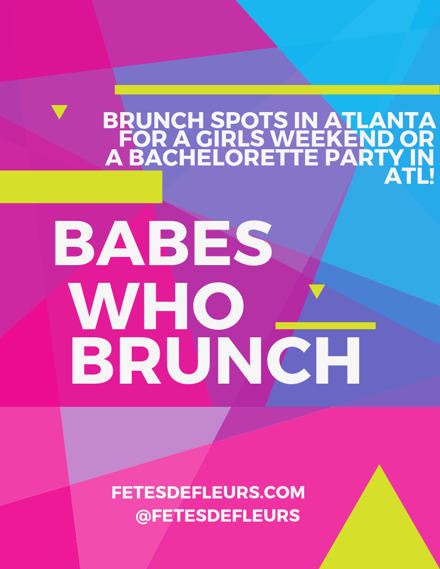 THE HOTTEST HOTELS IN ATLANTA FOR YOUR LADIES WEEKEND OR ATLANTA BACHELORETTE PARTY!
---
Atlanta is an up and coming hot spot for bachelorette party weekends and girls' weekends! Here at Fetes de Fleurs we will come to your hotel room or a spot in your hotel to setup a flower bar for a flower crown workshop or a flower arranging class for you and your bride tribe or ladies weekend in the ATL. If you are interested in learning more about how a floral party works in the Atlanta are just fill out the form here.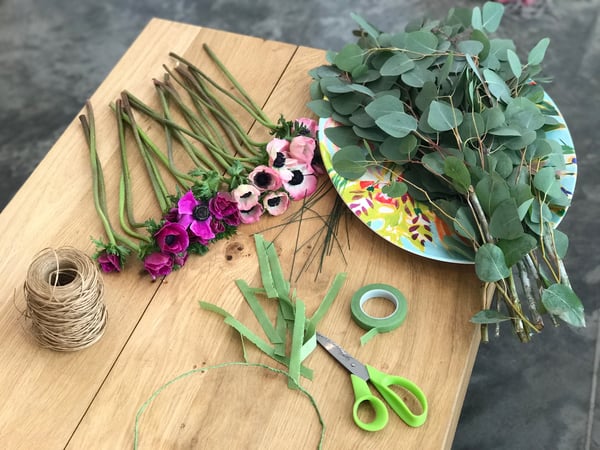 WINE BAR ATLANTA: THE BEST PART OF AN ATLANTA BACHELORETTE PARTY WEEKEND
---
There is no better way to celebrate a special bride to be or a special friend than with a fun flower crown workshop over a glass of wine (or two)! Fetes de Fleurs has the flower crown part covered and I have found some of the best wineries/wine bars in Atlanta for you to wear your flower crowns to and drink some vino. We would be happy to head to one of these wineries too and do your flower crown workshop over some wine, too.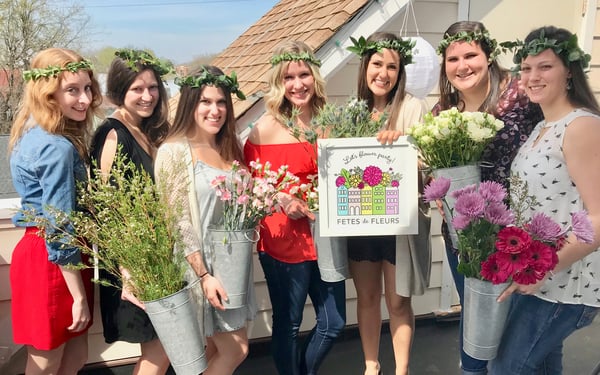 ATLANTA BACHELORETTE PARTY: THE GIRLY THINGS TO DO IN BUCKHEAD
---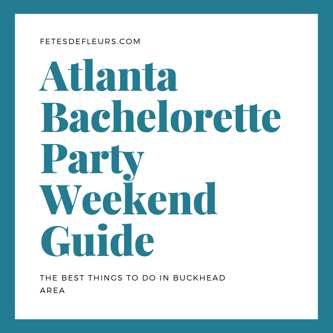 Buckhead is a trendy spot in Atlanta and is home to some of the best restaurants, bars, hotels, and things to do while here for your Atlanta bachelorette party! I have pulled together a list of the trendiest places in the Buckhead neighborhood for you and your gal pals to visit while here on your girls weekend in Atlanta or a bachelorette party in Atlanta.
FUN THINGS TO DO FOR AN ATLANTA BACHELORETTE PARTY
---
Hey ladies! This is Emily Aaron, your Atlanta flower party hostess. We hope you are finding our posts about the Atlanta area helpful as you plan your bachelorette party weekend in Atlanta. We add all of our posts about things to do in Atlanta for your bachelorette party here on our Atlanta Bachelorette Party Guide - so check it out if you are planning an Atlanta bachelorette party weekend!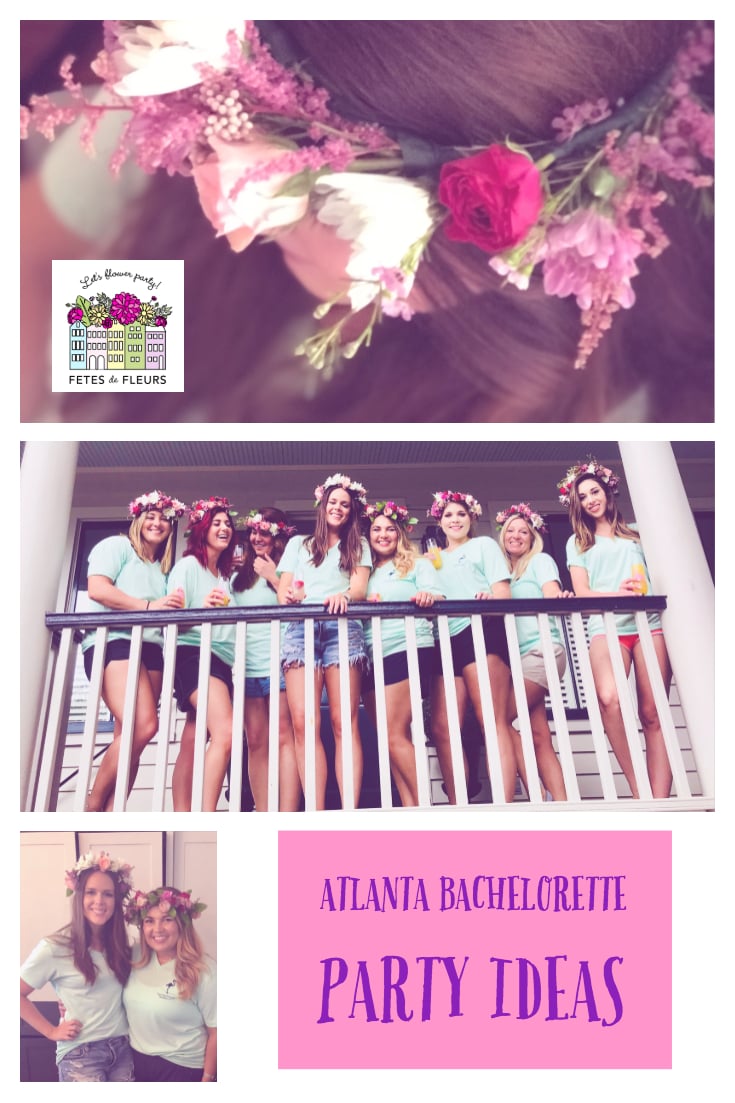 THE CUTEST ATLANTA BACHELORETTE PARTY THEMES FOR A 2019 BACHELORETTE PARTY WEEKEND
---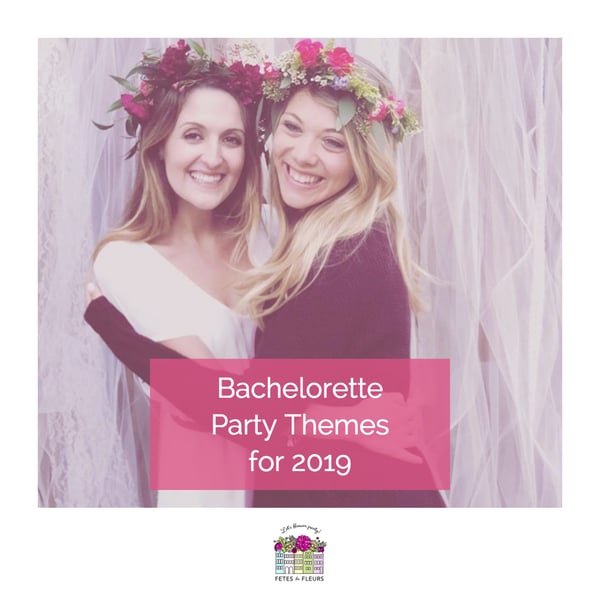 If we're being completely honest, the bachelorette party theme is the most important! It is what makes a party a PARTY! I have picked some of my favorite bachelorette party themes and put an Atlanta twist on them for your party planning purposes. Keep reading to explore the best bachelorette party themes for a bachelorette party in Atlanta!
THE BEST ATLANTA BOUTIQUES TO SHOP AT ON YOUR ATLANTA BACHELORETTE PARTY WEEKEND
---
If you're like me, you LOVE shopping! I love to shop for anything- clothes, shoes, purses, makeup, etc. You are in luck when planning your Atlanta bachelorette party because we have some GREAT shopping.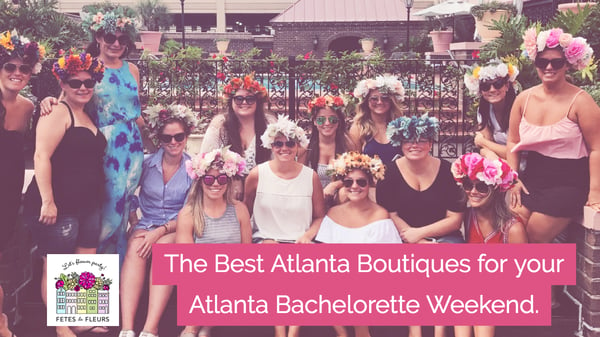 THE BEST DAY SPAS & SALONS IN ATLANTA FOR A RELAXING BACHELORETTE PARTY IN ATLANTA
---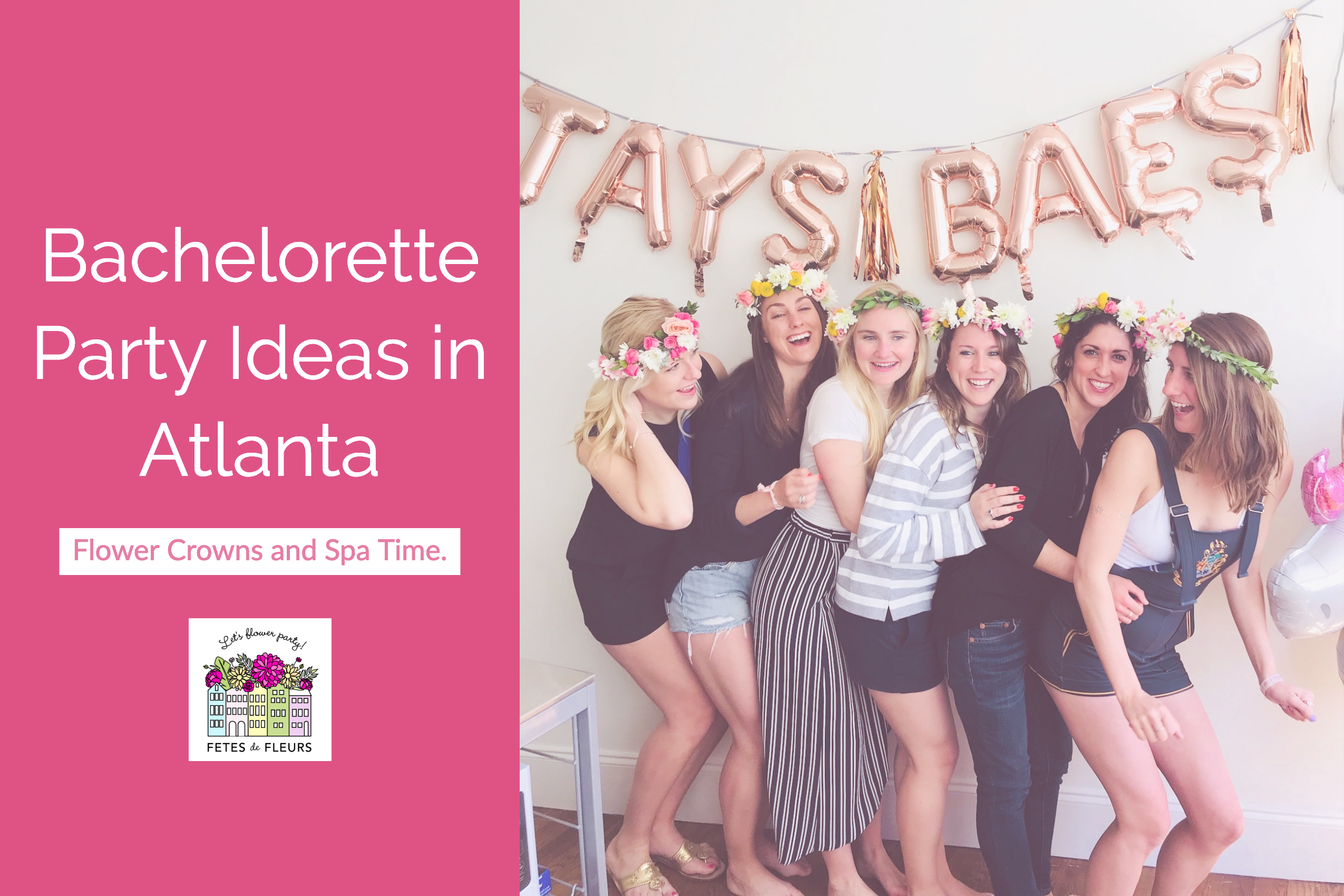 While Atlanta is home to some fun and exciting attractions and nightlife, it also houses some great spas and salons. These are the perfect spots to visit with your girls for some relaxation and pampering for an Atlanta bachelorette party or girls weekend!
HOW TO HOST THE CUTEST GALENTINE'S DAY PARTY WITH A FLOWER CROWN WORKSHOP
---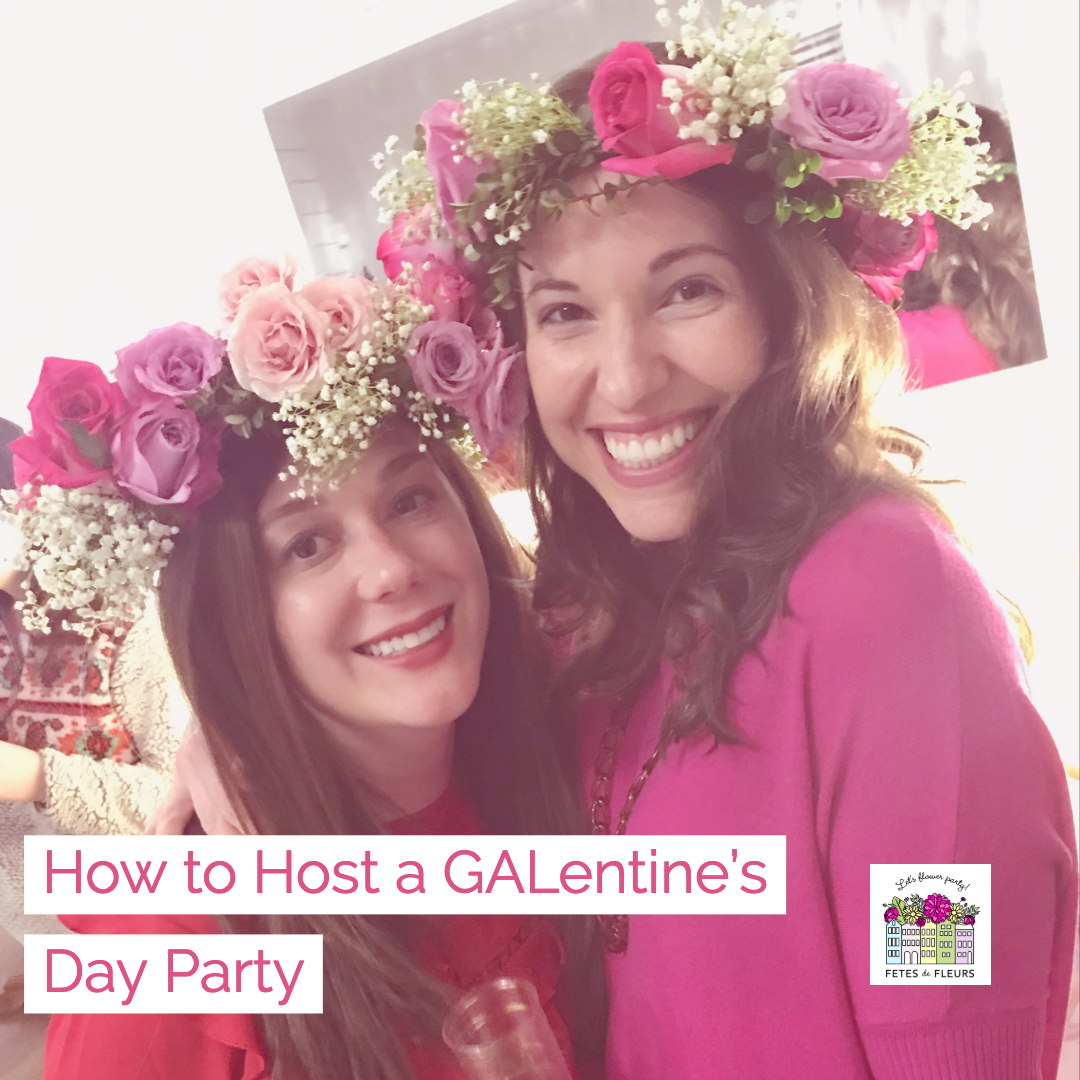 Fetes de Fleurs hosted its first flower crown party in Atlanta last weekend! It was filled with fun, laughter, pretty flowers, and even a cute feline friend. We recap all of our parties here on our blog so if you ever want inspiration for your own flower crown party to see how they work you can read those here. :) Keep reading to see how the first ATL Fetes party went!

OUR FAVORITE ATLANTA BREWERIES TO SPEND YOUR BACHELORETTE PARTY IN ATLANTA OR LADIES WEEKEND IN ATLANTA
---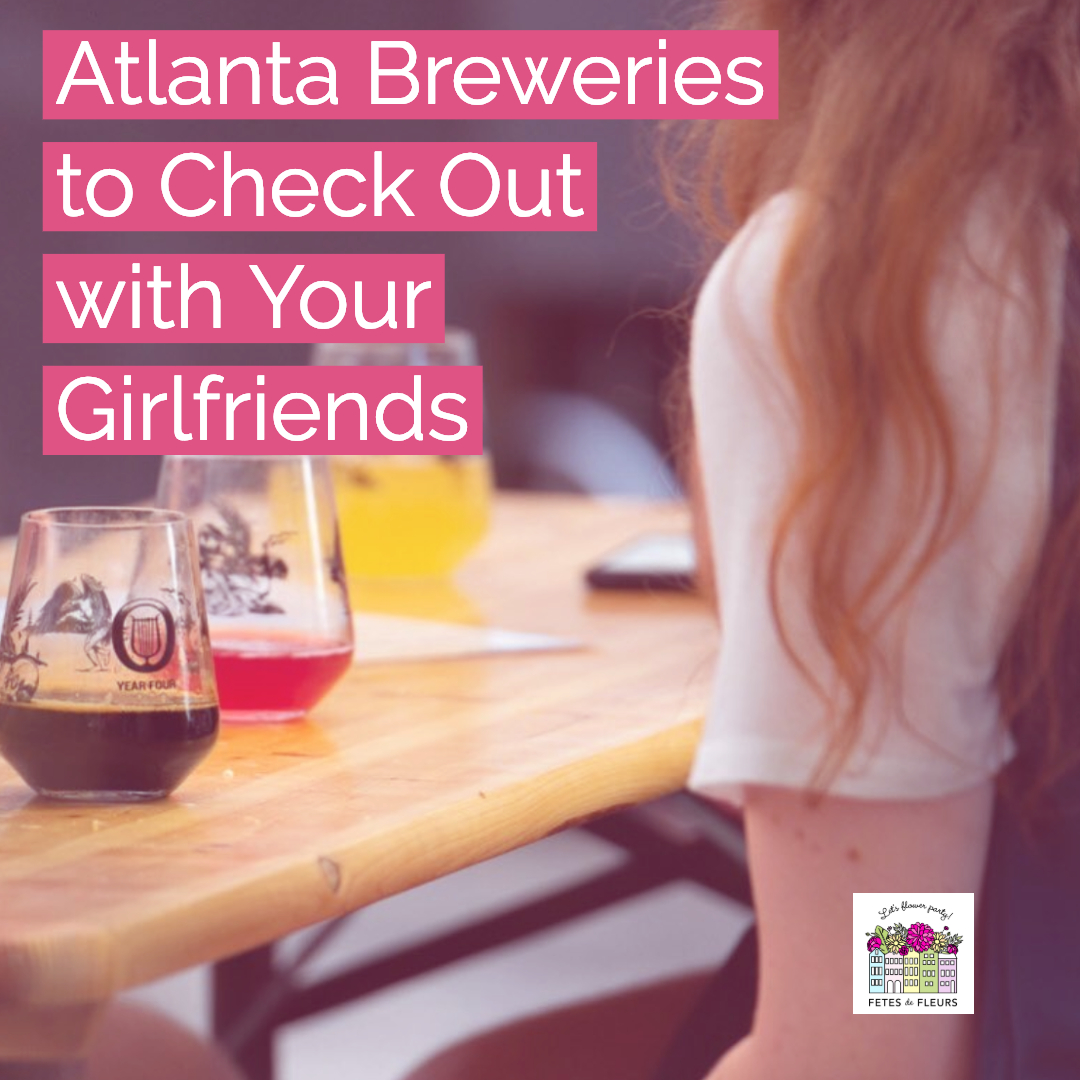 Atlanta has so much to offer for a bachelorette party or girls' weekend! From the food to the drinks to the entertainment, there is something for everyone. If you and your girls are into trying new craft beers or even sticking to the same one, Atlanta has some great breweries for you to put on your google map favorites! If your gals are more into wine, check out my other post about the best wine bars in Atlanta. Below are some of the BEST places to grab some brews for your Atlanta bachelorette party!