Bacheloretees.
Champagne.
Lipstick.
Charleston.
We had the pleasure of working with a group of 10 ladies celebrating their bestie who is getting married in Florida in September this Saturday afternoon here in Charleston, SC. They wore the cutest t-shirts that said: Bachelorettes & Champagne & Lipstick & Charleston! So so so cute! I loved these girls. They had a flower theme going for the whole bachelorette weekend here in Charleston complete with the t shirts they wore that Saturday while shopping on King Street to flower garlands around their Charleston rental house and a flower photo background that they hung on the wall for their photos.
We thought we would share some of the photos from the Charleston bachelorette party as well as answer a few questions that bachelorette groups tend to ask about our flower crown parties when planning their bachlorette weekend in Charleston.
How does the real flower crown making party work?
We book the party ahead of time via email. We will answer your questions via email or phone leading up to your bachelorette weekend. Anything and everything you have questions about just send them to me at ali@fetesdefleurs.com. We will work with you to customize your flower crown making party to work with what you want the party to be like.
You can fill out this form here on our bachelorette party landing page to let us know you are interested. From there we will email you a couple of questions and then once you are ready we will book the flower crown party by sending you an invoice via Square. Typically we have one person in the bachlorette party pay the invoice. You can have your girls Venmo you. We then book the party by confirming and sending you an invite for the date/time that works for both of us. Once it is on our calendars we are all set. You sit back and relax until your weekend here in Charleston celebrating the bride to be.
How long do flower crown making parties last?
Typically we will book 2 hours for the flower crown parties.
We arrive at your Airbnb, your hotel or wherever else we have decided the flower crown party will be held about a 1/2 hour before the start time so we can setup.
We setup the flower crown bar typically on a table that you have at the location we are doing the bachelorette party at.
We will need a space to be able to lay out the greenery, put the flowers out, as well as all the supplies to make the crowns including scissors, floral wire and floral tape.
A table typically works well. You will either want to stand while making your crowns or sit. So having room for the flowers, greenery, supplies and of course yourselves is good!
What happens the week before the flower crown party?
A week or so before your scheduled flower crown making party we will email you to confirm the amount of people doing the flower crown class. If you need to add anyone in we can do that at this time.
We will also want you to tell us if there is a color theme for your Charleston bachelorette weekend so when we source the flowers for your flower crown party we pick the colors you want!
We typically ask for 2 colors that you want us to try and work with. We work with local South Carolina flower farmers when we can and if not we source from Mayesh and Charleston Wholesale Florist.
How much does a bachelorette flower crown making party cost?
We charge $50 per person.
We also provide Rose to drink and sip on while making your flower crowns.
(If for some reason the list price of $50 per person doesn't work for your group we can of course negotiate and try to come to a comfortable price for your group and us).
What time slots do the bachelorette parties typically book the flower crown parties for?
Usually the flower crown parties take place on Friday night when the bachelorette group gets into Charleston or on Saturday morning (brunch class), afternoon class or evening class on Saturday. We also can do Sunday morning send off brunches.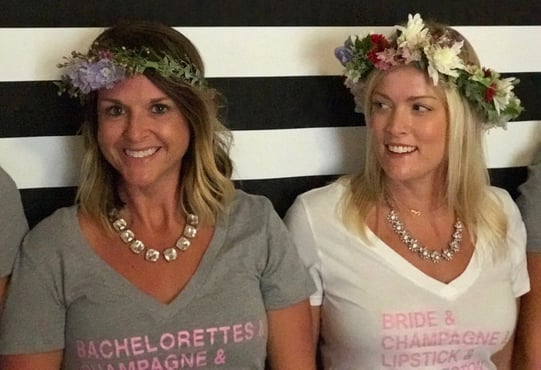 Typically the ladies will book the flower crown classes for that Friday night when they get in so they can wear the flower crowns out that night out on the town. Another popular time slot is a flower crown brunch on that Saturday morning before heading to the beach or whatever else you have going on for your bachelorette weekend. We also do afternoon time slots after you have had your time at the beach or shopping on King Street. Saturday night before you go out on the town is also a popular time slot to do the flower crown party.
We can't wait to flower party with you on your Charleston Bachelorette Party!