Thinking of coming to the fine city of Charleston, SC for your bachelorette party? Here are my tips for if you are thinking of coming to Charleston, SC area for your bachelorette party.
Where to stay for your Charleston bachelorette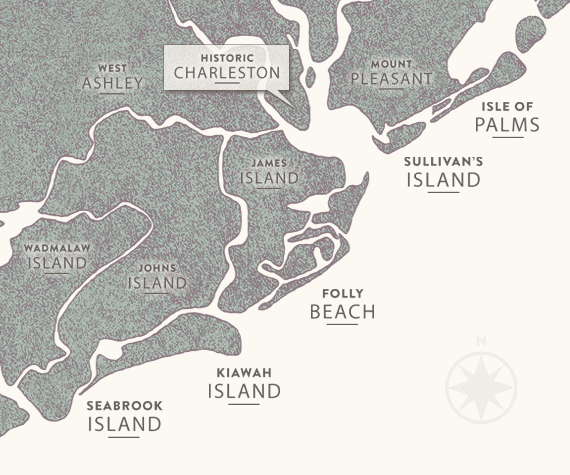 Above is a great map from Charleston Beaches website.
What area are you going to stay in?
Do you want to stay downtown Charleston?
Do you want a city bachelorette party or a beachy bachelorette party?
Areas of Charleston, SC to consider for your Charleston Bachelorette Party
Downtown Charleston
Isle of Palms
Folly Beach
Sullivan's Island
Kiawah Island
The cool part about hosting your bachelorette party in the Charleston, SC area is that you have options on where to stay or go during your weekend here. Think about what you want out of your bachelorette weekend here.
Do you want beach for the whole weekend?
Or do you want to be in the city downtown so you can walk to restaurants and bars?
Hotels
There are so many great hotels here in Charleston and the surrounding areas. There is a really great website that I would recommend using when planning your weekend away in Charleston, SC area. Explore Charleston is the best site for figuring out where to stay, what to do, activities, etc. Here is a list on their site of upcoming events in the Charleston, SC area.
Here is a list of my favorite hotels in downtown Charleston, SC.
I love this place. When I first started researching moving to Charleston, SC this is where I stayed. It is a beautiful hotel right in the middle of downtown with lovely, big, spacious rooms with a really cute bar downstairs.
First of all Zero George is BEAUTIFUL. I checked this place out after living here for a month or so and let me tell you I love it. It is super, super cute. They also have an amazing restaurant where you can book a cooking class for your bachelorette party here in town.
The rooms are really cool. It's in the BEST area of town. There is a very cool, blogger like coffee bar downstairs as well as a rooftop bar called The Watch.
This place is one of the newer hotels here in Charleston. It is right downtown in a great area. Has a lovely downstairs bar lounge area as well as a restaurant. I hear there is a rooftop deck for people staying at the hotel as well. I think the bathrooms there are some of the most pretty things I have ever seen. Screams good insta posts.
Airbnbs and house rentals
If you are going to stay at one of the beach locations I would highly recommend looking on Airbnb, VRBO, etc for your house. A lot of the houses that I have been to for private flower crown parties during their Charleston bachelorette party weekend are HUGE, have pools, across the street from the beach, and have tons of rooms that are super nice. A lot of the bachelorette parties that I have gone to for bachelorette flower crown parties have been in Isle of Palms. The one thing to think about though is that if you are going to stay at one of the beach locations you need to either rent a car/cars or know that you are going to have to take ubers to get downtown.
Restaurants and Bars
There are so many great options when it comes to food and bars to go to. I would highly recommend following the Charleston Eater website for ideas on what the hot restaurants and bars are so you can make reservations at them.
There are certain places that seem to be staples for your Charleston Bachelorette party weekend but I honestly don't know why. I kind of prefer the hotter restaurants as opposed to the restaurants here that people say you have to go to while here on the weekend.
Each month Charleston Eater comes out with their hot list of restaurants that people are going to. It is called the Heat Map and I think they are the best ways to find yourself at the right, hot restaurants in Charleston while you are here on your bachelorette weekend. Of course you can go on Yelp, OpenTable and TripAdvisor to find what restaurants you want to hit up. Make sure that you plan ahead so you can get reservations at the spots you want to hit up.
Goat Sheep Cow North: Go here and sit on the patio outside for great wine, cheese and charcuterie.
Pancito and Lefty: This place is adorable. It opened this year after I moved here and has the cutest hot pink walls and really great mexican food and margaritas. There is also a super cute outdoor area here that you should go to.
Leon's Oyster Bar: Do you like fried chicken and oysters? Do you like cute spots with the best outdoor area? Then go here. The area where Pancito and Lefty and Leon's are located is all in the same little spot so you can walk from one bar/restaurant to the next. They have 2 frozen drinks too including Frose and Gin and Tonic which is fun!
Edmund's Oast: This is in another cool area of Charleston with lots of cool bars and restaurants that you can go to. This place has a HUGE outdoor area with great beers and wine options as well as a fabulous happy hour menu with little bites.
The Daily: Go here on Sunday morning before you take off from Charleston. It has great breakfast options wth the CUTEST outdoor area.
Butcher and Bee: Go here for breakfast or brunch on Saturday day and sit outside. They have such a cute outdoor space with really great food.
Callie's Hot Little Biscuit: You have to get biscuits while you are here so you might as well go here. Also, it was started by a woman so you should go there.
The Belmont: Best spot for nice drinks out.
Stella's: This is in my neighborhood and I love, love, love it here. The best greek food. Highly recommend this place, it has a super, super cool wrap around bar too which I love.
Activities for your Charleston Bachelorette Party Weekend
Well I know I am biased because I run Fetes de Fleurs but if you are planning on coming to Charleston, SC area for your bachelorette party you should plan to incorporate flowers into your special weekend here.
For your Charleston bachelorette party weekend we do flower parties that include:
Flower crown making party
Flower arranging party
Flower letters creation party
Flower jewelry party
Flower hairpieces party
Really if you can think of something creative to do with flowers we can help you do this on your Charleston bachelorette party weekend. If you want to plan your Charleston bachelorette party weekend with a flower party please contact me here.
There are so many great stores and shops here in Charleston too. Charleston is filled with creative women who make products that you can bring home.
Some of my favorite shops that you have to hit up while here in Charleston are:
We have all the normal stores too that you might want to hit up but those are my favorite boutiques right now. There are tons of stores, so just walk down and up King Street and wander into the stores on the main drag and on the side streets.
We also have a DryBar that you might want to book an appointment at for your bachelorette party weekend. They have a whole upstairs area that can be booked out for your Charleston bachelorette party. We can bring over flower crowns too to top off your beautiful hair.