THE 2018 TOP BRUNCH AND COFFEE SHOPS FOR YOUR CHARLESTON BACHELORETTE WEEKEND
BACHELORETTE PARTY FAVORS FOR YOUR CHARLESTON BACHELORETTE PARTY FROM LOCAL CHARLESTON MAKERS
We are so lucky to call Charleston, SC home. There are so many amazing things to do, things to see and activities to take part in here in the low country. As you start to plan your weekend in Charleston we wanted to put together a guide that will help you in your planning. In this Charleston Bachelorette Guide we have everything from brunch spots to dine at here in Charleston to Coffee Shops to the best places for cocktails and dinners.
This Charleston weekend guide would not be complete without a section just for the local Charleston makers. We think their products would be great bachelorette party favors for your Charleston weekend. We love adding in some local Charleston love to your bachelorette party favors.
If you are looking to add in local Charleston brands and goodies as bachelorette party favors we have the best line up of local makers for you below.
CHARLESTON BACHELORETTE IDEAS
We moved here in March from Boston and have been working our way in and around bachelorette parties since then. In the process we have tried and done so many fun things that we think all bachelorette parties would want to know about!
We want you to have the Charleston bachelorette party 101 on what you should be thinking about as you plan out your Charleston bachelorette party weekend and your Charleston bachelorette ideas.
A CHARLESTON BACHELORETTE PARTY WEEKEND: COMPLETE WITH REAL FLOWER CROWN MAKING
We had the pleasure of working with a group of 10 ladies celebrating their bestie who is getting married in Florida in September this Saturday afternoon here in Charleston, SC. They wore the cutest t-shirts that said: Bachelorettes & Champagne & Lipstick & Charleston! So so so cute! I loved these girls. They had a flower theme going for the whole bachelorette weekend here in Charleston complete with the t shirts they wore that Saturday while shopping on King Street to flower garlands around their Charleston rental house and a flower photo background that they hung on the wall for their photos.
A CHARLESTON BACHELORETTE PARTY WEEKEND: COMPLETE WITH REAL FLOWER CROWN MAKING
East Coast Bride Celebrates with Charleston Bachelorette Party
FLOWER ARRANGING CLASSES FOR YOUR RELAXED BACHELORETTE ACTIVITIES
Not every bachelorette party wants to well, PARTAYYYYYY all weekend.
Not every bachelorette party wants to do crazy things all weekend.
Some bachelorette parties like to keep is classy, and relaxed.
For those kinds of more grown up, more relaxed bachelorette parties we have the bachelorette idea for you.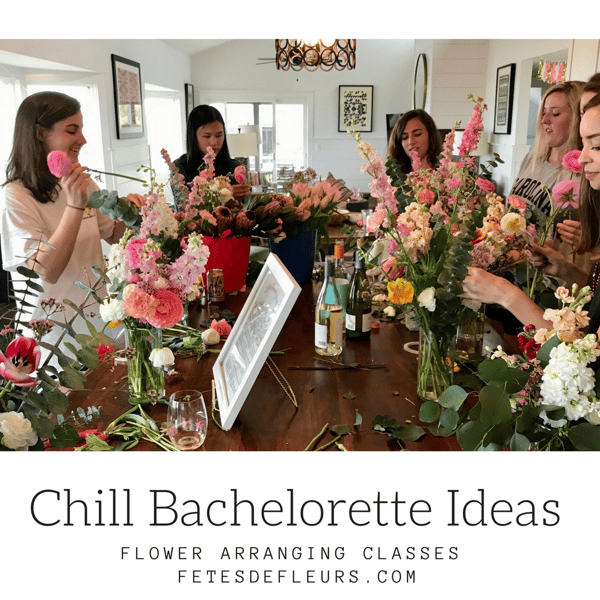 We had the chance to head out to Seabrook Island here a couple of weekends ago to celebrate a classy gal's bachelorette party here in Charleston.
Flower Crown Partying on Isle of Palms
Saturday I got to hang out and make flower crowns with the Bride to Be: Anna, and 10 of her bride tribe friends in the cutest little condo on Isle of Palms! (If you don't know the Charleston area, Isle of Palms or as we Charlestonians call it IOP is one of the three beaches the Charleston area has to offer!)
Now I love a good bachelorette party right in the middle of the downtown Charleston, but can we talk about how perfect having a bachelorette party is that's RIGHT on the beach? We highly recommend checking our Charleston beach Airbnbs as you plan your Charleston bachelorette party weekend.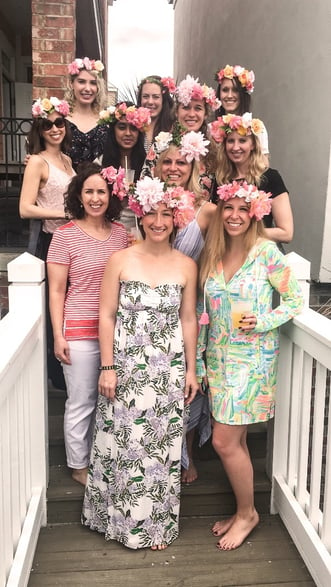 Flower Crown Partying on Isle of Palms
Flower Crowns for a Classy Charleston Bachelorette Weekend
Hi Flower Babes! Toni here, one of Charleston's Flower Crown Party Hosts!
On Saturday my first Flower Crown Party was with a group of ladies celebrating Sahar's bachelorette weekend. This group of laid back ladies booked us through Pop the Bubbly who designs and organizes bachelor and bachelorette weekends in Charleston! We love her company and all she does for Charleston bachelorette parties so check her out if you need more help planning your weekend in Charleston.
You can also check out our 2018 Bachelorette Weekend Planning Guidefor more inspiration on fun things to do around Charleston while here on your weekend.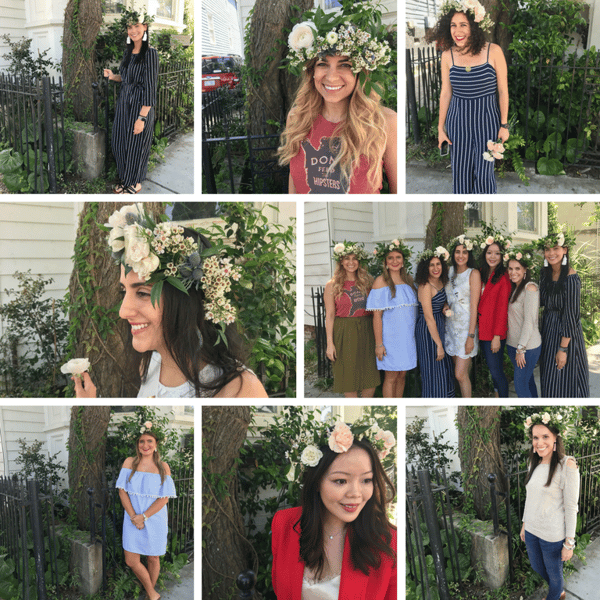 Before & after pictures are a breeze with a group of beautiful ladies adorned with their newly crafted flower crowns!
We always set up our signature Flower Bar and the console table behind the couch was the perfect spot for these ladies to lounge in the living room, sip champagne and create their crowns.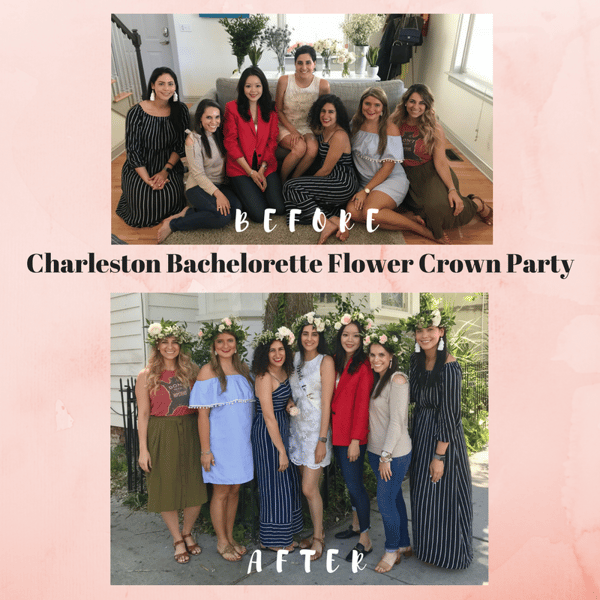 A few more snaps of the girls carefully selecting their flowers and creating their masterpieces!
East Coast Bride Celebrates with Charleston Bachelorette Party
These ladies were so fun to hang out with; a tight knit group of girlfriends and cousins laughed, sipped on Rose and crafted gorgeous flower crowns with some of local SC flower farmers prettiest flowers from our signature Flower Crown Bar.
Angelica's tribe didn't leave one detail out when planning the bride tribe's weekend here in Charleston.
Don't forget to check out our Charleston bachelorette party weekend guide here where you can find all things recapped about our Charleston bachelorette partiesthat we host!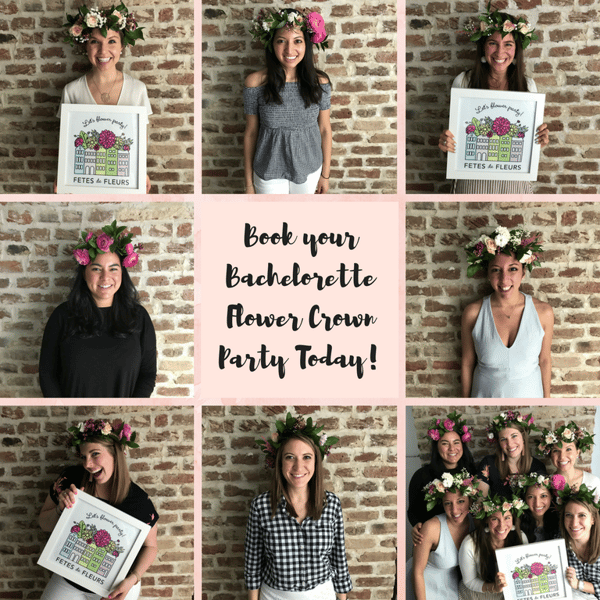 A Downtown Charleston Bachelorette Flower Crown Party at King 583
Hey flower babes - Toni here, one of Charleston's Flower Party hosts!
This past weekend was full of Bachelorette Flower Crown Parties and Ali created gorgeous arrangements for a wedding! I was able to host two parties downtown Charleston and my second one was at the gorgeous King 583 which is a hotel on King Street.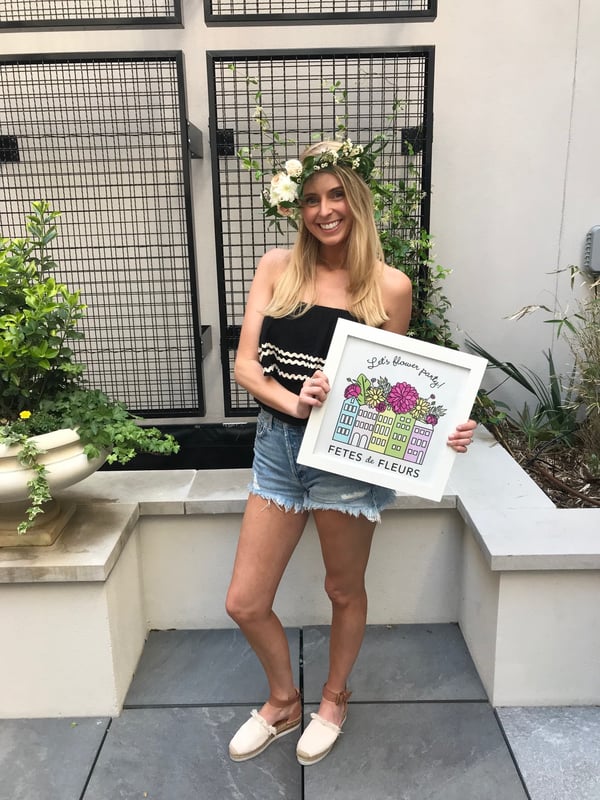 6 LADIES MAKING FLOWER CROWNS BEFORE A DAY OUT ON KING STREET FOR THEIR CHARLESTON BACHELORETTE PARTY
It is prime time in Charleston to get your bachelorette party on. We are so pumped to help all the bachelorette parties coming to Charleston with theirfun activities for their bachelorette weekend.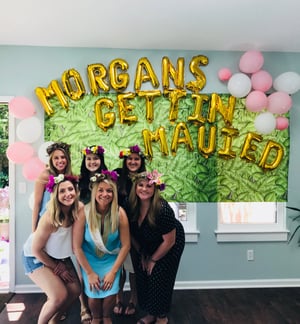 We went to an airbnb to put on a flower crown bachelorette party with a tropical twist out in West Ashley last Saturday. The bachelorette theme for this party was "Morgan's Getting Mauied!" How cute! We love a tropical theme because that fits in so well with flower crowns. Remember, if you are thinking about doing a flower crown party as part of your bachelorette party we will ask you what colors of flowers you are looking for and try to work within that when we source your flowers.
Charleston Flower Crown Bar and Pajama Party for a Girly Bachelorette Brunch
Hey flower babes, Toni here - one of Charlestons trusty Flower Party Hosts
Last week I met up with McKenzie and her bride tribe at an amazing historic house downtown on Rutledge. Confession- I totally nerd out over all the architectural details found in these old historic houses and this Charleston AirBnB did not disappoint. okay, back to the fun party details!
McKenzie had 9 amazing friends surrounding her & surprising her withactivities all weekend. Upon arrival the ladies were sipping champagne from their mimosa bar and getting their next level avocado toast ready all while rocking the cutest pajamas! That's right, it was a brunching, pajama wearing,flower crown making kind of morning. Once the girls surprised McKenzie that we were making flower crowns , we settled it and got to creating.
Bride to be with our signature Flower Bar