We are so lucky to call Charleston, SC home. There are so many amazing things to do, things to see and activities to take part in here in the low country. As you start to plan your weekend in Charleston we wanted to put together a guide that will help you in your planning. In this Charleston Bachelorette Guide we have everything from brunch spots to dine at here in Charleston to Coffee Shops to the best places for cocktails and dinners.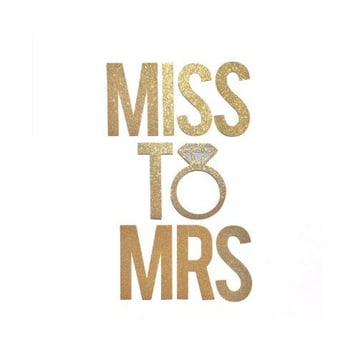 This Charleston weekend guide would not be complete without a section just for the local Charleston makers. We think their products would be great bachelorette party favors for your Charleston weekend. We love adding in some local Charleston love to your bachelorette party favors.
If you are looking to add in local Charleston brands and goodies as bachelorette party favors we have the best line up of local makers for you below.
2018 Local Charleston Bachelorette Party Favor Ideas
Tassel Earrings in Charleston are a HOT item. We have the top places for you to get your tassel on with our fave ladies making these chic earrings.
Hart Studio: This is not an actual store but you can order her earrings online and also find them in stores here in Charleston including at our friend's over at Maris DeHart. Tassel earrings are staple here in Charleston. All the best Charleston bloggers and influencers love them so we think they would make for a great addition for your bride to be or as bachelorette party favors.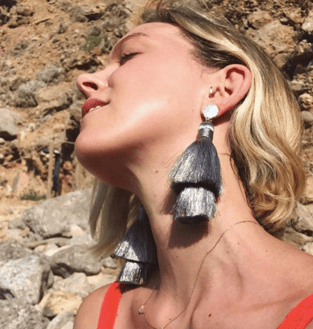 How cute would it be to have matching tassel earrings for your bachelorette night out in Charleston? You could also get the white ones or the bride to be or the disco darlings.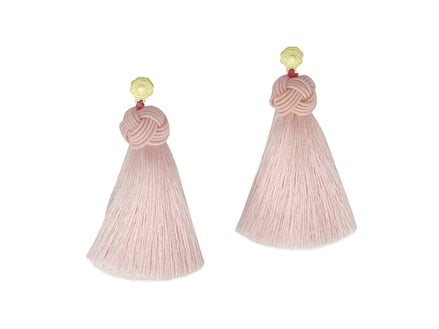 She also has a great Charleston city guide on her site too that you can check out. If you sign up for her newsletter you get $5 off each set of earrings too so that is sweeet!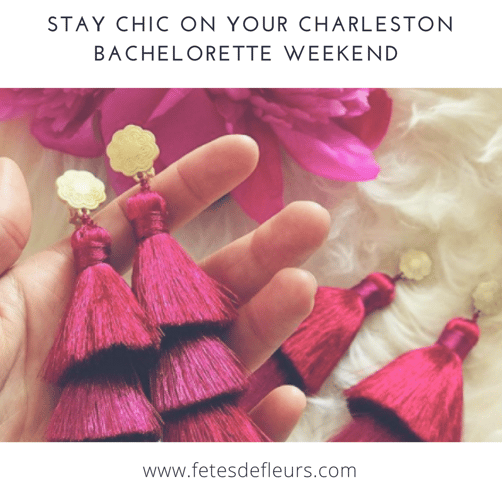 TheTinyTassel: Our friend Mimi Striplin owns the TheTinyTassel. She is a #GirlBoss here in Charleston and also creates some amazing, cute tassel products that could be great options for bachelorette party favors for the bachelorette group or part of a bigger present for your bride to be.
Tiny Tassel goodies can be found at her shop called Cannonborough Collective 185-A St. Philip Street Charleston, SC 29403. This is actually in my neighborhood so we highly suggest you check it out. There are great local Charleston makers in this store. You will definitely want to hit this up on your shopping and wandering around Charleston.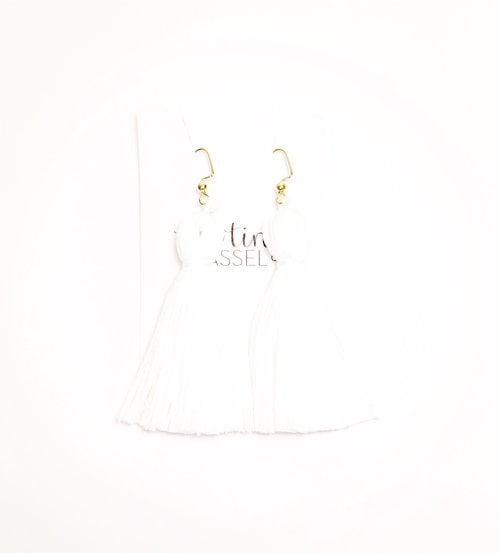 We love the hot pink, light pink and white ones. She also has other Charleston made goodies like adorable gingham printed tops, skirts, etc. Check her stuff out along with other Charleston maker products at Cannonborough Collective.
TheTinyTassel can be found on Instagram here.
You can access her online shop here.
Cannonborough Collective: TinyTassel goodies can be found at this store along with other local Charleston makers. You can stop in here while wandering the pretty streets of Charleston. We suggest picking up your balloons here as they have a balloon bar where you can get custom balloons made to decorate your Charleston airbnb or Charleston hotel rooms for the big bachelorette weekend.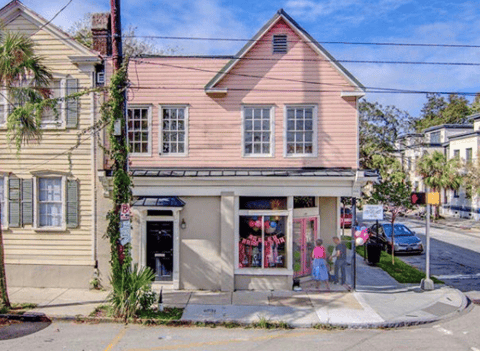 You can read up on their balloon bar and shop here. Their Charleston local brands are updated here on their site.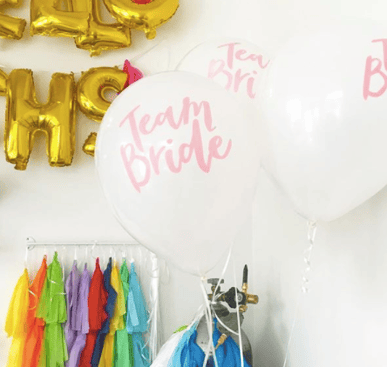 Coastal Kelder: Coastal Kelder is a local Charleston maker who's here to help personalize your bachelorette party! She can make custom tank tops, cups, or sunglasses to match your theme. Or send your friends home with monogrammed oyster shell ring dishes to remember the fun times in the lowcountry!
Online shop | Contact | Bachelorette Ideas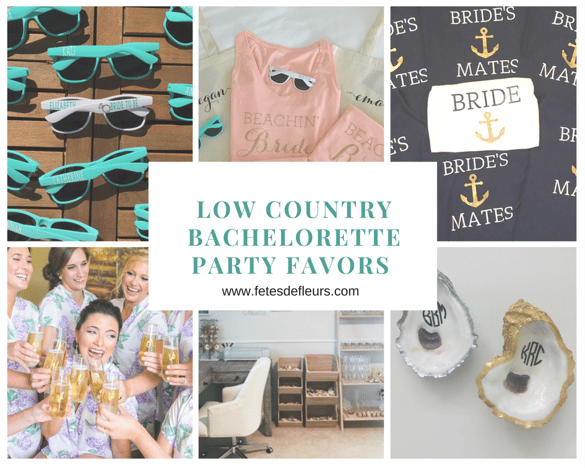 Suite33: My girlboss friend Emily owns Suite33. I met Emily when I first moved to Charleston and we did a photo shoot at my house downtown together. She is gem and she has amazing Charleston made cosmetic cases that you could use as bachelorette party favors for your weekend in Charleston. You can check out Suite33 here and her cosmetic cases too.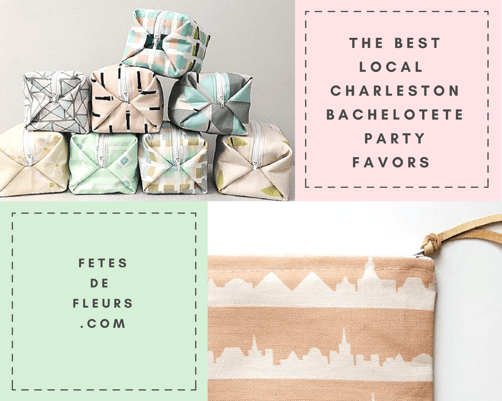 The Blue Root: My friend Melissa owns The Blue Root. I met her early on in my time here in Charleston because we did a photo shoot together over in Isle of Palms at the most amazing home called The Bea's Nest owned by our friend Mary-Jo from @Port2Palm. (Side note and maybe to come in another post, if you need a place to stay while here in Charleston and want to stay in the best home ever we highly, highly recommend The Bea's Nest. If I could live there I would!)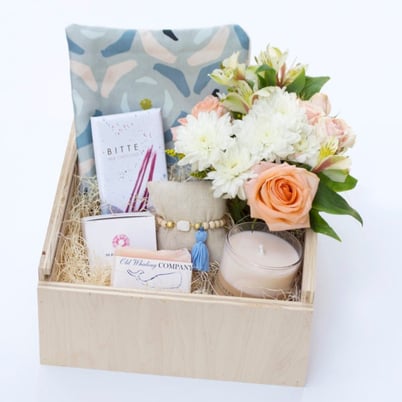 Melissa of The Blue Root believes that all special occasions deserve a meaningful and beautiful gift. The Blue Root puts together custom gift sets with Charleston artisans that are dedicated to using the highest quality ingredients and materials to create their goods. All items are thoughtfully selected to create a unique and impressive collection of products that showcase The Holy City. Everything down to the hand crafted keepsake box has been sourced from Charleston.
Fetes de Fleurs Flower Crowns: Shameless plug for our own little biz here. But, we do think that flower crown parties make for an awesome bachelorette party activity. BUT even better they make for an awesome little take home gift for your bachelorette party favors.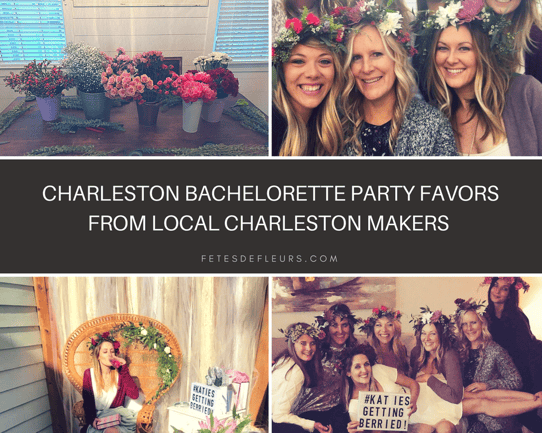 We can help your bachelorette group with custom real flower crowns made from real flowers and real greenery to wear throughout your weekend here in Charleston OR we can do silk flowers so you can keep them post bachelorette weekend.
We hope you enjoyed our line up. We will be adding and updating this list regularly. This is not nearly all of the local Charleston makers but we wanted to get the post up so you have something to work with while you start planning your weekend in Charleston.