How to stay on top of all the cool flowery things that pop up on across the internet, Pinterest, Instagram, etc...it is hard work!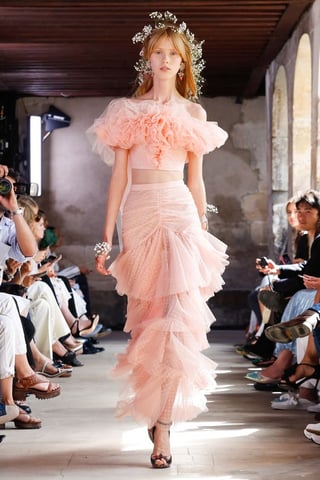 Don't worry we have you covered ladies and gents with all the hottest flowery looks.
In July I saw some posts about Rodarte's fashion show. I couldn't stop looking at the photos of the show. I want to see tons of feminine ruffles, all the flowers, baby's breath every where in every hairstyle.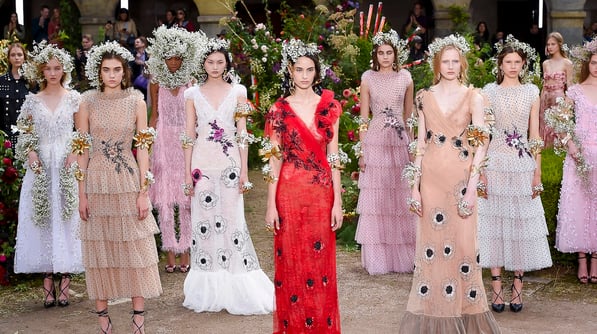 I mean, how beautiful are these ladies with their flowers in their hair. These ladies are not just wearing the traditional flower crown that well, I still love so much. They have taken flowers in their hari to a whole new level that I think is so amazing and want to see all over.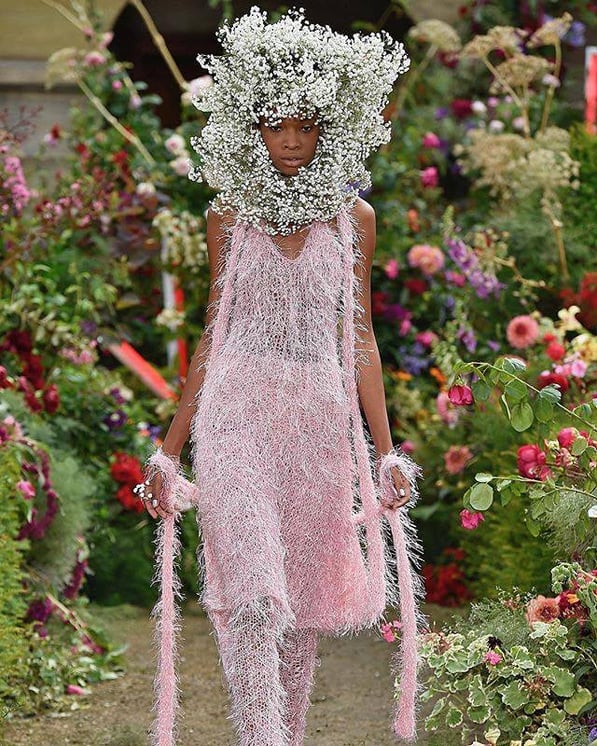 What a chic, classy and whimsical look to add to your wedding look, to your bridal shower look, baby shower, wedding party, etc. Flowers in your hair, flower jewelry, flower shawls, etc can be such a chic, classy, whimsical look for so many occasions, events and celebrations.
Rodarte Just Elevated The Flower Crown To Couture Status
Here's a video showing all the looks from the Rodarte fashion show 2018 where I almost died and went to flower heaven.
I mean I almost fell to the floor when I looked at how they tied bows around her arms with the baby's breath. Come on, this is the coolest thing I have seen in a while and so practical.
The photos and videos I have watched from this fashion show make me want to host a photo shoot here in Charleston with some local bloggers to showcase their beauty amongst beautiful baby's breath in their hair. (If you would like to be part of this kind of shoot let me know).
If you are looking for a whimsical look for your wedding I would highly suggest adding baby's breath.
Baby's breath is back baby!
I am so pumped to have baby's breath be cool again!
I actually just had 2 friends from College just get married and they both had baby's breath incorporated into their wedding decor and looks. I was so ecstatic to see this because I think it makes any look lovely.
Oh and don't just stick to pinning baby's breath into your hair.
These models took the flower game to a whole new flower level by adding baby's breath floral shawls wrapped around their arms!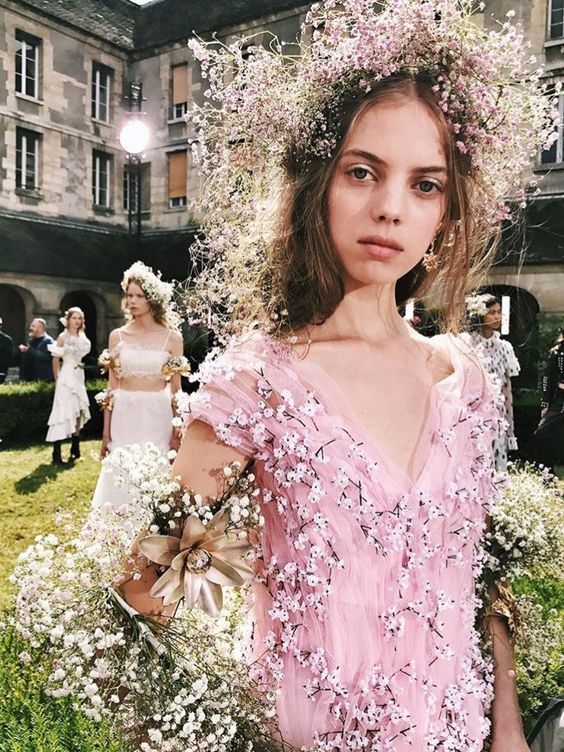 I mean can we say beautiful! I want to see all the brides wearing floral shawls this year!
Let's not forget about wearing florals as earrings as well. I think that floral earrings, real flower jewelry, real flower shawls, real flower hair pieces, flowers in your hair, etc are really going to be the it thing this year in the wedding industry. I also think that flowery jewelry will become a staple for everyday ladies who want to mimic the flowery look not on the cat walk.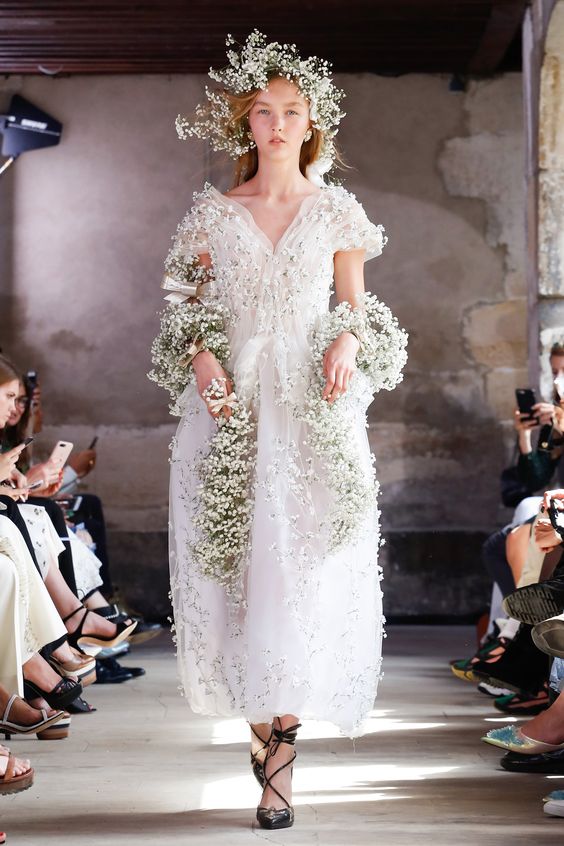 What do you think about this look? Who is incorporating flowers like baby's breath into your outfit for your wedding day? Are you going to throw out the traditional flower crown and level up your flowery style with floral shawls and flower jewelry this year?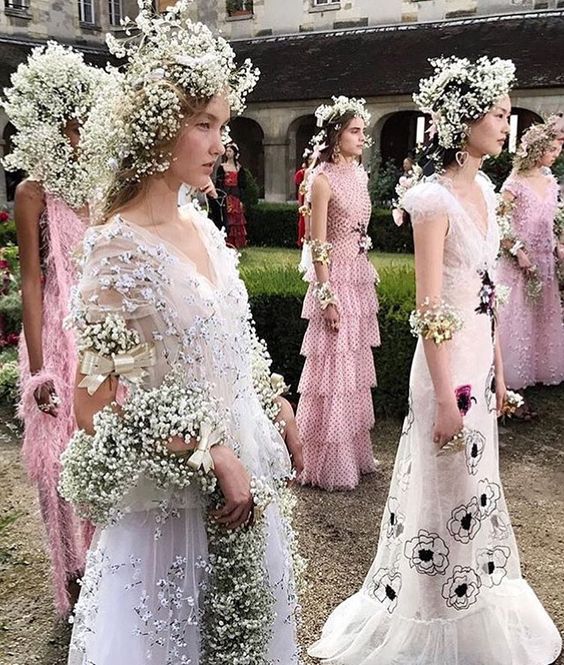 I say yes to all of it. Flowery everything pretty please.
I don't know about you but I for sure know what I am wearing and pretending to be for Halloween this year. Last year I did the snapchat flower crown filter. This year it's definitey the Rodarte Spring 2018 Fashion Show flowery chics I wish I could be so cool to be day to day. :)
On a side note, I Don't think we need halloween to look like this. I try to incorporate something flowery into my look everyday.