If you are hosting a bachelorette party you will have so many decisions to make. You have to figure out many different things once your girlfriend gets engaged. It can be a bit overwhelming as to everything you need to do and accomplish leading up to the bachelorette party weekend. Maybe you have been putting it off because you just cannot handle it. Or maybe you are finding out that the group coming together for the bachelorette party all has different ideas of what the bachelorette weekend should look like, what you should do on the bachelorette party, what to buy, where to go, etc, etc. It is a lot. We want to make that process easier for you, ladies.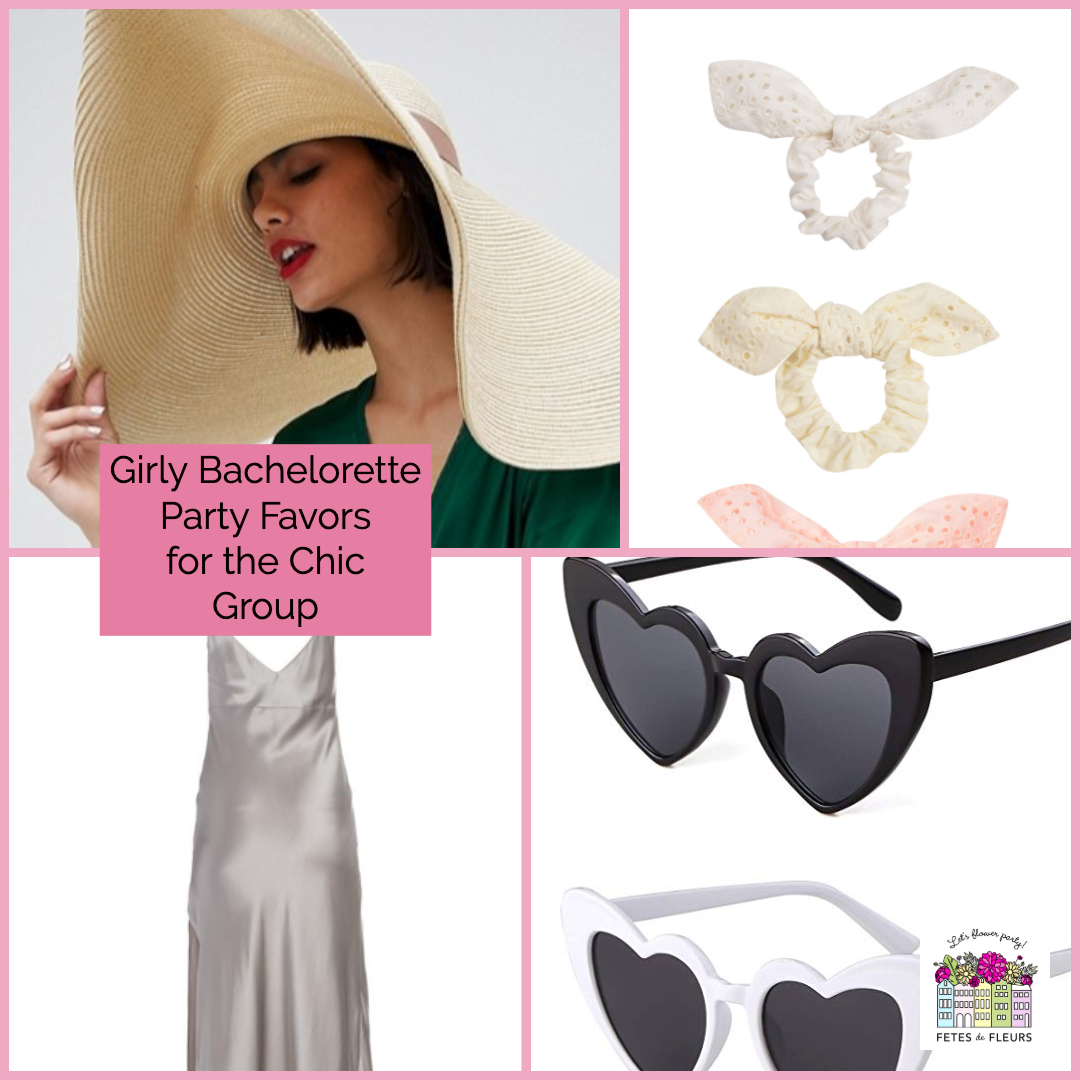 As a friend of a bride to be you have your work cut out for you in helping to create an incredible bachelorette party weekend for your bestie bride to be. Once you figure out where you want to go and what the destination of the bachelorette party will be next up you have to figure out bachelorette party gifts and favors. You have to figure out what you want to do on the bachelorette party weekend. There is a lot to figure out. Let's take it one step at a time ladies.
We thought it might be helpful to start to put together some guides on what bachelorette party gifts and bachelorette party favors your group might want to buy ahead of the weekend. We know there are different price points for all bachelorette parties so we have tried hard to think about this as we put together our ideas below. So whether you want to spend a ton and just don't care about costs (lucky you) or you are price conscious we have some great options for bachelorette party gifts and bachelorette party favors for a girly group of ladies.
Chic Bachelorette Party Favors and Bachelorette Party Gifts Roundup Below for the Girly Group of Ladies.
Slip dresses: for the chic bachelorette party outfit if you don't want to wear bachelorette party t-shirts.
We love the idea of wearing slip dresses out on your bachelorette party weekend. I have seen lots of bachelorette parties in my time doing this company. A lot of the groups will wear bachelorette party t-shirts and there is nothing wrong with those. I think those are great and we can show you some of our favorite bachelorette party t-shirts in another post. BUT, for since this post is for the girly group celebrating a chic bride to be we wanted to give you some options of chic bachelorette gifts and bachelorette party favors that will last after your bach weekend.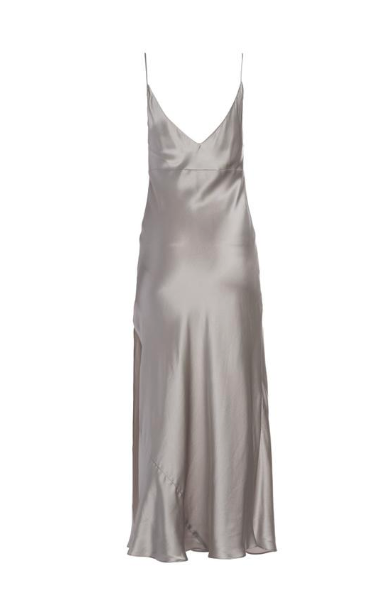 If you want to figure out a night out on your bachelorette weekend where you can all wear similar outfits we love the idea of the slip dress in one color for the bachelorette group and then a white slip dress for the bride to be. How cute would that be? It would make for the CUTEST photos. A slip dress could be bought by each lady in the group online and shipped to your house before hand. Everyone would bring the slip dress and then wear them on a coordinated night out on the town wherever you are hosting the bachelorette party weekend.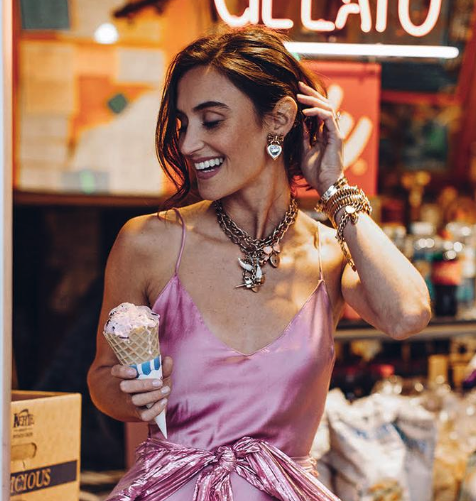 For the group who wants to buy a bachelorette party outfit where they can use these dresses again. I honestly think these would be perfect for one night on the bachelorette party but also could be used again for celebrations leading up to the wedding too. Dannijo is a company that I have loved for a LONG TIME and they are such a chic girlboss brand. I tend to love brands that are built by women and this company was built by 2 cool sisters who have a love of unique fashion that I dig. Pair these slip dresses with a flower crown workshop or an order of flower crowns to match and we think you will have beautiful, cool photos as great memories from your bachelorette party weekend. These slip dresses come in a long version and a short version. Could be fun to have everyone mix it up for the big night out on your bachelorette party weekend.
Asos Slip Dresses: for the cost conscious bride tribe but still super cool.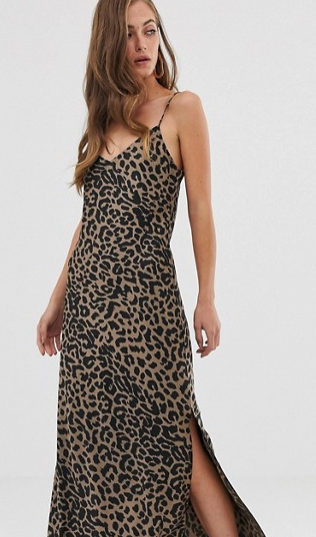 There are lots of sites and online stores where you can find some lower price point slip dresses, ladies. If you are looking for a better price point we found this super cute satin cami maxi slip dress from Asos in leopard print. OMG. Love this for a leopard theme bachelorette party. If you are trying to incorporate the hottest print this year (leopard) into the bachelorette party theme for your weekend this might be a great option. This dress comes in lots of sizes and it a really great price point where once again you can wear this after the weekend. Everyone can buy their own and then you have a perfect bachelorette party outfit for your group of girls to wear one night out. $48 dollars on Asos here.
Heart Sunglasses: because we all want to look super cool in photos, ladies.
Okay, I am obsessed with heart sunglasses - just in general. I wear a white pair and black pair all the freaking time, ladies. I love them in photos and they are just such a fun idea for your bride tribe. If you are looking for cute sunnies for your bachelorette party gifts or for bachelorette party favors we really think you should order these. Here are some of my faves right now that you can order on Amazon. We like to make it easy, peasy around here chicas.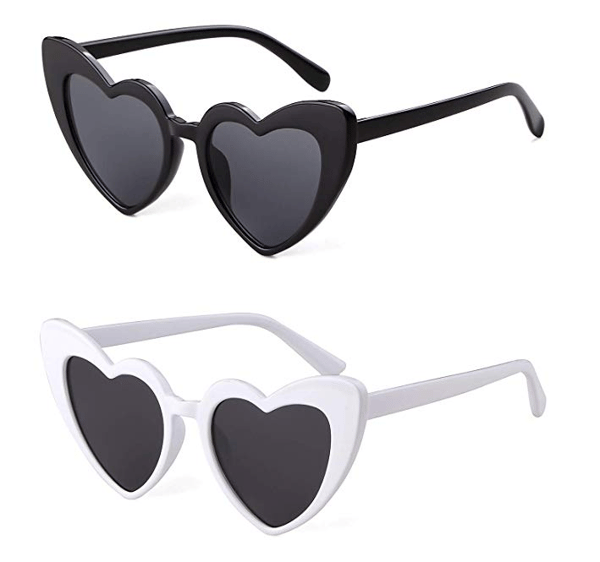 Heart cat eye sunglassess on Amazon here.
Girls you can get 2 good quality heart sunglasses for $16.91 on Amazon with that link. They have all different colors on Amazon but I personally own the black and white combo and they are really awesome on. Good quality and personally recommend.
These heart sunglasses look expensive on and honestly I just don't think you need to spend an arm and a leg to get these heart sunnies. There are brands who are making them that are more expensive so if that is your thing you can check out Gucci and YSL ones. I just think for fun sunglasses like these there is no reason to spend that much. So save the money for your bachelorette party hotel or bachelorette activities for your weekend instead. Then if you somehow misplace the heart sunnies while swimming in the ocean or in a pool on your bachelorette party weekend you won't be heartbroken.
Scrunchies: Get that hair up in a messy bun and let's partay.
We all love good hair accessories. Get your girls some cute scrunchies that they can wear while working out that weekend, doing some spa treatments or just getting that hair up in a messy bun. Here are the 2 brands that I am obsessed with right now for cool scrunchies.
DEWIT by Kaitlyn Bristowe Scunchies are all the rage because well she is the funniest and coolest chic around. I think any bride tribe would be happy to receive a scrunchie from her brand. I mean I want to be like her and live her life so I am happy to buy anything that she creates. Thanks chica.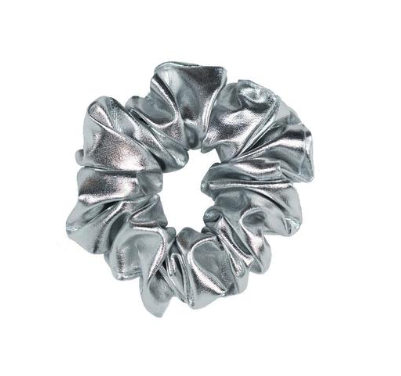 LoveShackFancy has a 3 combo of eyelet scrunchies that we dig here. You can buy this three pack of cute bow scrunchies and give them out to each girl. This pack comes with white, off white and light pink eyelet scrunchies. We think YES. This 3 pack is $55 total.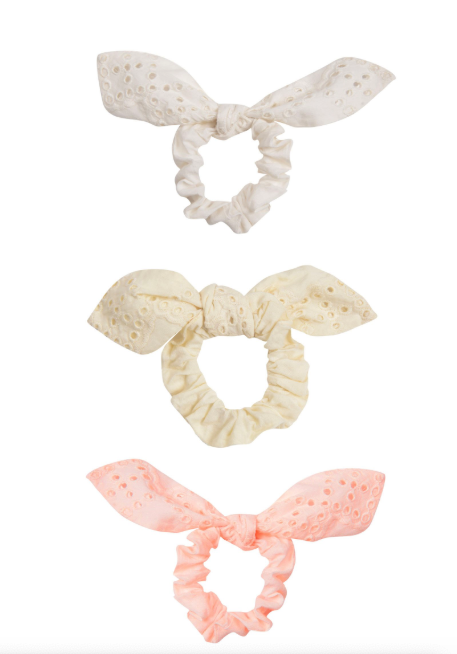 I am equally obsessed with the idea of the party bow barrette that LoveShackFancy has on their site right now here. If your group of brides babes are truly girly girls they will love these as options to wear out on the bachelorette party weekend. I think these bows in your hair will look so good in photos for a girly bride group.
Oversized Straw hats: because it will keep you cool in photos and in life.
I am always trying to think of ideas for photo worthy moments at the bachelorette parties that we help. An oversized straw hat is where it is at, ladies. If your bachelorette party is going to be had at a beach or at a pool then you need to make sure you get straw hats as part of your weekend. These will make for some uber cute photos by the pool or beach and will double up as a great bachelorette party favor or gift that the girls will love to bring home and use over and over again. Also, just think of how cute these hats will look hanging on your wall too. So this idea works great as a bachelorette party gift, something cute to wear in group photos and also something you can use as decor in your house when you are home. Win, win, win- triple win.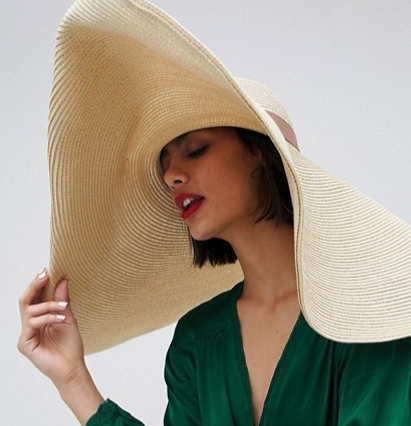 I am a huge fan of Asos in general and they always seem to blow me with away with their options for straw and summer hats. I found a couple that I hope you will love as much as I do. Remember the vision- wear in group photos floating around at the pool or beach. FUN FETES FACT: You can put your flower crown on the brim of your hat and that makes it even CUTER and girlier, ladies.
Asos oversize turn back brim straw hat: this is what is in that picture above. I have seen so many oversized straw hats on Pinterest and Insta but whenever I try and find them they are SUPER expensive to buy but not this one. Great quality too and looks so cool on.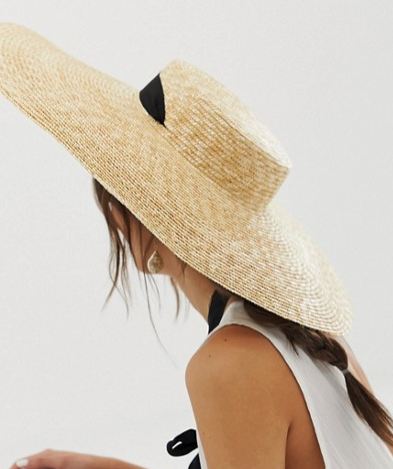 Asos straw flat boater: OMG. This is perfection for so many reasons. Perfect big size and has the cutest black ribbon on it.
We obviously are partial to having a flower crown workshop as part or your bachelorette party weekend as well - but that goes without saying, we think. If you are interested in learning more about how our flower crown parties work or ordering custom flower crowns for your bachelorette party gifts or bachelorette party favors we would love to hear from you! Feel free to email us what you are looking for at ali@fetesdefleurs.com or fill out the form here for a flower crown workshop if we have a flower party host in the city you are going to. If you are wanting a custom order fill out the form here.