We were lucky enough to spend our Saturday morning with a group of ladies traveling here to Charleston from Dallas to celebrate a bachelorette. 1st of all the Airbnb they were at is one of my favorite ones that I have been to so far while living here in Charleston.
We do a lot of our flower crown parties at airbnbs here in Charleston so we tend to get to go to cool houses here in Charleston. This one is by far one of my favorite airbnbs in Charleston. Their aibnb was 2 Felix Street, Charleston. If you have the chance to stay here do it! Beautiful, beautiful space with all the best touches and big for a big group of girls with plenty of bathrooms. :)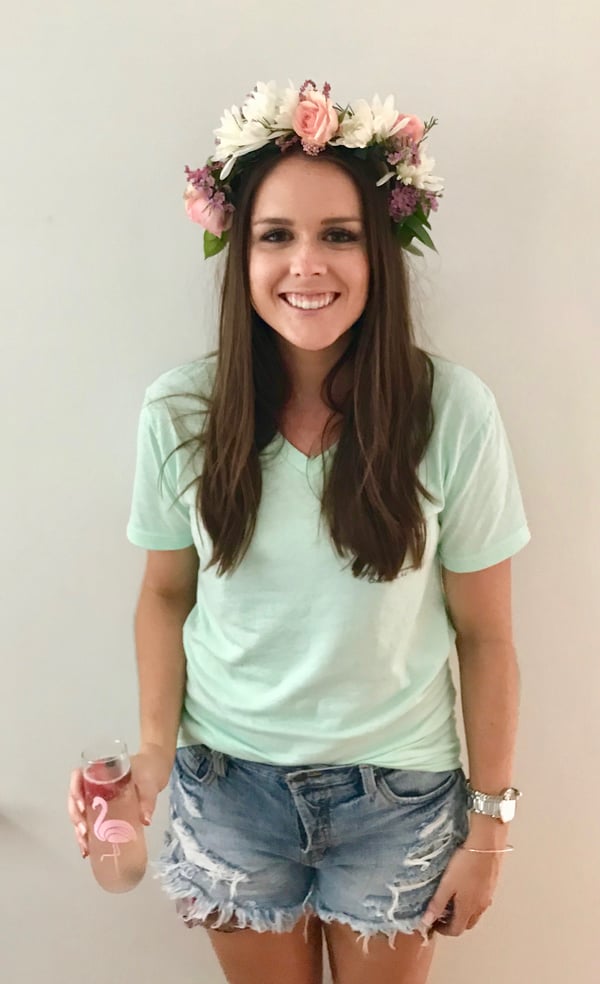 The theme of their weekend is the popular "Final flamingle or Last Flamingle." We see this theme a lot at our bachelorette parties. Their t-shirts were a perfect shade of mint and looked so good with their pink flower crowns. These ladies opted for pink and white colors with real flowers. They also has a pink bachelorette party theme on top of the final flamingle.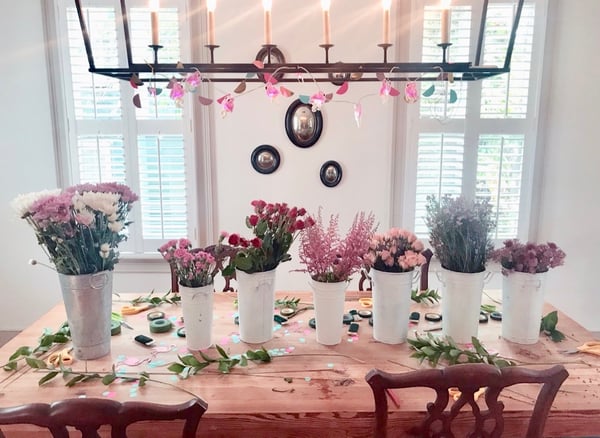 When we arrive at a bachelorette group's airbnb or hotel we assess the situation and get to work on setting up the flower crown bar. All we need is a table to work with so we can setup the flower bar for your group. It is also nice to have space to work at too.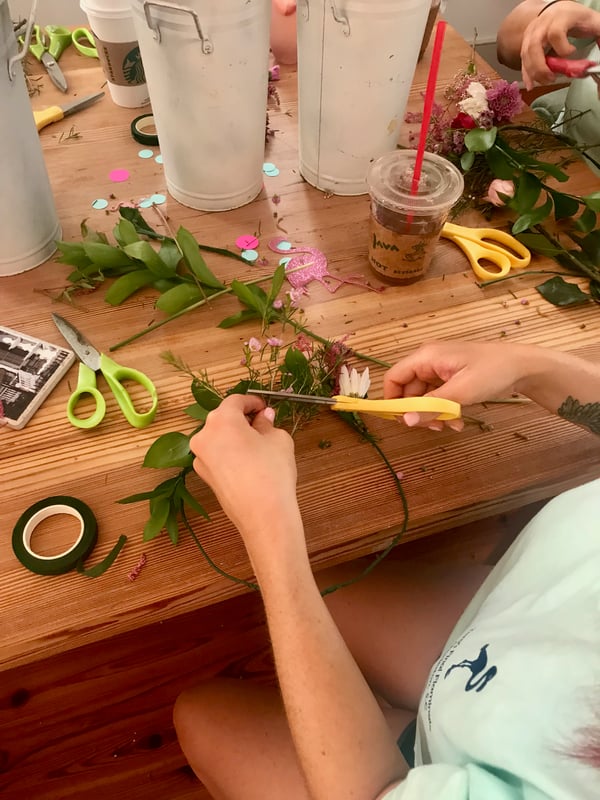 After we setup the flower bar we start every flower crown party with making the base of the crown. Always good to do this over some champagne or rose.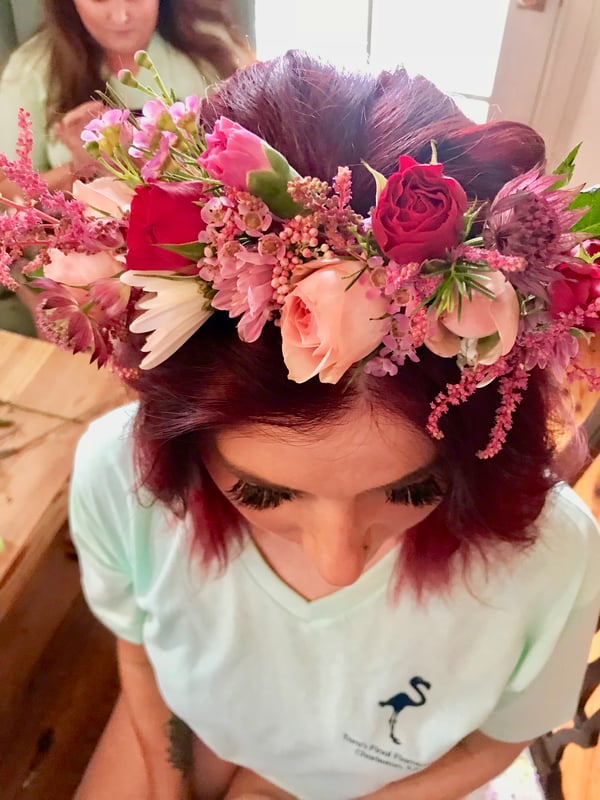 After the group finishes up the base of the crown we move to teaching the bachelorette party how to add on the greenery and the flowers. This is the fun part because everyone's personality comes through in their flower crowns. Always fun to see who gets super into it and love seeing everyone's creativity flow through their designs.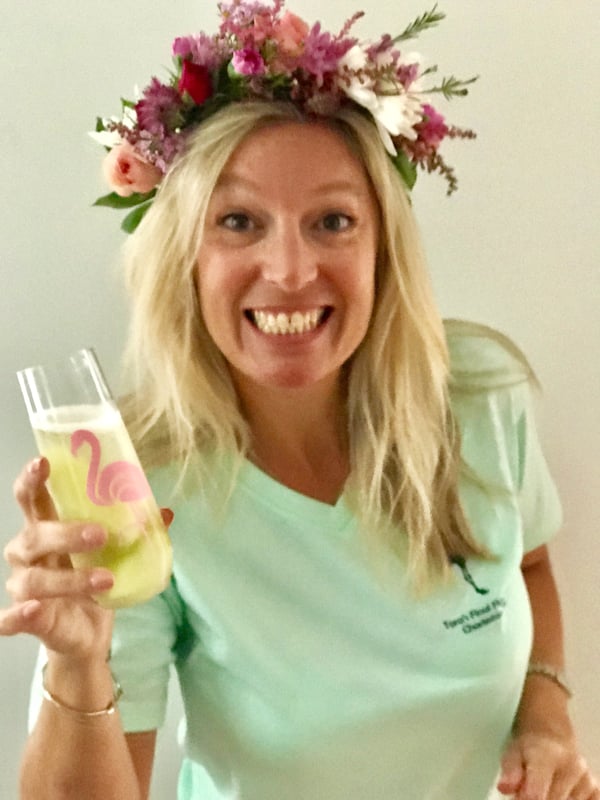 How cute are they?!?! We love to take photos of each girl as a momento of the moments making the crowns. Didn't they do a great job on their flower crowns?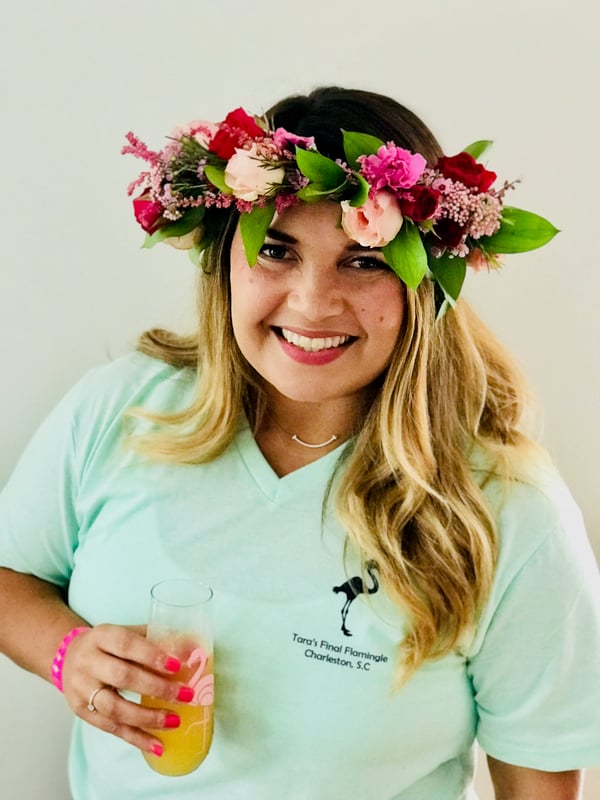 These girls knocked it out of the park with their pink themed flower crowns.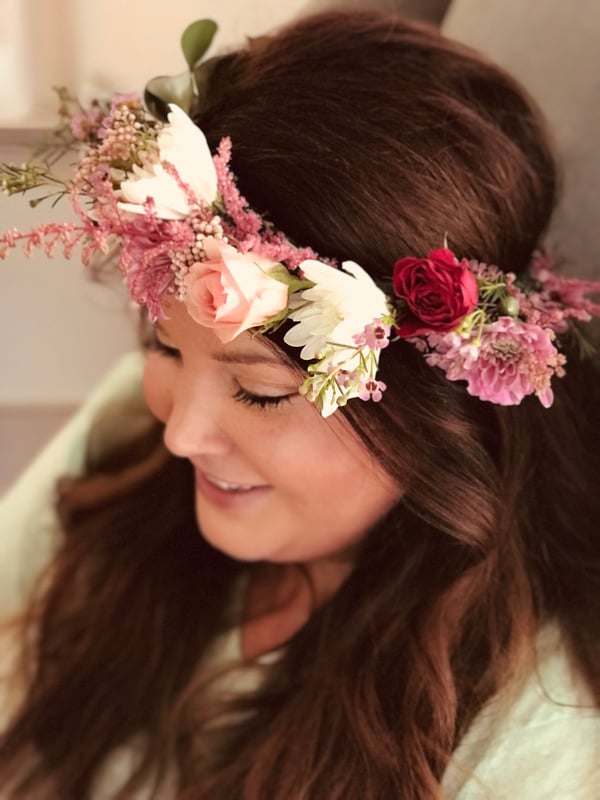 Doesn't hurt that they have the best eye lashes and hair! Oh, I forgot to mention a lot of this Dallas bachelorette group were hairdressers and makeup artists. I knew the photos they would send me from their night out would be to die for.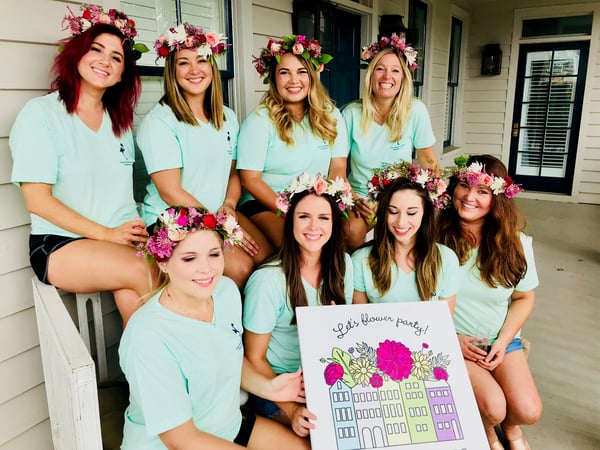 At the end of every flower crown party we take photos of the whole group together. They were champs because the sun was shining so bright on their deck that it was hard to see.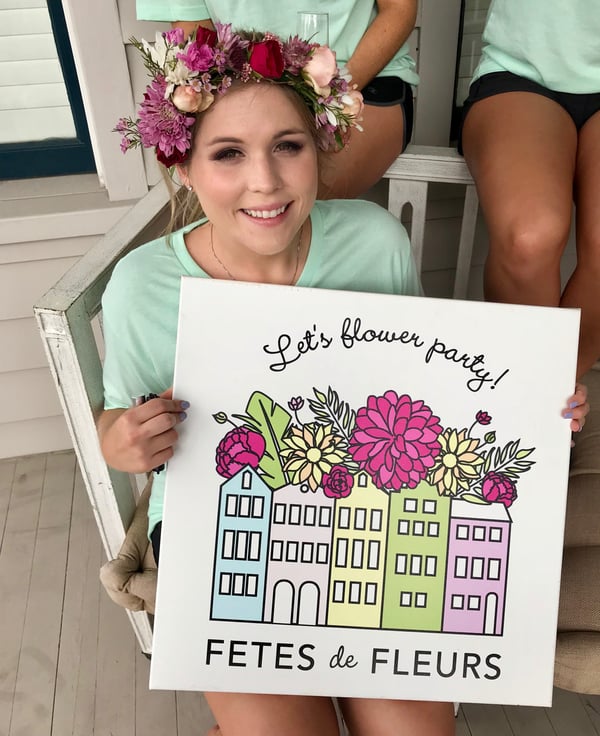 Here is the sister of the bride to be looking just great.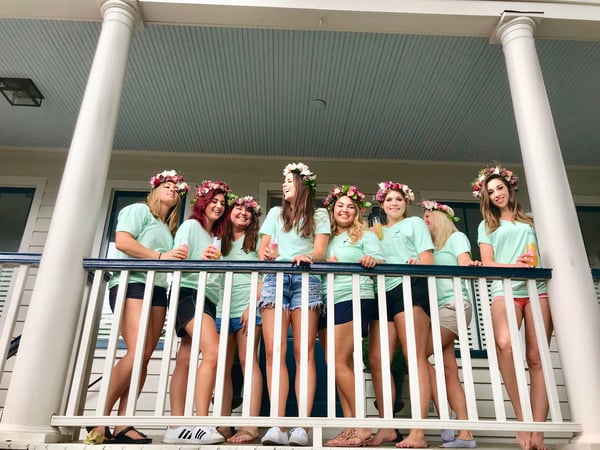 I just loved the idea of taking some group photos from below looking up.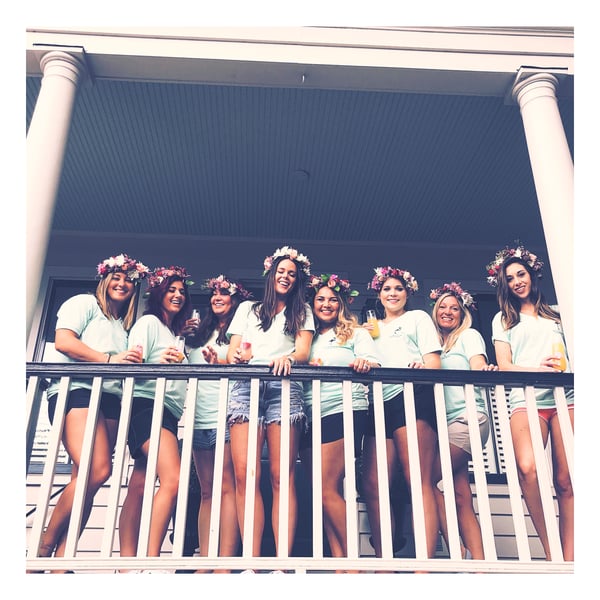 The girls went to the Grand Bohemian hotel's roofdeck on their Saturday night of their Charleston bachelorette party weekend and sent me some super cute photos. I love the sunsets in Charleston. The pink sunset in the background with their all pink bachelorette themed outfits if what we call perfection.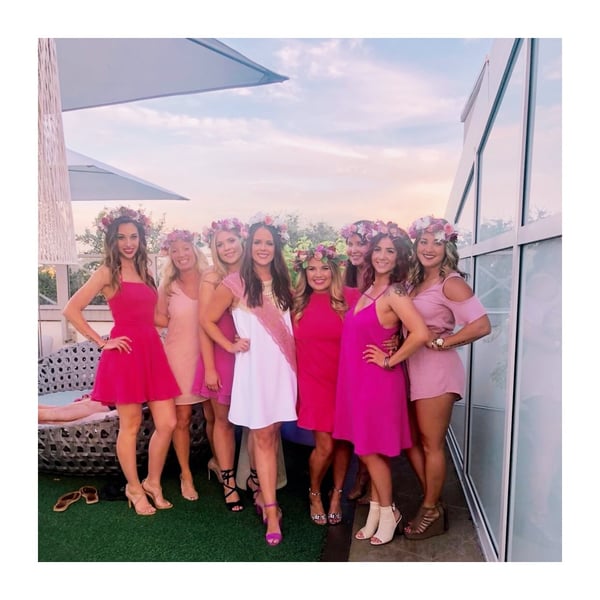 These girls crushed their pink bachelorette theme with the pink dresses they wore out.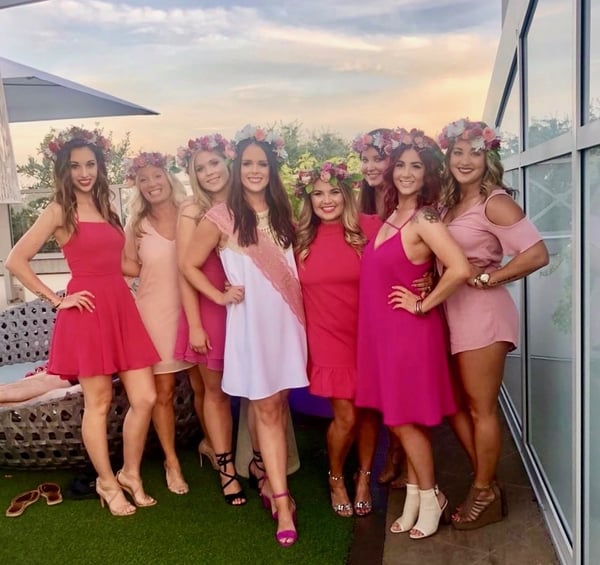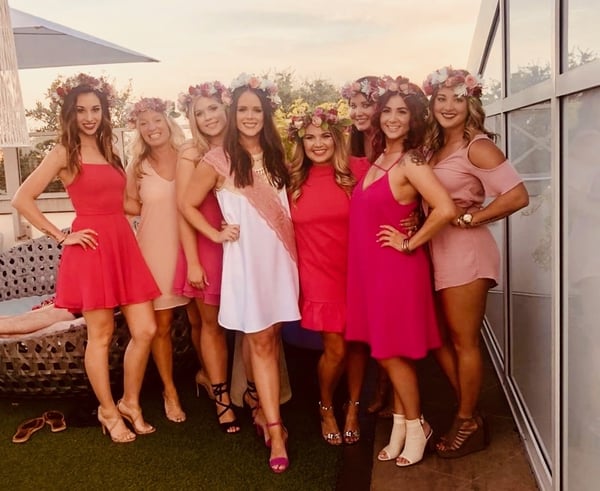 They were so much fun! One of the girl's was interested in potentially becoming a Dallas Fetes de Fleurs flower party host so stay tuned. We hope to launch Fetes de Fleurs Dallas real soon.