A bachelorette weekend in Charleston is not complete with out some pampering and recharging at a spa, getting your hair blowed out or getting your nails done. We have a great line up of our favorite spas, make up studios, hair places and nail places where you will walk out after your services ready to rock and take on Charleston for all your partying you will do that weekend.
Colur Studios: This is right next to DryBar and has a great, beautiful space for you to come in to get your make up done before a bachelorette night out on the town. Colur Studios is Charleston's premier natural and organic make up artistry and skincare boutique designed as a fun and relaxing environment meant to inspire creativity and build confidence. They offer highly curated selection of products, makeup artistry services and other beauty treatments in studio and provide our clients with an unparalleled lounge experience for individuals and large parties alike.

You will definitely want to spend a morning or afternoon here sipping vino and getting your make up done with all organic and natural makeup. Then you can walk over to DryBar and get your hair done too.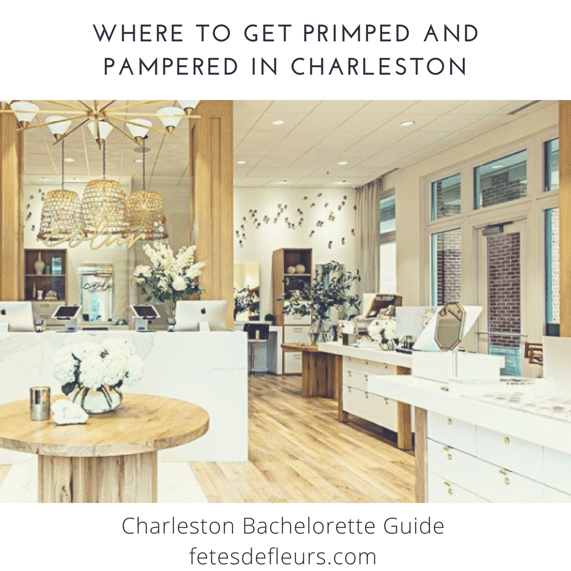 DryBar: This is a beautiful DryBar and I frequent it a lot. They are located on upper King Street next to Colur Studios. Perfect place to head into before your night out on the town and King Street. The ladies here will have you looking your best for your bachelorette party our in Charleston.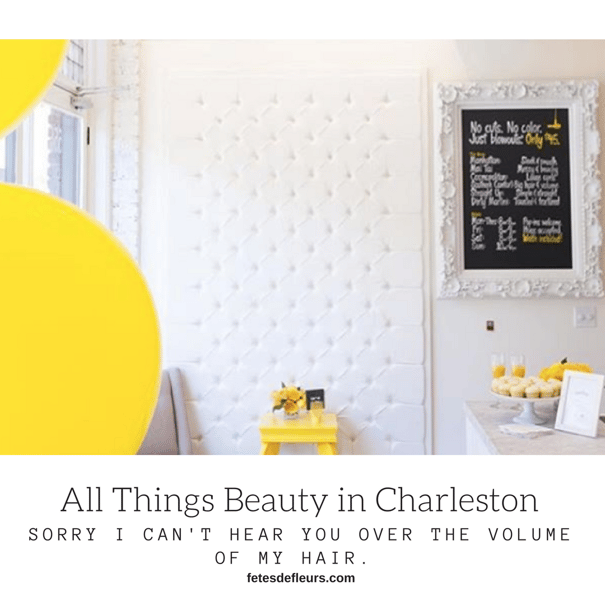 Tease Blow Dry Bar: Another option for your hair styling needs while in Charleston. There's no excuse for a bad hair day anymore. Boost your confidence & change your attitude with a visit to Tease! Tease is Charleston's first blow dry bar and their speciality is the "blowout." A refreshingly simple concept, Tease will wash, blow and style your hair in under 45 minutes for just $40. Order up one of their 6 distinct styles, from trendsetter to sophisticate – and one of their talented stylists will take it from there while you relax and enjoy the Tease experience in downtown Charleston. Walk out of Tease and head to dinner or drinks on King Street.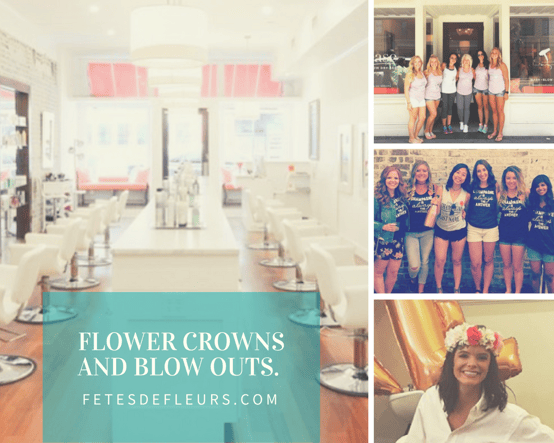 Mylkbar: My friend Katie owns MylkBar in Mount Pleasant. It is right over the bridge and super worth the trip over the bridge from downtown. They also book private parties so you could book them for your bachelorette party group by emailing hello@mylk.bar. They are also an all organic nail spa so you can feel safe and clean in getting your nails done for your weekend in Charleston. Great way to spend a morning or afternoon before going out for your bachelorette partying fun downtown. They also have the best decor and it is a super girly space with a flower wall you can take pictures in front of.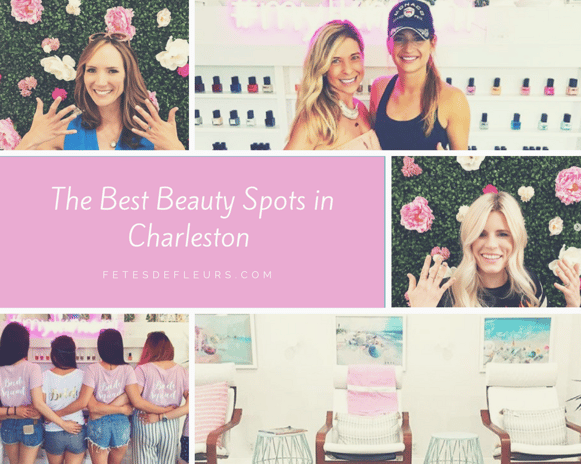 The WoodHouse Day Spa Charleston: Just over the bridge in Mt Pleasant as well we would like to invite you to the Woodhouse Experience. Experience a tranquil, transformational environment that's both memorable and healthful. From beginning to end, their dedicated spa team ensures that your visit enhances your well-being. Upon entering, you're treated to a warm smile, a luxurious robe, and reflexology sandals that release the day's stresses. You'll relax in their Quiet Room, where a selection of specialty, loose-leaf teas begins your journey to relaxation and rejuvenation. Sounds like a dream start or end to a bachelorette party weekend to me. They have girl's getaway weekend packages that you can call their spa about.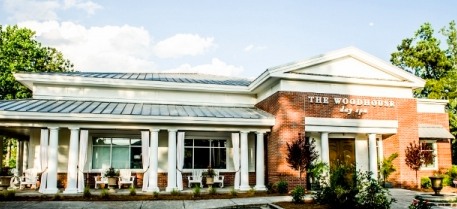 The Dewberry Spa: This is for the bride and bachelorette party that really wants to get their relaxation on in a chic, high end way. RELAX, RESTORE, REJUVENATE
The Dewberry is also a great option for your stay while here in Charleston. But if you aren't staying there that doesn't mean you can't head over for cocktails, or dinner or even spa treatments.
This is a luxe spa in the heart of the Historic Charleston, John Dewberry looked to his own backyard for inspiration. The source, a charming carriage house, set the tone for the hotel's resulting Cypress-lined sanctuary. Handcrafted wallpaper and artwork by Southern masters adorn the relaxation spaces. Inside the five treatment rooms, services developed by renowned spa expert (and fifth generation South Carolinian) Lydia Mondavi draw inspiration from Lowcountry botanicals and marine extracts. To reserve your experience call 843-872-9045 or email spachs@dewberryhotels.com
We hope this line up helps as you plan your Charleston weekend or Charleston bachelorette party weekend. If you have questions about anything at all just email us at ali@fetesdefleurs.com. We hope we can add in a flower crown party to your Charleston bachelorette weekend activities. Could be a great combination with a spa treatment or beauty service at one of these fine places in Charleston.