The bridesmaid luncheon or bridesmaid brunch typically happens a day or two before the wedding for those closest to the bride. A luncheon, a brunch, or an afternoon tea party is a great way to host a bridesmaid get together before the day of the wedding to say thank you to your bridesmaids for all they have done throughout the time leading up to the wedding date.
A cocktail party or afternoon cocktail garden party can also be a nice touch for as guests arrive at wherever your wedding is being held for the weekend away.
Being a bridesmaid can take a lot of work (and money). So a bridesmaid luncheon or bridesmaid brunch is a great way to say thank you to your closet friends, family and bridesmaids involved in the wedding and everything that leads up to your special day.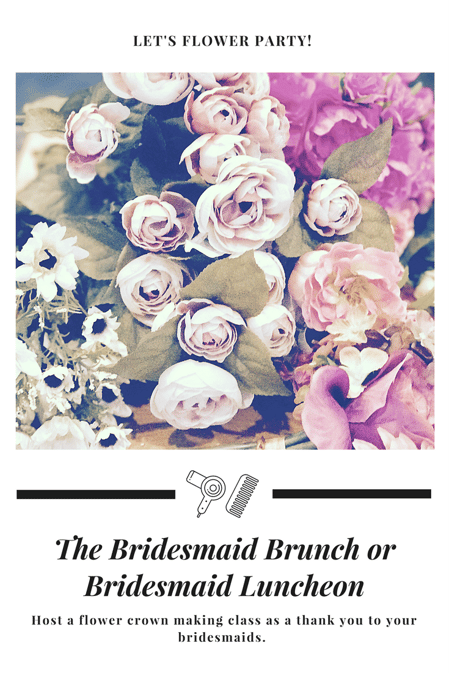 Host a flower crown making class as part of your bridesmaid brunch or bridesmaid luncheon.
The flower crown bridesmaid brunch can be held the day before your wedding. Fetes de Fleurs will come to your hotel, airbnb, a restaurant you are hosting the bridesmaid luncheon at, etc. We will come with all of the real or faux flowers you can dream of. We setup a flower crown bar with beautiful arrangements of the flowers we picked out with your color theme included. You tell us what colors you want us to work with and if you want real or faux flowers. As the guests arrive you can mix and mingle while drinking some rose. We can start your flower crown making class whenever you want. We teach the bridesmaid group how to make flower crowns with all supplies provided. Your bridesmaid and you (the bride) will have some beautiful and fun pictures from the bridesmaid luncheon with you all making flower crowns and wearing them in fun pictures to cherish forever.
These flower crowns can also be used in your wedding photos the next day or as part of the wedding ceremony. We help the group as much as you want us to in making your flower crowns.