You have been looking high and far for activities for your bachelorette party weekend! We hope you had come across Fetes de Fleurs before reading this post but if this is your first time by here we want to say WELCOME LADIES! We are a flower party business where we host fun, floraly events for celebrations like bachelorette parties, weddings, bridal and baby showers, birthdays, etc. You name it- we can come to your hotel, airbnb, event space, house, etc to setup our signature flower bar and then we teach your group how to make flower crowns. We do other floral activities as well but our main schtick tends to be flower crown parties where we help groups make flower crowns as a fun bachelorette party activity.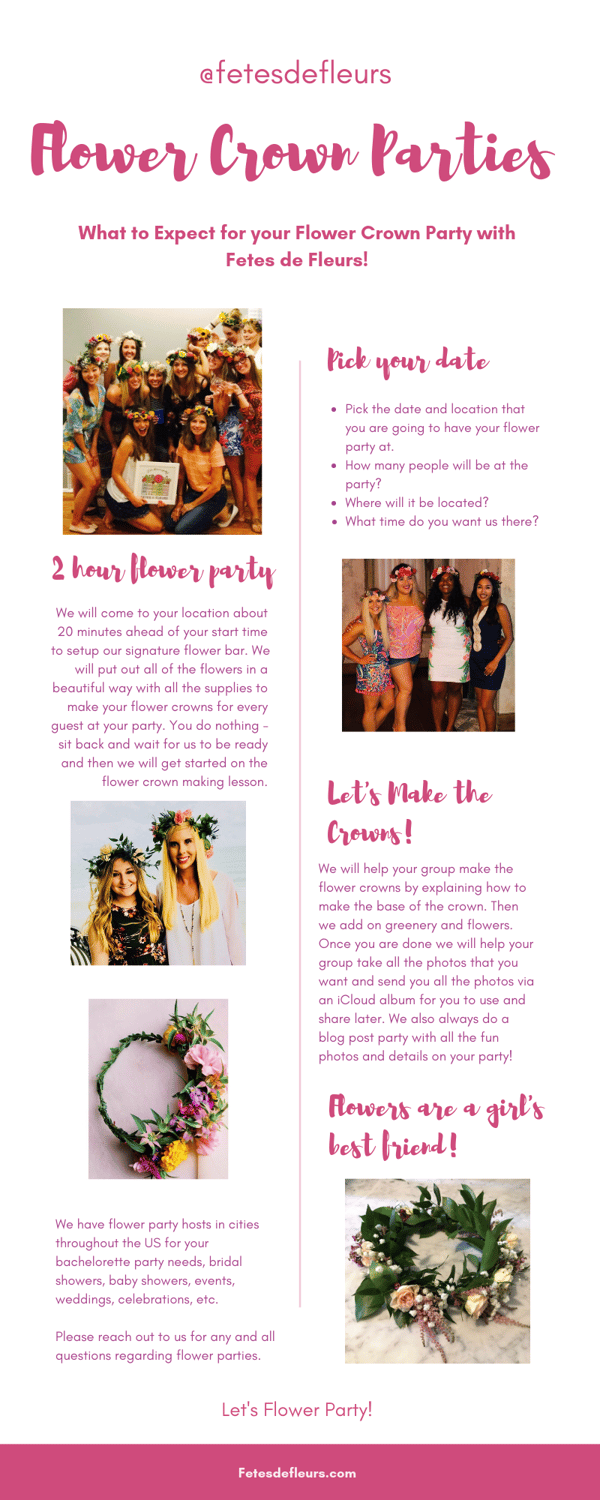 When groups do decide to do our flower crown parties the first question they have is... DRUM ROLL PLEASE!...
"What kind of flowers should we use? Real flowers or silk flowers?!??"
We got you girls. Here are some answers to this great question!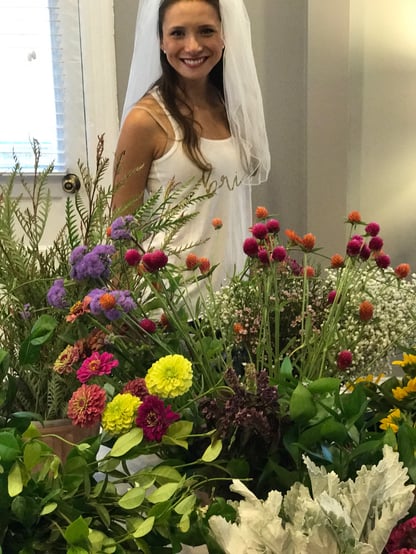 Real flowers for flower crown making party
Do you want to use the crowns again?
Do you want to wear them just that night or day?
Are you planning on using them for another event? Maybe you want to re-use them for the shower, or engagement party or maybe even the wedding day for some photos of your bridal party?
Do you just love real flowers and want to see these beautiful flowers live?
Dried flowers are beautiful! I mean really, really something else. When you let your flower crown dry out it can be something that you keep for months, even years to come. I have plenty of dried out flower crowns in my house sitting on corners on mirrors and hanging on walls as decoration. So you can take your flower crown home after your bachelorette party weekend to hang up in your house as a special bachelorette party favor.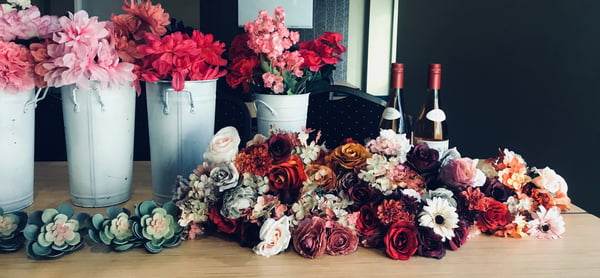 One thing that I will take note of is that after you do this bachelorette party activity and lesson with us on florals you will know how to do this in the future! We hope that you take this activity from your weekend away having LEARNED something about flowers. We will explain how to make the crowns, explain what products we use so you can buy them in the future if you want to and teach you how to make flower crowns. Then if you decide you want to make flower crowns in the future you should be able to replicate this if you ever need to or want to!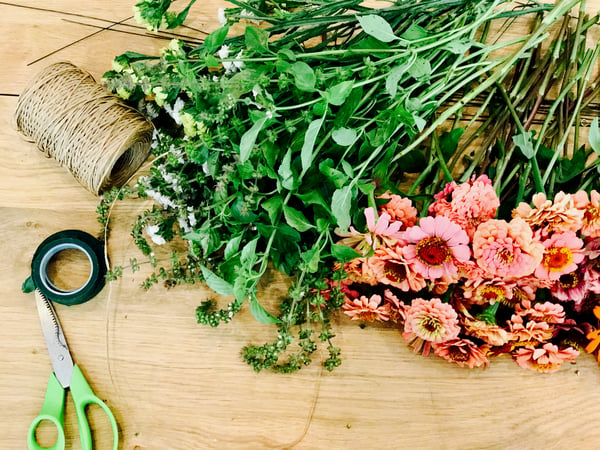 Silk flowers for a flower crown making party
I personally think silk flowers and silk greenery can be just as beautiful and sometimes more beautiful than real flowers. So really just think about if you want to use it again.
Silk flowers allow us to source more flowers usually. Think about it like this- when you book your party and in the booking process we ask you what colors you want us to use. We will want to know what your theme of your weekend is so we can help you keep the theme in order for the colors that we source.
If you have favorites flowers we can also keep this in mind and try and source flowers (Real or silk) that are in line with your favorites or even flowers you might HATE.
Silk flowers are easier to work with or tend to be with my parties. Silk flowers aren't as hard to work with as some real flowers are. They are more bendable and durable than real flowers so if your group is not that crafty then maybe go with silk flowers.
Silk flower crowns are going to be more hardy and not as easy to mess up as say real flower crowns. So if you are planning on dancing and bopping around for your bach weekend then maybe do silk?
Whatever you decide we promise you will be happy!
You can't go wrong either way because well, flowers are beautiful when real or silk. Just think about if you want to use them again or if you want them to dry out pretty. We can't wait to flower party with you in the future and hope we can make your celebration that much prettier with flowers.