Are you curious about how to make a flower crown? Need to make flower crowns for an event coming up and not sure where the heck to start? Well, we got you girl. We can teach you how to make beautiful flower crowns or well, we can always make them for you to ship them to you in the mail or if you are in a city where we have flower party hosts we can host a flower crown workshop to teach you how to make flower crowns in person.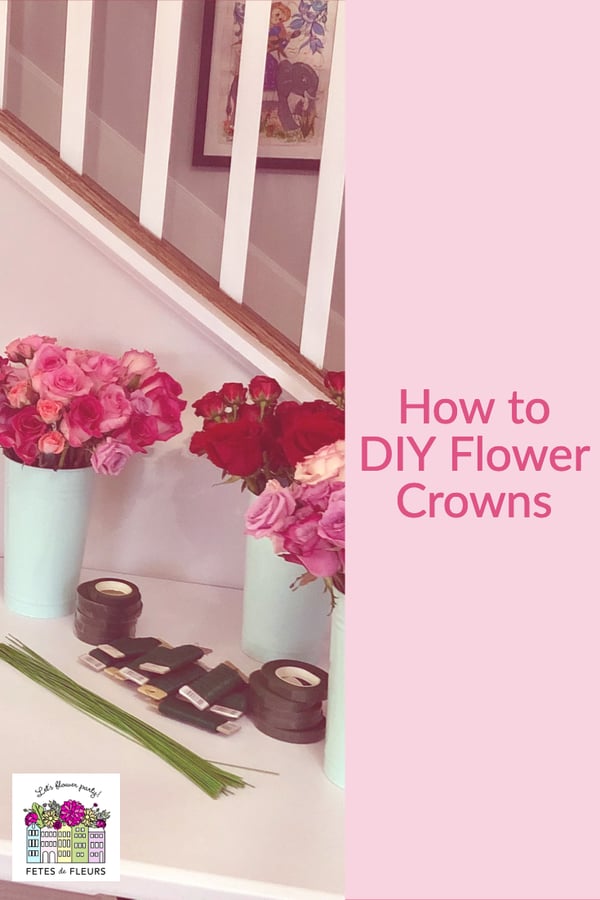 First off, to make a good flower crown you need to know a couple of things up front. There are different bases to flower crowns that you should be aware of. Let's start there. You must first pick the base of your flower crown and then we can move on to how to actually attach flowers to your flower crown.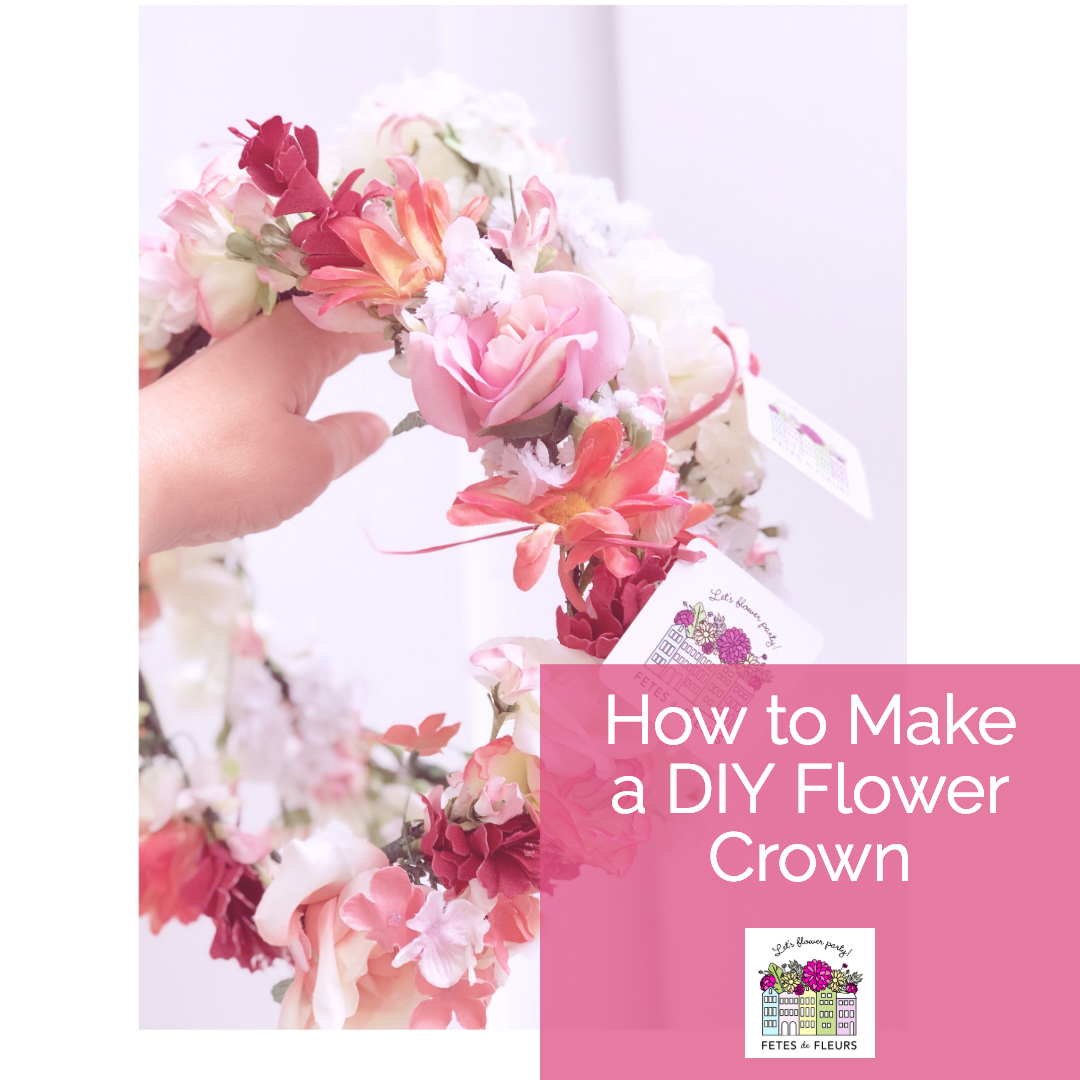 Here are the Different Kinds of flower crown Bases
The full flower crown base: this means that the crown will wrap around your whole head. There will be no opening on this kind of flower crown. You will do this by either using floral wire or by using grapevine wire binded together.
The floral headband: if you are going this route that means you are starting with a headband base. Most of the time we would use a plastic headband as the base of the floral headband or use a gold metal headband to build your flower headband out on.
The open in the back flower crown secured with a ribbon: this option is using if you want to add ribbon to the back of your flower crown to secure it to your head.
All three of these flower crown bases are going to be pretty on. Just kind of depends on what your vibe is and what you want the flower crown to look like.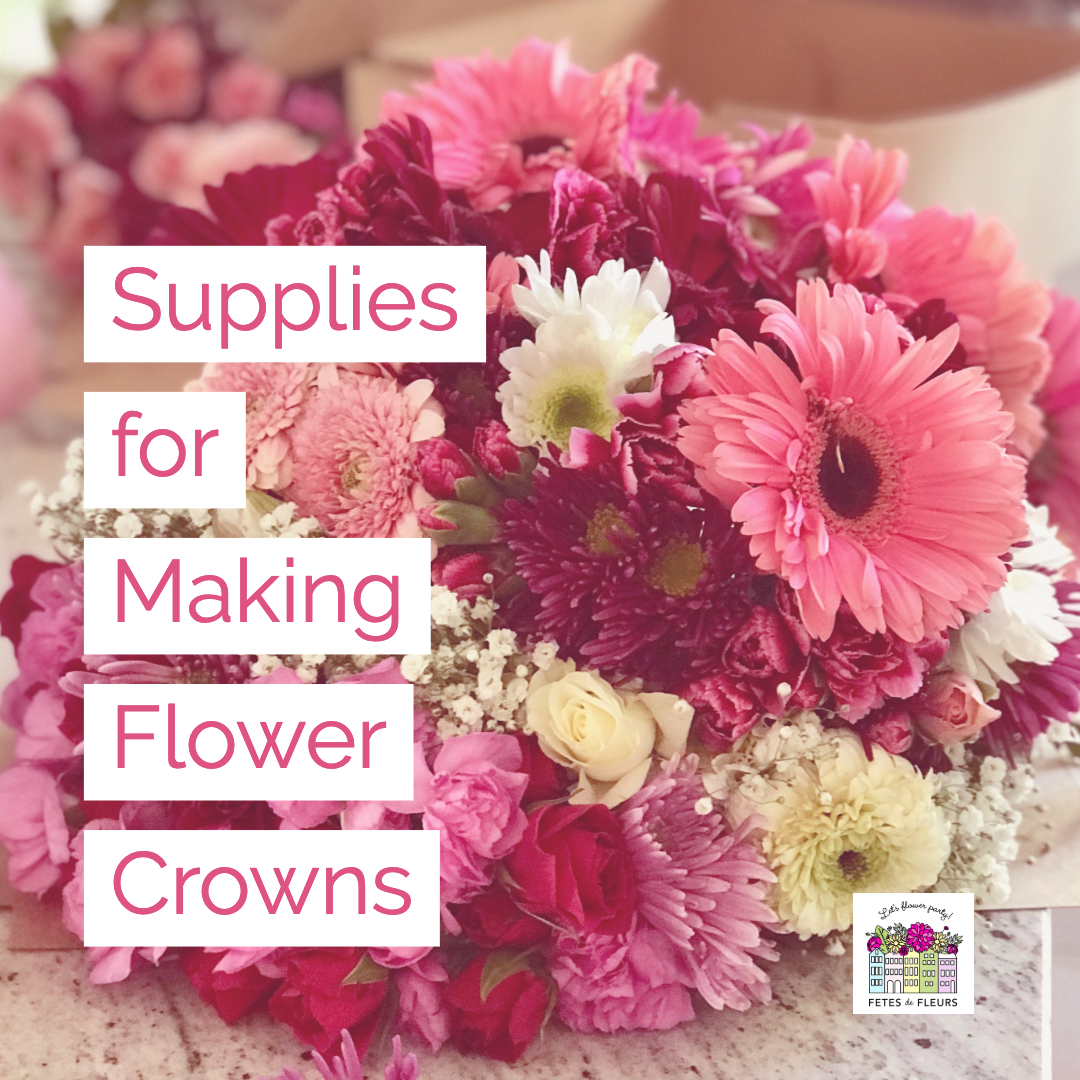 Supplies you will need to buy to do DIY Flower Crowns
Floral wire
Floral gauge
Floral tape
Scissors
Flowers
Greenery
Headbands if going the floral headband route
Glue gun if you are making a floral headband with silk flowers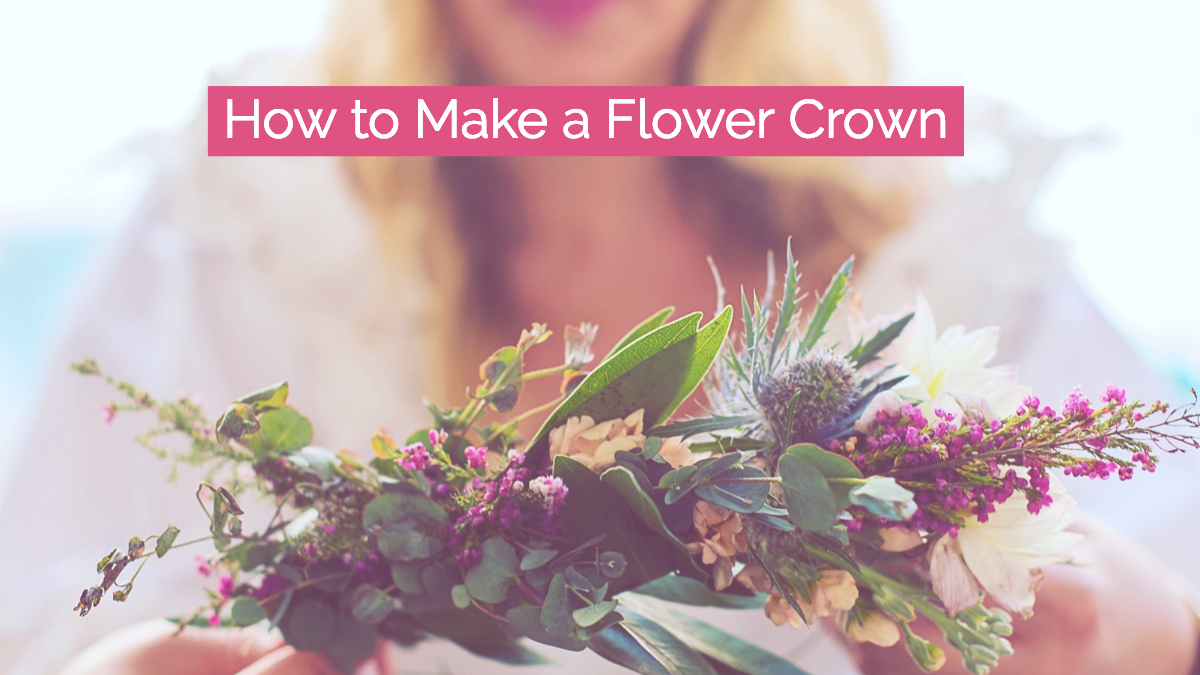 How to make different kinds of flower crown bases
All the way around the head flower crown
Start with 2 floral wires and you will want to position them so you can wrap them onto each other to create one circle for your head.
Once you have done that and attached the 2 floral wires together you will then want to use floral tape to wrap around the whole flower crown base.
Grapevine flower crown
You will want to take a longer piece of grapevine wire and cut it.
Place it around your head or the person's head that you are making the flower crown for and attach it at the back by wrapping it onto itself.
Open in the back flower crown to add ribbon
You can take steps 1 or 2 depending on if you want to use the grapevine, natural look or if you want to use the floral wire. Either way is fine.
Instead of securing and closing the back, keep it open in the back of your head on either side measured around your head so you can add on ribbon.
You will want to make little loops on the grapevine wire or on the floral wire to secure the ribbon to the back so you can tie into on the head when wearing.
How to make a floral headband
Get your glue gun on and ready, hot.
Cut the silk flowers low down past the stem really to the flower itself.
Place and glue the flowers onto the headband.
Super glueing the silk flowers onto a floral headband is easiest but you can also use real flower or silk flowers in a similar method of attaching via wire or tape to the headband.
How to add greenery to your flower crown base
Buy some longer greenery at your local wholesale market, florist, or even Trader Joe's and some super markets have great options.
Take the greenery and attach the stem side to the base of your crown with either tape or a little snip of wire.
Wrap the greenery around the base of your crown all the way around and secure on the other side with tape or wire (depending on your preference).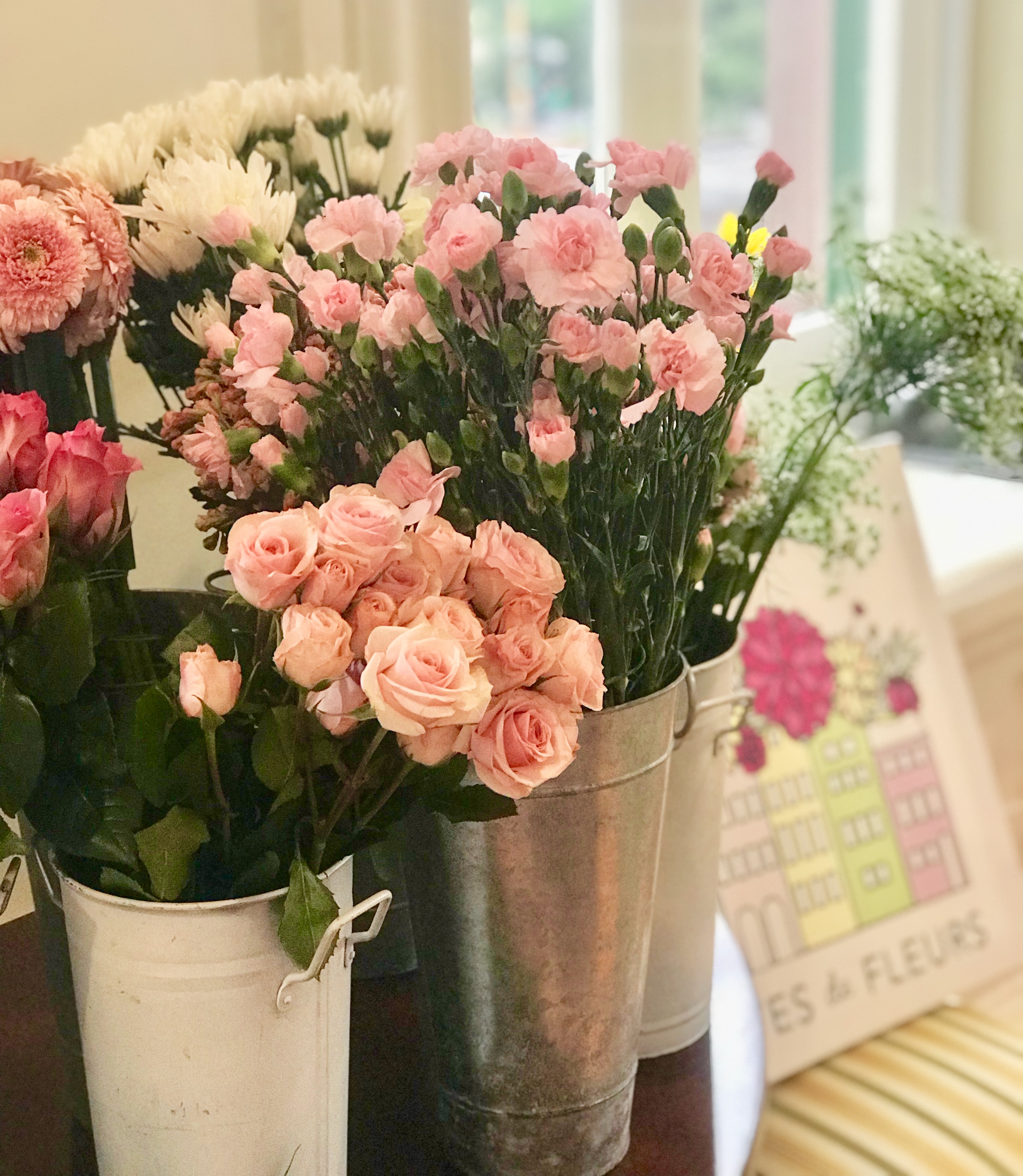 How to add flowers to your DIY flower crown
There are a couple of ways to add flowers to a flower crown. Here are the ways that we see being the easiest for newbies to making DIY flower crowns.
Bunches: You will want to make little bunches of flowers and/or greenery that you bought using floral wire and/or tape. Those floral bunches will be used to attach the flowers to the flower crown.
One flower at a time: You will wrap a small piece of floral tape around the stem of the flower you cut off a longer stem. Then when you have a small piece wrapped around the stem of the flower you can add it to the base of the crown by wrapping the rest of the flower tape around the base of the flower crown. You will keep doing this as you continue to work on your flower crown.
There are some more advanced techniques that you can use to get a flower ready to put on a flower crown. You can take a small snippet of floral wire and puncture the flower so that the wire comes out the top of the flower itself and do a small loop into the flower so it stays put. Once you do this you should have a loop that goes through the flower so you can take the wired flower and attach it to the base of your flower crown.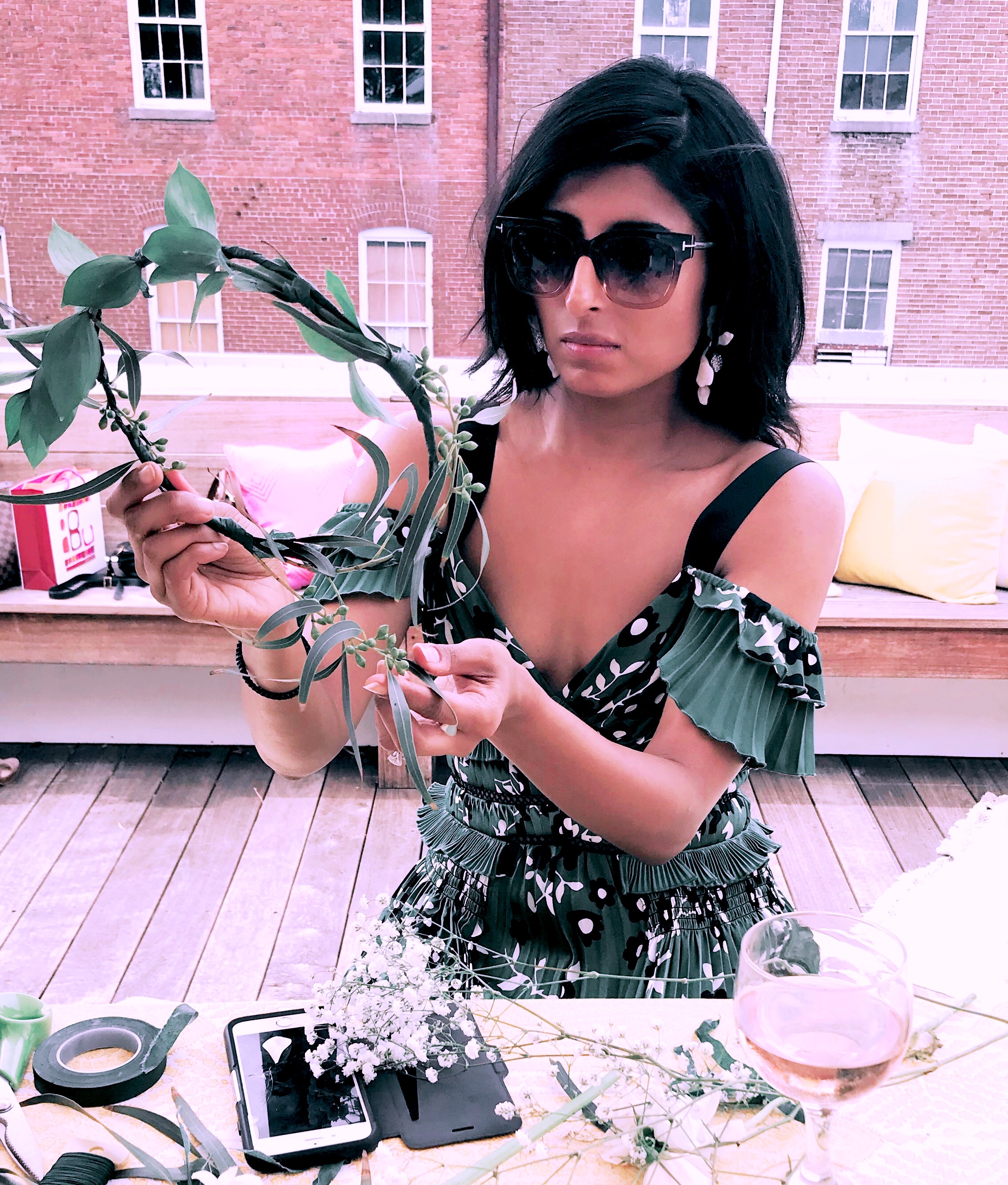 There are a couple of differences in making DIY flower crowns with silk flowers and real flowers that might be helpful to know about.
Silk flowers will tend to be easier to work with because they won't fall apart as easy. A lot of people are afraid of working with real flowers when making DIY flower crowns because they are afraid they will hurt or break the flowers. You might! But, rest assured flowers are more hearty than you might think! If you follow these examples of how to attach flowers to a flower crown you might lose a couple of flowers or flower petals on real flowers but not many. You will find your groove as you start to attach flowers to your DIY flower crown and it will get easier. A lot of people actually find the process of making flower crowns to be super relaxing. So keep at it and practice because it can actually be a really relaxing activity.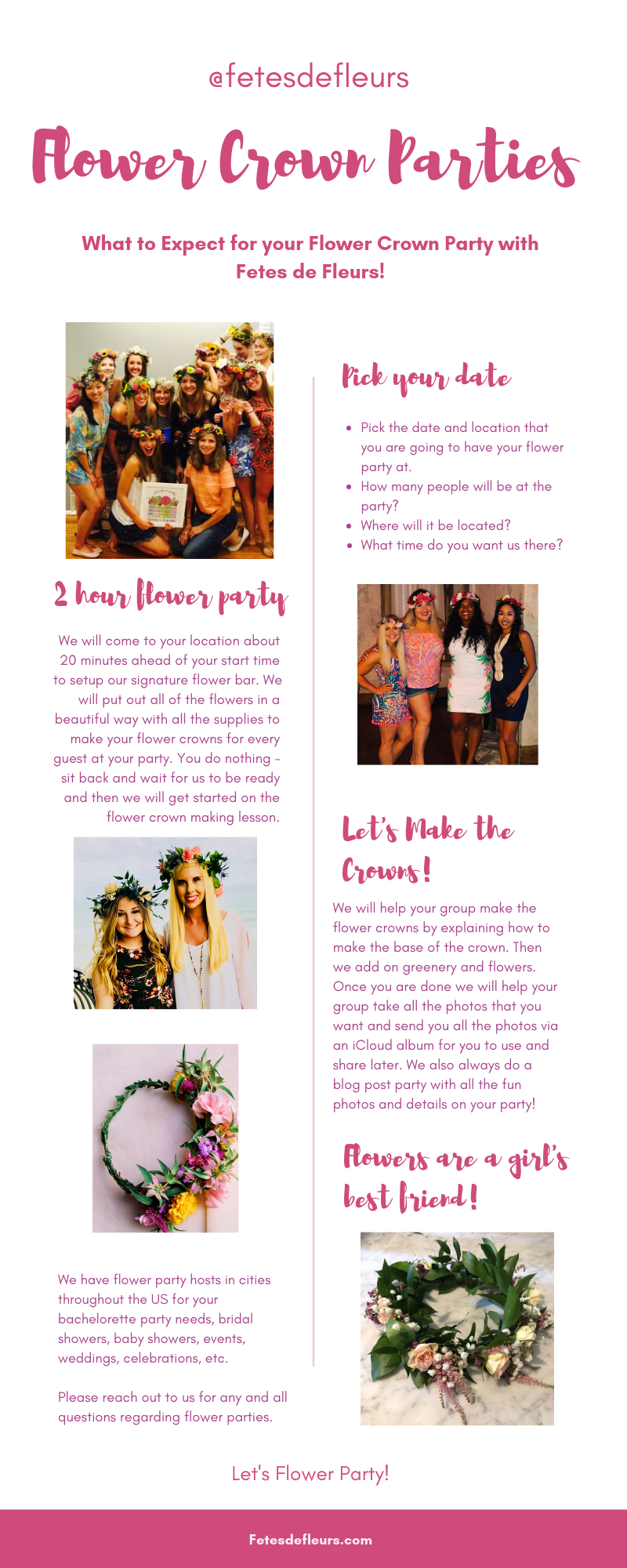 Real flowers and silk flowers have similar techniques for putting them on the flower crown that we spoke about above. So get used to using floral tape and floral wire snippets and you really cannot end up with an ugly flower crown. People are always worried that they are doing something wrong in the process of making flower crowns but really how can flowers be ugly in the shape of a crown? It is hard to make an ugly flower crown in general. BUT, that is why we exist!!! If you are worried you can't do this or just don't want to - WE ARE HERE TO RESCUE YOU. Reach out to us with what you need made and for what kind of celebration or party you have coming up by emailing us at ali@fetesdefleurs.com. We are here to help you and can make custom flower crowns for any events, galas, weddings, birthdays, showers, bachelorette parties, etc. You name it, we can help you make most things our of flowers.
If you would like us to make flower crowns for you please email us at ali@fetesdefleurs.com or fill out the form here for a custom flower crown order.