Omg. Omg. Omg.
What's the next hottest trend for bachelorette parties, bridal showers, baby showers, oh and don't forget wedding parties?
Floral cuffs.
Flower bracelets.
Floral corsage cuffs.
Floral corsage bracelets.
Okay, you get the gist of it. Essentially we are taking the outdated floral corsage of the past and updating it to be more a statement jewelry piece that you keep and wear again after your event. Instead of throwing out those darn corsages...why not buy something that you or your wedding party will actually wear again? Oh and BRIDES to be...HINT, HINT- you can use these lovely floral corsage cuffs as bridesmaid gifts or bachelorette party favors. Kill 2 birds with 1 stone. Right!?!? AM I RIGHT?
Floral corsage bracelets for your bridesmaids in your wedding.
Floral corsages are great for those brides who want something unique for their bridesmaids. Instead of using floral bouquets you can have your bridesmaids wear floral corsage bracelets or floral corsage cuffs to up your wedding game. Instead of having to lug around floral bouquets you can instead have your wedding party wear the chicest floral corsage bracelets. Just think of how cool your wedding pictures will be. OH and your bridesmaids will thank you for doing something unique and fun for them. Your bridesmaids will also have a great bridesmaid gift that is different than the traditional day of wedding gifts like earrings they will never wear again.
Not into flower crowns, no worries we got you boho bachelorettes covered with floral corsage bracelets for your bachelorette party group.
Bride to be...not so into the flower crown idea. That's okay! Still want to incorporate flowers into your bachelorette party weekend? We have the answer for your group of ladies.
We can send you floral corsage bracelets already made up with your favorite colors and flowers for your bachelorette party.
The bride to be can have an all white floral corsage cuff while the rest of the bachelorette party can have colored or themed floral corsages.
We will create custom floral corsages with gold, rose gold or silver cuffs for your bachelorette weekend plans.
If you want to make the floral corsage cuffs on your own we can send you all the supplies in the mail ready to go with instructions and instructional video on how to make the floral cuffs. Now you and your bachelorette party can flower party on your own all while learning a new DIY skill.
If you happen to live in Charleston or a city where we have a Fetes de Fleurs party host we can come to your Airbnb, hotel, or restaurant/bar of your choice to put on a floral cuff making party.
Ready to get your floral corsage party on?
Fill out the form here to get the guide to creating floral corsage cuffs with our step by step instructions, guide and video on how to create DIY floral cuffs.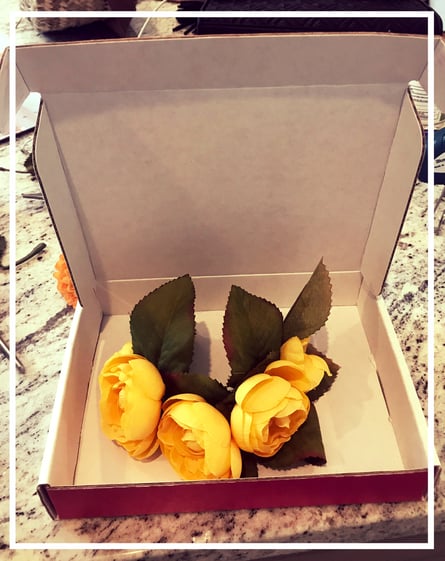 Oh and if you aren't so much of a pro DIY girl, we got you covered and can make them for you. We mail flower crowns and floral bracelets out throughout the US in fun flower party boxes.