We are in Savannah this weekend checking out all the things as we get excited to launch our flower crown parties here in this cute, southern city! Savannah is only a 2 hour drive from Charleston, SC where we are based so we thought we would take the drive down this weekend and explore the area to get excited about our launch here.
If you are contemplating a Savannah bachelorette party or maybe a Savannah girls weekend this could be a lovely place to spend your celebration.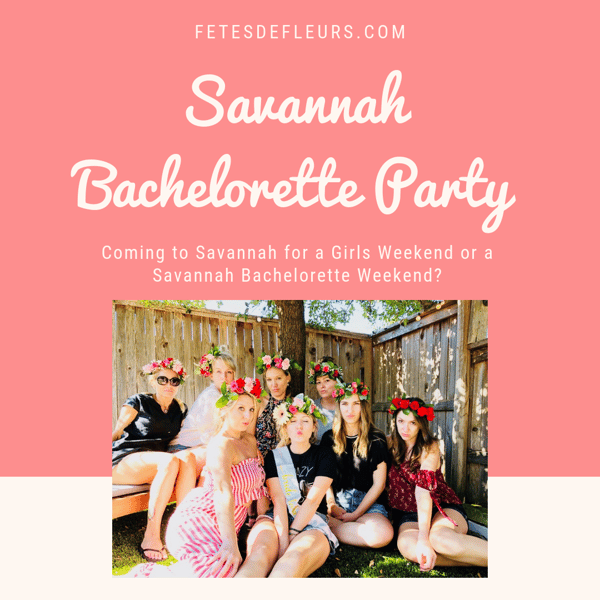 Since there is so much you can do in one city for your bachelorette party or your weekend away it is hard to write out every single thing you could do. We will continue to do posts about the cities that we have flower party hosts in with guides on different topics so you can get inspired for your trips. Think posts like guides for brunch in X city, guides for rooftop bars, etc. But for these general posts on the cities we are in we will write out our top things we would do if you do end up coming here. Hope the bachelorette city guides are helpful for you as you plan your bachelorette weekends.
Learn more about hosting a flower crown party in Savannah as part of your weekend celebrations while you are here.
Alida Hotel : I stayed here for my most recent trip to Savannah. It is a new hotel right off the main drag of the area downtown. The ROOMS ARE FABULOUS. The room are HUGE, have amazing, big windows with a modern, chic design that you will love. The staff is super friendly and everywhere you look in this hotel you will be dazzled with design. From beautiful wall paper, to lots of cool plants and furniture everywhere you look - this hotel will not let you down.
Brice Hotel: I stayed here for a girls weekend with my good friend Lauren back a bit ago. LOVE This place too. So chic, right in a great area where you can walk around a ton from the hotel.
Perry Lane Hotel: I haven't actually stayed here YET but I came across it last night while perusing the downtown area and taking photos. You will not be disappointed if you end up staying here. There is a really cool rooftop bar here too that everyone and their brother told me to go to while here.
All of these hotels in Savannah that I mention here have POOLS. I would not do a bachelorette weekend in a southern city without having a nice, chic pool. So these 3 Savannah hotels all have amazing decor and pools. You will be happy as a clam at any of these hotels.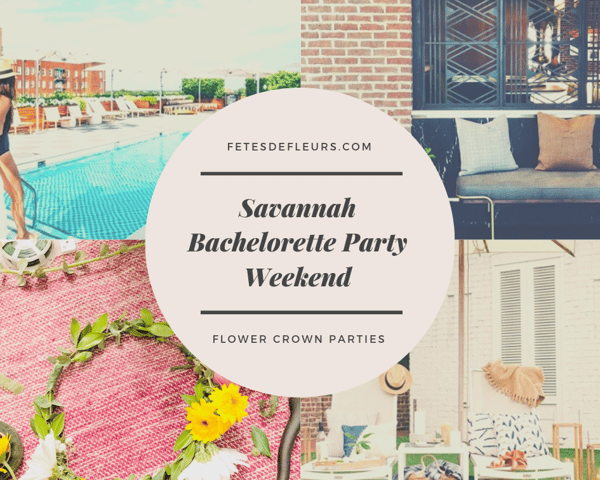 Since I check Instagram for travel inspiration I thought I would link to their Instagram pages here too in case you want to click through and see how beautiful these 3 spaces are. Promise you will end your weekend so happy that you picked to stay at a wonderful hotel.
There are lots of other hotels that you can stay at in Savannah but these were the 3 that I liked the most. I like chic, well decorated hotels and spaces so in general with any of our guides you will find that anywhere I recommend is going to be a beautiful space where your group will feel great about paying to stay at. In general if you like pretty things what we recommend will always be girly, fun and beautiful! I always check HotelTonight when booking trips and also would recommend checking out airbnb for any city you are planning on visiting.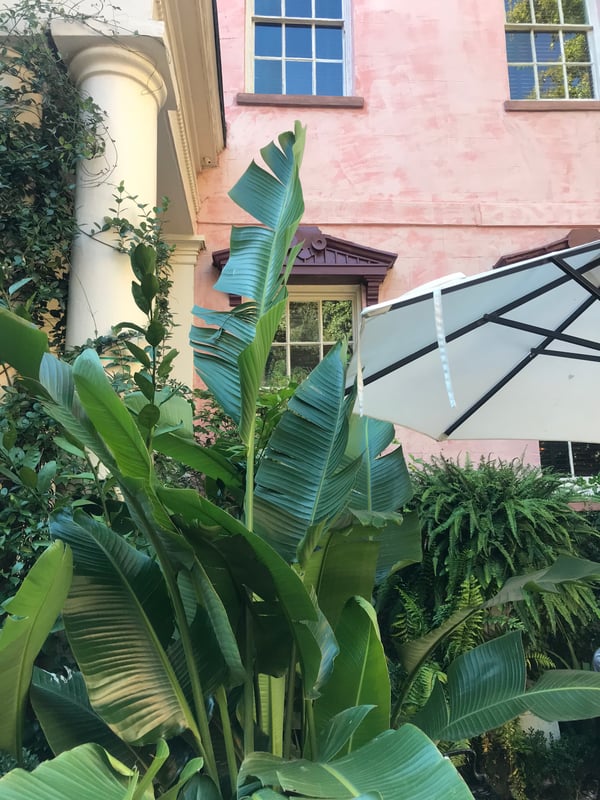 We will continue to add in more posts and guides to all things that Savannah has to offer. These posts will include things like where to stay (this one), where to eat, dinner reservations your MUST make, things to do while in Savannah, rooftop bars to go to while in Savannah, etc. So stay tuned and follow along. If you have suggestions on places that we should add in just send them our way. Hope to flower crown party with you when you come to Savannah for a bachelorette party or a ladies weekend in Savannah.
Click the button below to fill out the form for more info on hosting a Savannah flower crown party with us.