With Halloween around the corner we thought it would be festive and fun to incorporate pumpkins into our flower parties this month.
Thankfully one of my friends here in Charleston (fun fact: we also went to college together) was having her birthday- seemed like the perfect time to celebrate with PUMPKINS!
So we took it one step further and had a garden birthday party with pumpkin succulent centerpiece DIY making in a fun fall themed back yard setting.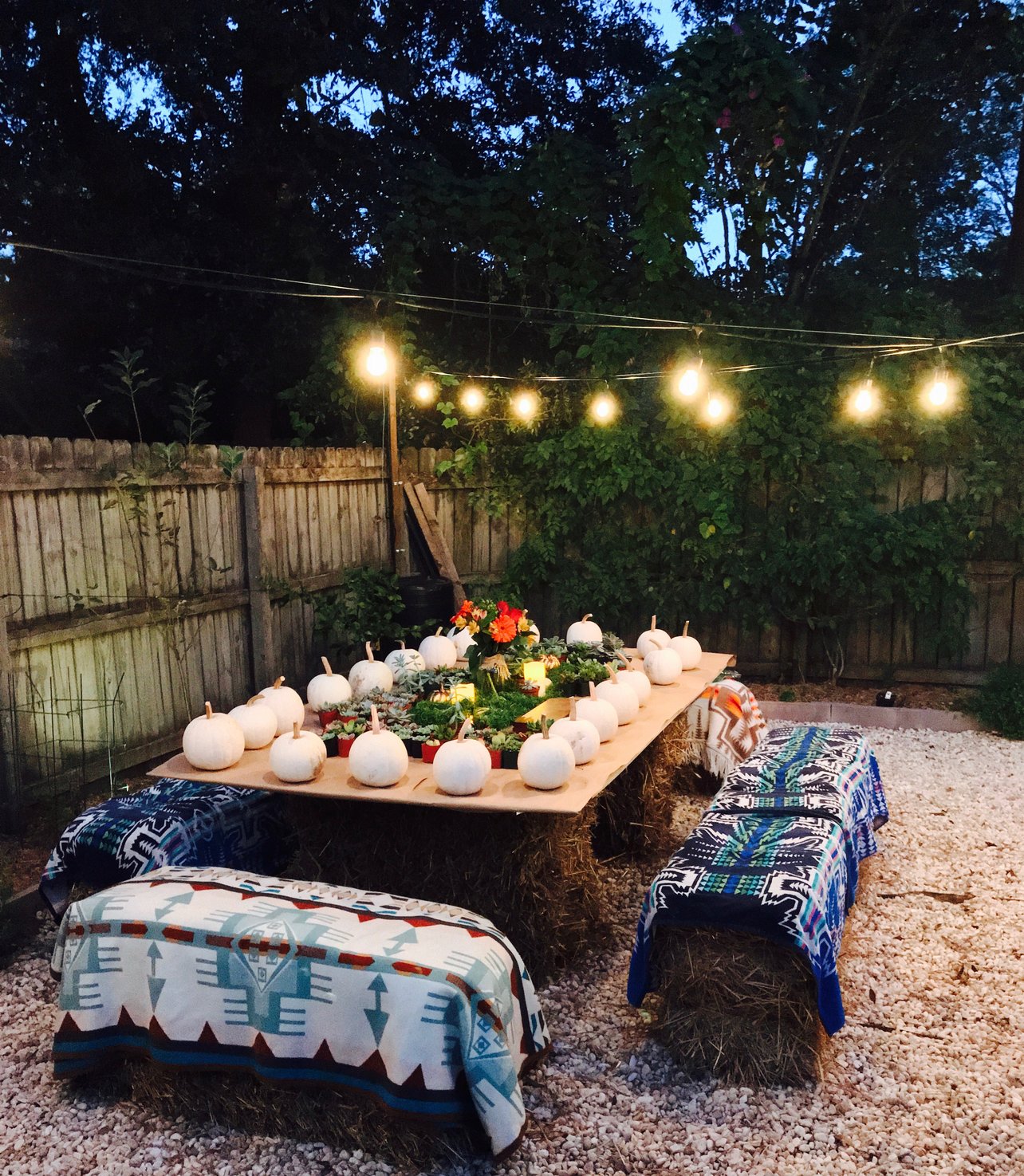 It was a perfect fall night in Mount Pleasant, SC.
Paige (the birthday girl, and host of the party at her house) setup a beautiful table made out of hay for all the ladies to sit at while they made their succulent pumpkins.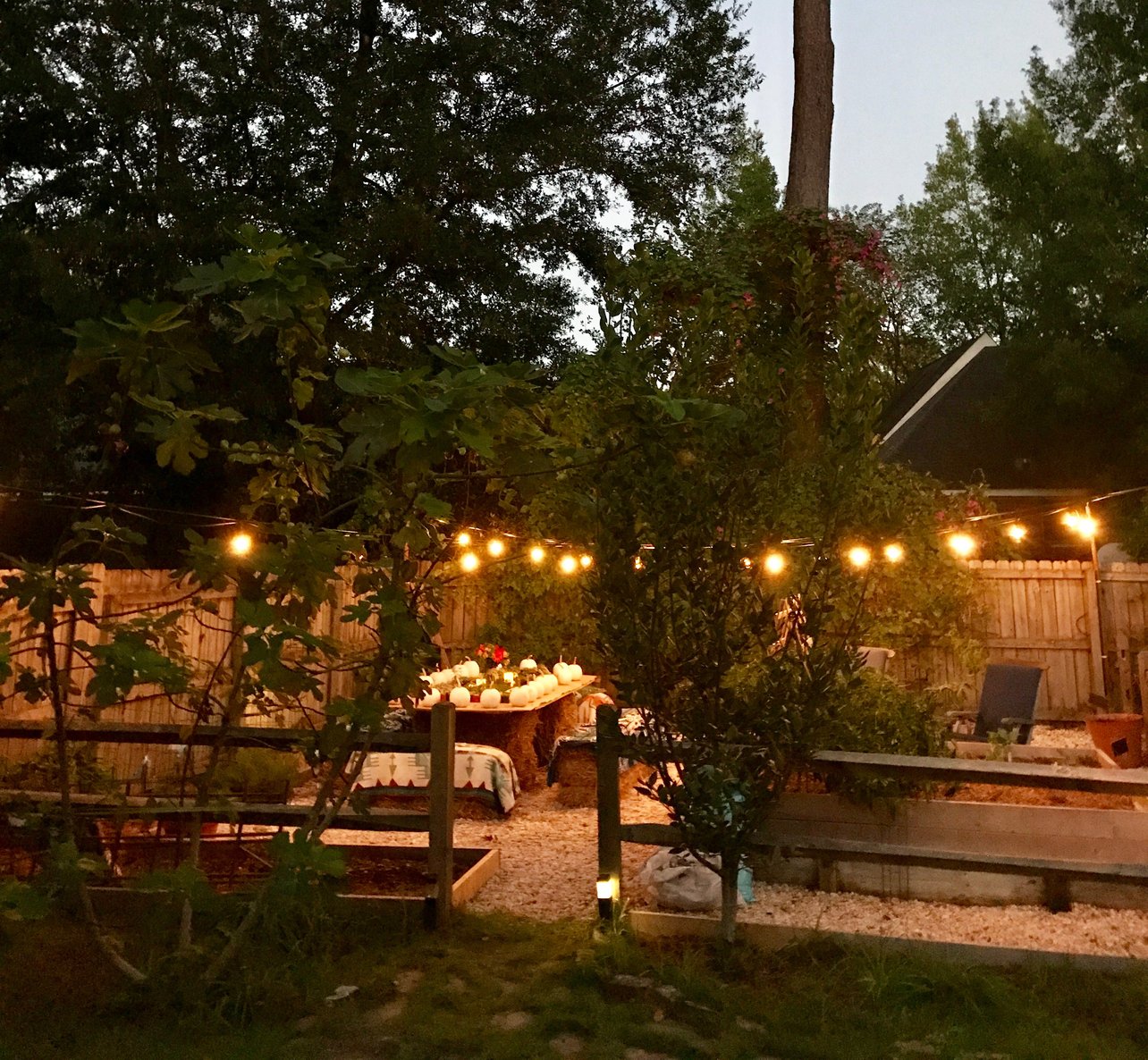 I couldn't get enough photos of the setup of her little garden in her backyard.
I would live out there if I could.
I loved how Paige had the hanging lights, music playing and hay to sit on. Perfect fall, magical evening.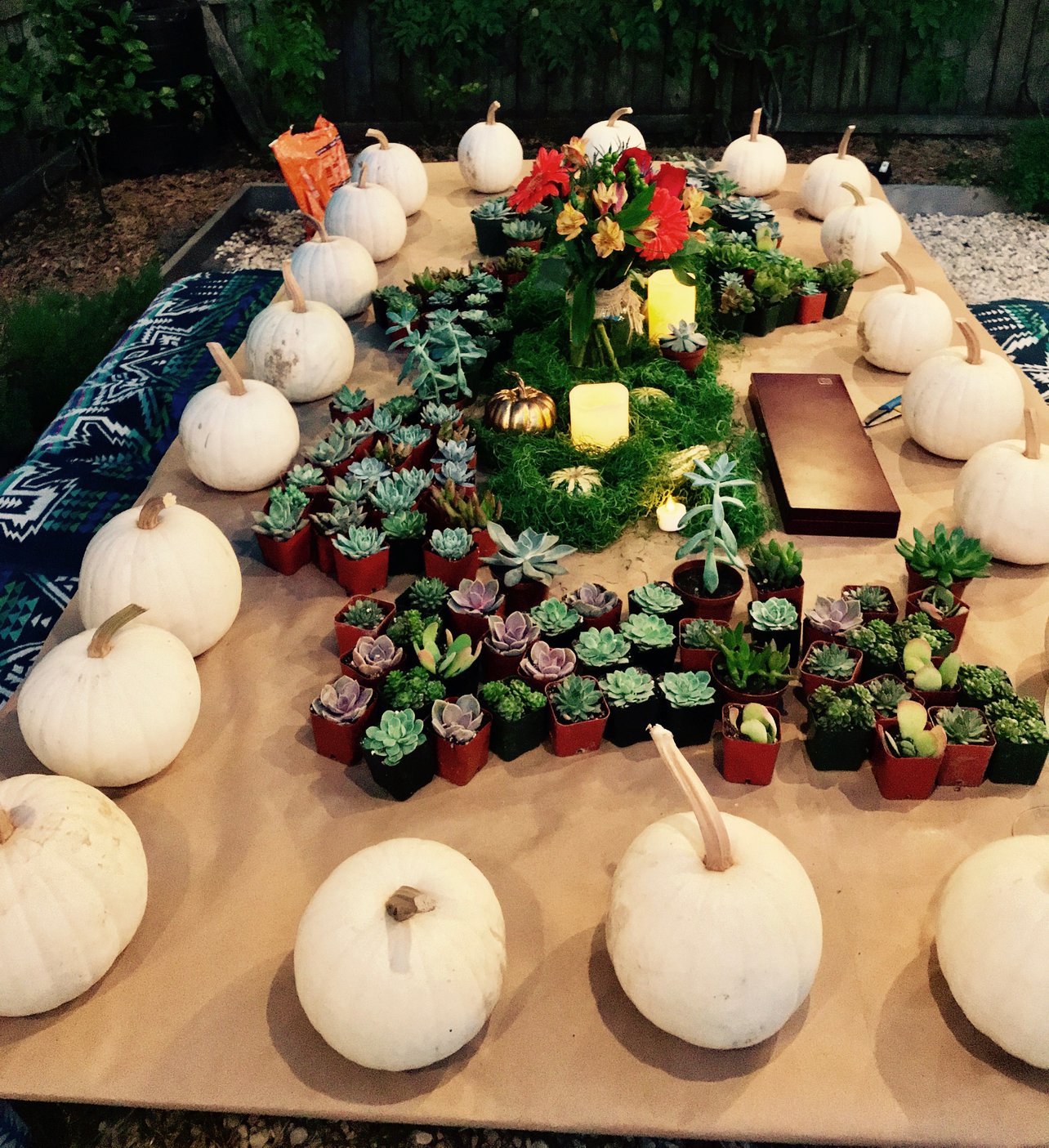 Here is a photo of the tablescape before the ladies got DIYing their succulent pumpkin centerpieces.
I got the pumpkins at Boone Hall Plantation here in Charleston and the succulents mostly were bought on Etsy and at Hyams Nursery on James Island.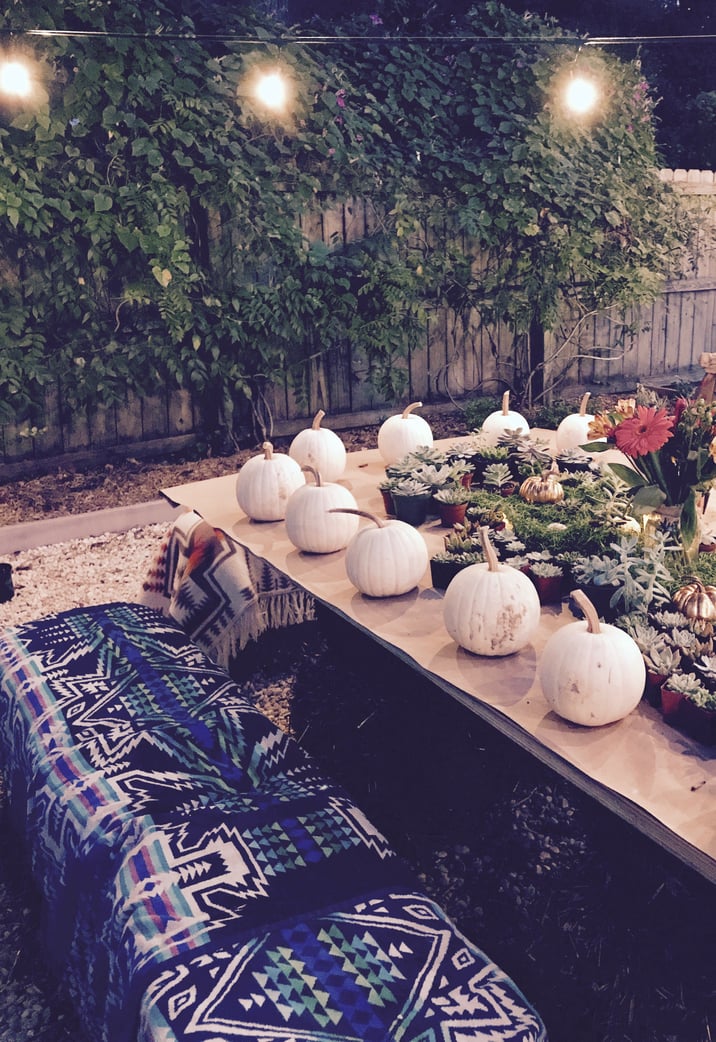 Probably the most magical fall night I have ever experienced. It was absolute perfection.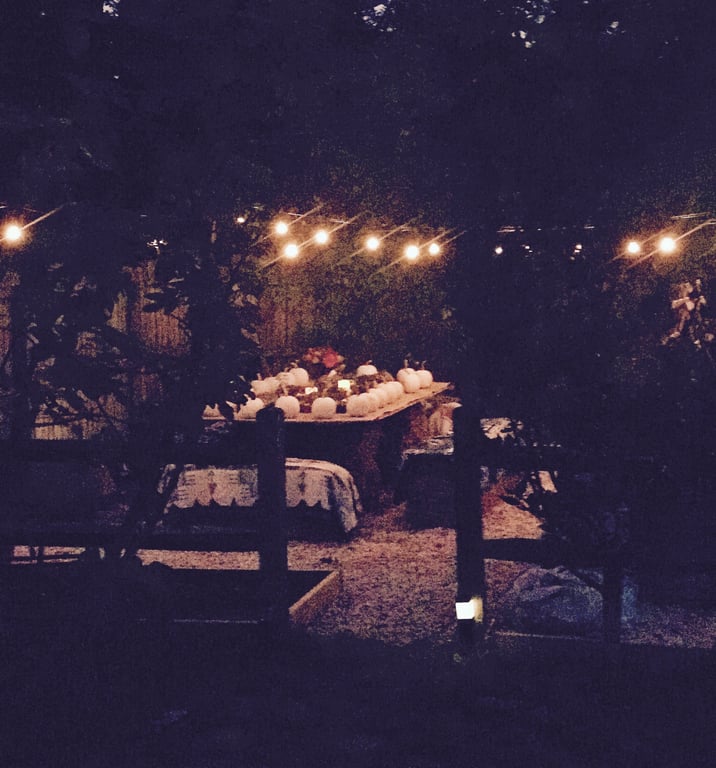 The hanging lights really made it so perfect.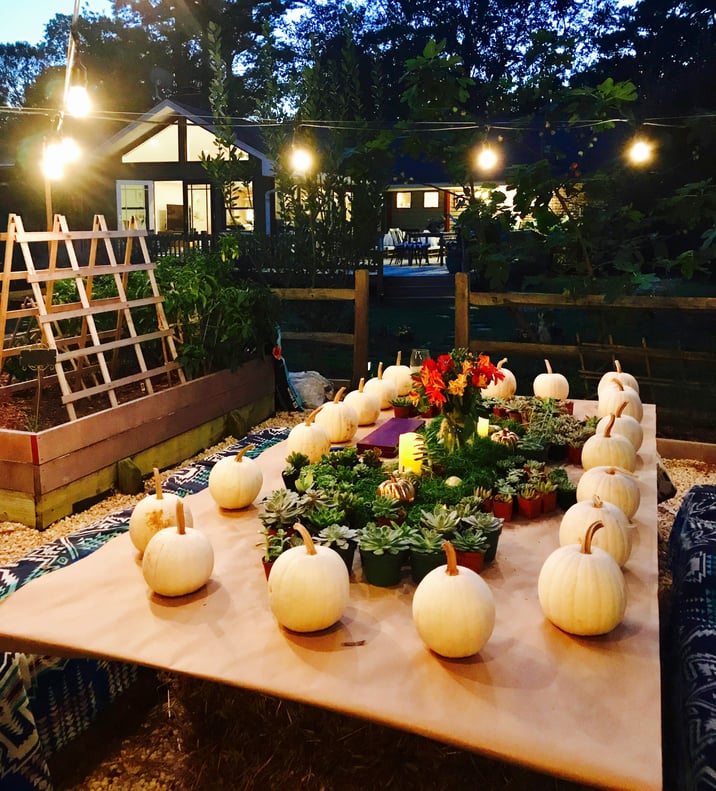 Pumpkin Succulent DIY GUIDE:
You will need Pumpkins, knives, moss, succulents, trash bag, spoon for scooping out the guts and seeds of the pumpkins) and some soil.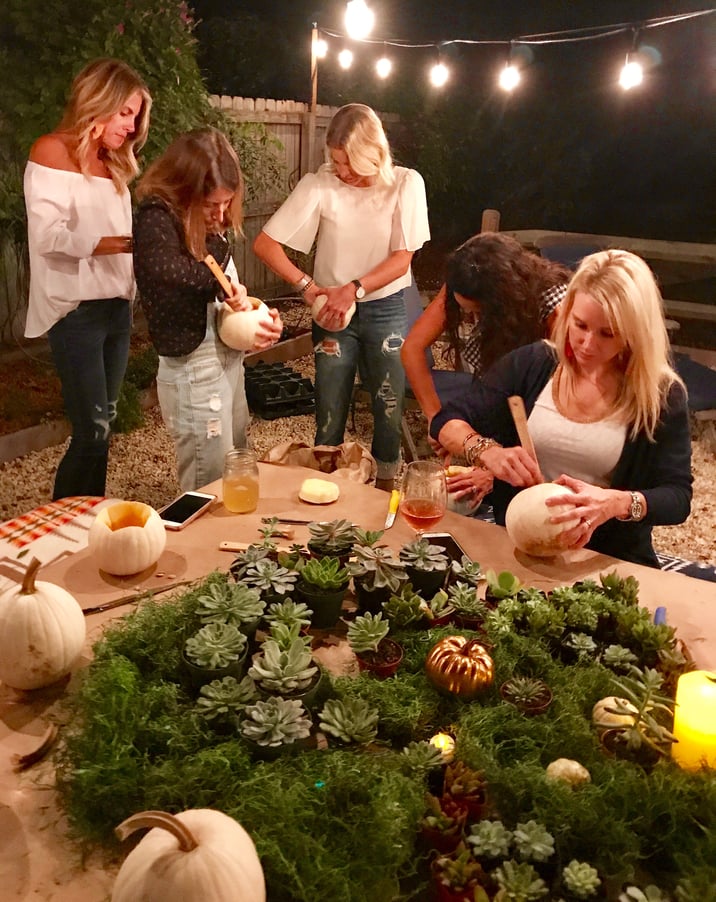 Here are some of the ladies scooping out the guts and seeds of the pumpkins.
We first popped off the stem of the pumpkin and then cut around a whole at the top of the pumpkin. Popped off the head of the pumpkin and scooped out all of the guts.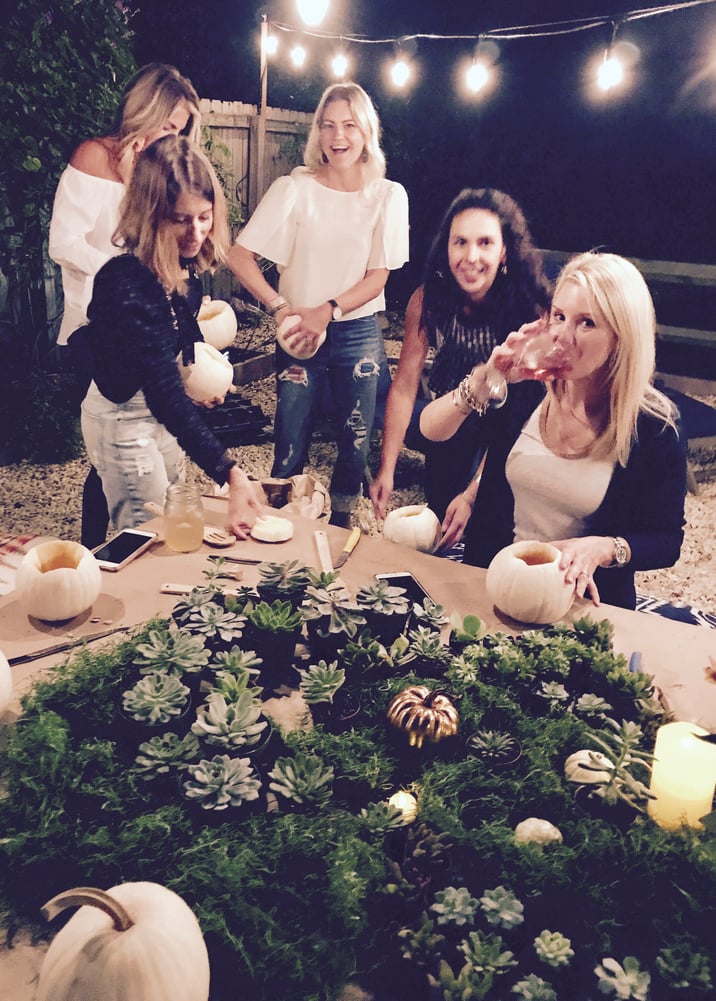 Oh and we drank rose of course, because what's a flower party or garden party without wine?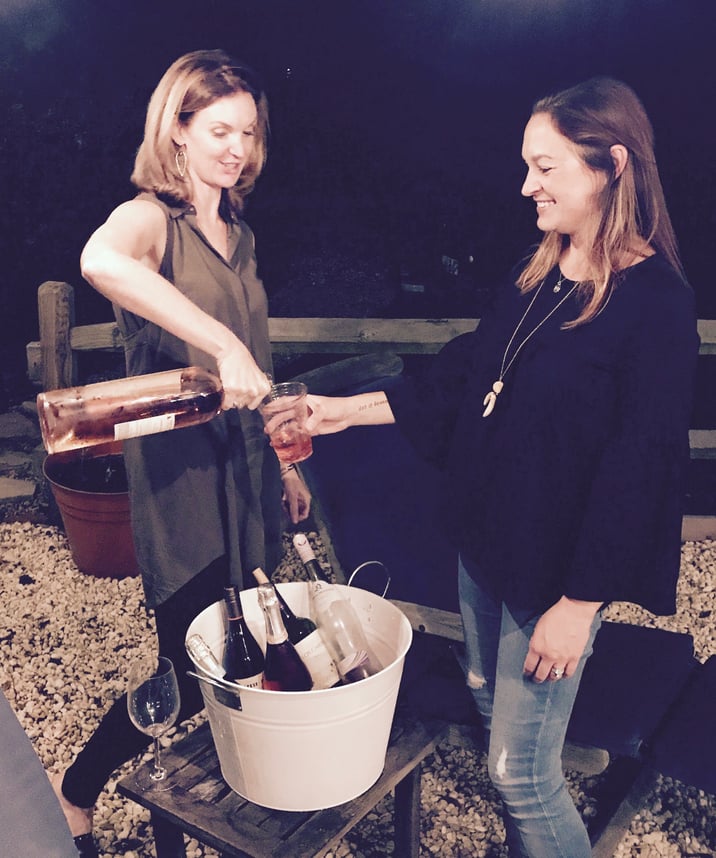 Thank you Monarch Wine for always being my go to for wine for my flower parties.
We brought a magnum rose (Which is always fun for a birthday) and a box of wine (which actually has 4 bottles of rose in 1 box).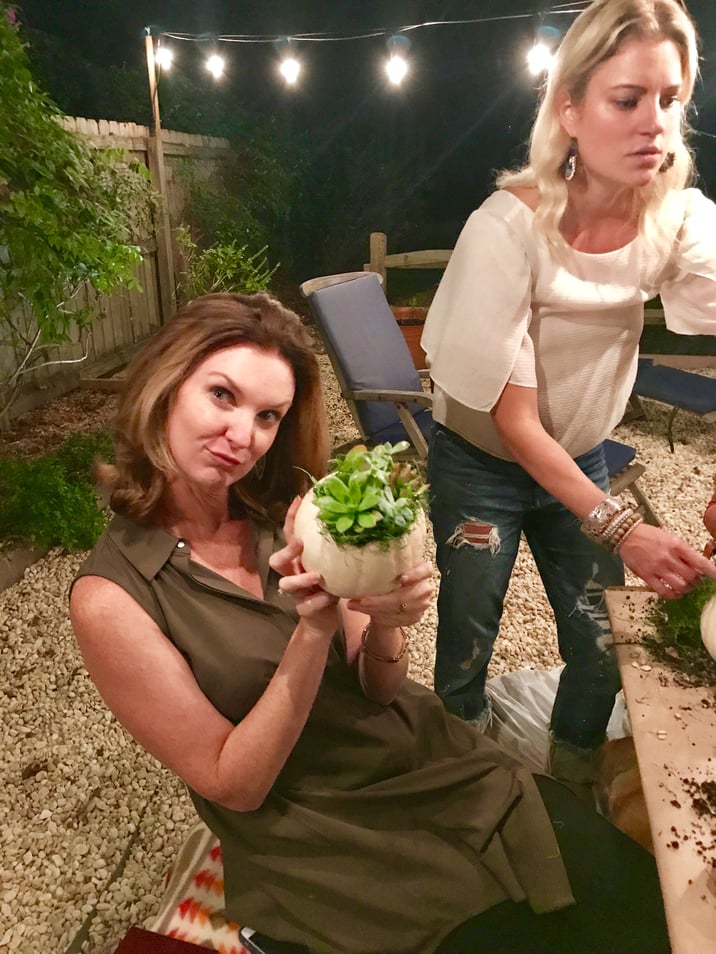 This lady is a hoot and had the coolest shirt on too. Checking out her good work.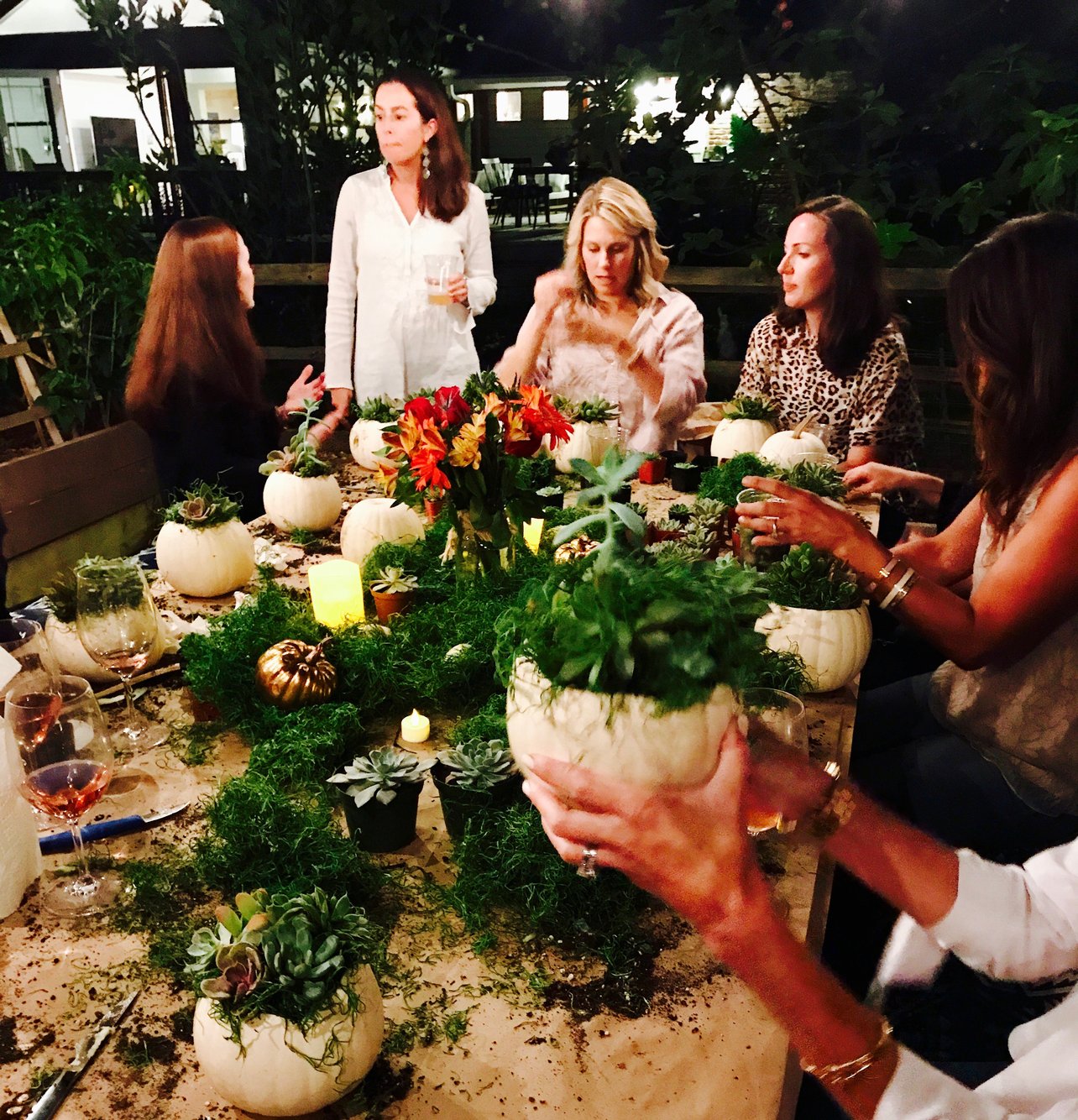 All the ladies getting their pumpkin DIY on.
The best part about flower parties is that everyone's personality somehow comes out in the end product made. I love seeing the creativity flow and how serious some ladies get about getting it just right!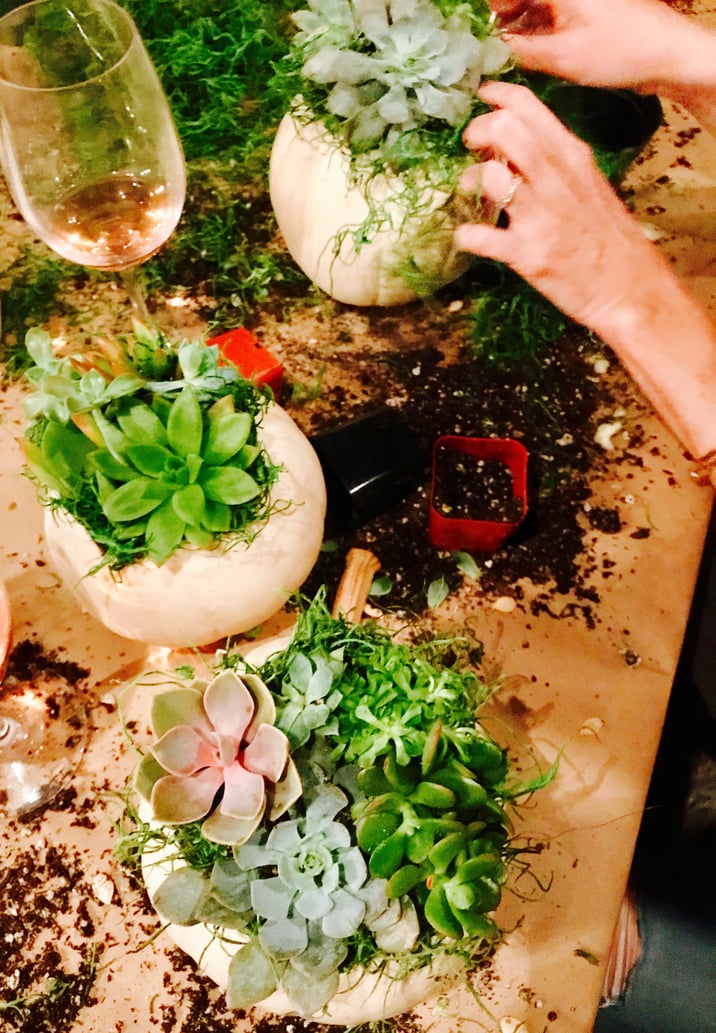 You want to shake the succulents loose from their soil and holders. This does get a little messy of course so having the succulent pumpkin centerpiece DIY party outside in a garden was definitely the way to go!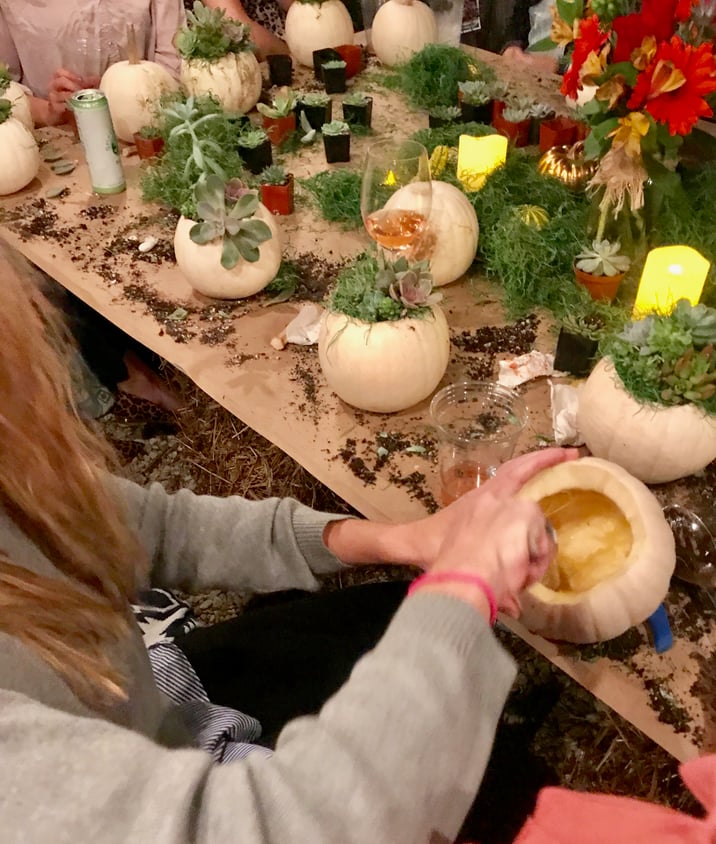 Remember to scoop out all of the inner pumpkin and get as many seeds out as you can.
The next step is filling your pumpkin with the soil to start to plant your succulents in.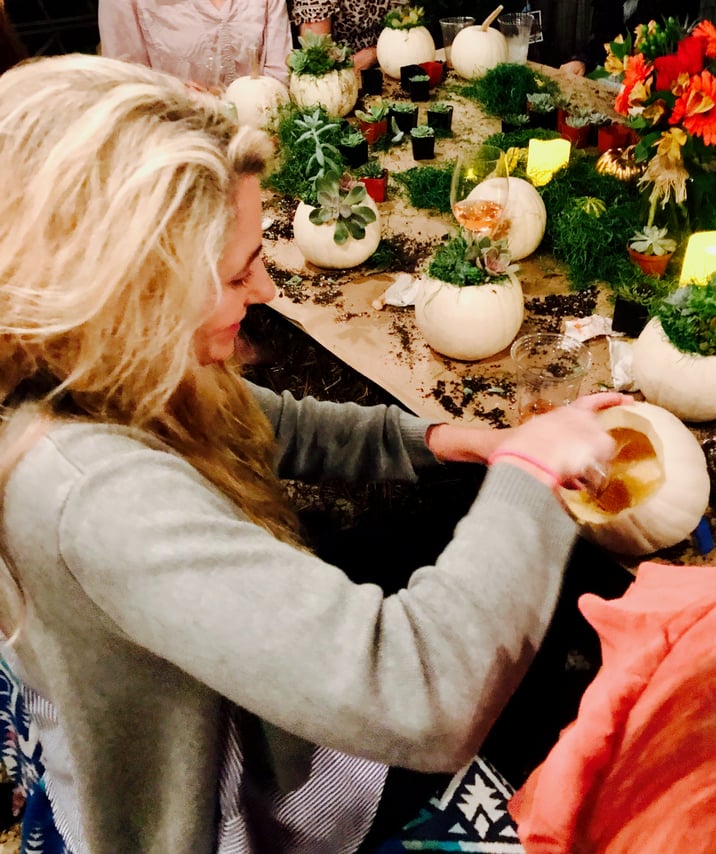 See, look even scooping out pumpkin seeds is fun?!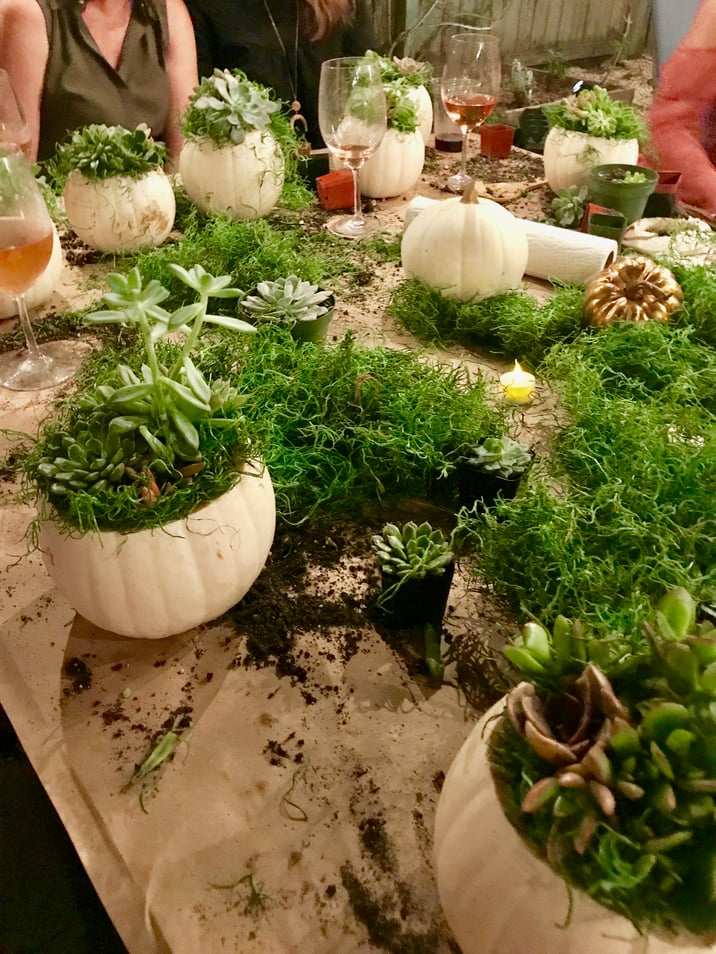 Once you have the insides of the pumpkin scooped out and filled the pumpkin with the soil, you are ready to get crafting ladies!
You can fit a lot of succulents in a small space so you want to shake some of the dirt off of the succulents and start to plant from the corners in.
Using one larger succulent and then smaller ones around the larger one seems to work best.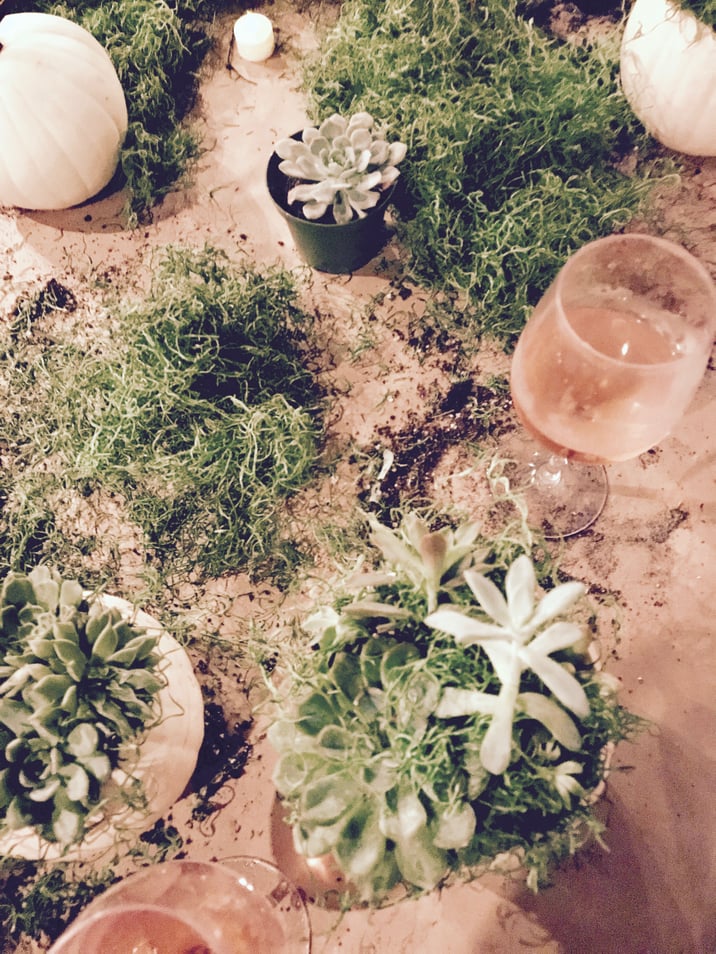 The ladies told me that their kids last year did a similar project at school and brought home pumpkins like these. They weren't sure if they were doing a better job than their kids at this. Cracked me up, of course.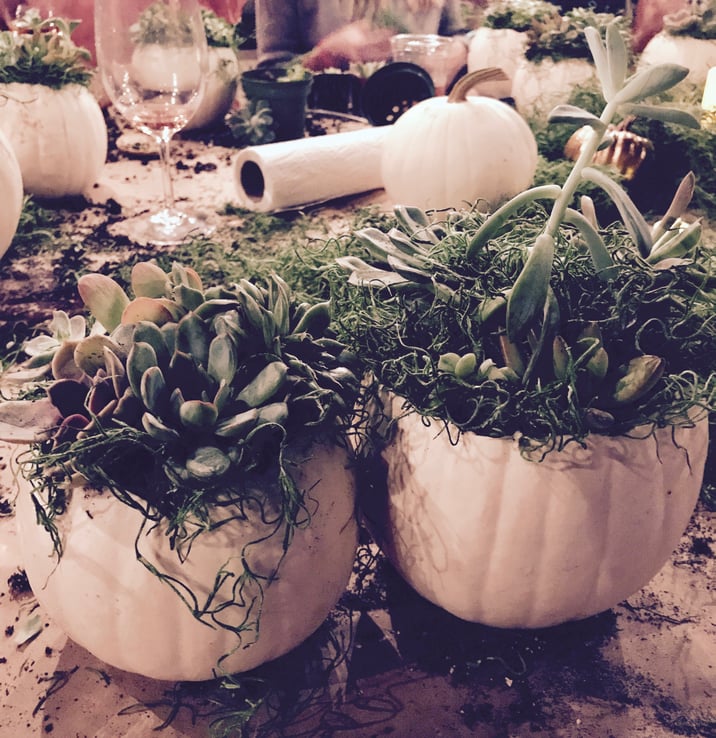 I would suggest spritzing or spraying your succulents with a little bit of water once a week or so.
Don't over water these little succulent babies.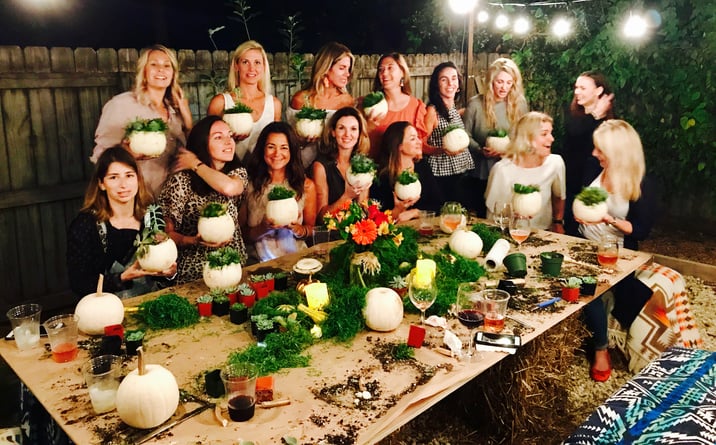 Here's the whole group showing off their newly made pumpkin succulent centerpieces.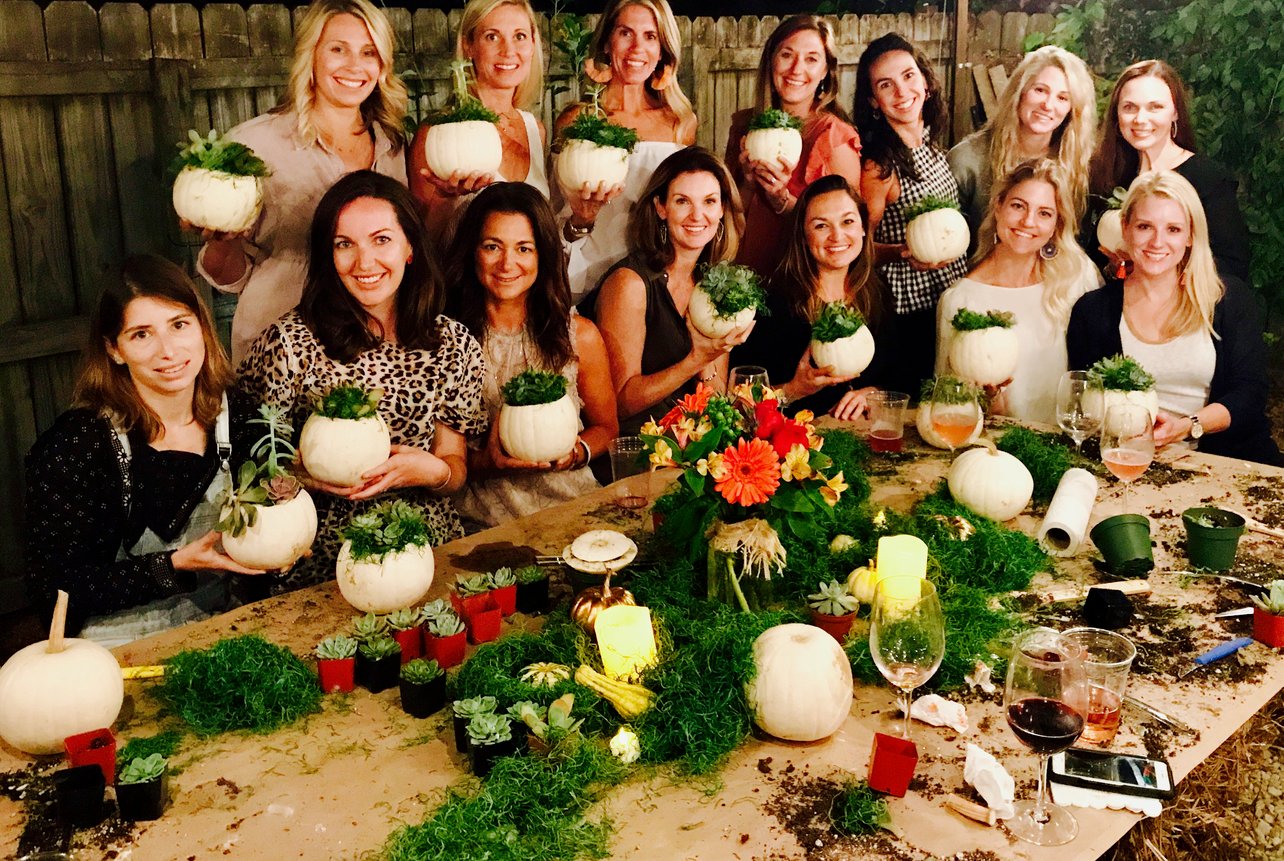 A few more for good measure...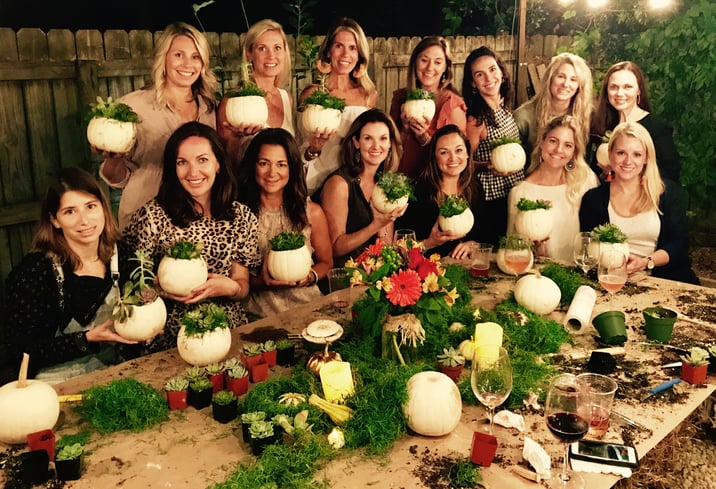 We hope we have inspired you to host a fall backyard party! Or better yet if you have a friend with a fall birthday use this as a fall birthday party theme!
If you are looking to plan a flower party, a fall party or holiday activities as we move into the winter months please reach out so we can start chatting with you about your needs. We are booking up fast through the holidays. We hope to flower party with you soon!