Oh Charleston, you have stolen my heart, you little love bug you.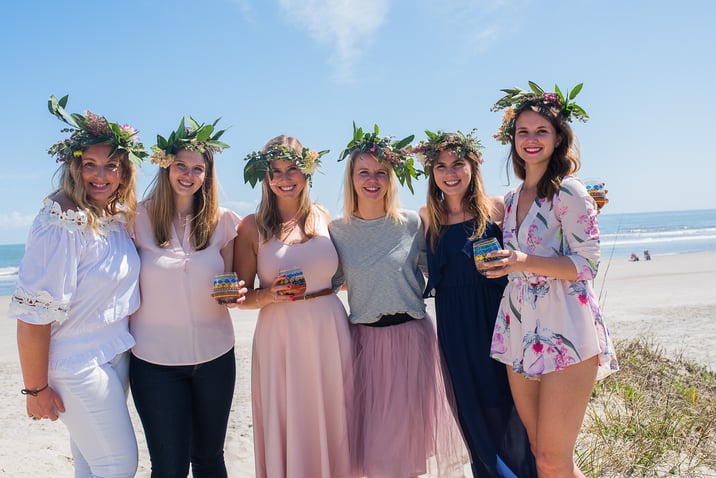 I have been in Charleston for 6 months now. I moved here in March and it is well now, August (the hottest month here). At least we have the beach, or well lots of different beaches that we can hit up to cool off. They are all beautiful too.
There are so many amazing, fun and GIRLY things to do on a weekend in Charleston.
Thought I would take you through a girly fun Charleston weekend that you could plan with your girlfriends.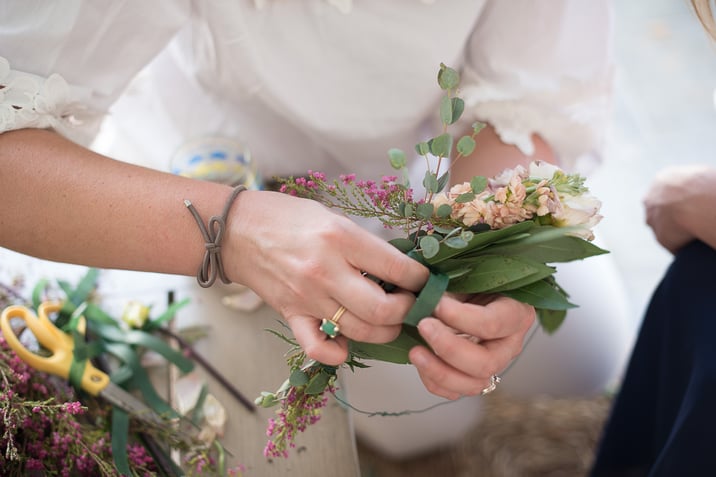 Whether you are coming to Charleston for the weekend for a bachelorette party, a birthday party weekend, or just a girls weekend/ladies weekend - there are so many amazing local companies that can help you have the best Charleston weekend you can have.
Rent the best house out at the beach
We did a photo shoot in Isle of Palms at a friend and fellow GIRLBOSS's second home. If you want to stay in the best Isle of Palms beach house ever I HIGHLY recommend her house in Isle of Palms if you can rent it, do it!
We did a flower crown making party right out here in the covered pool area.
What is better than feeling an ocean breeze making flower crowns and drinking rose in a beautiful home. Nothing!
MaryJo Anderson runs an instagram account called @port2palm that will make you fall in love with her life, her family and oh yes, her HOUSE in Isle of Palms.
The website for her house can be found here on Beasnest.com. This is a southern dream home that you want to rent if you are heading down to the Charleston area for a weekend trip.
Have a rose table and treats setup for when you get to the house for your ladies weekend.
Flower arrangements are key to entertaining. If you want someone to come to your rental house in the Charleston area and setup a rose bar with fresh flower arrangements we can do that here at Fetes de Fleurs.
In these photos by Aneris Photography you will see myself and my friend Randi, the owner of a bachelorette party planning company called Kay and Co Weekends setting up a beautiful tablescape complete with sweet treats from abcd cakes, rose, fun drinks, along with balloons from Teacups and Trucks.
We also had cotton candy on tap from a super cute Charleston based small biz called Pure Fluff.
You must have Charleston themed gift boxes for the ladies on your Charleston weekend away.
The BlueRoot (another friend and small biz here in Charleston) will set your group up with the cutest gift boxes filled with custom Charleston goodies that match the theme of your weekend away.
A flower crown making party or any kind of flower party!
Fetes de Fleurs is French for Flower Parties.
We come to rental houses that you are staying in for the weekend in Charleston to help you have fun and party with flowers.
Flower parties tend to be things like: bachelorette parties, bridal showers, birthday parties, baby showers, bridal luncheons, weekend away with the ladies, etc.
Really if there a reason to celebrate something then flowers should always be involved! Am I right?
We hosted a flower crown making party for this event in Isle of Palms.
Get your girlfriends together and work with us here at Fetes de Fleurs to have a flower crown bar where you make custom crowns with us through our flower crown class.
You can also have use pre-make custom flower crowns for the group and we can drop them off in a flower crown party box for you to use on your girls weekend in Charleston.
The ladies that you see in these pictures should also be called out as some fun and fabulous Charleston bloggers that you should follow for inspiration for your weekend in Charleston.
Kelly is a lifestyle blogger who celebrates all things fashion and entertaining. You can follow her on Instagram here.
If you need a wedding firm to help you plan your wedding she is your girl ladies.
Cayleigh also posted a blog post about hosting a Charleston bachelorette party that you can read here on her blog.
Tara Coker can be found here on Instagram @southtaralina.