If you have decided that you want to spend your bachelorette party weekend in Nashville then you have made a VERY good decision ladies. Nashville is literally one of the MOST fun cities that we have ever been to. We couldn't be more excited to be able to offer our flower crown parties for your Nashville bachelorette party weekends this year. We have 3 ladies who are flower party hosts in Nashville that are ready to work with you as you plan your Nashville bachelorette party weekend. We wanted to list out our favorite things to do, places to eat, things to do, hotels to stay at, brunch spots, wine bars, and everything in between for you. We highly recommend just bookmarking these spots on your Google Maps app so you can plan ahead everything that you want to do while in Nashville for your bachelorette party.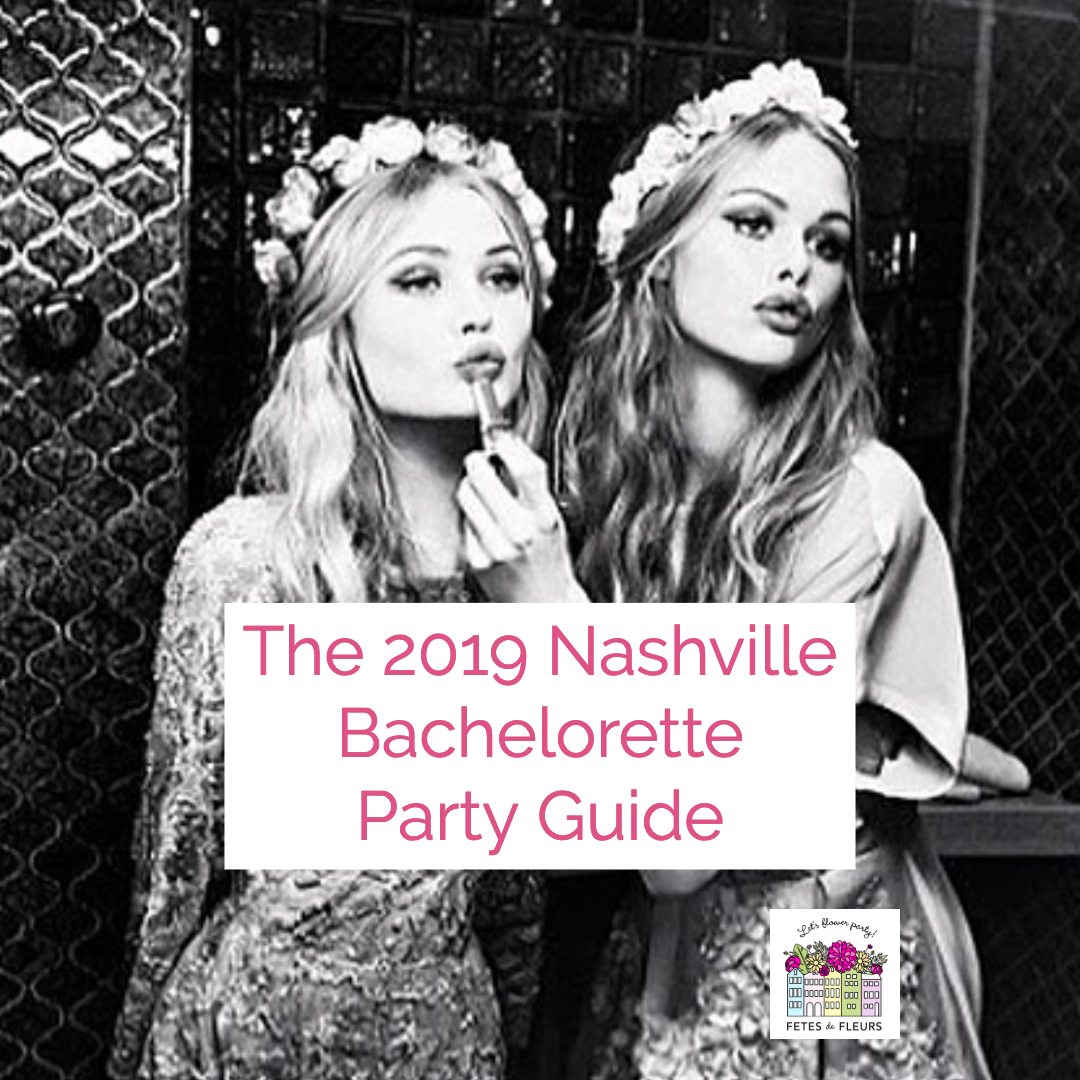 We will continue to add in new places and things to do in Nashville for your weekend as we learn about cool and worthy spots that we love. Hope our Guide to a Nashville bachelorette party weekend is helpful for you in your planning.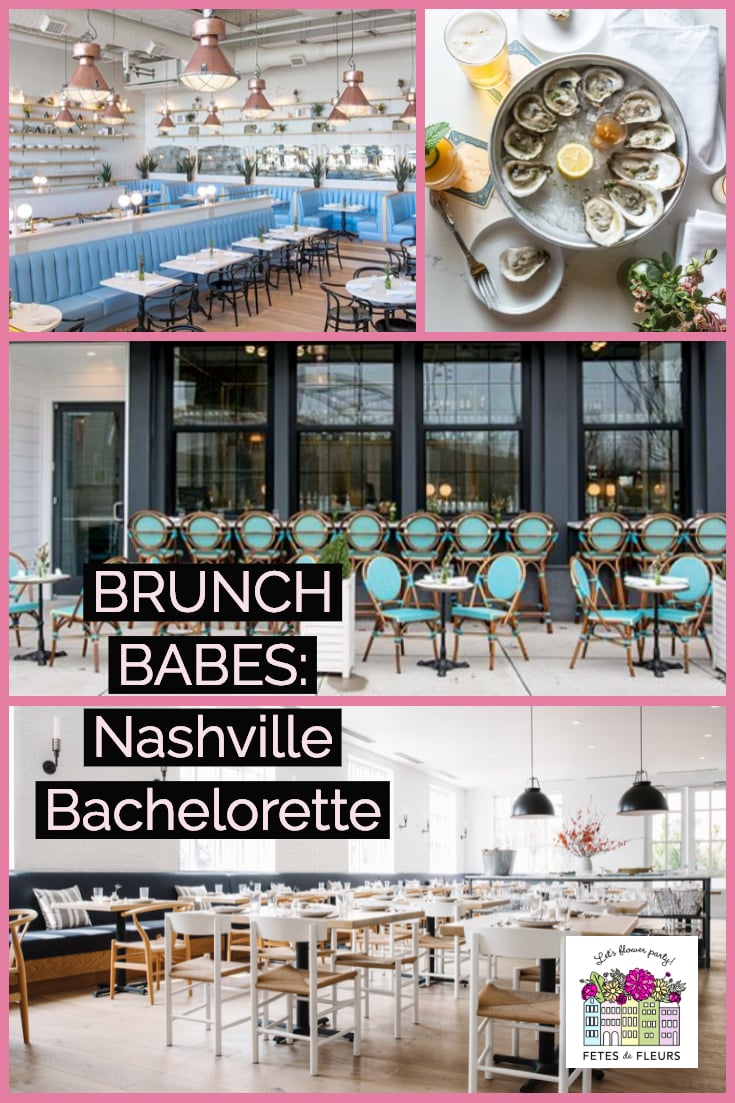 Every bachelorette party needs to eat brunch. It might be one of the most important meals of your day. Brunch sets you up for a successful day of tours or activities on your bachelorette weekend in Nashville. It also is a great way to cheers the bride to be over some good southern food before getting after it later that night. There are so many fabulous brunch options in Nashville. We listed out some of our favorite brunch spots in Nashville for a bachelorette party group.
This place is spectacular. We love good design here at Fetes de Fleurs so anything with a good ambiance and that has good design we are going to recommend. This spot is in Germantown area of Nashville. They have a cute bar, an oyster bar and also of course regular seating for you. Check out their brunch menu here to start drooling over what you want to order. Order the cinnamon roll and some monkey bread to start when you sit down. They have some really cute and great brunch cocktails to start too which we obviously are partial to.
We have one of these in Charleston as well so we love coming here when we are in Nashville. You will never go wrong visiting any Butcher and Bee location because they are shabby chic and so cute. The food is also always so good and on point. Check out their Nashville insta here. We love getting a bunch of small plates over some rose. Perfect way to start a late breakfast or brunch.
This place is ADORABLE. I am obsessed with the inside of this place. They have the most beautiful light blue decor with amazing rose gold pendants overlooking you as you eat your brunch. This is a southern brasserie on Riverfront Park downtown. You can get everything from fried chicken to waffles and biscuits here. Think southern dining done damn right in the best girly decor. Enjoy that bottle of champagne or two or three. We think flower crowns with brunch in Nashville is the way to go for your Nashville bachelorette brunch plans. Check out the weekend brunch menu here.
Another staple for 3 of our markets that we are. Husk is a staple in general when in the south. We highly recommend getting a reservation here if you can. So call ahead or check online if you are planning on wanting to make it to Husk. Husk is a southern food mecca so if you want to spend a brunch spot at one of the best of the best you will not go wrong here.
I stayed at the Thompson Hotel on my last visit to Nashville. We love this place. If you love beautiful decor you will love checking out the hotel in general. It is also in the heart of the Gulch neighborhood which is a spot of town that you should walk around anyways while in Nashville. Their brunch is great but also would recommend stopping in here for lunch or dinner too. I loved the strawberry toast with whipped ricotta. You cannot go wrong here. They also have a cute outdoor spot on a patio and a killer roof deck too that you could hit up afterwards.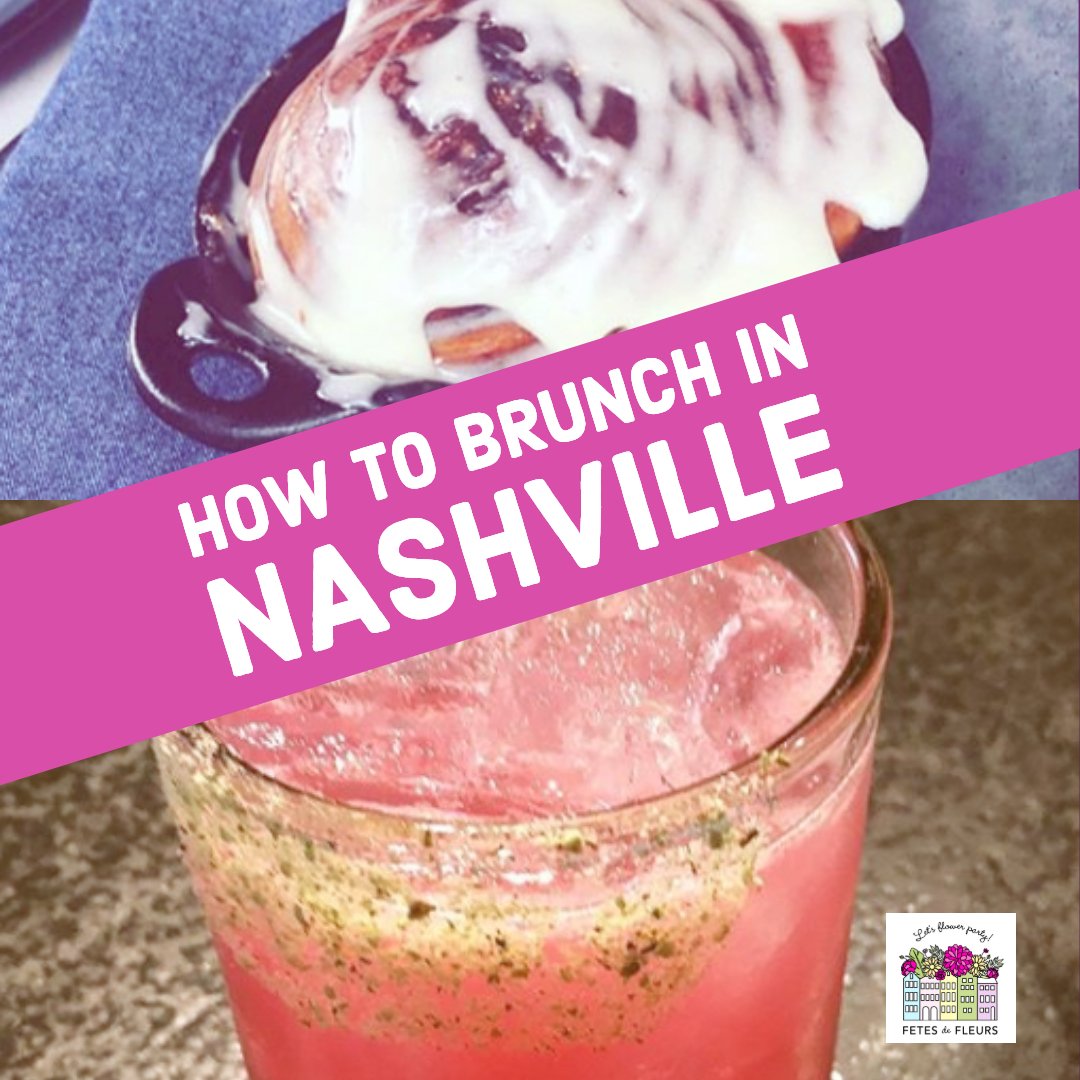 Everyone needs coffee. Whether you want to spend an hour grabbing coffee or just want to get a quick tea or coffee before hitting the town and doing whatever you are doing that day while exploring Nashville, these coffee spots are ones worth checking out. We tried to pick places that are cute to walk into and also have good coffee/tea options.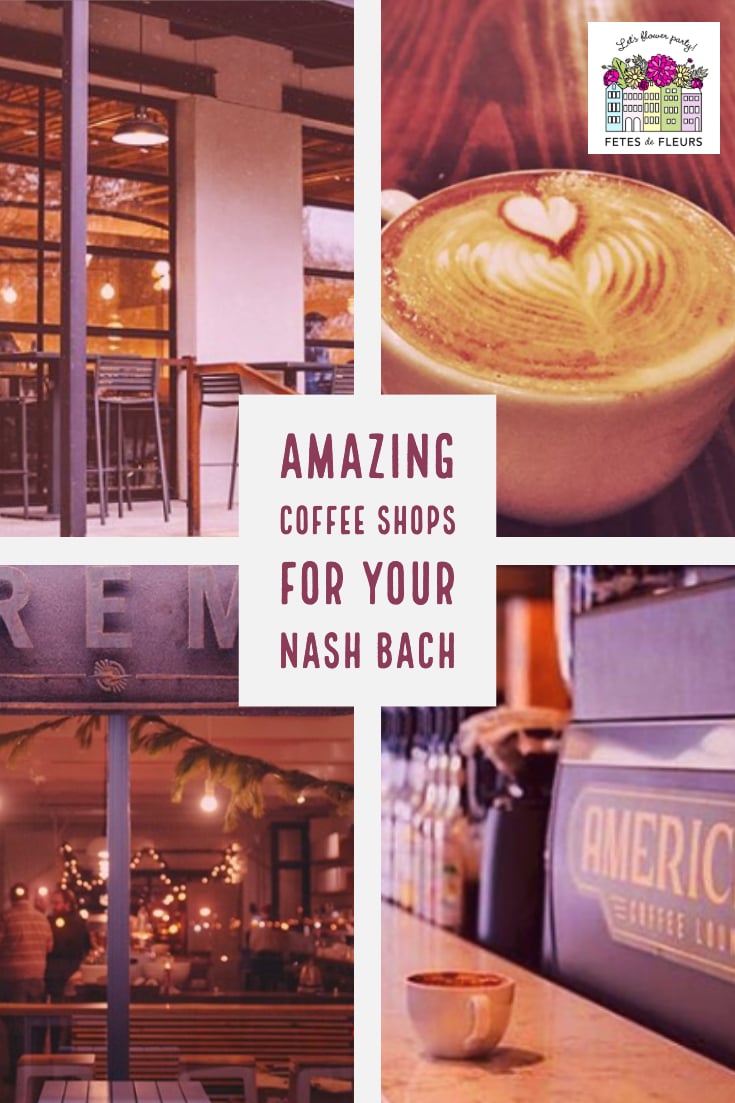 They are in the Germantown neighborhood. Honestly, Germantown consistently is a place that I love to go to when in Nashville for a weekend. I think it is the most up-and-coming area of Nashville. You can walk to the cutest places like this one and just bop around. Everything is well considered here and they do things with great hospitality in mind. Check out their insta here. They not only have good coffee drinks and a cute, industrial looking space but also some great options for food too.
Frothy Monkey is a TN staple. Any time I am visiting a city in TN people tell me to go here. I love this place for sure. I like the way it looks when you walk in and the food and coffee drinks are great too. They have a couple of different locations in Nashville for you to visit- downtown or in 12 South.
They have 2 locations in Nashville. The Germantown one is their flagship store. They serve great coffee options PLUS crepes. Yes, ladies, crepes. So if you are in this area of town go check them out and eat some tasty crepes and get espresso-ed up.
This is always recommended to me from people who live in Nashville and also always on maps talking about the hottest places to grab coffee in Nashville.
I love this place. It is unique. They are putting a 1940's twist on coffee in Nashville. They serve lattes, espressos, and of course americanos. We hope you check this place out because you will have a great time here and be taken back to yesteryears.
Nashville has some spectacular food options and we know that you will be happy with whatever you pick ladies, but here are some favorites that we know are great for true southern food. You cannot come to Nashville and not eat some true southern food. That includes hot chicken, friend chicken and biscuits! Go get those biscuits.
Hattie B's is always a staple when visiting Nashville. Make sure you get there early because there will be a wait and a line. If you are looking to try "hot chicken" then you must go here while visiting Nashville. You will not be disappointed but just know that it might take some time to get in and finally start eating. You can check out Hattie B's on INSTA here.
This place looks amazing! Just head over to their website to read up on all the southern foods they have. Everything from chicken wings to collards to bbq chicken. If you are looking for a cool spot to have some soulful southern food you might want to check this place out. They also have this cool outdoor area where you can take pictures against a painted green and white geometric wall. Any place with good food, outside area to sit in the sun and bask with photo ops is somewhere we know our bachelorette groups like to go.
This is a true southern gem in a historical setting. If you are looking for real southern food then I would head to this place. Their motto is, "enter as strangers, leave as friends." We love that southern hospitality. They have a daily changing menu but expect to eat true southern food here like fried chicken, corn bread, etc.
This is a true southern restaurant. This is a true Nashville staple. This was started by Rose and Jack Arnold in 1982 and now their kids run the place. This place has been featured in all the good magazines that write up about good food places. It has also been on Diners, Drive Ins and Dives. This is a true mom and pop southern joint. So don't expect anything fancy here. You will get true southern cooking here. Expect good, true southern food. You can check out their insta here.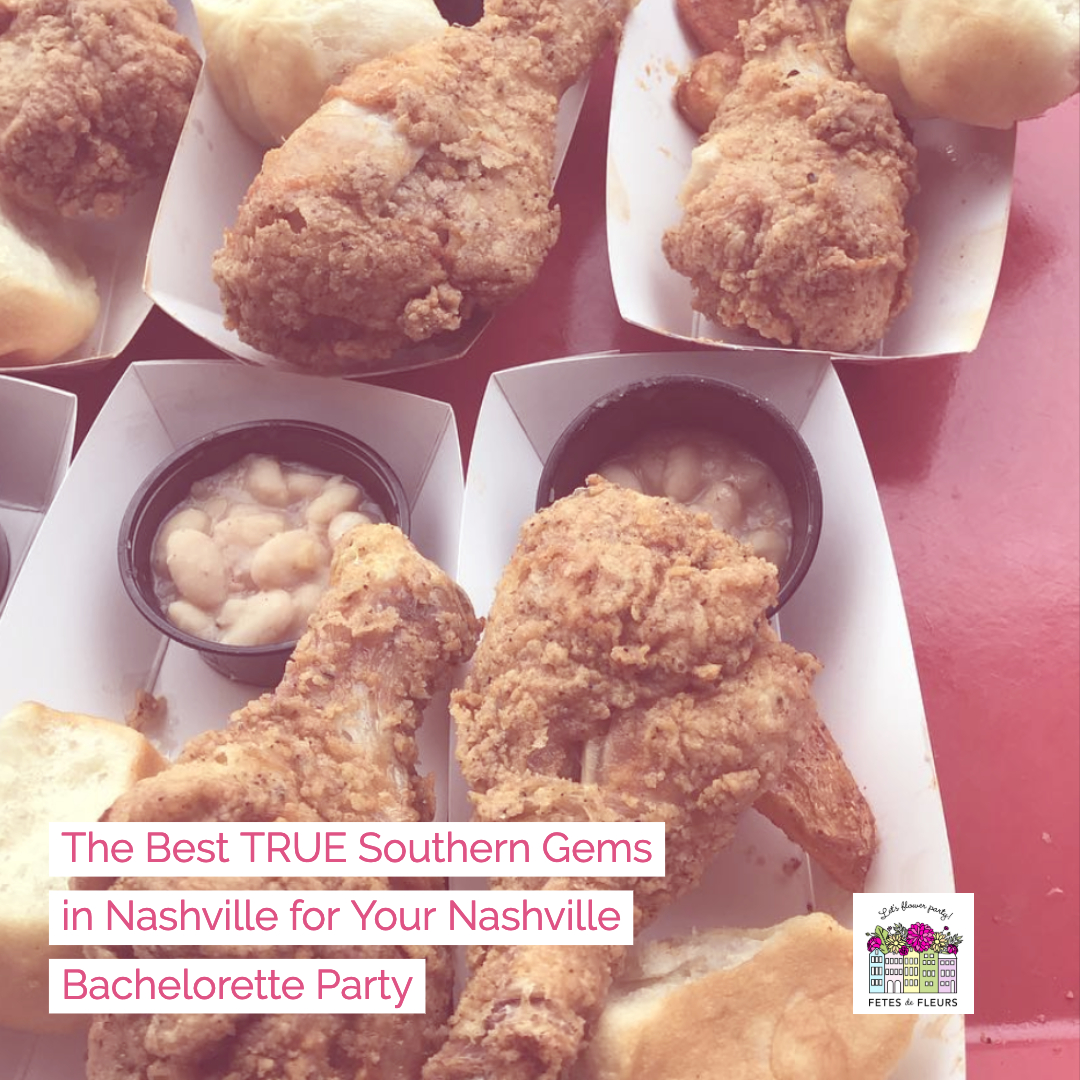 Mason's offers soulfully-inspired fare. This longtime staple of the Nashville food scene offers guests a warm and inviting gathering place to share a drink, grab a bite and escape the hustle and bustle of Music city. They serve breakfast, lunch and dinner here as well as brunch. So depending on what time of day you are planning to dine here you can check out their menus and instagram here.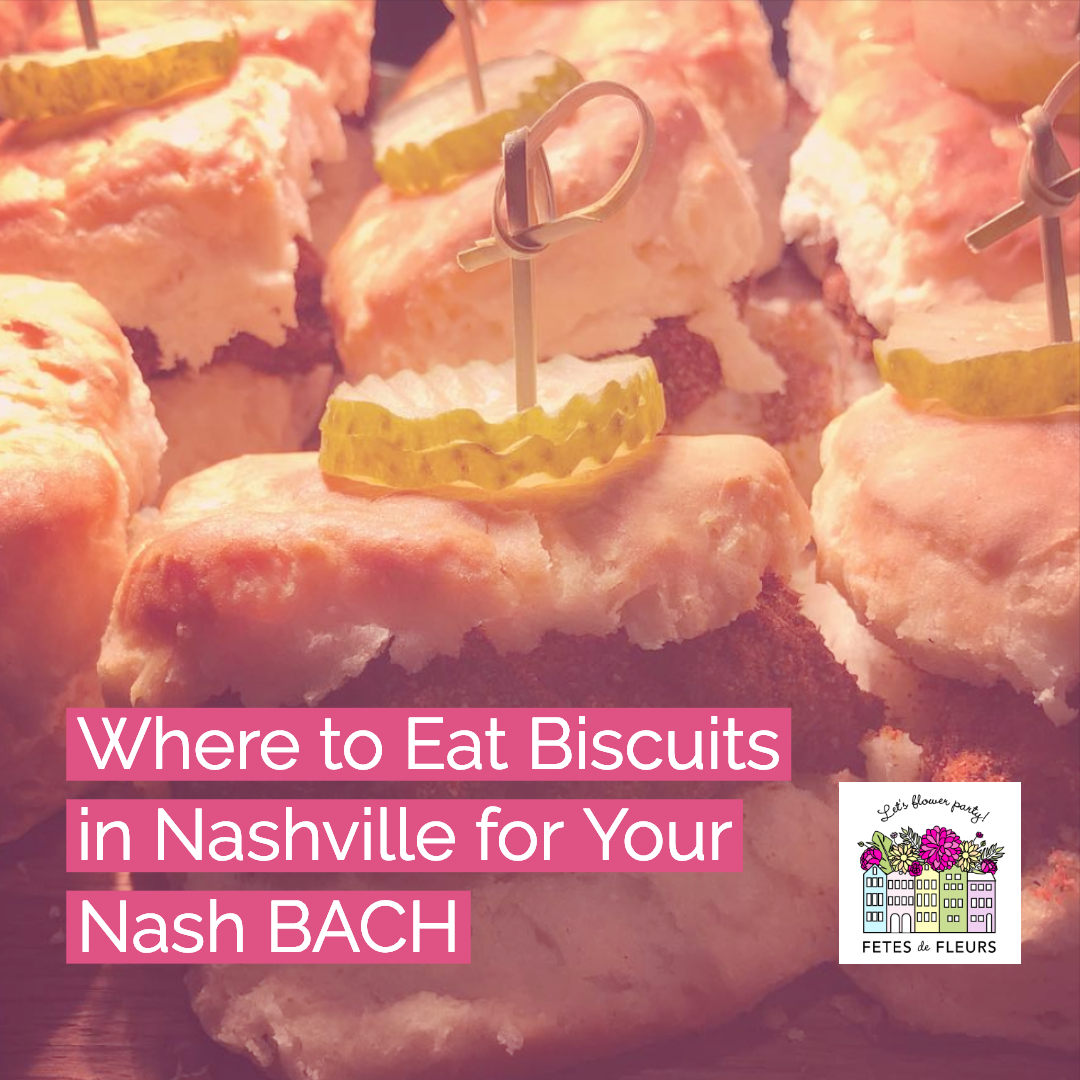 Biscuit Love is one of my favorite places to go to in Nashville. I like the one in the Gulch area of town. They serve breakfast, lunch and brunch. I would get here early if you are going on a weekend and staying in the Gulch or maybe you are just heading to the Gulch to walk around that day - hit this place up. Eat the biscuits and buy some cute t-shirts too!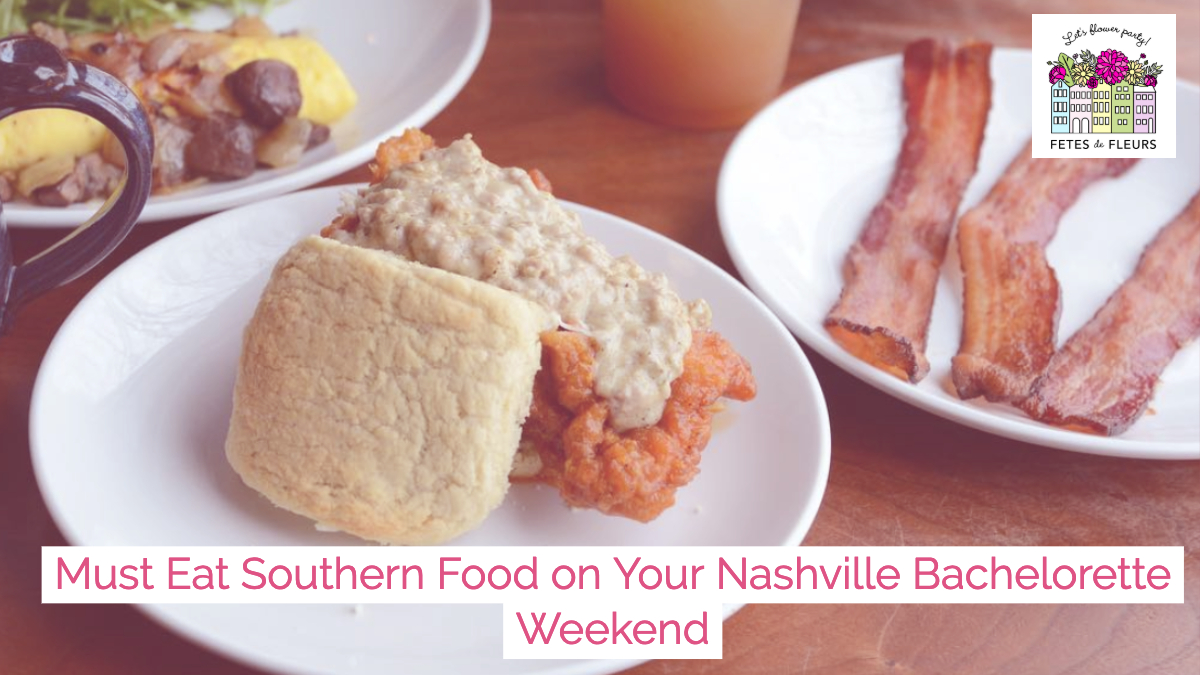 This place constantly blows us away and bachelorette parties love it here. There are 2 floors here with a rooftop outlook. This is a good place to come if you want to grab some food (order at the counter) then grab a seat to chill out. If you want a more relaxed vibe overlooking the city then head to the 2nd floor deck. You can check out their insta page here to get all giddy for your bachelorette bash in Nashville.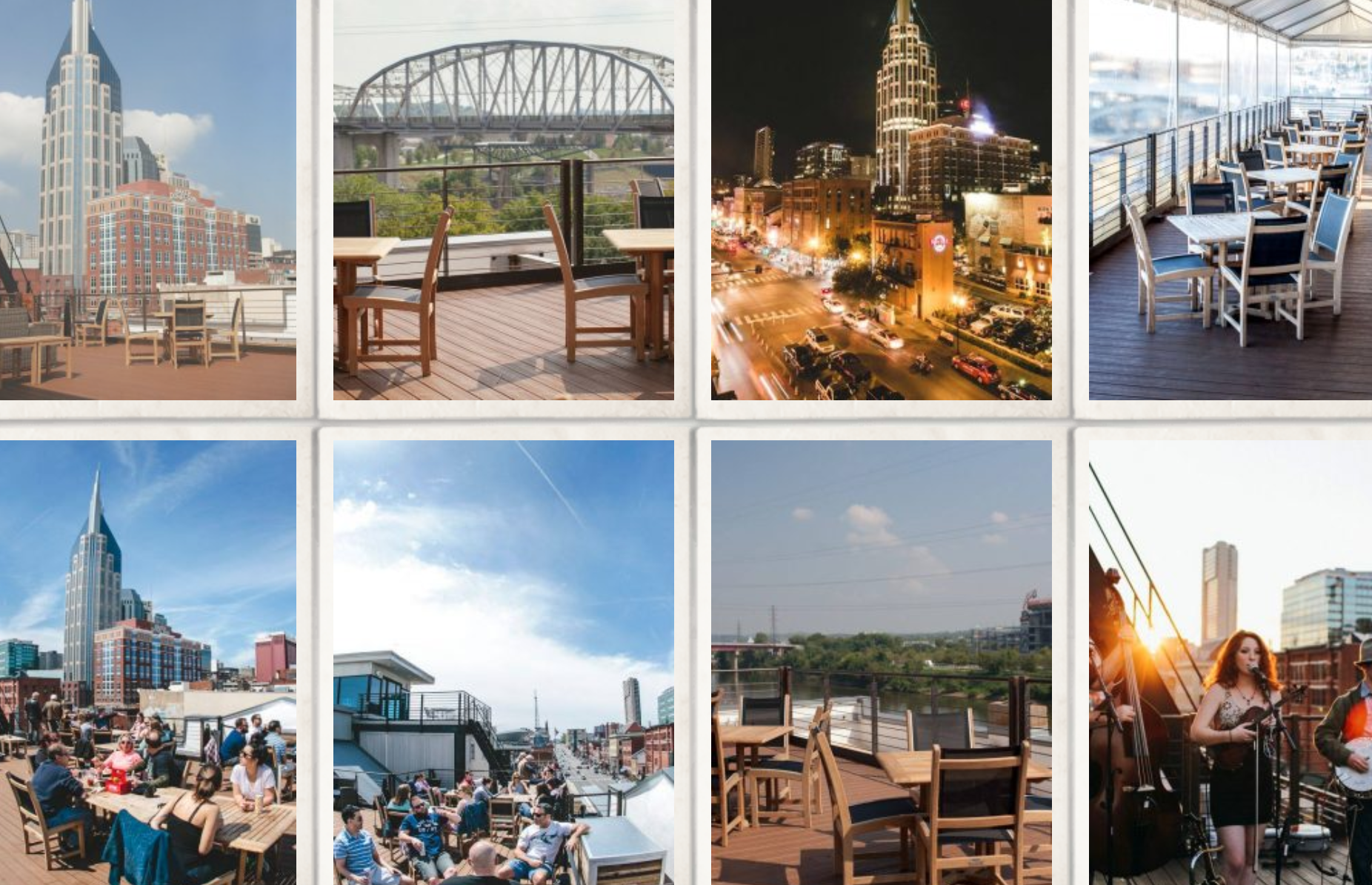 Every time I head to Nashville it is hard to not be told to visit here for a rooftop drink. One of the best things you can do while in Nashville is make sure that you take advantage of the rooftops. The weather is typically spot on and having a drink on a roof overlooking a beautiful city like Nashville doesn't hurt either. Twenty-seven floors high above Nashville's bustling downtown, L27 is the city's ideal retreat to unwind, sip, and, savor. For parties of 6 or more you might want to think ahead and book a cabana or table on opentable.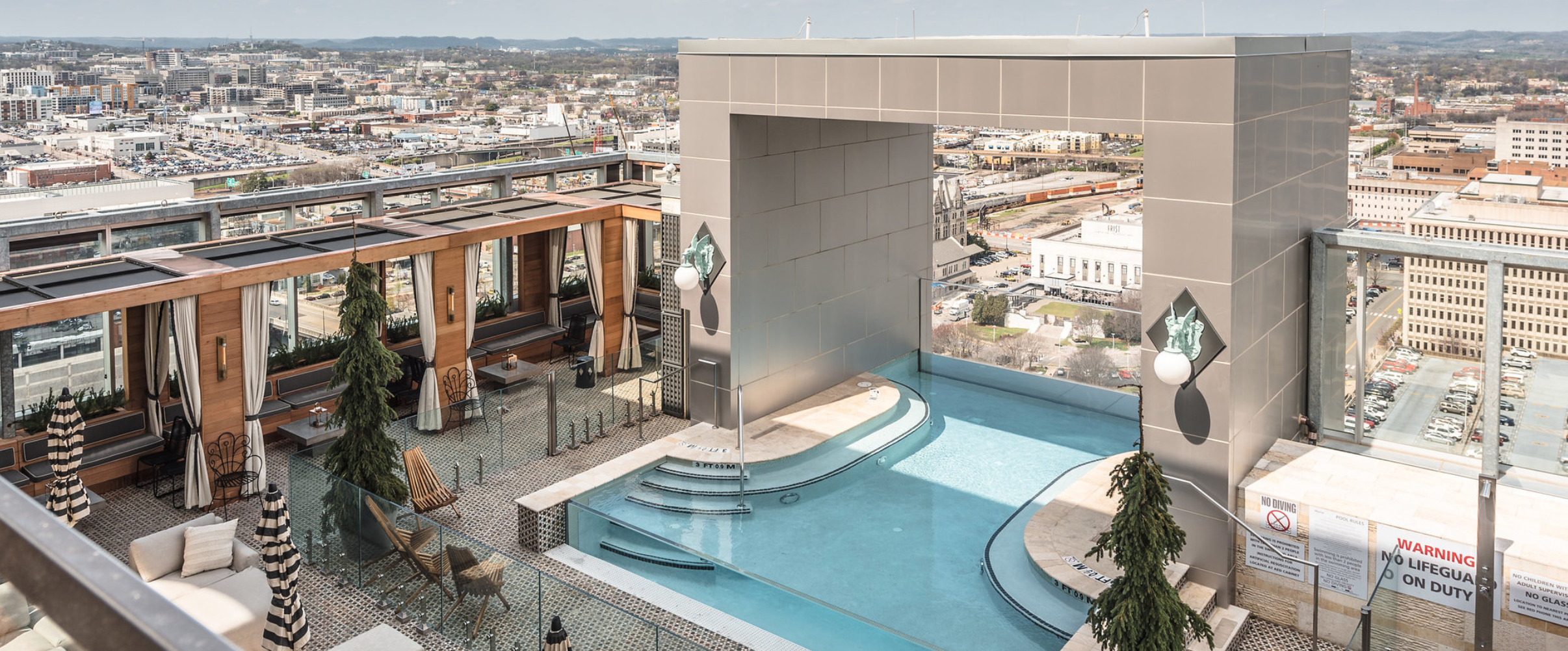 Okay, ladies...please take some time and make sure you put this on the top of your lists! This is at the top of a favorite hotel of ours in Nashville called the Noelle Hotel. It is so CHIC and pretty. I could live here and spend my whole weekend up on the roof. Might be a great option if you are wanting to get hotel rooms for your bachelorette party too. So stinking pretty up there.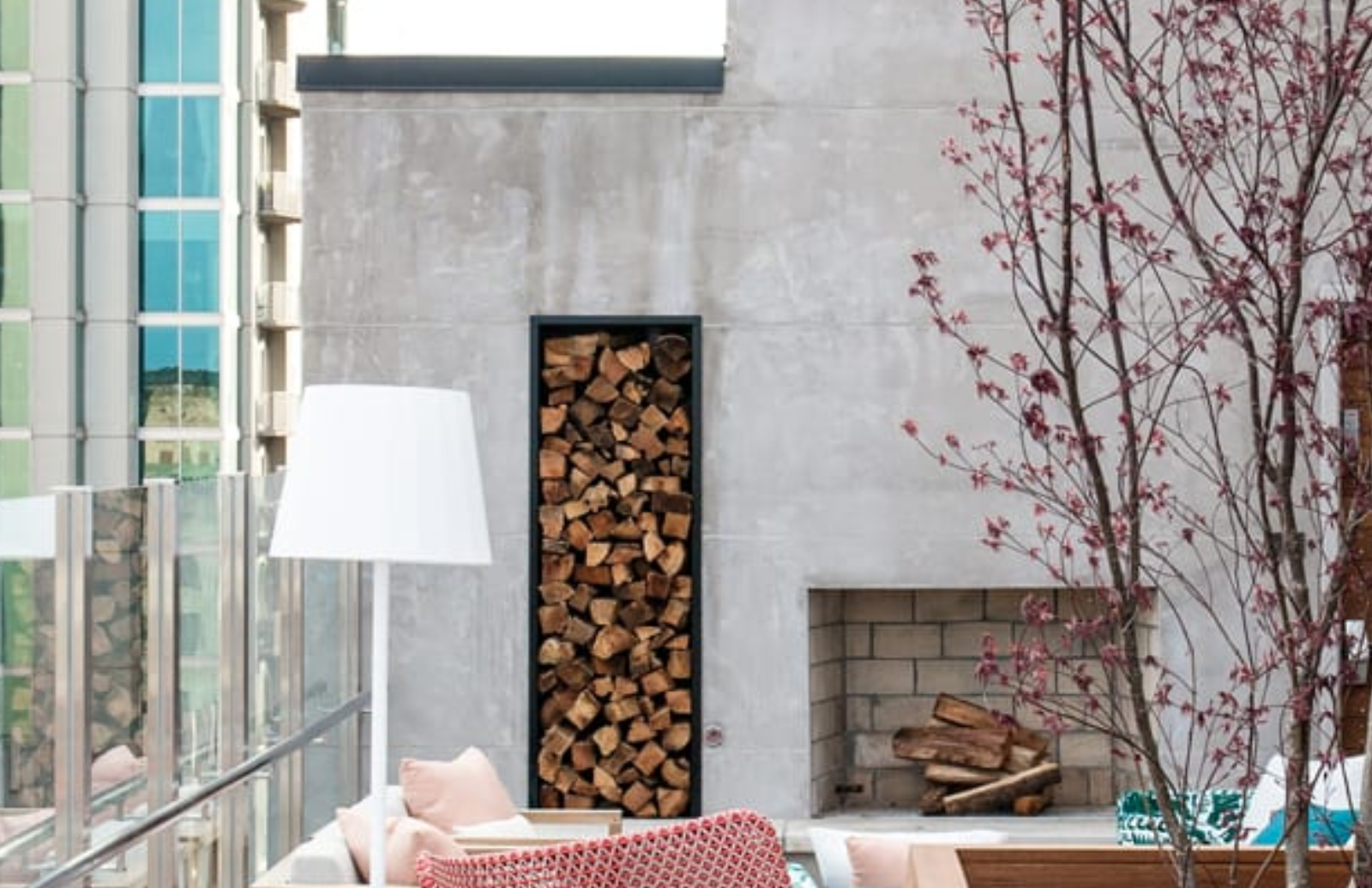 The last trip that I took to Nashville I went up here and couldn't have been more pleased with the space. If you are into pretty decor like I am you will love this place. The inside area on the roof is HUGE and so is the outdoor space. You cannot go wrong visiting here as they have amazing ambiance overlooking the city as well as good bites and great drinks. This is also located in a hotel which we stayed at last visit called the Thompson Hotel. So once again, if you are looking for ease in where you stay with options for good food and drink close by this hotel might be for you. Just pop up stairs to the roof anytime you want to have a cocktail or two. Then head back down to your room for a cat nap before getting glammed up for your night out downtown listening to great music on your Nash bash.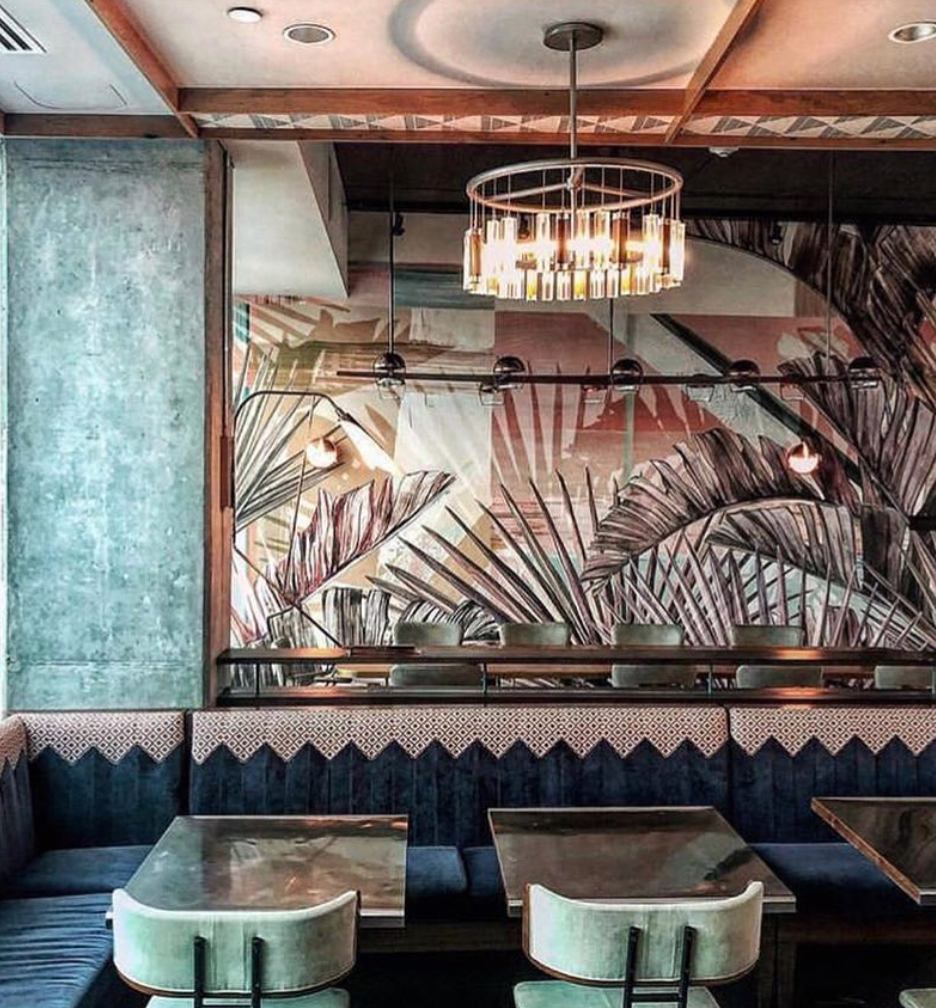 Another hotel rooftop bar. Sorry, but not sorry actually. Rooftop bars at hotels tend to be the best and prettiest ones. You have to stop in here while you are walking around Nashville. Or once again if you want to stay at a chic hotel then stay here. The Bobby Hotel is right downtown and probably like a year old. It is super chic, designed super well and super close (walking distance) to all of the Honky Tonks downtown too. I went here for breakfast (downstairs restaurant) and then popped into the rooftop to check it out. There was a bach party enjoying the beautiful sunny day at their rooftop POOL too. So ladies, if you want a chic space to stay at plus a rooftop pool PLUS options for drinks and food NEAR honky tonks...stay here.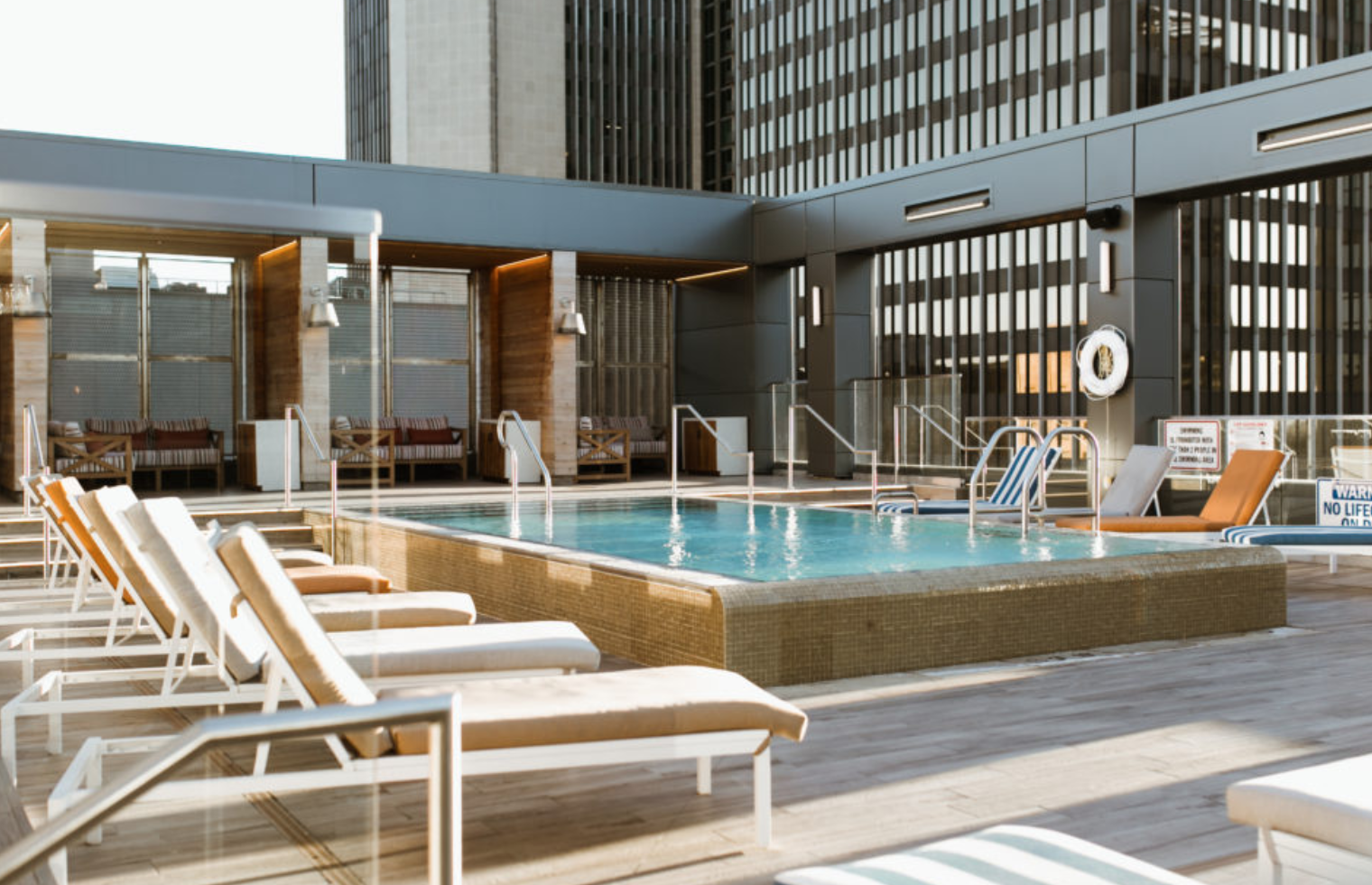 This one kind of hits two categories: a great rooftop bar in Nashville PLUS it is a HONKY TONK STAPLE. This is a Nashville legend that you have to step inside of at least once while in Nashville celebrating your bride to be or on your ladies weekend. You will feel so glad and happy that you did. Don't let crowds turn you off because this is a staple that everyone will tell you to check out while spending time in Nashville.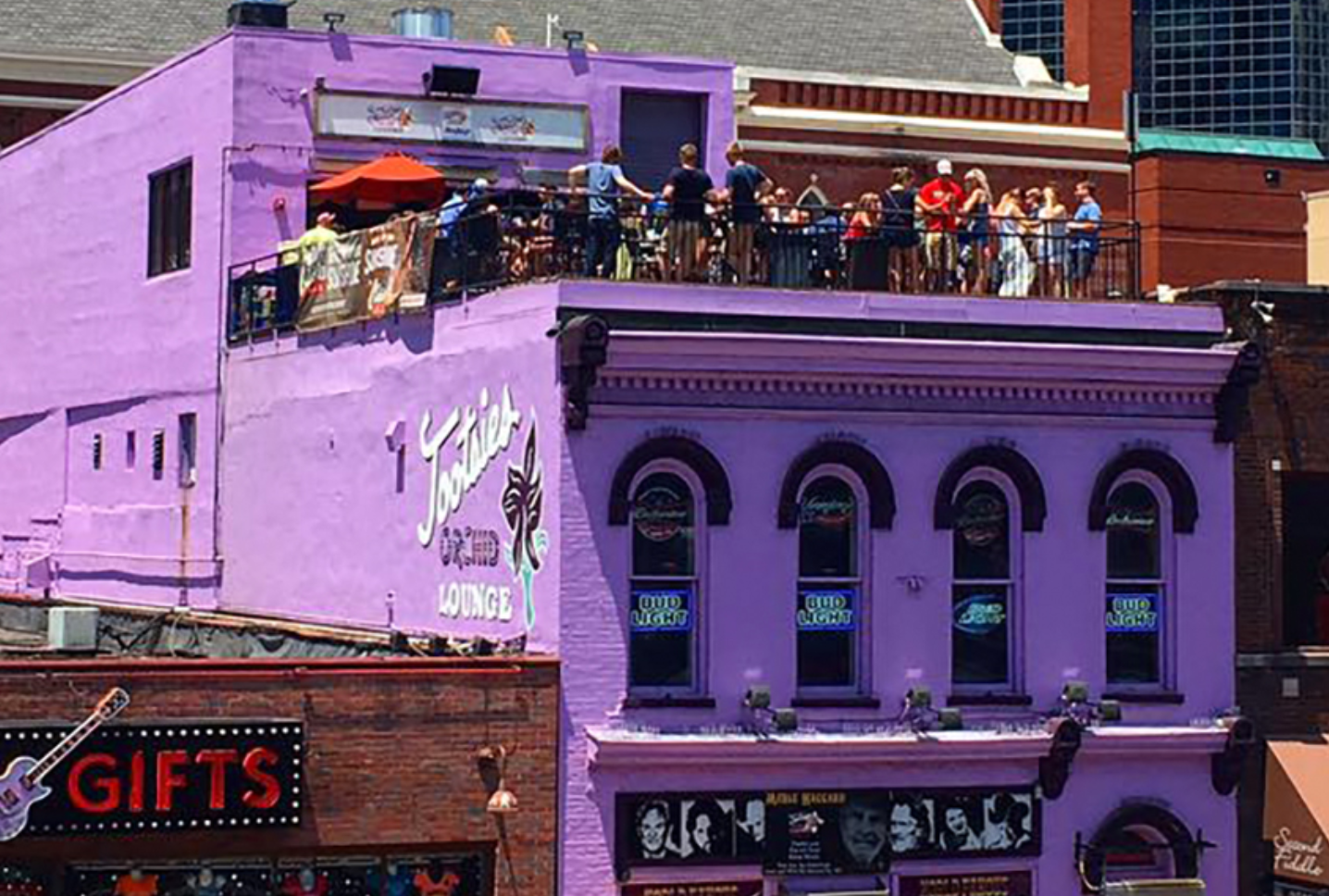 There are lots of great outdoor options in Nashville. These are just some of our personal favorites. So make sure you look UP while walking around and I bet you will find lots of cute rooftop bars that didn't make our list here. You will likely spend a sunset cocktail hour at one of these places before you head home.
Okay, if you have ever been to a BarTaco you know that this is a reliable joint for whatever city you might be in. I love BarTaco because of the decor but just like their decor they have great margs and food for you as well. Anytime you put a marg in my had in a beautiful space well we might be there for hours on hours. You can check out their Nashville menu here. Get a few tacos each and then my favorite drink is the smoke on the water.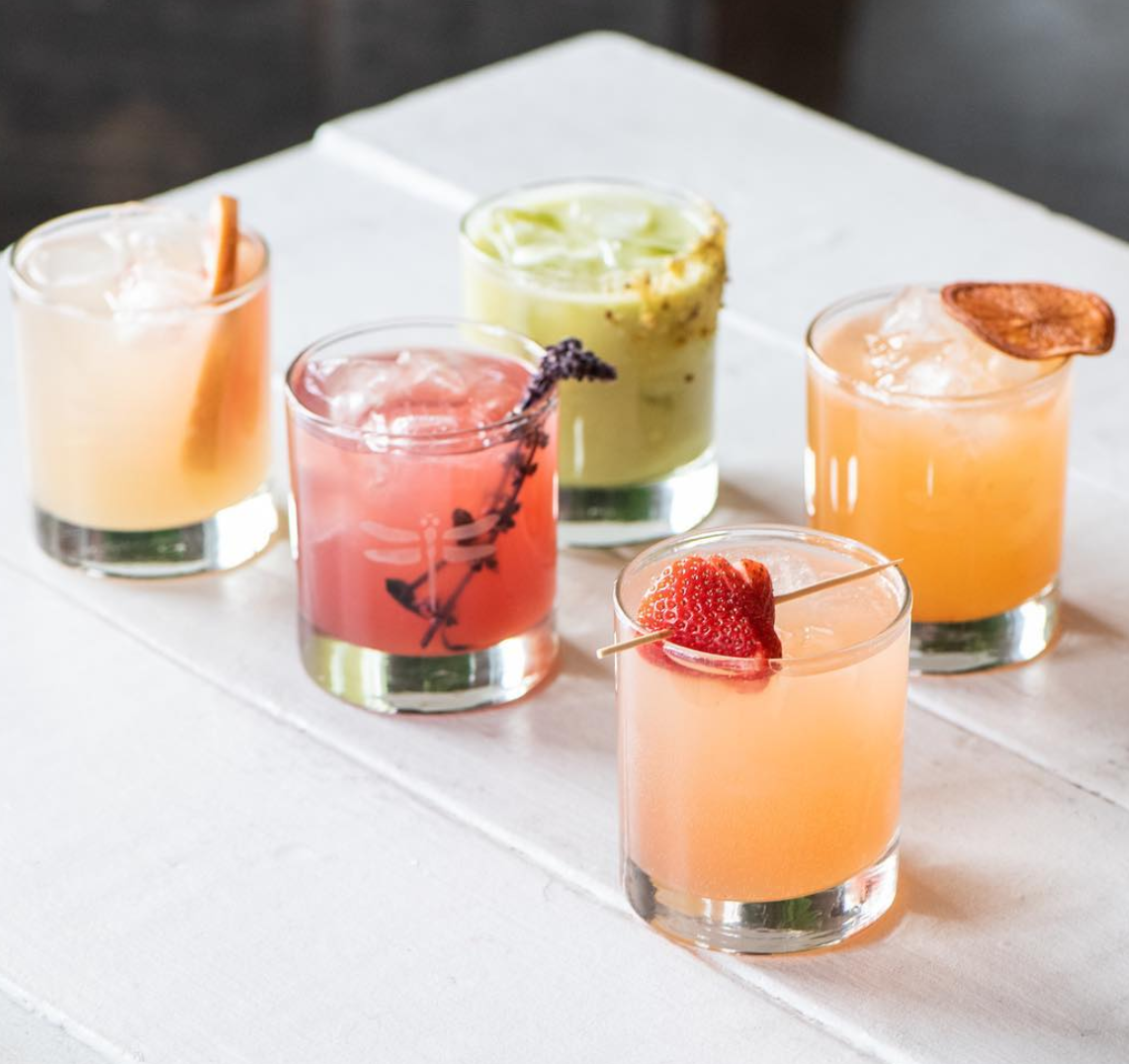 This is in the Germantown neighborhood which I have said before how much I love that neighborhood. We went here on our last trip too because you can't go to Nashville without stopping in here. Just to see it is spectacular in itself. You will feel like you just left the US and hopped on an airplane to a beer hall overseas. It is the perfect spot to hang out on a sunny afternoon - have food and beers with your friends celebrating the bride to be. Oh, and tons of hot guys too. :) You are welcome. OH and DOGS!!! Super dog friendly place- I know you probably aren't bringing your dog on your bachelorette party but if you want to see some cute dogs, head here.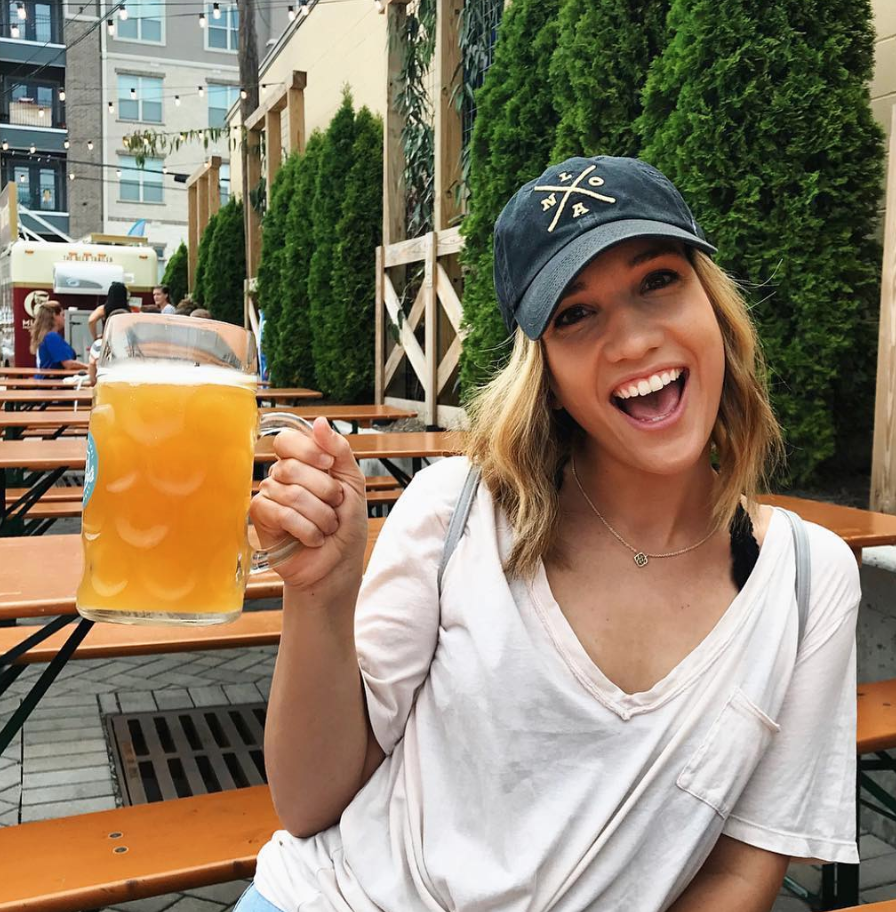 This is also in Germantown. So maybe hit up both if you are feeling saucy and fun that afternoon. I love the little outdoor area here. They were named one of the most beautiful new restaurants in America this past year. Like we said, we LOVE pretty spaces so we typically only write about spaces that are beautiful in our guides. They also have a Champagne garden. Yes, you read that correctly. What is a champagne garden? Let me tell you. This is open year round- outdoor area where you can pop the bubbly to celebrate your bride to be in style. So if you are in the mood for good food, good ambiance sitting outside and some champs - get on over here, ladies.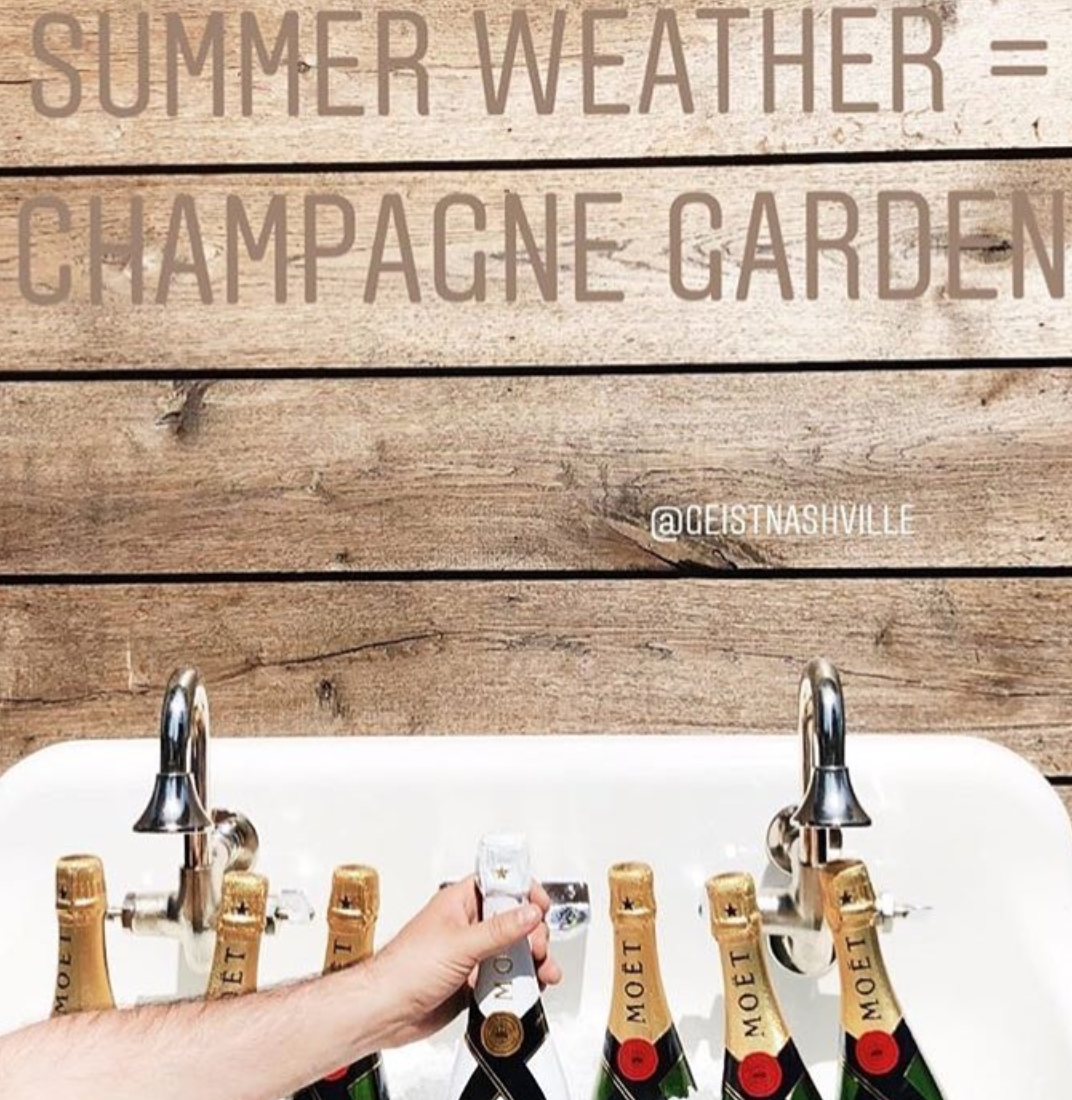 This is not in downtown Nashville but I loved it here too. It was recently opening when I was last out in Nashville scoping out the scene. Hope to head back here soon. If you want a cute outdoor area with strong drinks, you should get an uber or lyft over here. It also gets you out of the main downtown area in Nashville so you will be happy you got to see some other areas of this cool town. This place is done with tropical flair and has the best tropical drinks in Nashville.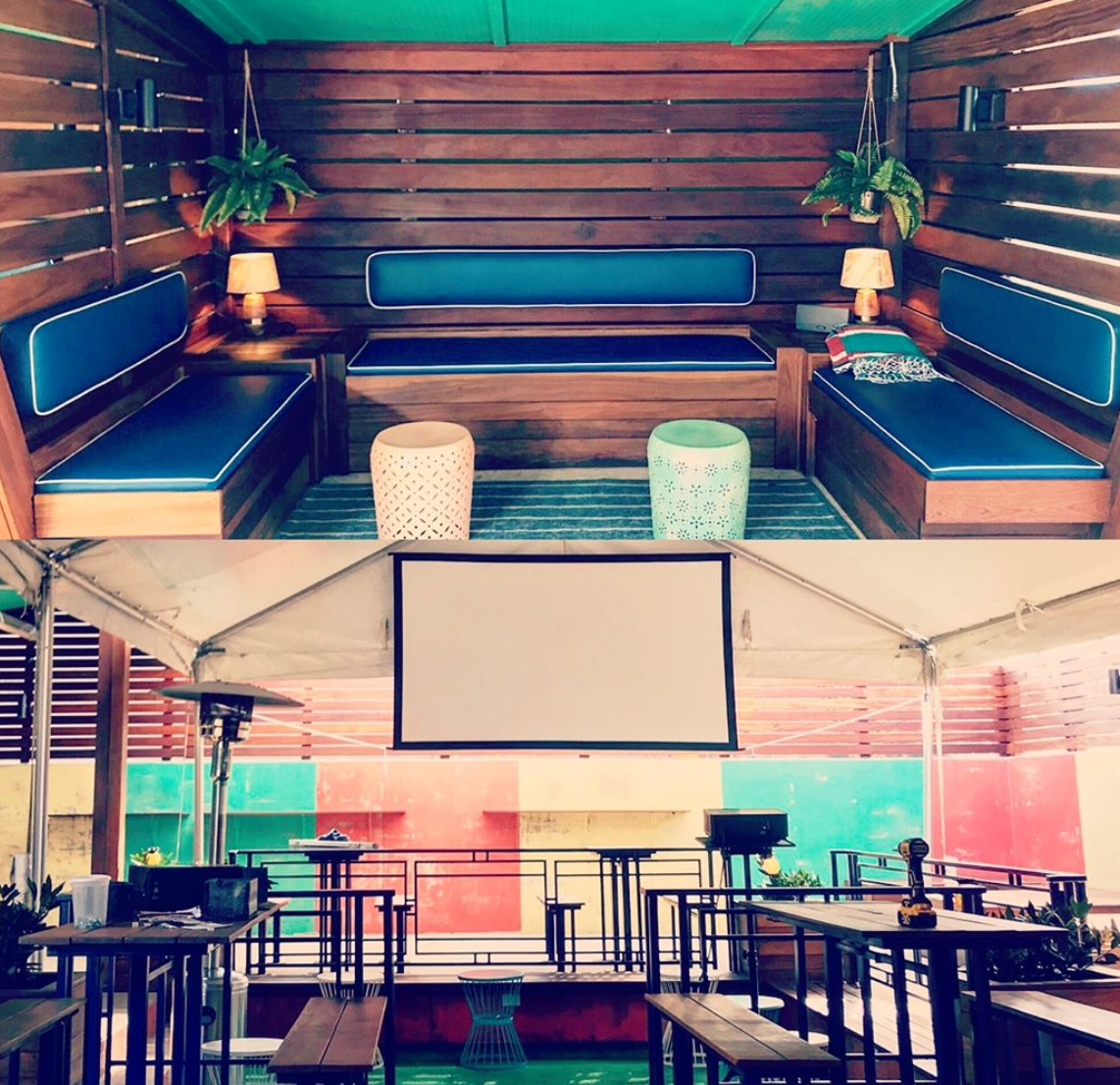 Urban Cowboy is another place that you can stay at for your bachelorette party weekend in Nashville too. So check out their site and you might just end up staying here. Especially if you want a boho bachelorette party vibe you will love this place. They also have a swing in their front yard that I loved...
I have always had a great time spending time at this bar/restaurant. The people here are always awesome and there are so many cool drinks to try. So wander outside and spend a couple of hours sitting in the sun or if at night sitting under the stars. This is a perfect spot to come wearing your flower crowns from a workshop with us.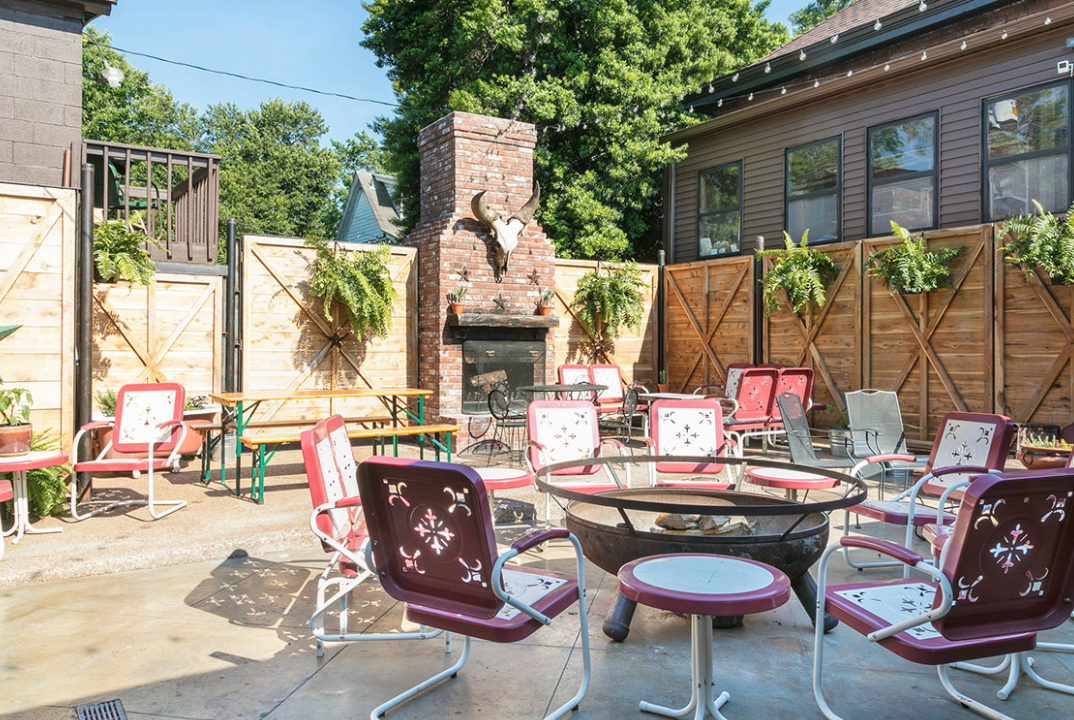 There are SO MANY outdoor patios in Nashville that it is super hard to pick our favorites. I have definitely left off a few here but that will make it more fun for you to tell me what I am missing. We picked our favorites based on look and ambiance but just remember really anywhere you go will likely have an outdoor option for you to sit at and have some day drinks.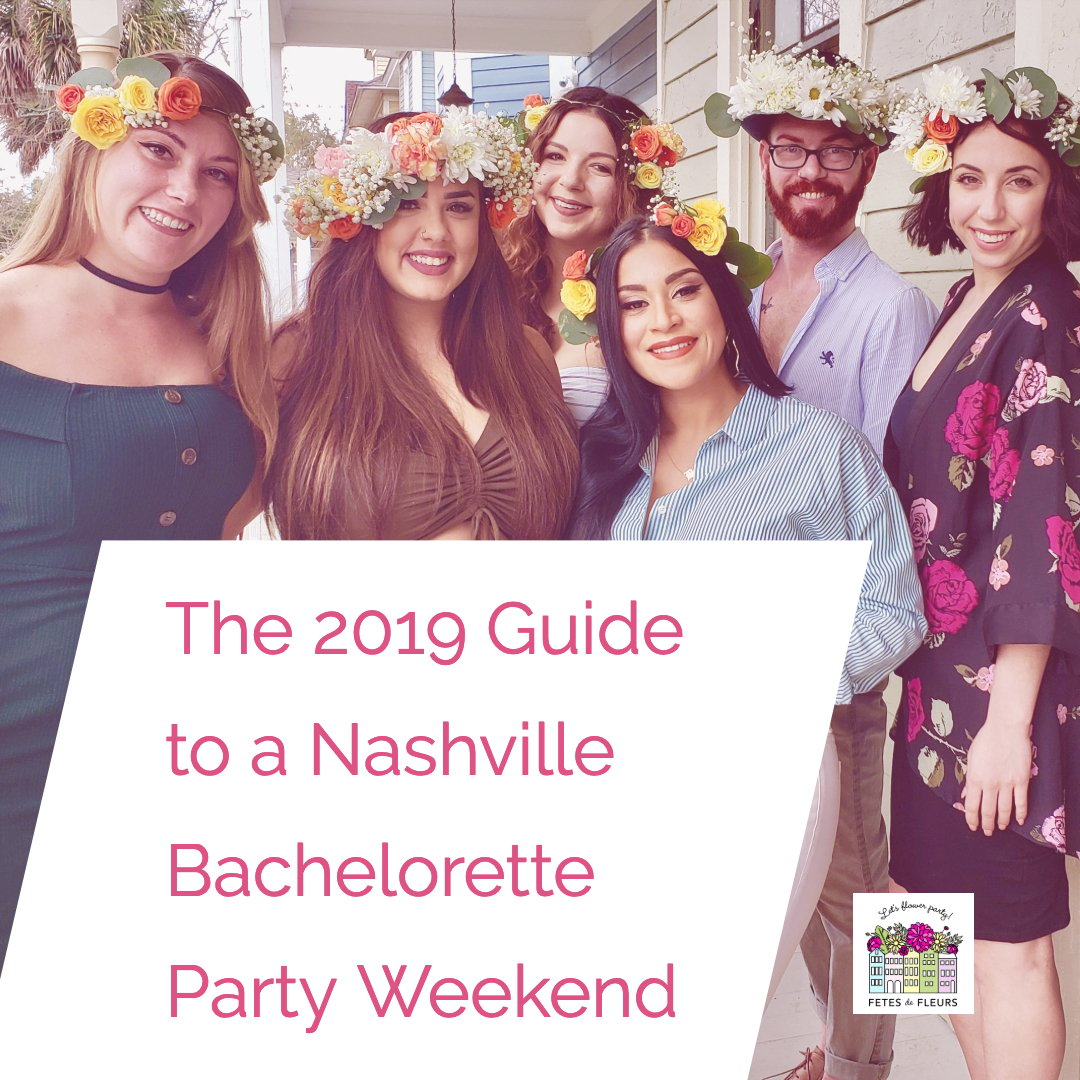 Oh so you and your friends like to drink wine? Oh we know that, ladies. We also know that spending an afternoon drinking some rose with nice weather is one of the most fun things that you can do for a leisurely afternoon before heading out to dinner. Or maybe you are staying in Nashville until Monday for a longer weekend and want to sip some vino somewhere cute.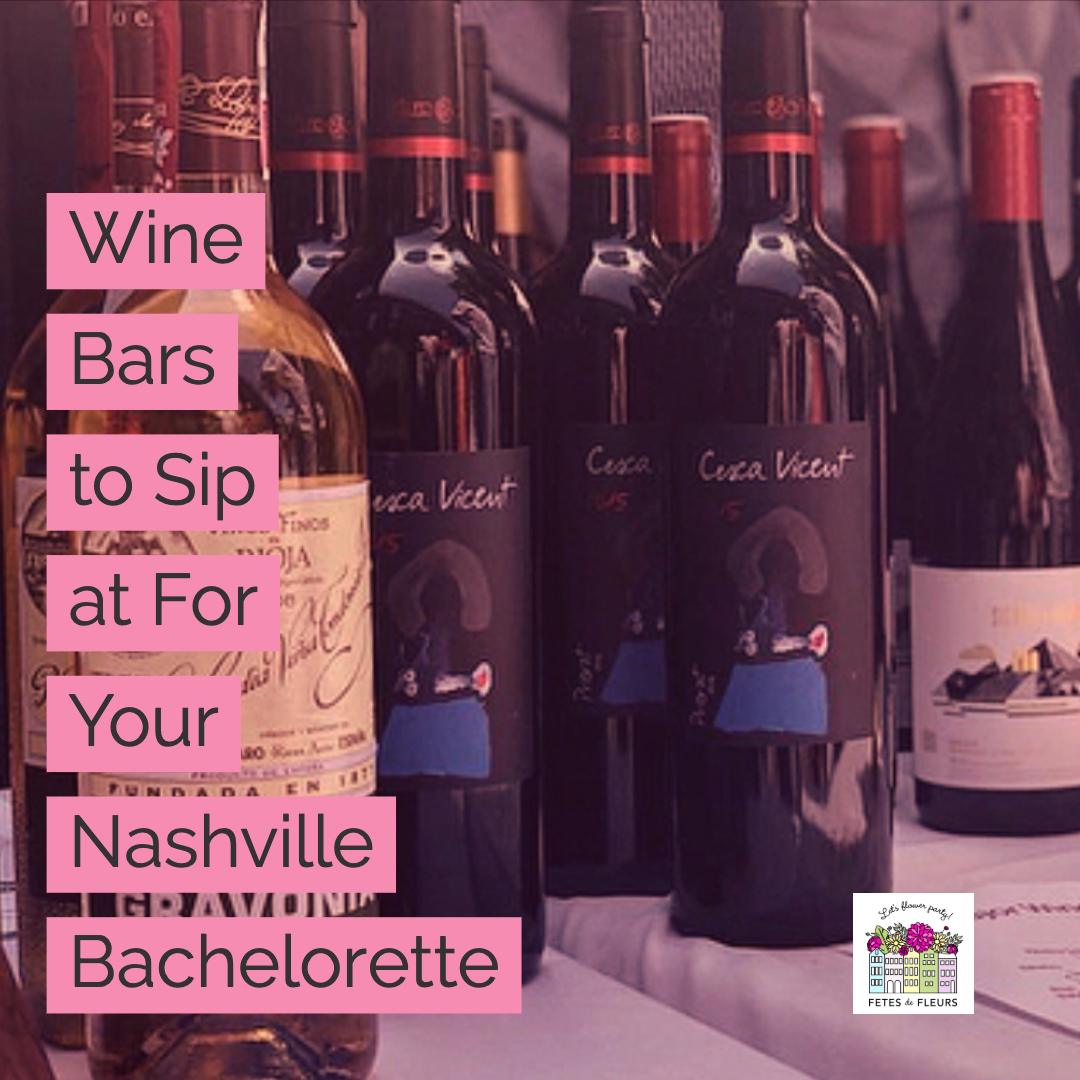 This place is pretty nice so if you are looking for something a little less swanky this might not be for your group. But, if you want something pretty nice with lots of options by the glass and by the bottle you have a good spot. They also have fun drinks for after dinner cocktails too including some fun negroni options. This is in the Gulch neighborhood. So if you are staying at an airbnb in the Gulch you might want to check this place out.
Nashville has a Barcelona wine bar and this is one of my top favorite places in any city that they have this. Barcelona is a staple wine bar in general and the one in Nashville is so pretty and obviously has great wine, drinks and tapas to boot. If you have never been to a Barcelona Wine Bar well you are in for some great tapas, wine and ambiance. They always have the best vibe and decor. Top that with amazing food and wine- you can't go wrong with this place. I love Barcelona for big groups too- you can get rowdy here and the plates are perfect for sharing with your bride tribe.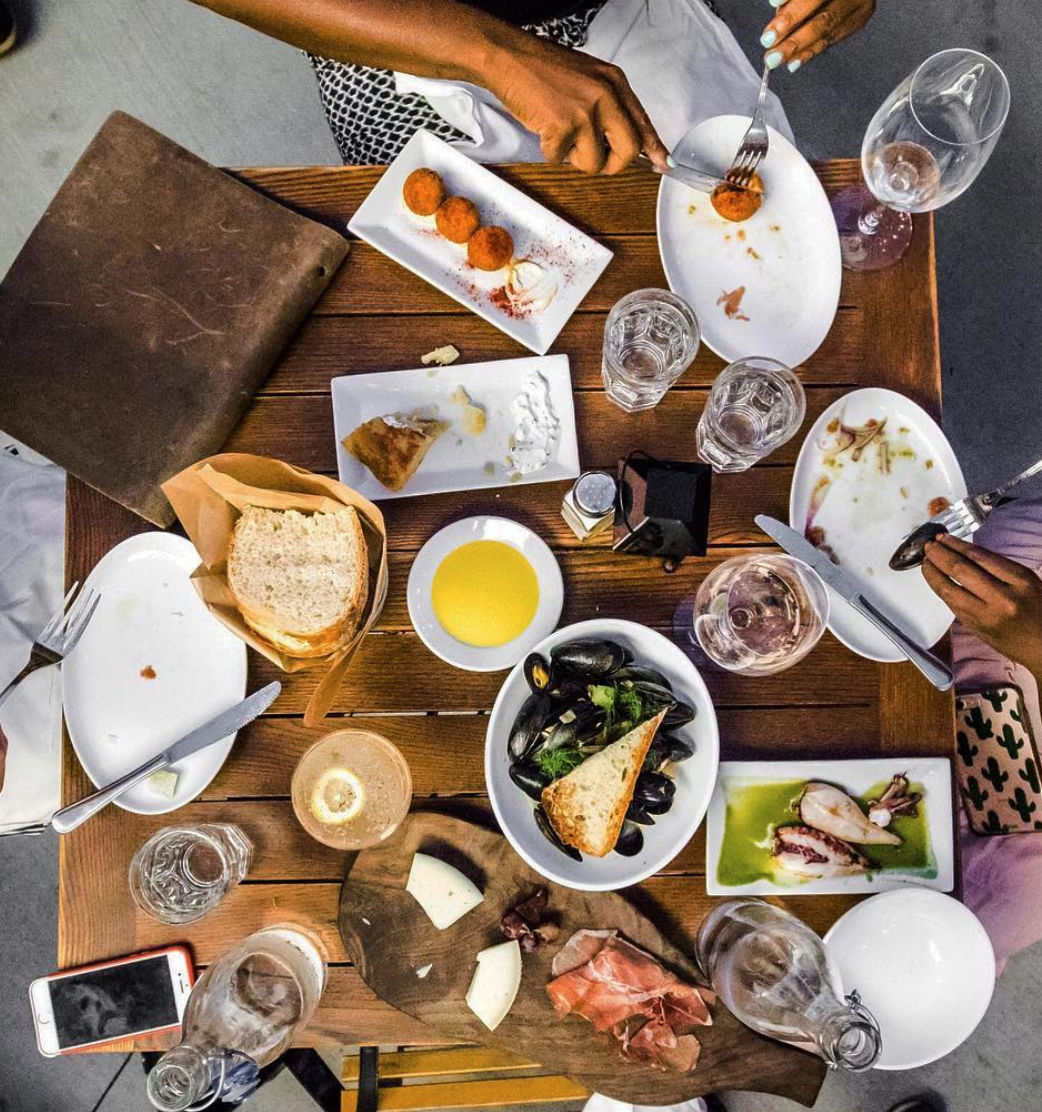 This is in the Gulch neighborhood as well. I love this place. I love wine in general so this place speaks my language. There is a space to dine here as well as a lounge area where you can sip with your girlfriends on some nice bottles on vino. They are known for their wine selection by all the wine magazines. There is also a happy hour on the patio that people folk to. Seems like a great option for your Nashville bachelorette party if you want to enjoy some sunshine in the afternoon over some rose.
Eastland Cafe
If you find yourself spending some time in East Nashville I would recommend heading here for some vino before you head back downtown or to wherever you are staying. This is an East Nashville neighborhood spot and therefore we love it. Anytime we pick up on local spots that the locals frequent we know that we will want to go there. We tend to sway towards local spots as we know that means they are good joints. Check out their happy hour menu here. We are all for a glass of red, white or bubbles for $5. Thanks Eastland Cafe for being so perfect and cute for us.
Okay, you have probably heard of City Winery before. This is not a local place to Nashville but anytime there is a City Winery in a city that we have our bachelorette parties in we know they are good, staple options. So if you are looking for a reliable option then this might be a good spot to spend some time at sipping vino with your Nash Bach. City Winery also always has good bands that you could check out if you want to think about getting tickets to a show while you are on your Nashville girls weekend or Nashville bachelorette party weekend. They also have a fun option to make your own wine or do a tour.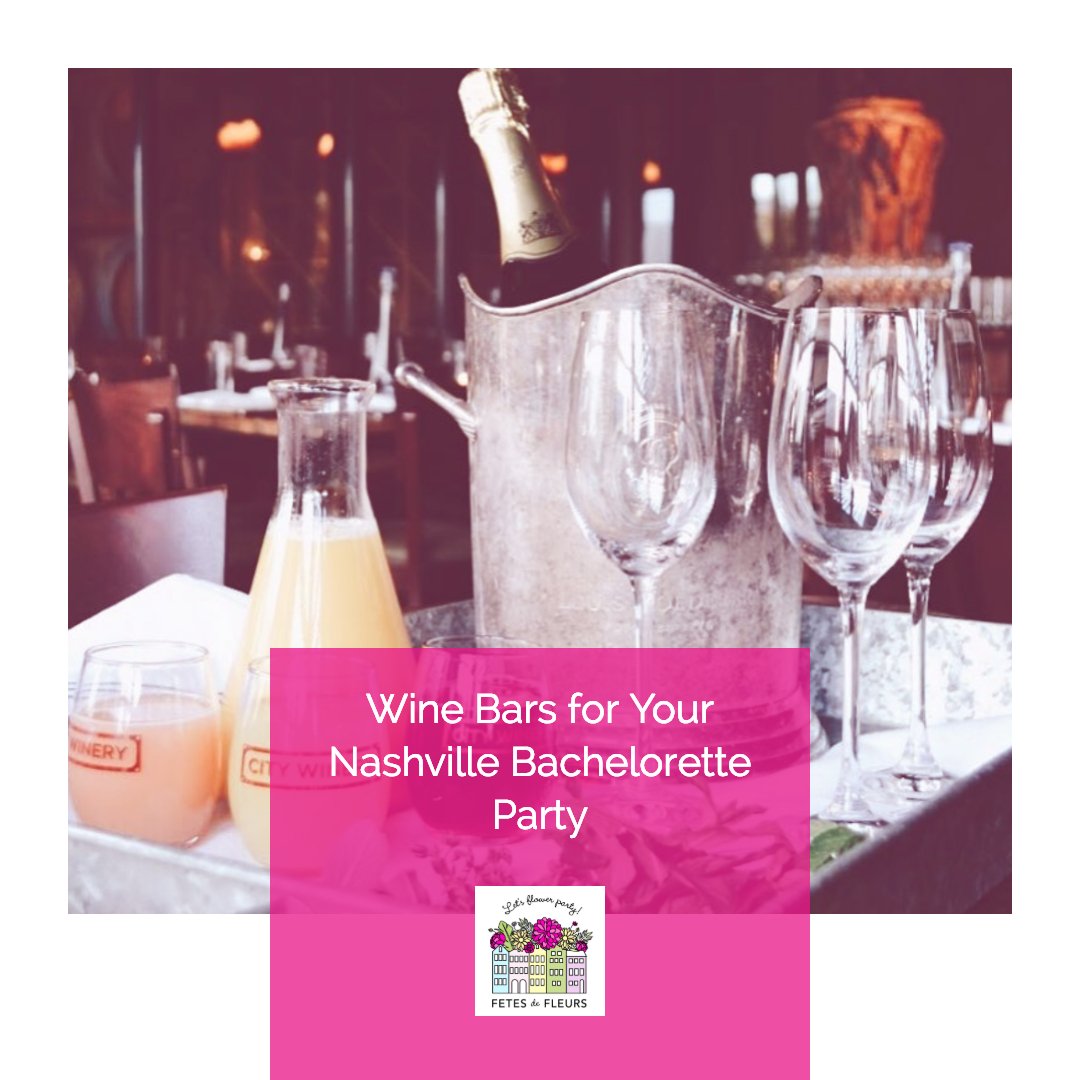 This is a winery and event space in the heart of Nashville. It is a mile from downtown Nashville so you can Uber here or walk out here. It is designed in the coolest space- an old, abandoned car repair shop. How cool right? They also have a patio area too if that is more your vibe. You can get inspired for all of your wine drinking via their instagram page here. Oh and do you like FROSE like we do? You can head here for some really cool, unique Frose options too.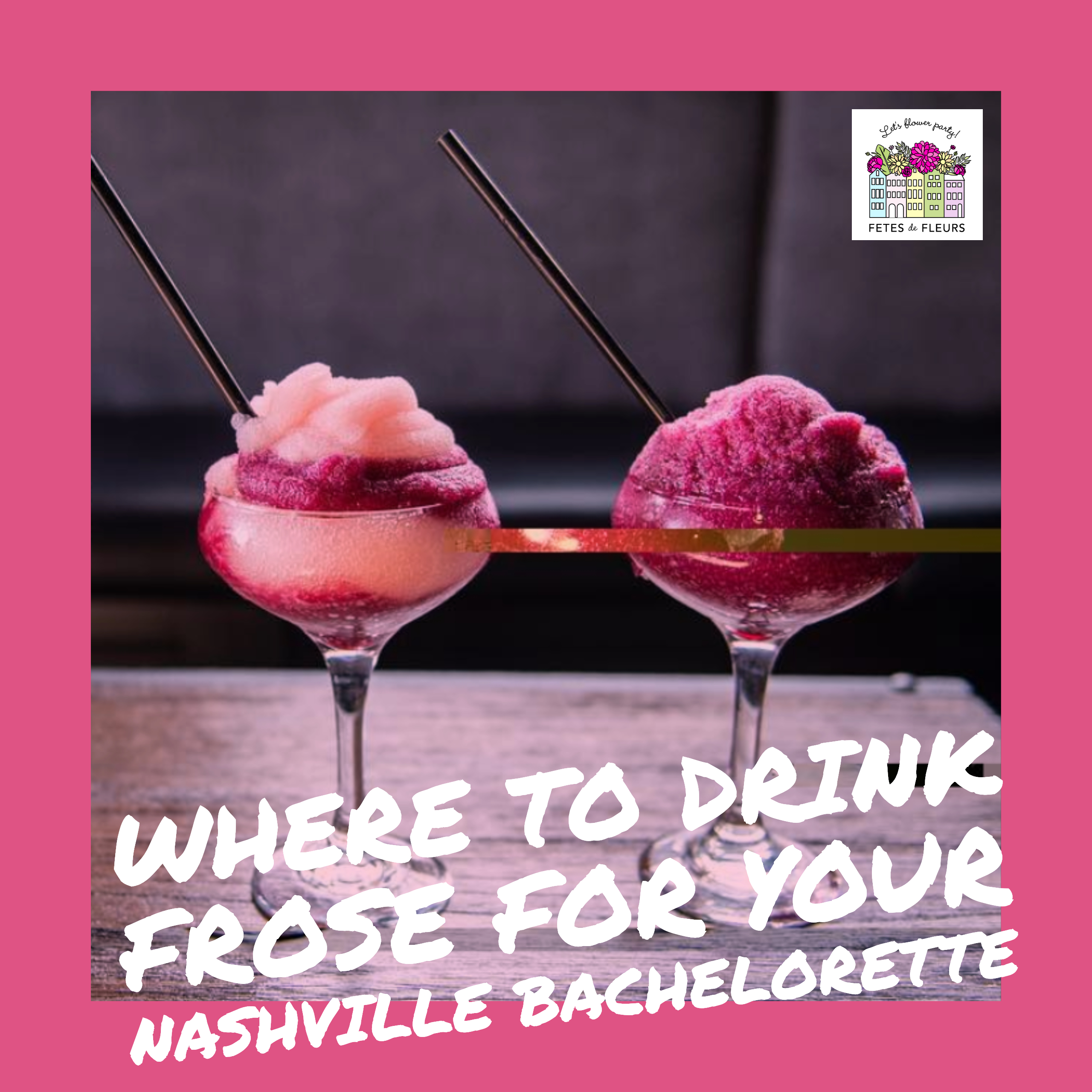 We hope you enjoyed this guide to a Nashville bachelorette party weekend. We will continue to add in our favorite places to eat, things to do, where to drink, etc over time as we learn about other cool things that you should know about. You can always access the full Nashville Bachelorette Party Guide here.
If you are looking for fun and different things to do for activities on your Nashville bachelorette party weekend you should check out our flower crown workshops. We come to your airbnb or hotel to teach your Nash Bach party how to make flower crowns. Think a fun, floral activity for your bachelorette group to do. We come to you with all the supplies and fun, then teach your group how to make flower crowns. We also do delivery of flower crowns if you don't want to make them and want us to make them for you. You can request more information on how our Nashville flower parties work here.