Figuring out where to spend your bachelorette party weekend is one of the toughest parts of the bachelorette party planning process. Everyone has their own ideas on where they want to spend the bachelorette party weekend and maybe they don't all line up. If you have contemplated doing your bachelorette party in Nashville you will not be let down. Nashville is a fun city to visit in general but when you combine the trip with a bachelorette party you are sure to have an outstanding time.
Nashville is one of 2019's top bachelorette party destinations for groups this year (and many years) and for good reasons. Picking a city to spend the bachelorette party in is important because you want to pick a place that has enough to do for the weekend and is also a cool city or spot to visit. Nashville has lots of things to do, food to eat, drinks to be drunk and well, it works out great for picking your bachelorette party decorations too. We hope you have the best weekend on your Nashville bachelorette party celebrating your bride to be!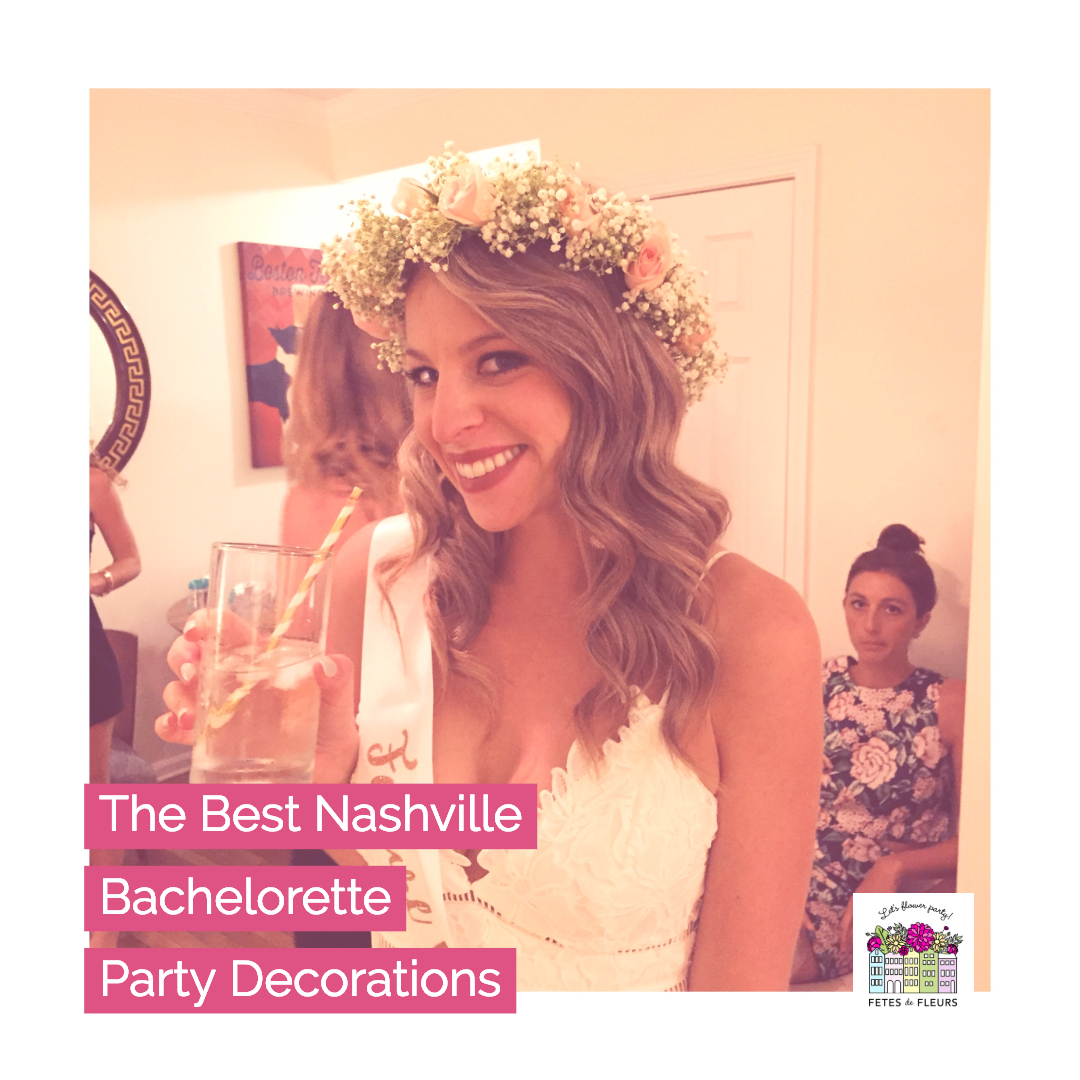 We have our top bachelorette party decorations for a Nashville bachelorette party listed below.
Now go get your NASH BACH on, ladies!
Nash Bash or Nash BACH T-Shirts
If you go on Etsy you will find some great Nashville bachelorette party t-shirts here. I love to use Etsy as inspiration for our bachelorette parties because the items when you search, for example, "nashville bachelorette shirts" always brings back the best items. Bachelorette party t-shirts are a good bachelorette favor or bachelorette gifts post weekend. They also double up as something cute to wear for photos around town doing whatever you are doing. Nashville bachelorette parties are so fun because you have the option of some pretty fun bachelorette party hashtags to pick from for your bachelorette decorations.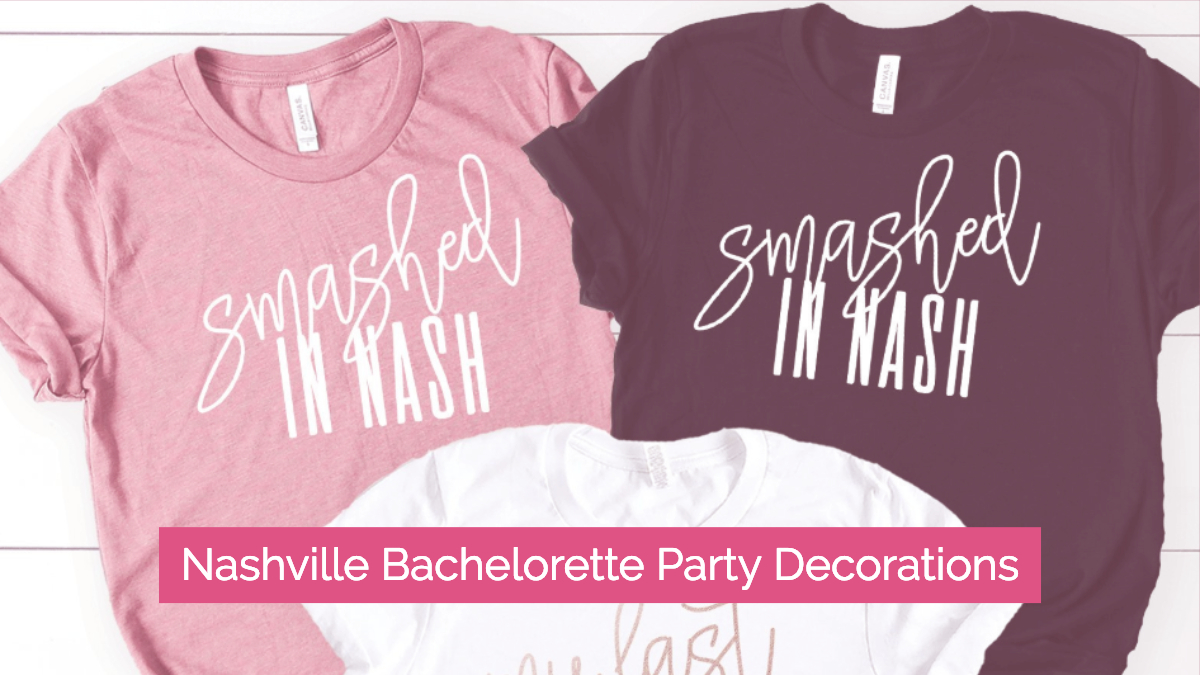 Smashed in NASH
Nash Bash and Nash BACH of course are used a lot.
Last Ride before she is a Bride
Let's Get Nashty
Nashelorette
Bride's Last Ride
Sippin Pretty in Music City
You can put any of these sayings on a bachelorette party t-shirt and win at the bachelorette party gifts and favors.
Flower Crowns for your cowboy hats
We love the idea of getting cowboy hats for your Nashville bachelorette group to wear around town or out on a night out. Putting a flower crown on the top of the cowboy hat is even cuter and something that our Nashville flower party hosts can help you with. If you are planning on wearing cowboy hats and want to do a flower crown workshop as part of your Nash Bach then just request more information about our flower crown workshops here. We can come to your hotel or airbnb and do a fun, girly bachelorette activity with you making flower crowns to wear on your time in Nashville.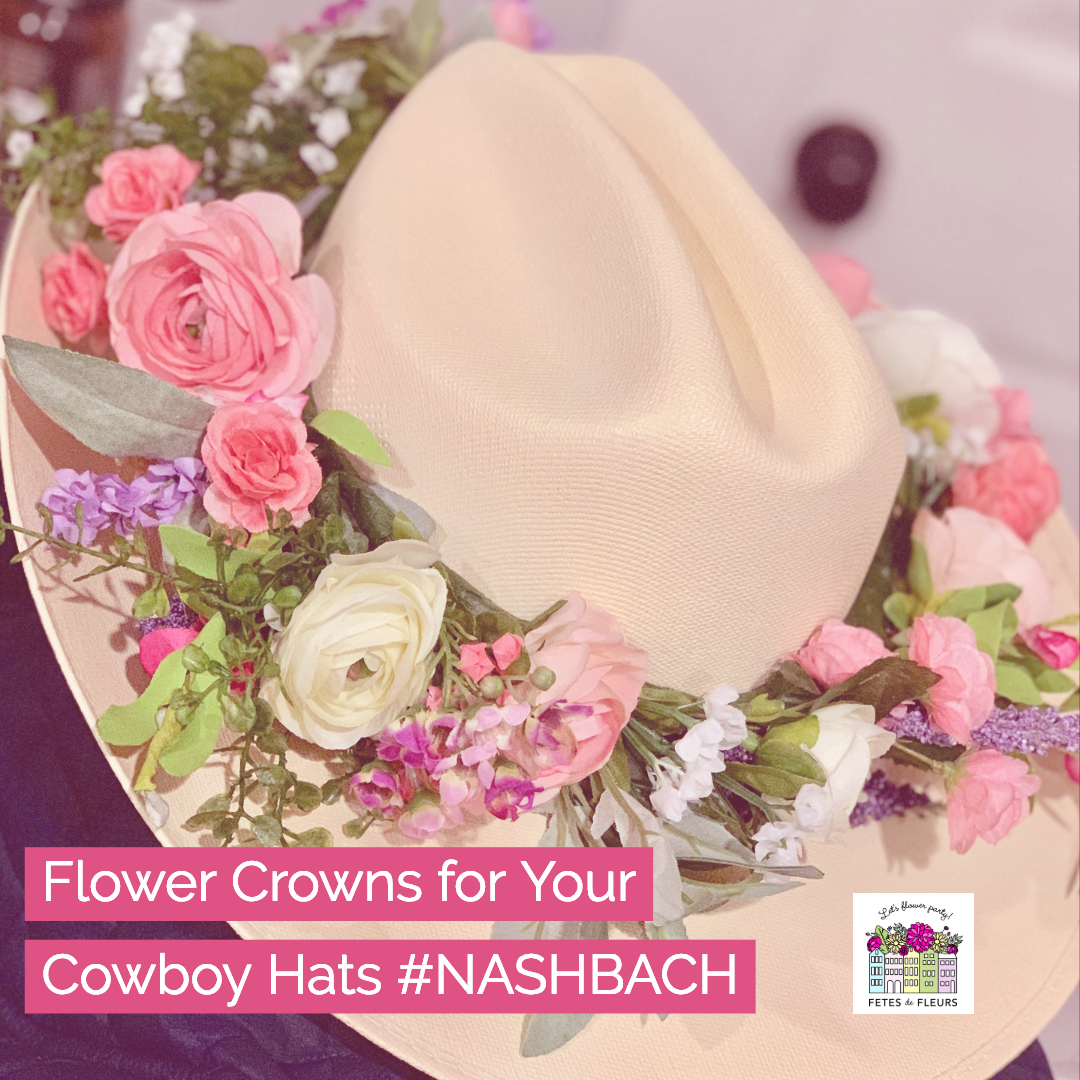 A bachelorette banner for the hotel room or airbnb
There are so many cute Nashville bachelorette party hashtags that you can use. I put a bunch of cute sayings and bachelorette hashtags in the section about T-Shirts for a Nash Bach. You can use the same things for bachelorette banners for your hotel room or airbnb. I love #NASHBASH, #NASHBACH, #NASHELORETTE and #LETSGETNASHTY. What are your faves for a bachelorette banner?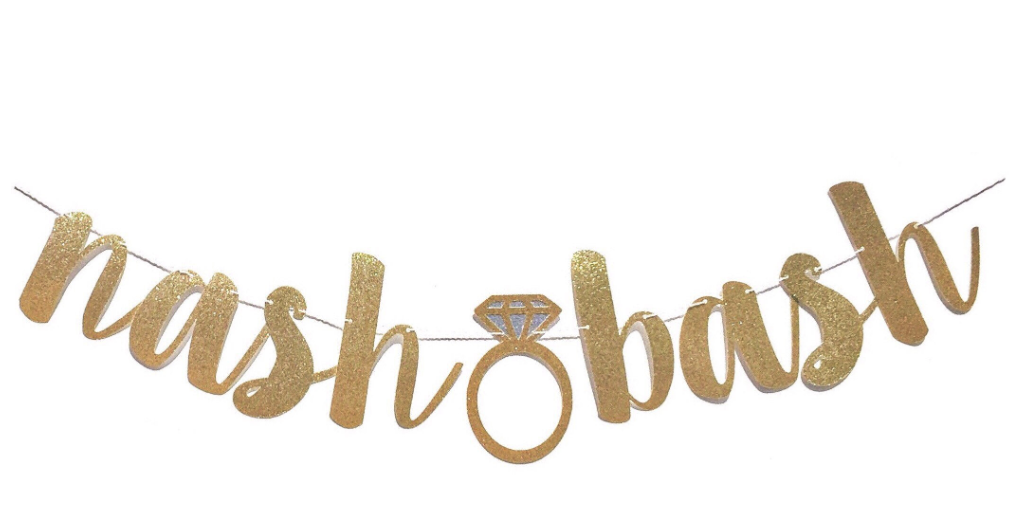 Coozies or cups with a bachelorette party hashtag
Maybe you are planning on going on one of those party barges that go through downtown Nashville and you want to have something cute for your cups or beers? Make sure you get some fun bachelorette party coozies or cups. I went through a bunch of different bachelorette coozies on Etsy and I love these simple, chic ones that are light pink and white. I think these would look great paired with flower crown. Just saying...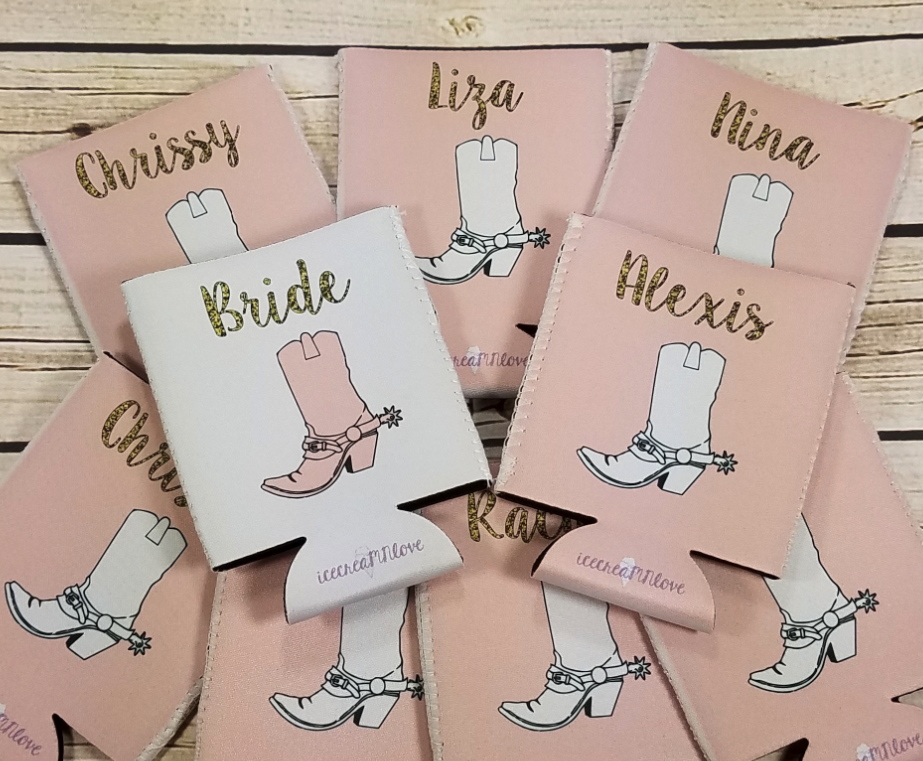 Nashville bachelorette party tattoos
Okurrrrr...you are definitely going to need to get some bachelorette party tattoos for your NASH BACH group. There are some hilarious options for funny bachelorette party tattoos on Etsy here. We love the ones that say if I am lost, buy me a drink or return me to X bachelorette party. I also really like ones with pictures of the husband to be or the bachelorette herself wearing a cowboy hat.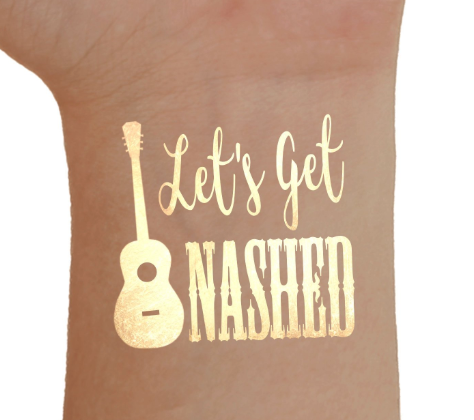 Cowboy boots confetti to throw around the house or airbnb
Confetti is always a good and easy thing to buy for bachelorette party decorations. It is an easy thing to add around the house or hotel room to add some flair to the space. There are some cute options with cowboy boots and cowboy hats that we found on our favorite site Etsy (again).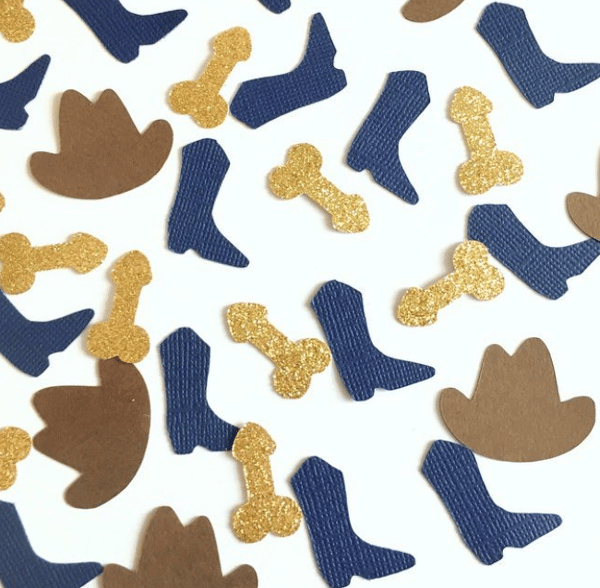 Cowboy boot pins
I keep coming across bachelorette party pins for outfits instead of the typical bachelorette or bride sashes. I think these are cute as options for bachelorette party gifts and decor.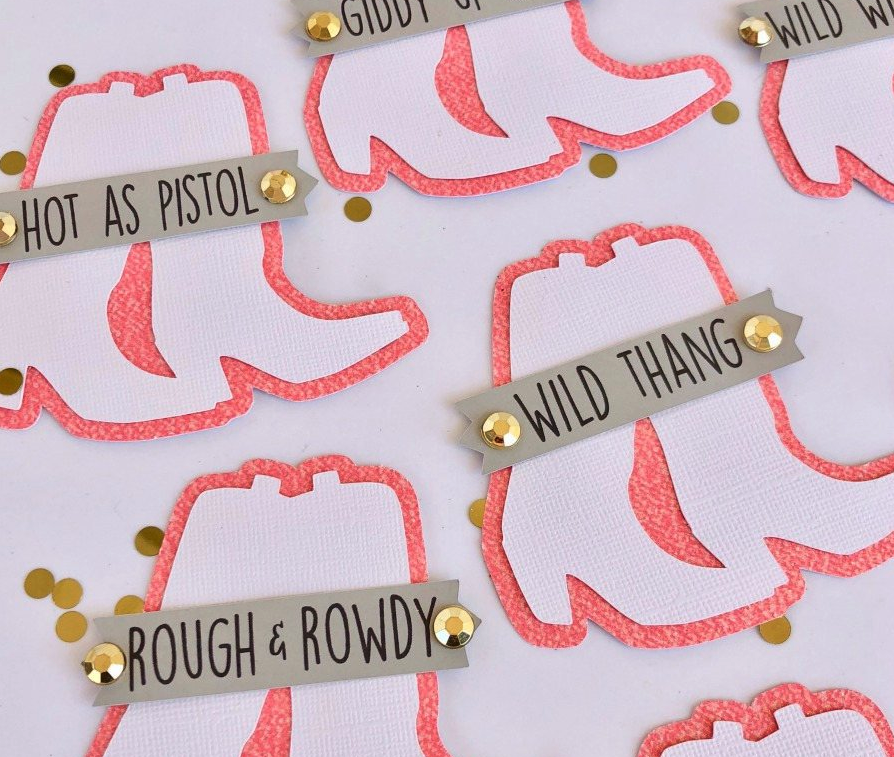 Nashville bachelorette themed photo booth props
We love having photo booth props around for a bachelorette party. They make for fun bachelorette party decor but also are perfect for funny pictures late night in the house or the hotel. There are so many cute options for photo booth props on Etsy that you can print out or have sent to you in the mail ahead of the Nashville bachelorette weekend.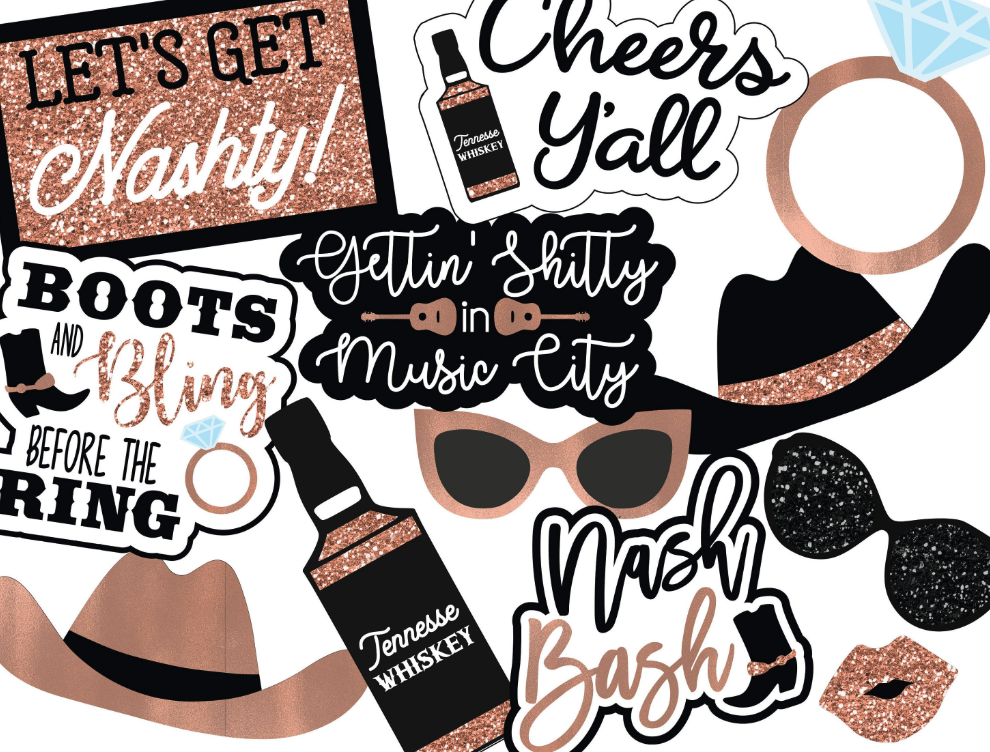 Cheers YA'LL! We hope you have the best time getting shitty in music city with your bride tribe.
If you are interested in maybe booking a flower crown workshop with us for part of your Nashville bach you can request more information here or email us at ali@fetesdefleurs.com.