On Saturday, March 23rd we had our first ever flower crown party here in Nashville!
The sun was shining and the girls from Kira's bridal party were visiting Nashville from Arizona for her bachelorette party weekend. While it certainly wasn't my first crafting workshop rodeo, I was so thrilled to be representing Fetes de Fleurs for our first floral workshop in Nashville market!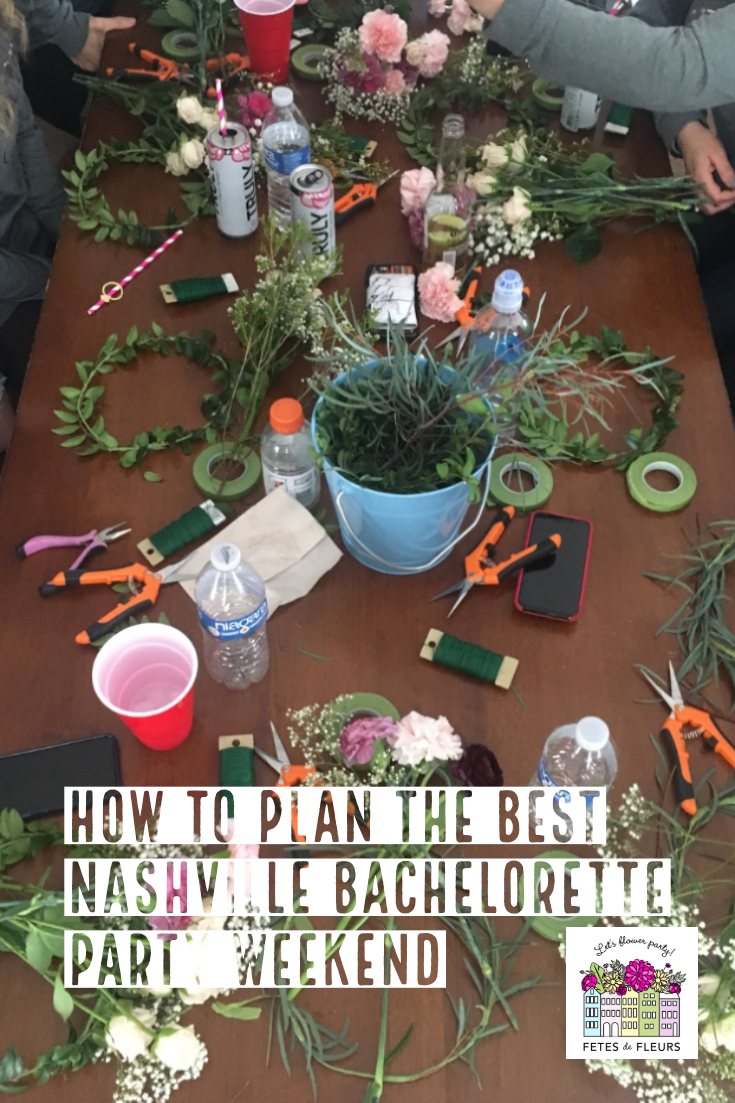 Nashville is one of the TOP bachelorette party destinations in America right now, and the tourism industry is only growing here in our fabulous city! The bachelorette party scene has so much to offer groups coming into town and there's such a wide variety of activities to participate in. The girls in this group informed me that taking a quiet morning to craft and chat was such a nice change of pace from the activities they were doing the last few days, and they were so excited to wear their flower crowns out that night.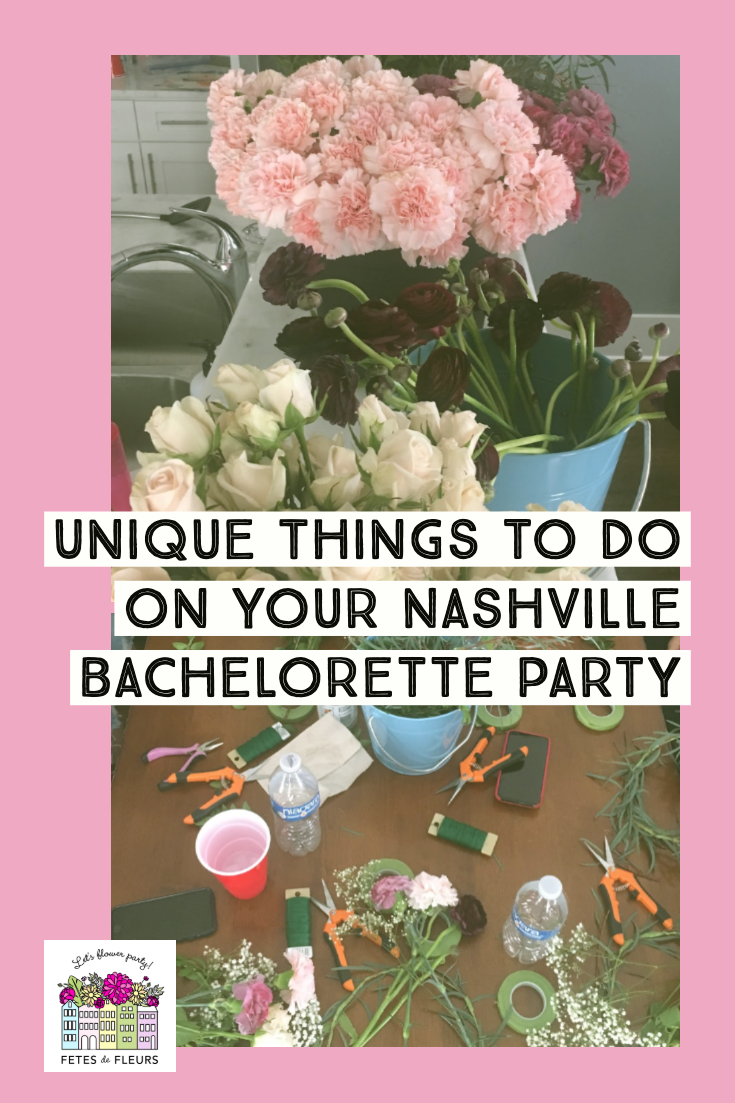 Flower crowns really are the perfect way to create a unique look with your group when you are looking to plan a night out on the bachelorette party weekend where you match outfits or looks. We all know that for most bach weekends there is at least one night where you talk about the bachelorette party outfits and what you are going to wear as a group. Flower crowns can make for a really cute addition to your bachelorette party looks!
Alex, the party coordinator of this bachelorette group, asked specifically for colors coordinating to Kira's wedding colors. We love when bride tribe's do this and request colors that match the wedding colors for the bride to be. Makes the flower crown workshop even more special for the bride to be by incorporating the colors of the wedding to be.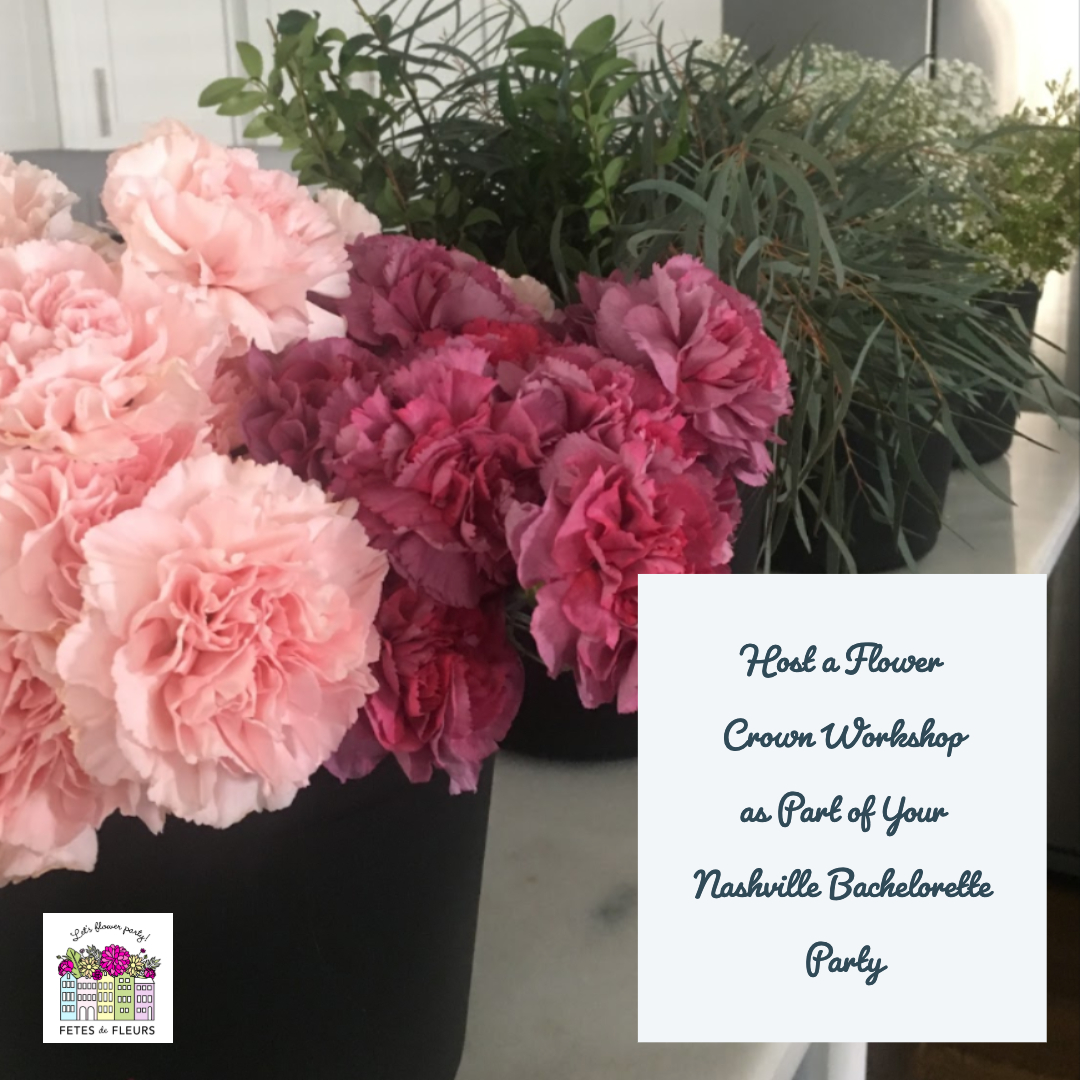 Here are the wedding colors for this Nashville bachelorette that we also sourced the real flowers and greenery for their flower crown workshop:
Maroon
Dusty rose
Mauve
Light pink
White
I was so excited to see these color suggestions for flowers because they're absolutely my favorite color palette for pretty much anything I'm designing or styling. I was able to pick out some really beautiful flowers with the help of our local flower wholesaler. Alex also requested plenty of greenery, as some girls were looking to make some very subtle and delicate crowns.
FYI: in the party planning process with us we will ask you about your group and what colors you would like. We try our best to source flowers and colors in line with your requests always.
When I got there, Kira informed me she was a huge fan of pink and her wedding colors were all in the pink category because her fiancé wouldn't let her decorate her whole house pink, and I think that's when she and I became best friends. :)
I was so excited she loved my color choices for the flowers.
Here are the flowers that we sourced for this Nashville bachelorette party to work with the bride to be's wedding colors:
Maroon ranunculus
Pink carnations
Peach roses
Baby's breath
Wax flower
Purple and fuchsia carnations
These were the prettiest carnations I had ever seen. I reminded the girls that since they were taking them home on a plane, some of the flowers would be more delicate than others when you're trying to transport them. I also gave them some tips on preserving their flower crowns when traveling. We love how our flower crowns dry out. You can take real flower crowns and hang them up on the wall on a nail or on the side of a mirror to dry out. Flower crowns look beautiful dried out and can be a great way to give the bachelorette party group some bachelorette favors to go after the weekend ends! Special gift from the weekend to take home and enjoy after the celebration ends.
The girls were a little tired after a couple nights of enjoying Nashville and each other's company, and were initially very reluctant of their crafting skills with the flower crowns.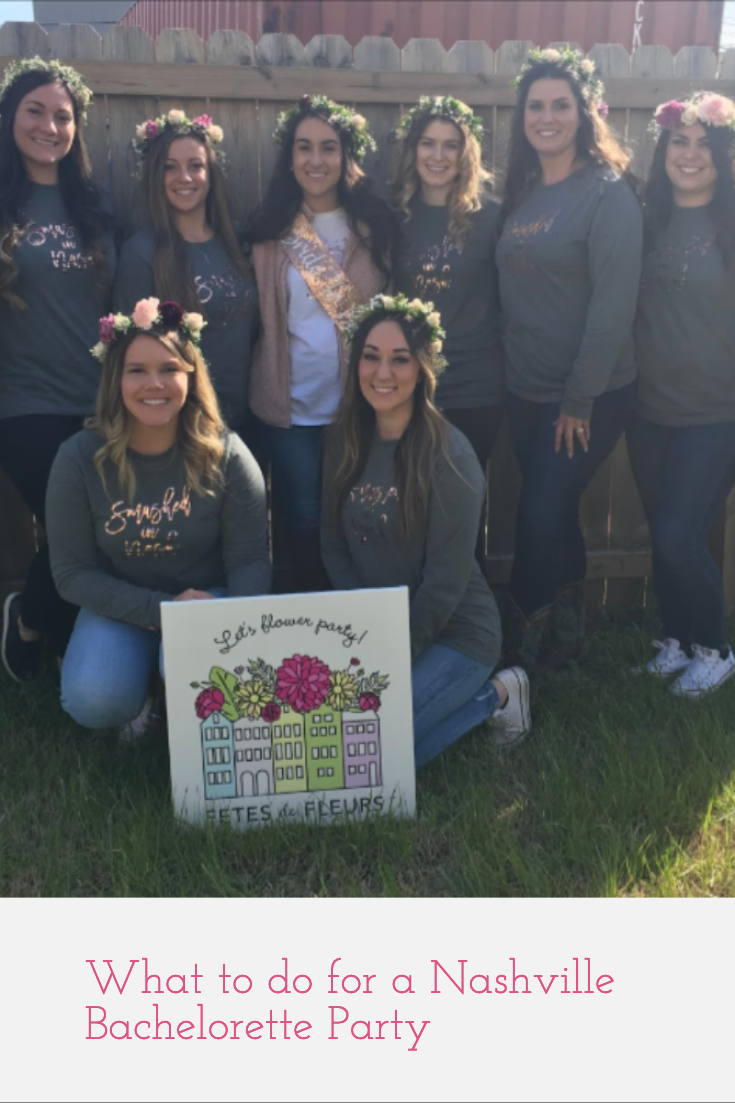 Of course I broke everything down step by step, and explained to them my rules for flower crown making.
1. Be kind to the flowers
2. Be kind to each other, and most importantly,
3. Be kind to yourself!
A lot of them were struggling with the third rule at first, but I reminded them often that they are their own worst critic, and was shocked at how hard they were on themselves because their flower crowns were looking amazing from start to finish!
First, we made our flower crown bases to fit each of our heads and the ideal desired fit. Next, I had the group pick out their greenery, then we worked on attaching the greenery onto the crown. I was happy to advise the group when girls pulled up photo inspiration or had questions.
Then everyone picked out their flowers and we went over methods to attach flowers to the flower crown. The waxflower and peach roses were a big hit among all of the gals! A lot of them had never worn flower crowns before and were having fun styling their hair with the crowns and experimenting with different ways to wear them! So fun to see what each person does in a flower crown workshop because their own personality and style tends to come out.
I had so much fun with this girl gang from Arizona and was so happy they had a blast too! They all were flower crown pros by the end of the workshop and I was so impressed with their crafting skills. Alex told me the crowns were a hit when they went out their last night in Nashville and I was thrilled to help add some adorable photo-worthy crowns to their weekend.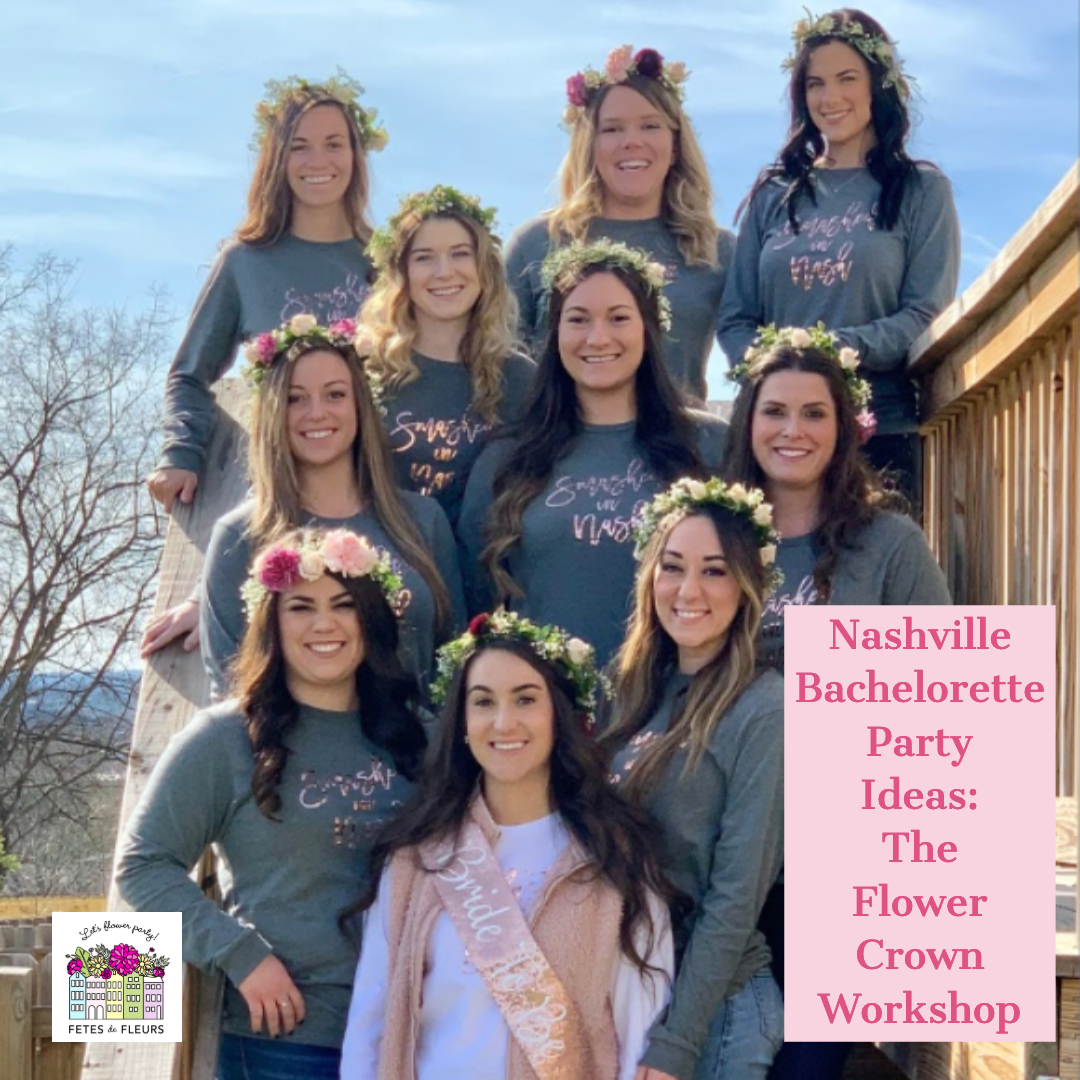 If you are interested in learning more about our floral workshops like the flower crown party for a Nashville bachelorette party you can fill out the form on this page. We can't wait to help you have some floral fun on your Nashville girls weekend or a bachelorette party in Nashville.