So you are starting to plan a bachelorette party and you are probably researching which bachelorette party locations are best for your group. We are so glad you some how wandered and came across Scottsdale, Arizona. If you are looking for somewhere pretty to visit that has fun things to do, instagram worthy photo spots, good food options, drinks to be had and well outdoor things to do then Scottsdale might be for your bachelorette party group.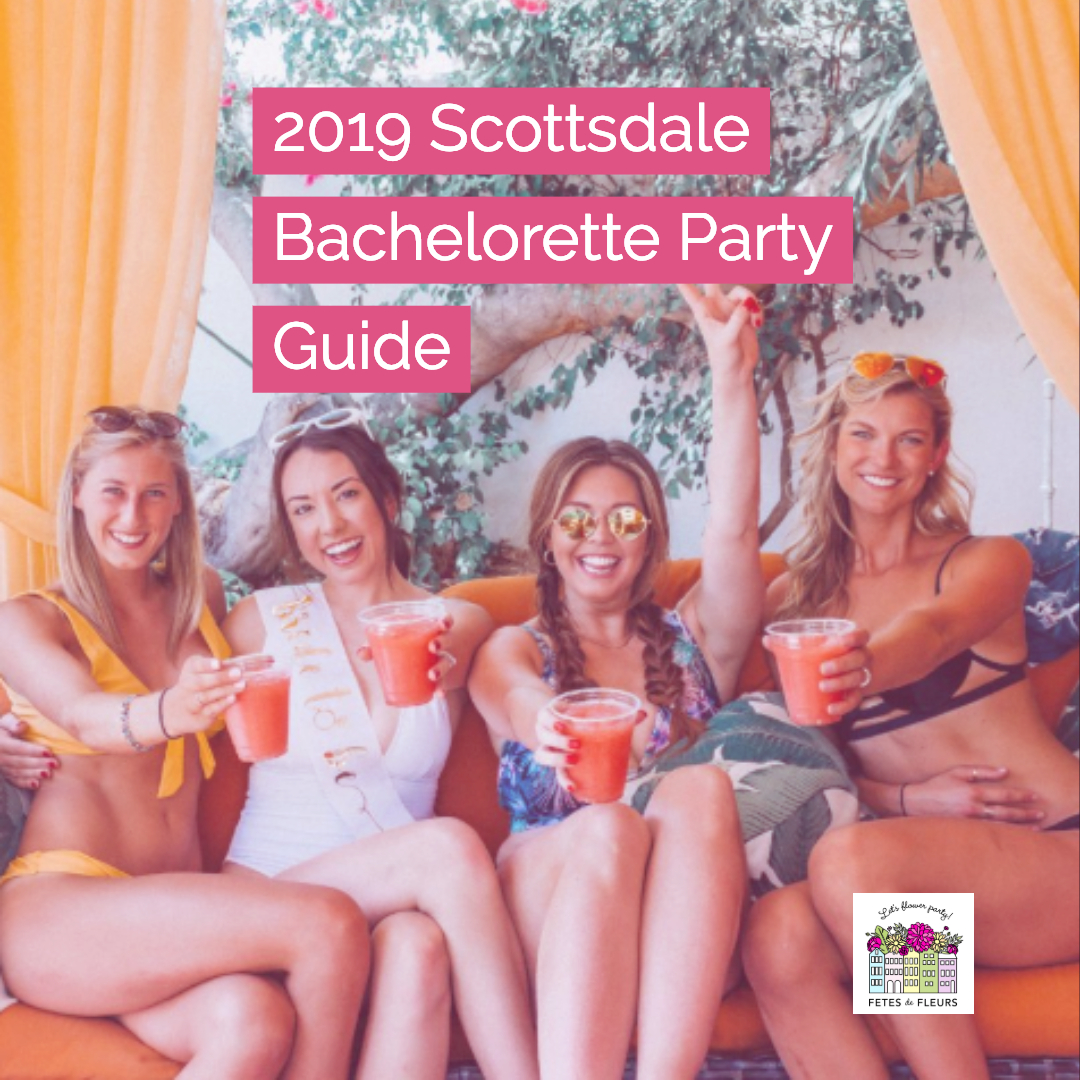 Okay- So you've chosen Scottsdale, AZ as the destination for your epic bachelorette bash. Now where to even start? There is certainly a lot to consider, and every detail is seemingly contingent upon another, so it's understandably difficult to start making decisions. Hopefully after reading this you'll be able to take a deep breath and pull some triggers on the when, where and how to spend your bachelorette party weekend in Scottsdale.
Here are some basics to know about coming to Scottsdale and what to expect. We are not just a retirement community. We are here for you to celebrate a bachelorette party weekend or even a ladies weekend in Scottsdale. The weather is usually amazing and we are only 15 minutes from the Phoenix airport. So you will have an easy time getting to Scottsdale once you land. That is always nice! There are plenty of awesome hotels to pick from as well as airbnbs for you to pick from when planning your Scottsdale bachelorette party.
The weather in Scottsdale is something you should be aware of to start out. If you are working on planning your bachelorette party weekend for the summer you will likely want to stay in the air conditioning or in the pool. It gets VERY hot in Scottsdale so you should know that. Scottsdale is a perfect place for temperate and amazing weather most of the year so come see us in the winter, spring and fall. Summer does get hot but don't let this information make you not want to come at that time of the year! You will just want to spend time swimming and in the AC. We really loved this website that the town of Scottsdale, Arizona has here. It gives you tons of good information all in one place to really know what you are getting into when visiting this lovely town.
There are a lot of cool, chic hotels for you to stay at for your Scottsdale bachelorette party weekend. Think beautiful gardens, spas and golf courses for your bride tribe to enjoy. We thought we would give you some recommendations on some of our favorite Scottsdale hotels that would be perfect spots to stay at for your bachelorette party. Scottsdale is a great spot because there is beautiful architecture everywhere you turn plus beautiful gardens and desert vibes. So if you are looking for a desert vibe-y bachelorette party weekend Scottsdale could be a perfect spot for you to spend your bachelorette party weekend at.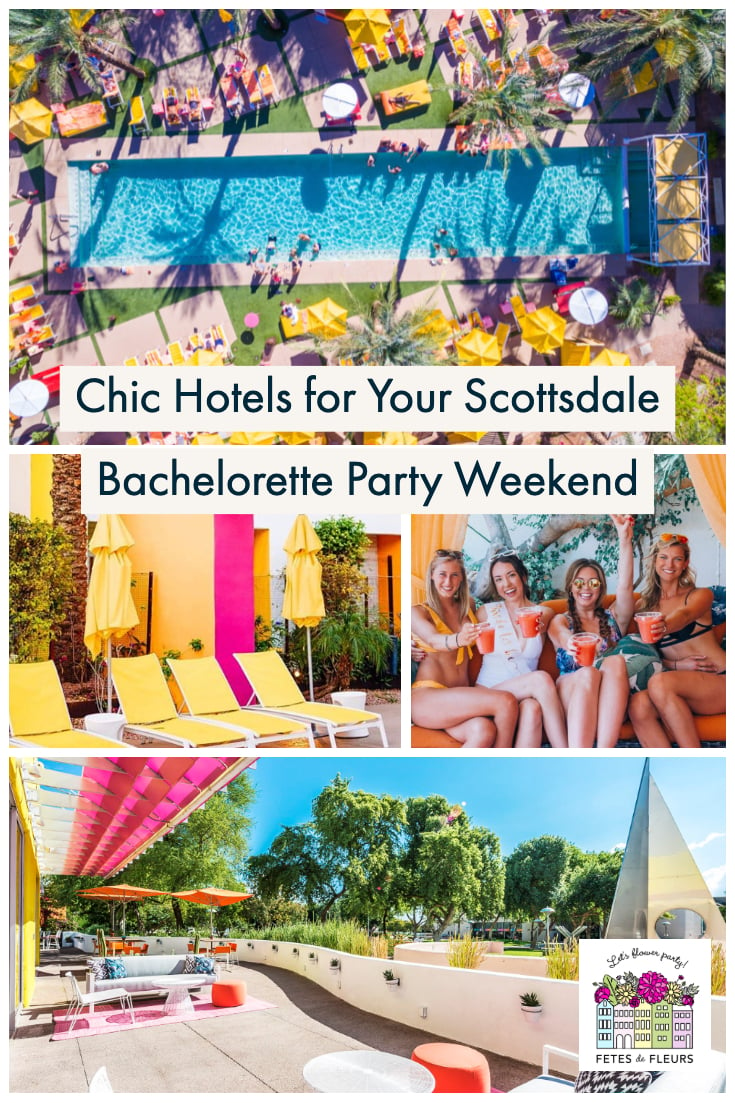 If you dig bright colors and accommodations that are cool we love the Saguaro in general. They also have one of these in Palm Springs where we also have 2 flower party hosts. :) There are over 109 restaurants, shops and lots of beautiful art galleries right near by this fabulous hotel. You just have to walk 3 blocks from the Saguaro and you are in the heart of it all. They have pools for you to relax at over day drinks as well a cruiser bikes to bop around Scottsdale on to spa services that you can do. The Saguaro has this super cool map on their website that shows you some of the places and things to do nearby the hotel here. The Saguaro also offers bachelorette groups some cool things too that you can read about here on their site. We love to get inspired by photos on Instagram of hotels that we think are cool so check out the Saguaro Hotel's Insta here.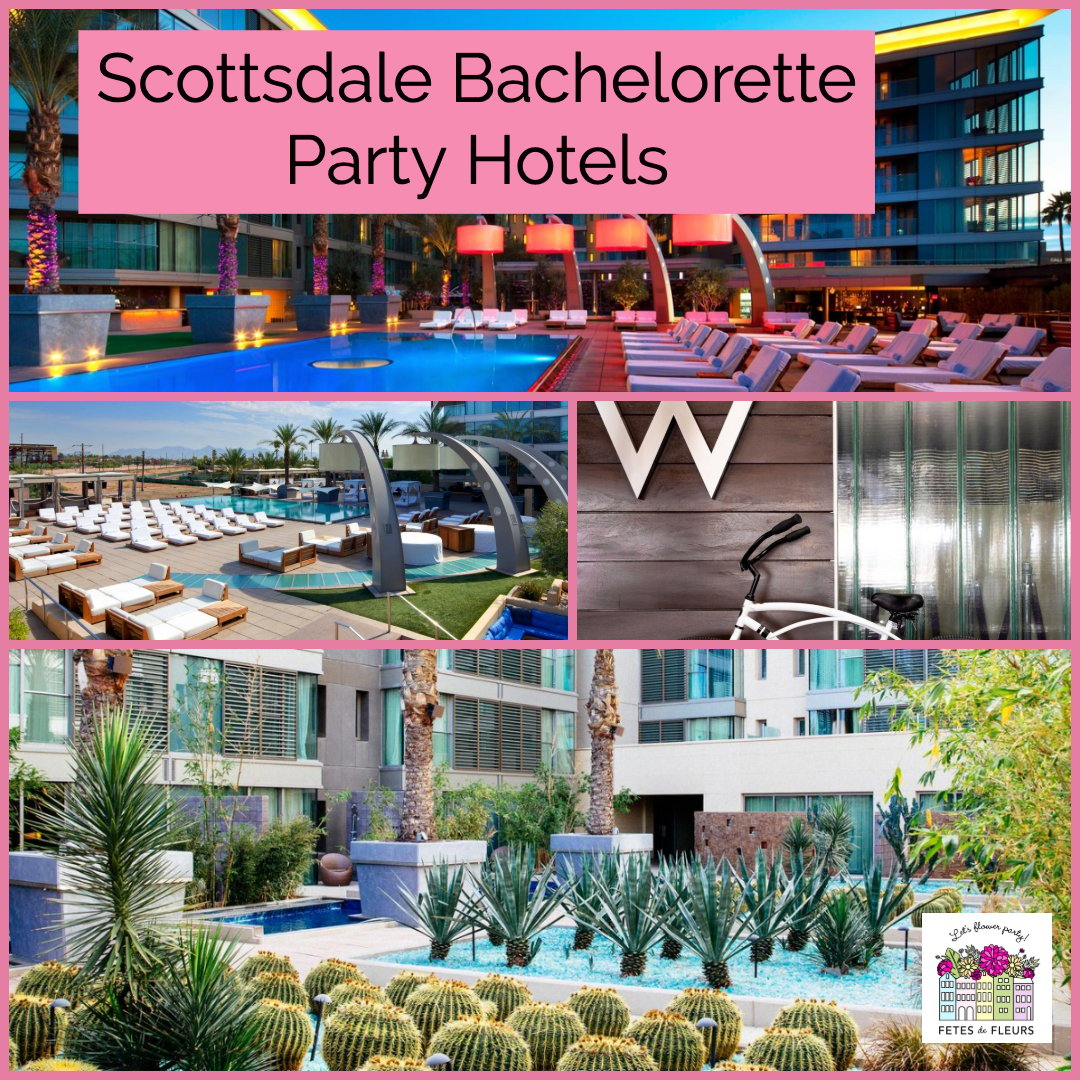 We love a W hotel in general. So we know that you can't go wrong with this hotel if you are in the midst of figuring out where to stay in Scottsdale for your bachelorette party. This hotel is located in the oldtown area too which we highly recommend being in or near for your bach weekend. Think modern amenities that we all know that W Hotels tend to have with bright colors. They have a pool deck that is beautiful as well as restaurants right there for you to enjoy on your stay. The pool has under water lights and music which we love! So fun to have a cool and fun pool scene when you pick where your bachelorette group is going to stay.
These are always good options for a bachelorette group because they are on the more affordable scale for your group. This hotel is in the entertainment district of Scottsdale with many nightclubs, bars and restaurants right nearby which is always a key thing when planning a weekend away. Good option if your group is looking for something still chic and fun but with price taken into consideration.
If your group coming to Scottsdale for a bachelorette bash is ready to ball out and wants to spend some money we have a couple of really beautiful, nice, posh hotels that could be up your alley.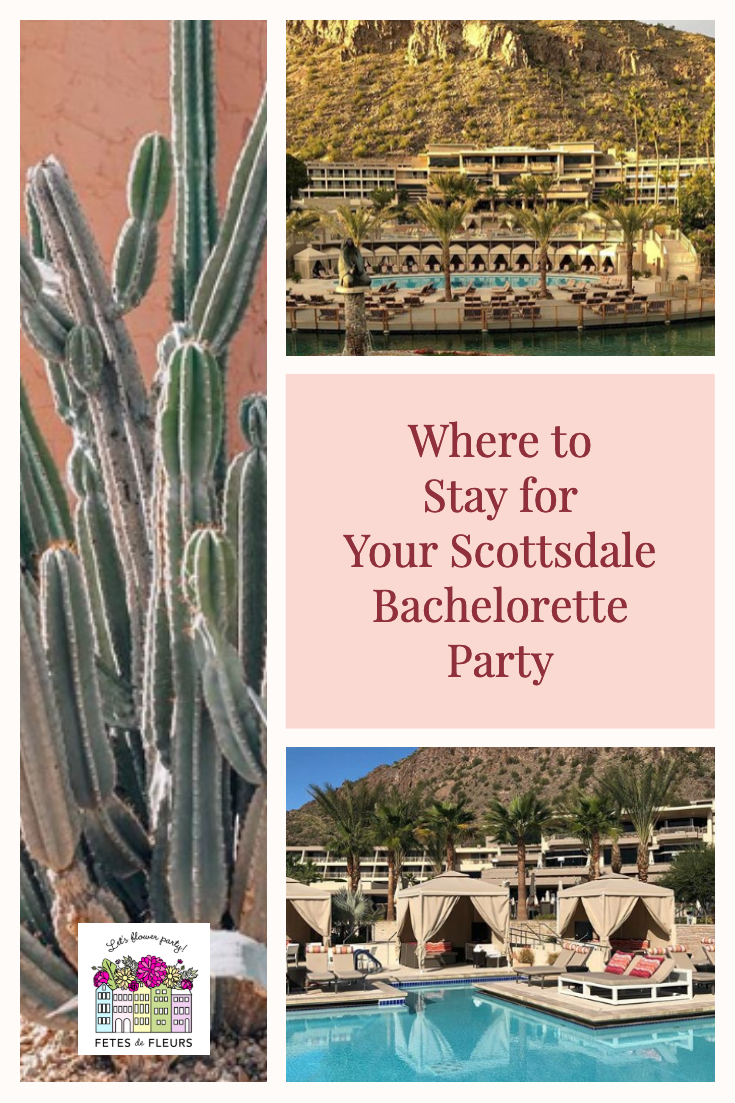 This is Arizona's premier luxury resort destination. So if you are looking for somewhere really, really nice this could be where you want to spend your weekend. This resort is beautiful and so well done. Tons to do right there for your group like pools to spend time at, restaurants to eat at and lots of drinks to be had. You should really take a gander of their INSTA here because it will get you in the mood to stay here.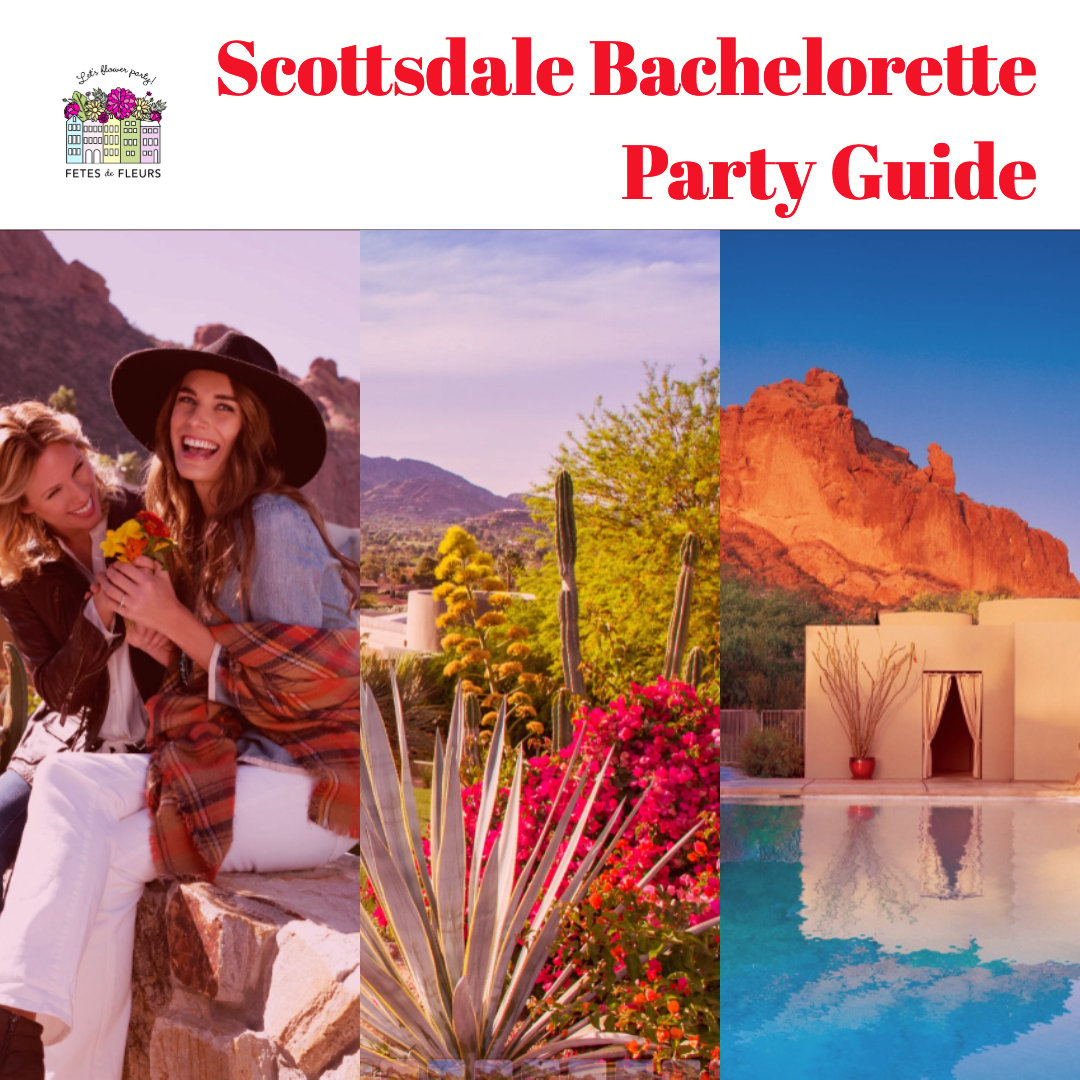 This is also a more high end hotel in Scottsdale that is located in the landscapes of Camelback Mountain. There are 53 acres of resort area here for you to experience and have a nice time at this luxury resort. If you want a more spa like, nice experience you could stay here with your bachelorette party group. Just really depends on what you want to spend your money on that weekend. We love to give you examples so check this place out if you want something nice.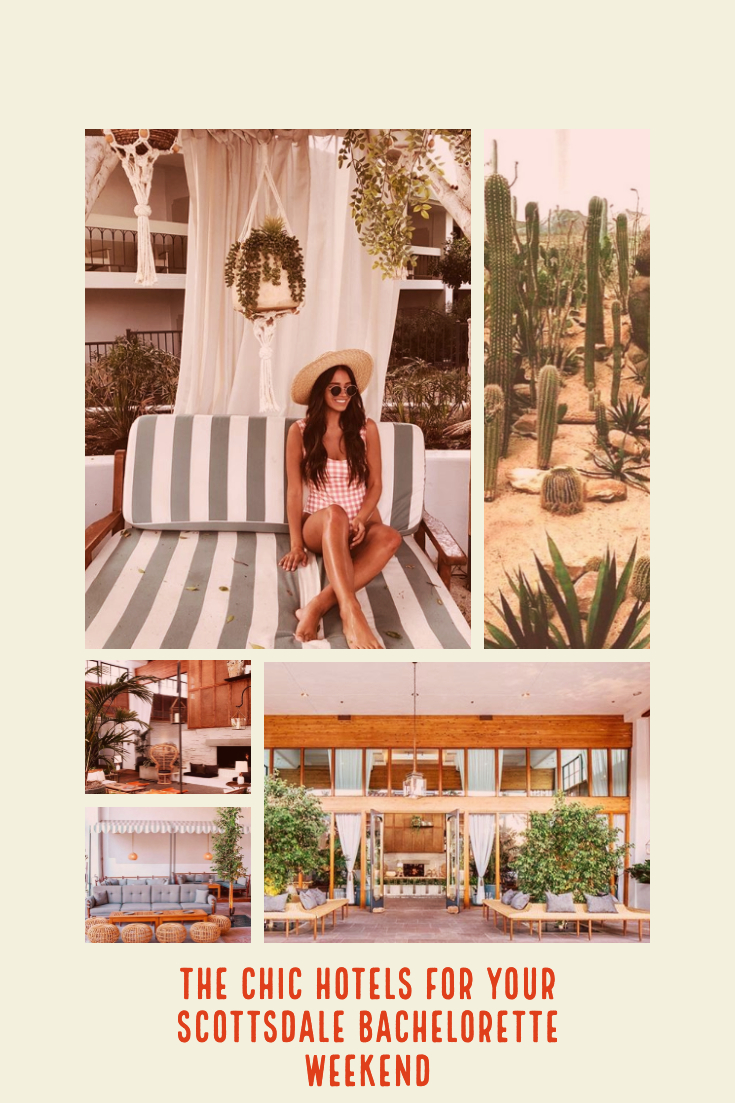 This is a true boutique hotel in the heart of Scottsdale. The Scott does a great job blending indoor with outdoor. They have a restaurant on site called the Canal Club with a cuban twist on their food. They also have a spa on site as well as 2 pools, a hot tub and sandy beach area. Check out the Scott Hotel's INSTA here to see how great this place is!
Andaz Resort and Spa was recognized by Conde Nast Traveler 2018 Reader's Choice awards as one of the top resorts in the Southwest and on the IT LIST for 2018. This is a mid century modern design vibe with tons of local art from Scottsdale artists. Think desert palate with a mix of color popped into the hotel. 185 bugalow urban oasis that is away from the hustle and bustle of the main area of downtown Scottsdale. Just check out their beautiful instagram photos here to be just an inspired as we are by this magical place.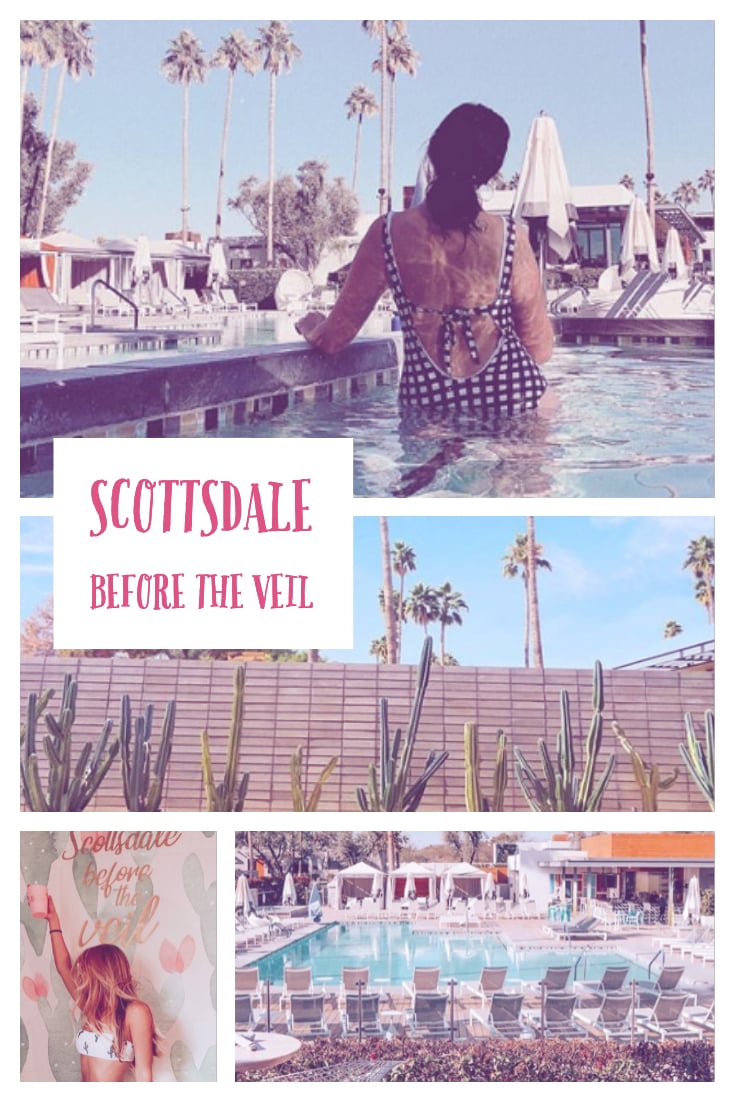 There are also some amazing airbnbs that you can stay at in Scottsdale. We love going to airbnbs to setup our flower crown workshops. So if you are looking for a fun activity that involves flowers for your Scottsdale bachelorette party you can fill out a form here. We will then send you more information on how our flower parties work as an option for your bachelorette party in Scottsdale.
Now that you know where to stay we need to think about the best places to eat while on your weekend in Scottsdale so you can bookmark these and make some reservations at these fabulous places.
Let's start with brunch, babes.
We can thank Megan, one of our flower party hosts in Scottsdale for some of the suggestions below. She will continue to help us come up with the best things to do in Scottsdale as well as the must see restaurants while you are in town. Remember to check out our full guide with all links to blog posts we have written about planning a Scottsdale bachelorette party here.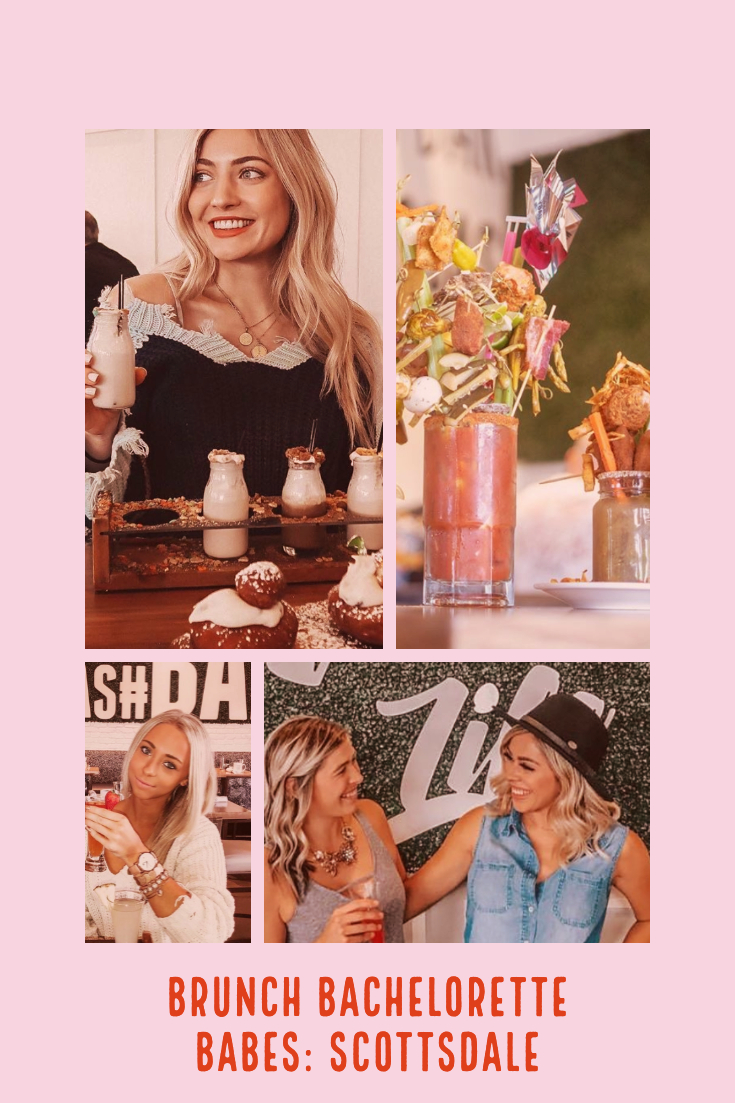 Bottomless mimosas and Bloody Mary's every Sat/Sun 10AM-3PM. This spot has a club vibe so if you are looking for something more clubby and outgoing for a fun, boozy brunch this could be a good spot for one morning on your weekend here in Scottsdale. Check out the brunch menu here. This place is constantly on lists for best brunches in Scottsdale so we can't wait to see what you think of it. Oh and we know that are brunch bachelorette babes love FROSE- they have it here. So get your FROSE on ladies!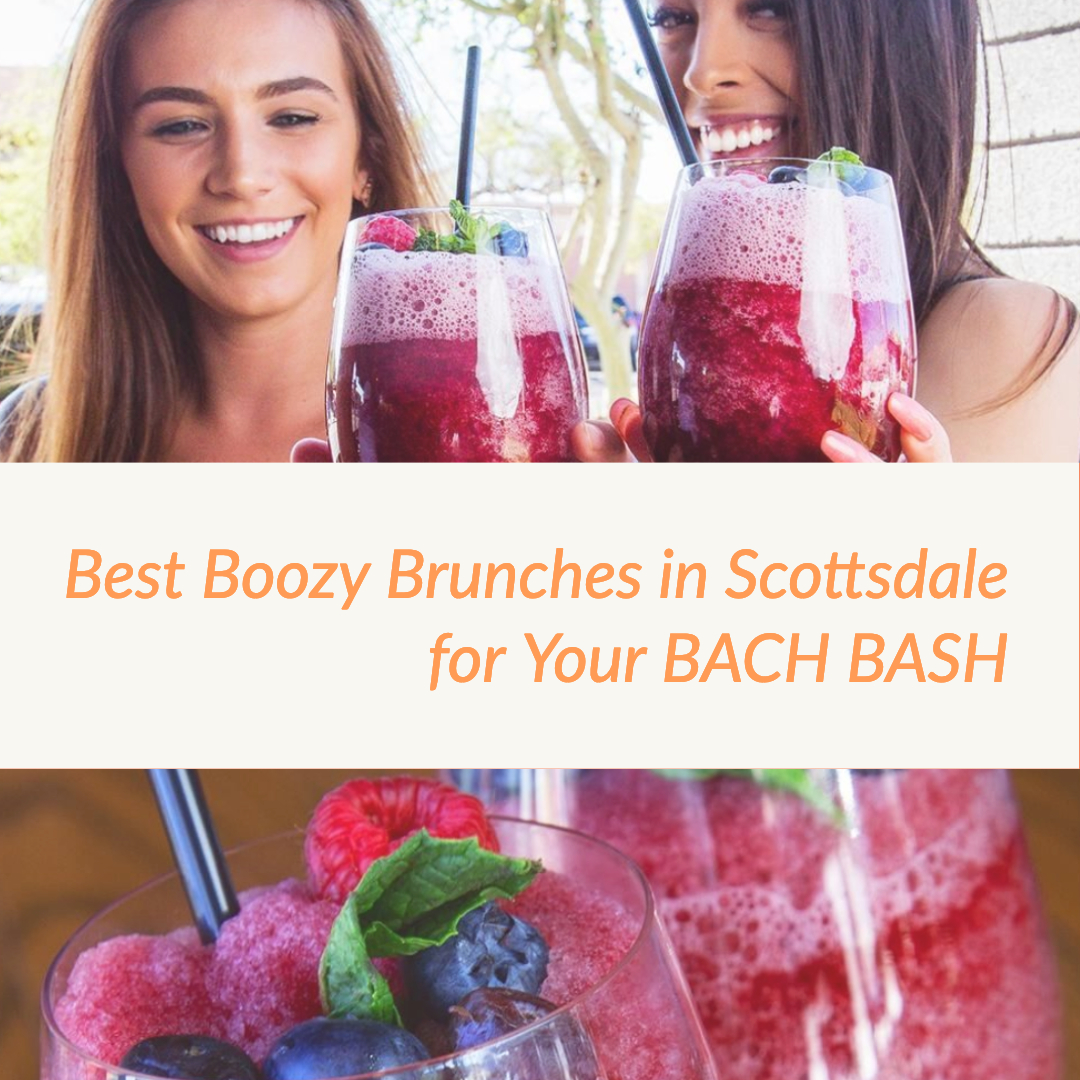 This brunch spots sources only clean and seasonal ingredients of the highest quality working with artisan producers who care. So expect quality food here. Also, fun local tip- great boozy coffees for you here. So put a fun twist on that coffee and head here to get energized in a fun way. They have a churro waffle, tons of fun pancake options to celebrate the bride with and of course great avocado toast for all you basic brunch babes out there. Check out their menu here and their INSTA here.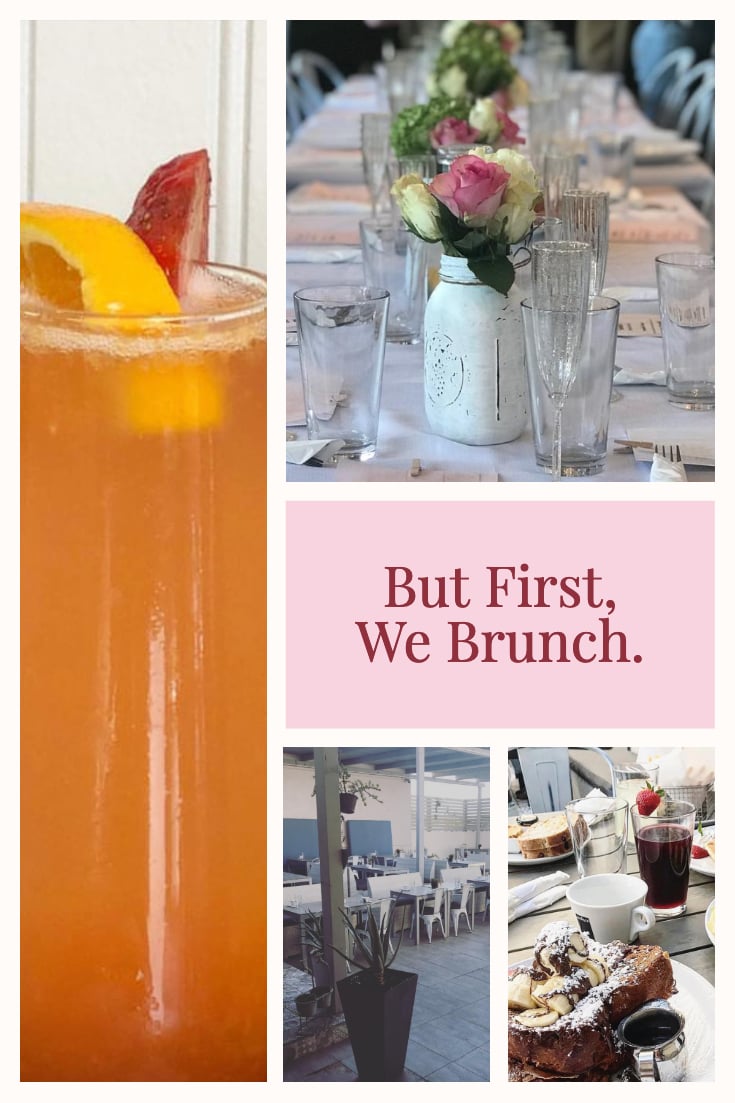 Bellini boards, brunch packages and mimosa bottle service. Riot House is an evolution of where hospitality culture is going. They have developed a concept that feels sexy and classy but still brings the high energy entertainment that a bachelorette group usually is wanting. Check out their brunch menu here and INSTA here.
MIMOSA BOTTLE SERVICE $ 40
campo viejo cava brut presented with fresh grapefruit, orange & pineapple juices accompanied by fresh cut seasonal fruit
BELLINI BOTTLE SERVICE $ 50
bottle of ice rosé or cuvée champagne presented with your choice of three fruit purées and an assortment of fresh fruit & herbs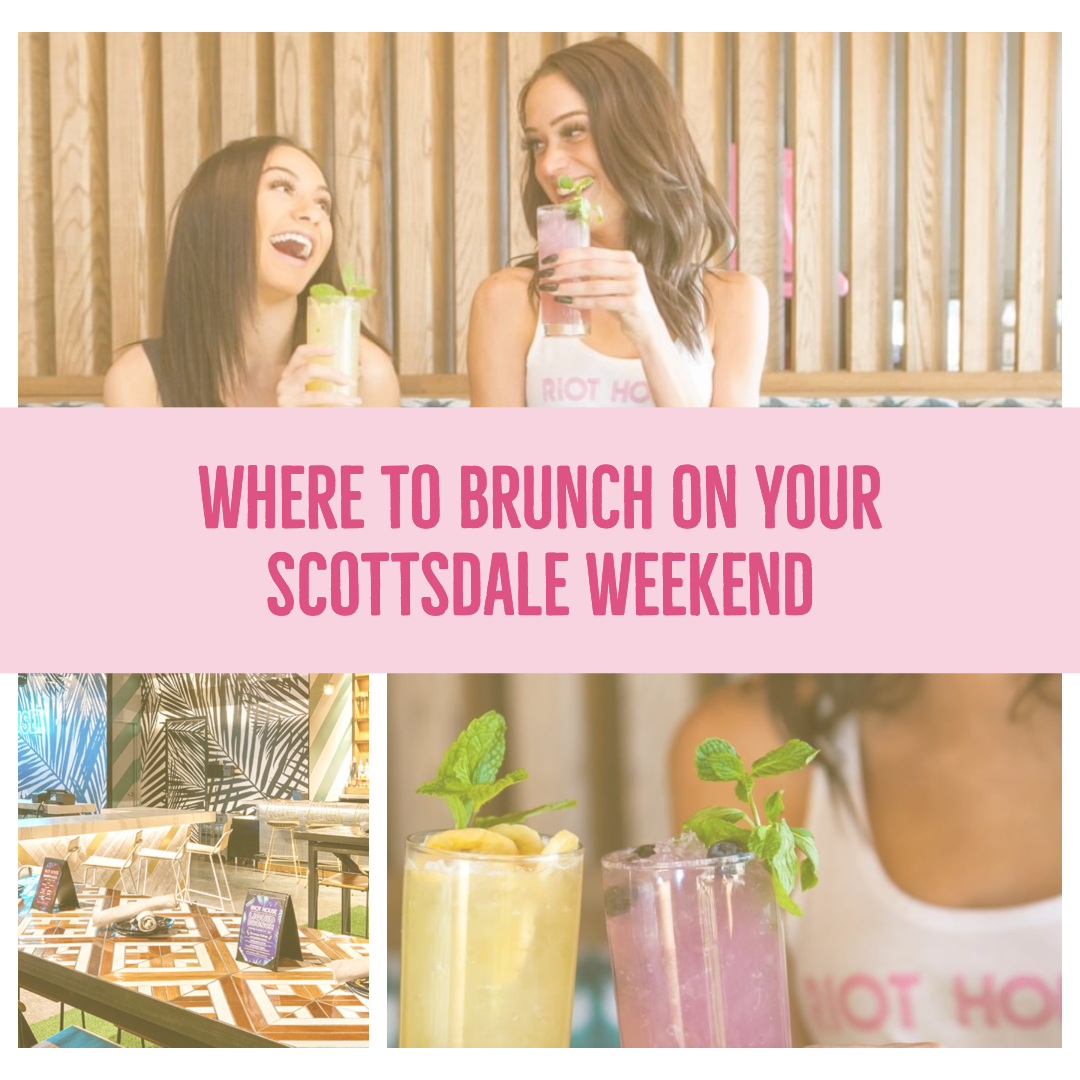 Hash Kitchen (Chandler & Scottsdale locations)
Instagram-worthy entrees AND drinks (think disco slushies & cereal shooters) and a build-your-own bloody Mary bar. We love the idea of morning slushy drinks and cereal shooters. Sounds so fun and like a perfect place to spend a fun morning with your bride tribe before hitting the pool or doing a flower crown workshop with us. We found out this place has the largest bloody mary bar in Arizona- so if your bride loves bloodies then you must swing on by here. Check out their INSTA here to see some fun drinks and photos to get you excited for brunch here. They also have cool sayings on the wall that you can take photos at as well as greenery wall that says "The Brunch Life." Send us some photos of you all wearing flower crowns at that wall pretty please and thank you!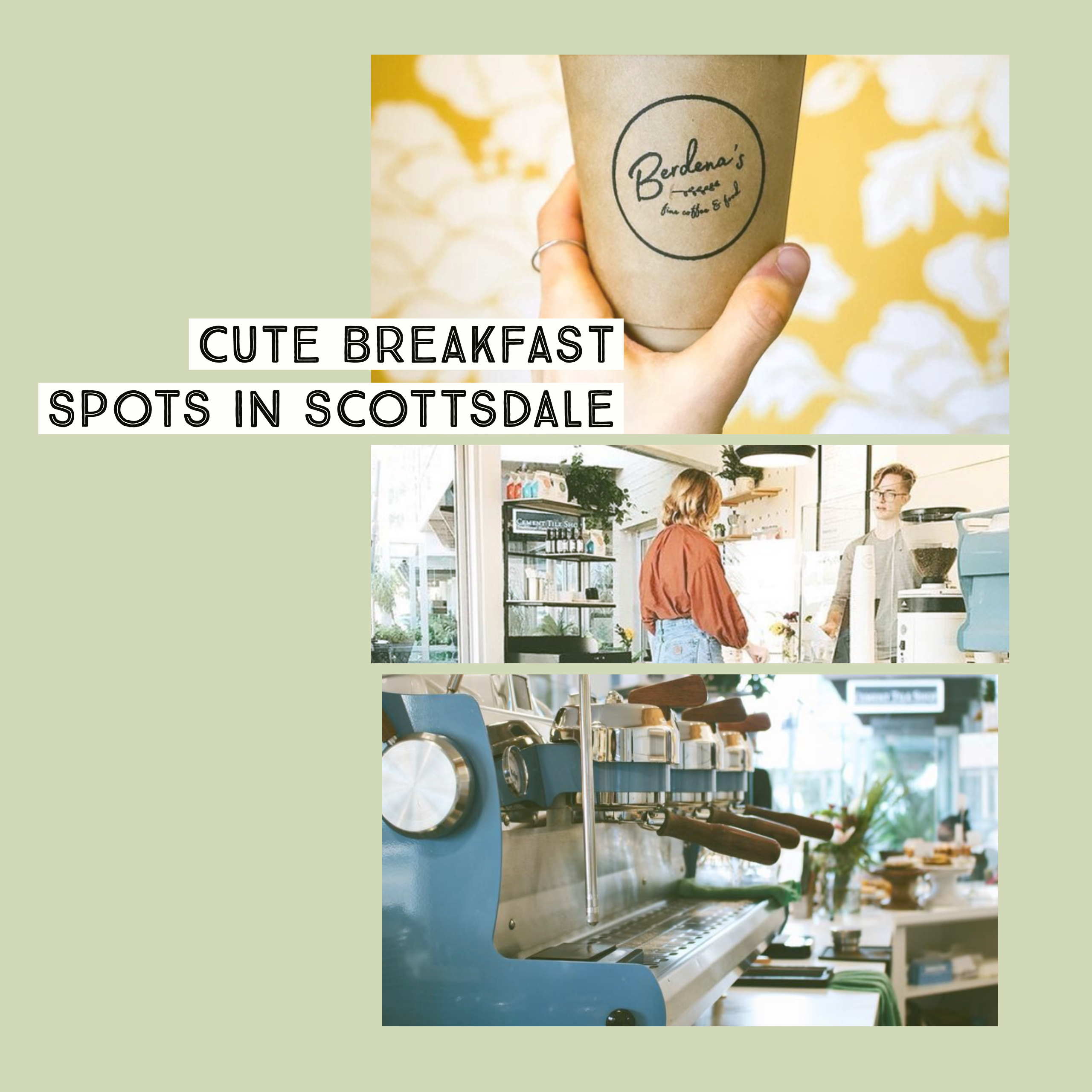 Great place for simple coffee and pastries. They have your standard coffees and espressos plus things like avocado toasts, breakfast sandwiches and quiche. So if you are looking for a more simple spot for breakfast with your bride tribe before whatever you are getting out there to do that day head here. They have a cute decor which we love and also a wall filled with yellow and white flowers. If you want backed goods maybe for your bride tribe for a brunch flower crown workshop this could be a good place to stop by to grab the goodies before hand.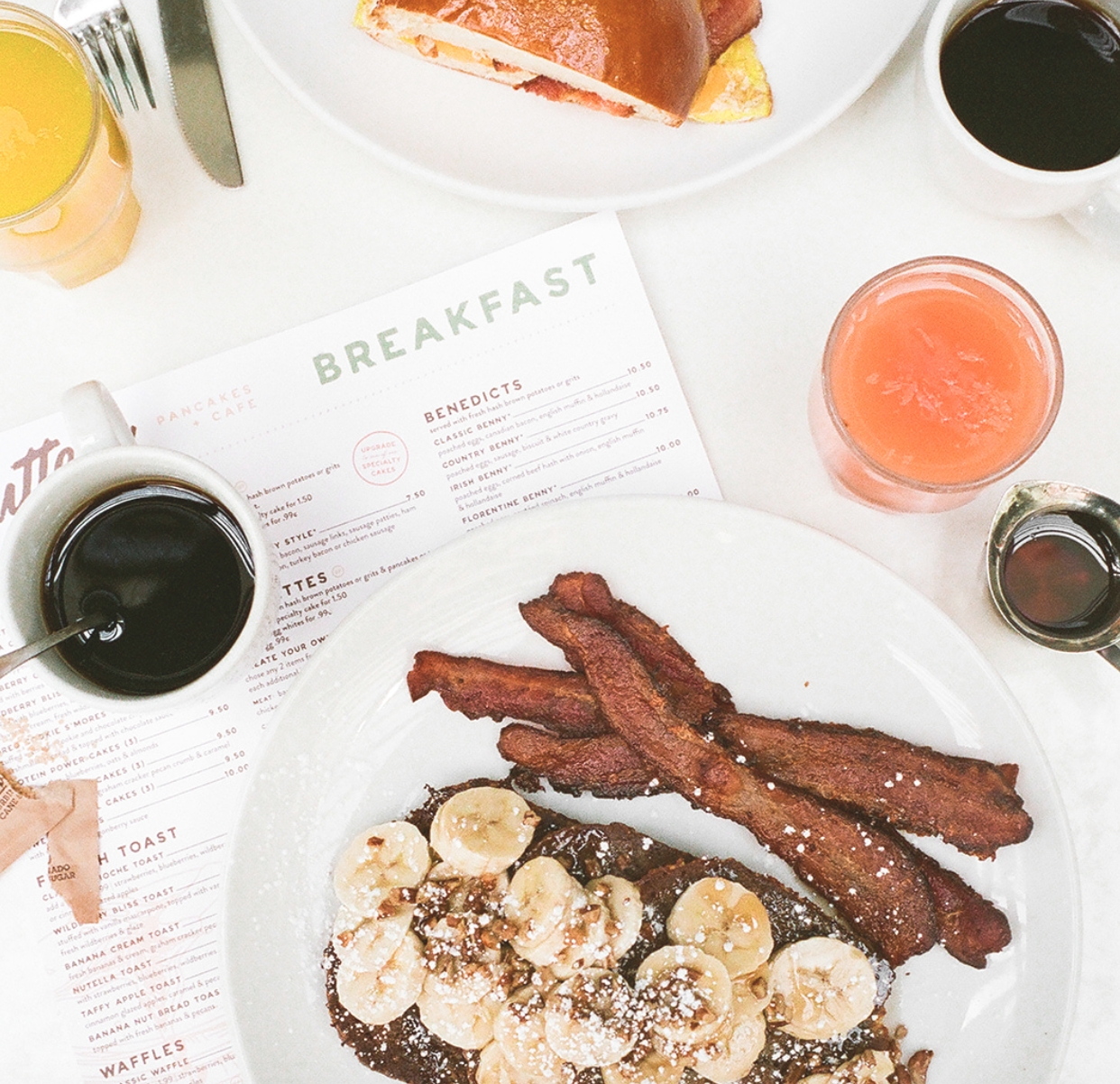 This place has been in business for over 40 years now - so this is definitely a local staple. We love local places because we know that means quality and good food on the reg. So think fresh squeezed juices and great omelets. Check out their breakfast menu here. They have a HUGE menu with all the normal good things that we love about brunch. You can check out their cute instagram here.
There are so many great places for brunch and breakfast in the Scottsdale area. So be sure to check out YELP of course and even instagram hashtags to find some cute places that we maybe didn't include here.
Our favorite places for Shopping for Your Scottsdale Bachelorette Party
Every bachelorette party group wants to spend some of their time hitting up stores and boutiques in the area they are visiting. You never know if the town or city you are going to has good shops or boutiques to visit so we thought we would take out some of that headache in figuring out where to shop till you drop on your Scottsdale bachelorette party for you. Here are some of our favorite places for shopping in Scottsdale that you might want to hit up while you are here with your girls.
One of the largest malls in the southwest. Over 2 million square feet, 3 floors with 225+ retail locations. Lots of high-end designer shops and no shortage of restaurants. If you want to check out a good mall while you are in Scottsdale celebrating check this place out. Or maybe you forgot an outfit for the bachelorette party night - you can bop over here and buy a dress for the crazy night out on the town. This mall has all the stores you can dream of from Anthro to things like 7 Jeans. Maybe you just want to do some damage with your bride tribe. Get on over there and shop till you drop ladies.
5th Ave Shops and Boutiques
5th Avenue District where shopping, dining, entertainment flow from the energy originating from the "Horse Fountain". Scottsdale's original Art & Crafts Center
5th Avenue is the original Arts & Crafts area in Scottsdale. 5th Avenue is the home to the famous Bob Parks horse fountain. There are tons of art galleries here too and lots of boutiques for you to visit.
(Between 68th St. and Scottsdale Rd, off of Indian School Rd. & runs along the canal)
Great outdoor area with tons of shopping, cafes and restaurants, as well as the Bronze Horse Fountain (great for photos). You can often find street performers here and the Scottsdale Party Bike is always pulling through.

Arizona Party Bike
This pedal pub holds up to 15 people and will take you on a bar crawl through Scottsdale. BYOB, but cooler, ice and cups provided. No glass or hard liquor allowed on this bike. This would be a fun thing to do after making flower crowns with us. You could wear your flower crowns around town and look so cute! You can book private pedal tours with them on their website or get individual seats on their bike.
Even if you're not much of a golfer, Top Golf is a fun experience for everyone! Also features a swanky lounge and full restaurant right there for your group to party at.
SUP (stand-up paddle boarding) Yoga at The Saguaro Hotel Pool
Check the calendar to see if you can schedule a SUP Yoga class during your trip. Usually scheduled for sunset so you can stay cool and get some amazing group photos. Designed for all skill levels. This company also organizes actual paddle boarding trips around the area too in case you want to plan something along those lines.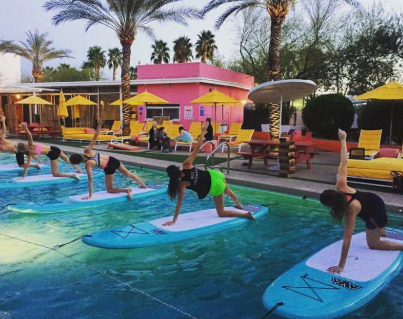 Horseback Riding with Fort McDowell Adventures
Tons of places to do this out here, I recommend looking on Groupon for who's running a deal! Meg has personally done an excursion through Fort McDowell Adventures and was beyond thrilled with her experience. The ride itself was nice and long, they had a very informative tour guide, and we even got to ride the horses across the river. Very cool experience if you are looking to add in an interactive experience like this to your bachelorette party in Scottsdale. We also listed out some cool hikes that you might want to take on your Scottsdale trip on our blog here.
Hot air balloon ride with Hot Air Expeditions
"Arizona, one of the most desirable places to take flight." This is what their website says and we agree. There is over 300 days of sunshine in the Scottsdale area so you will be sure to have a beautiful hot air balloon ride here. This is a bucket list opportunity to check something off that list while in Arizona on your bachelorette party weekend. I loved this page on their website that explains what it is actually like to fly on a hot air balloon. Very helpful, thank you!


Lavatory (Phoenix)
Okay this place is so COOL and not like anything else we have seen in other cities where we have bachelorette parties. There is a pit with 120,000 glowing balls that drop from the sky and bury you and your friends. This is such a cool and fun idea for your group. You can buy tickets to the Pit here. You can check out their instagram here.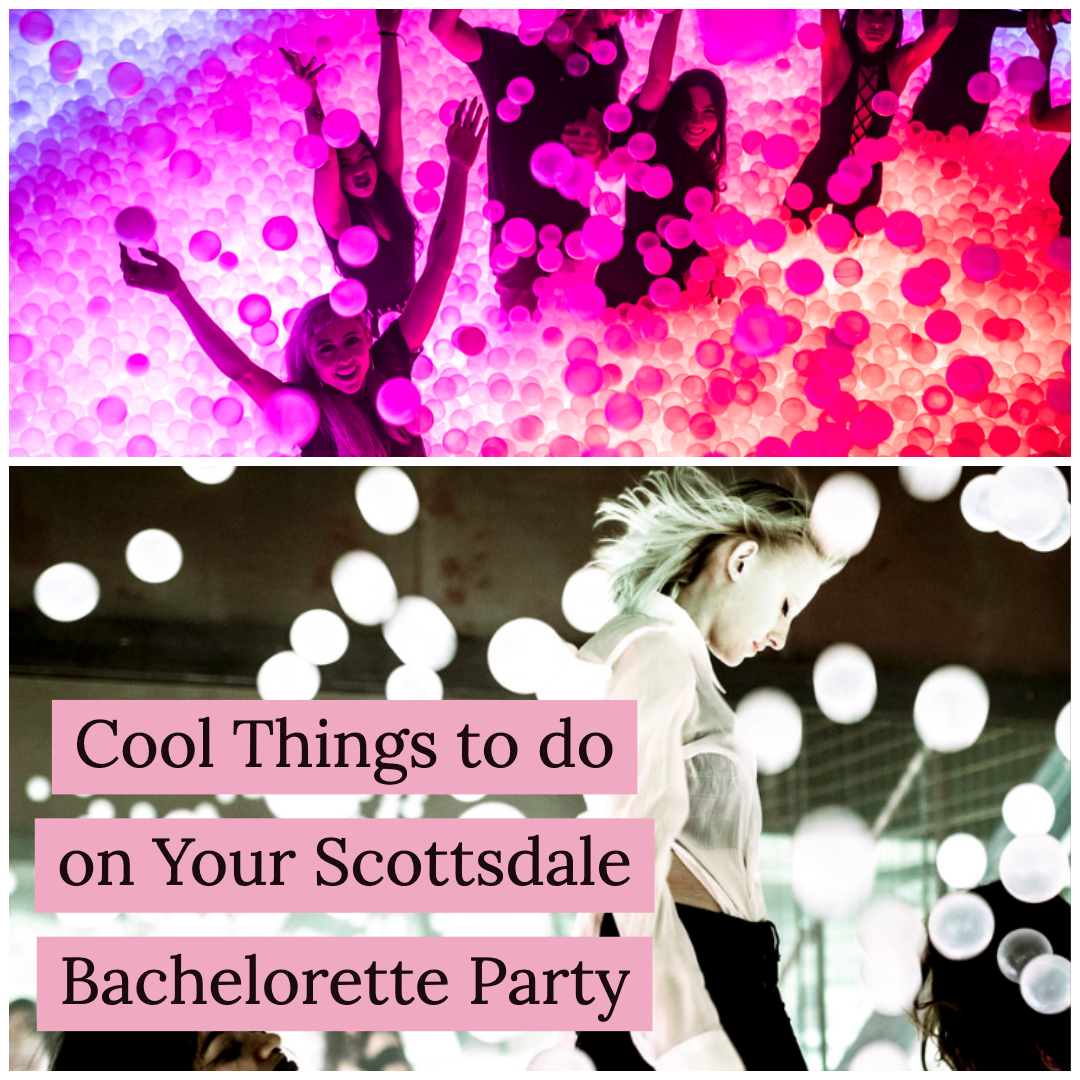 Hotel Adeline (Old Town) - "WTF" sign
This place is home to Scottsdale's stylish new hotel spot. We listed out some of our favorite hotels in Scottsdale for your bachelorette group here - if you want to check that out. We def are going to add this one to the list too. There is a sign here that says, "WTF" - meant for where's the fun? We weren't sure if it was something else but hey we will take it. Definitely an instagram worthy spot in Scottsdale to take a photo at. HOPEFULLY with flower crowns on your heads. This hotel also offers a cool pool party on Saturdays through the end of summer starting on April 6th. No cover, with DJs and cabanas. Looks like a super fun time if you want to plan a pool party while on your bach bash in Scottsdale. Check out their insta here.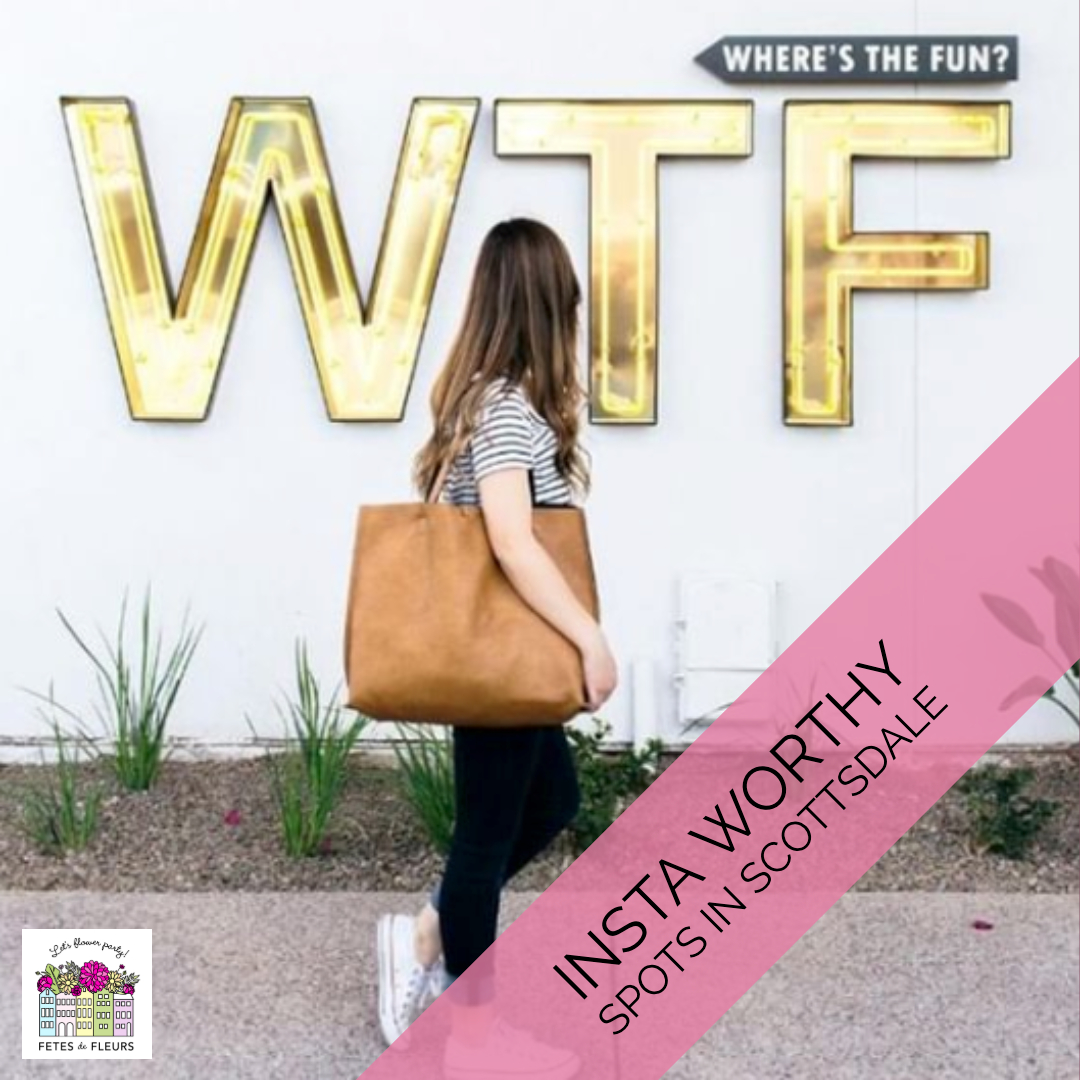 If you want to take photos at the "love sign" - then you will want to head here, ladies.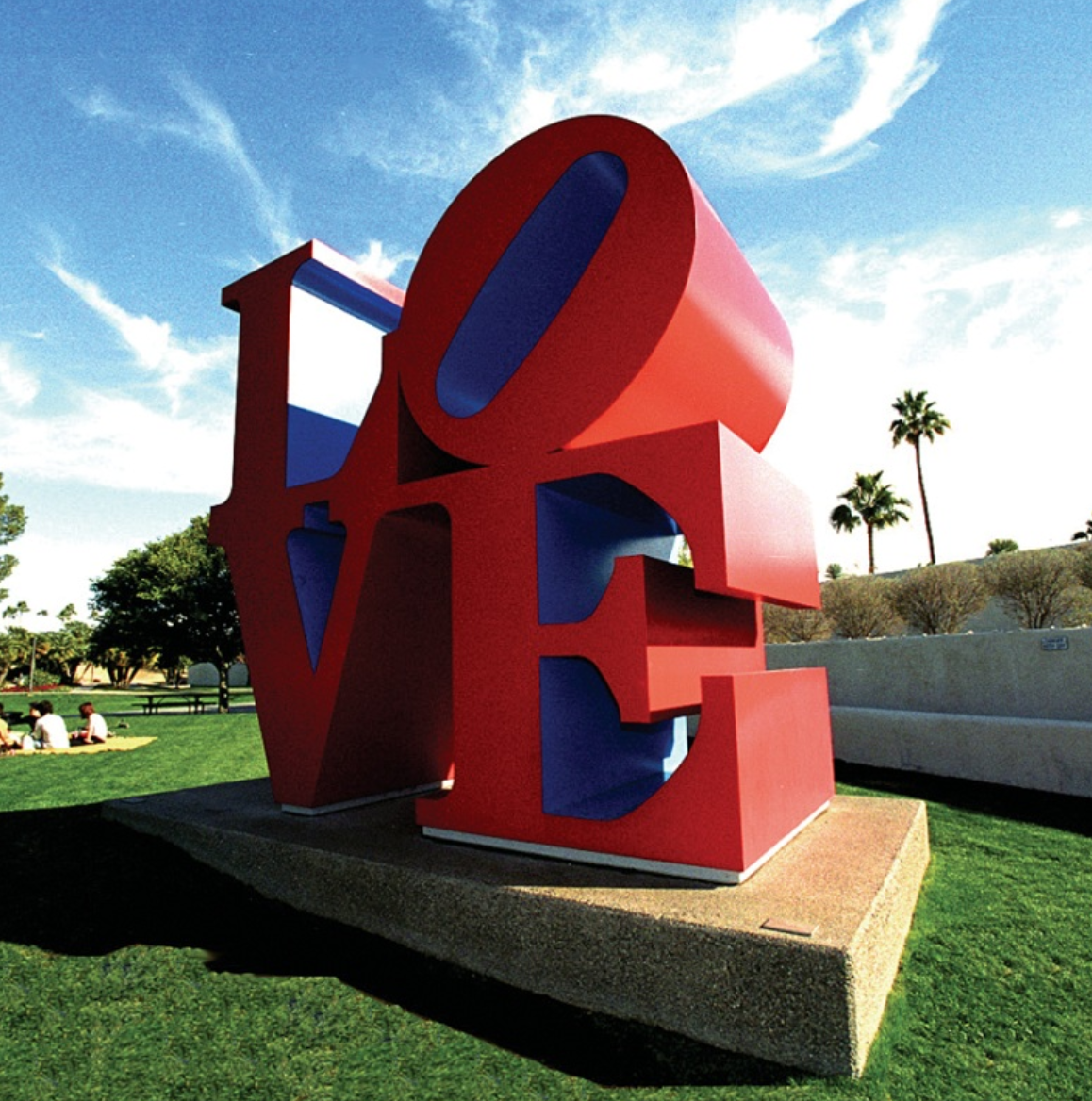 The city of Scottsdale actually has a super cool Instagram account that documents cool art going on in the city - you should check it out here to see what I mean. This might inspire you for some insta worthy spots that we didn't put on this list. You should read up on the history of this LOVE Sign here.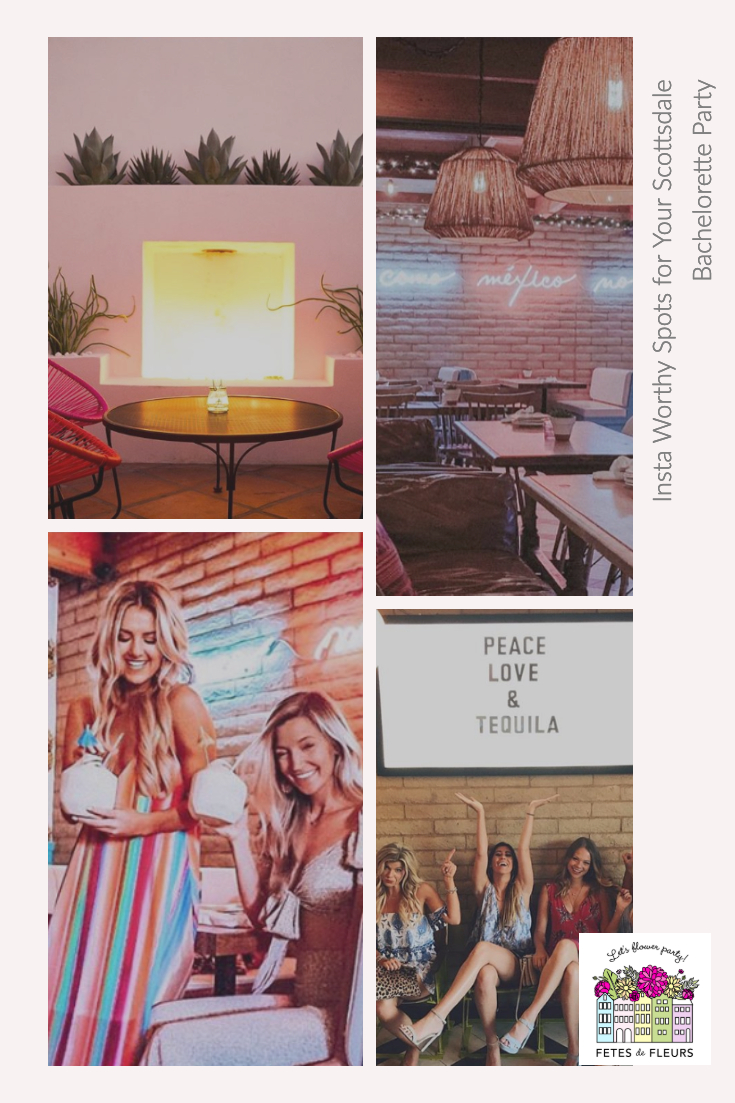 This place has a fun atmosphere and great food/drinks. You also get an instagram worthy place here with cool decor and bright colors. They have a menu with a modern twist on Mexican with fun drinks too. This place is definitely somewhere you want to hit up if you are looking for places to take cute photos with the group. We love the blue retro seats with the pineapple wall paper and bright lights. This place screams influencer and blogger photos. :) So yes, please feed us tacos and tell us we are pretty. You will find cool lit up signs like this here. You are welcome ladies!
This is a landmark in Scottsdale and one that is documented by lots of bloggers and influencers who visit Scottsdale.
You will feel like you were transported back in time when you walk in here. It is a like a cute, old ice cream shop with lots of pink colors. If you love the color pink and you want to take photos with a lot of pink you might want to stop in here for some photos and some ice cream.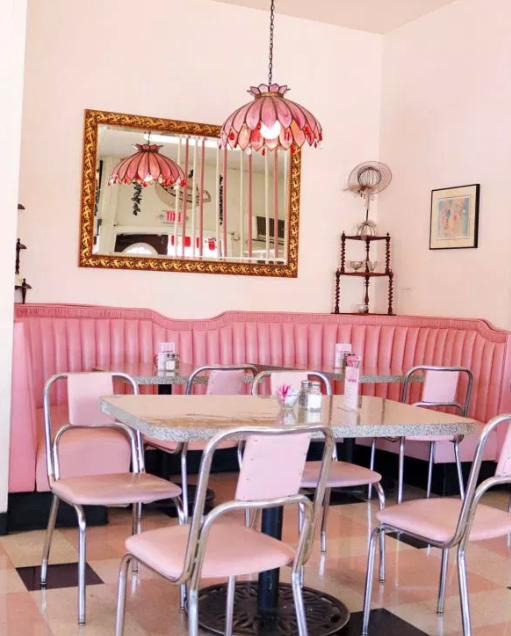 We hope our recommendations have been helpful for you in planning your trip to Scottsdale! We are so excited to welcome you here and hope you have the best bachelorette party here in Scottsdale.
If you are interested in potentially booking a flower crown workshop or getting flower crowns made for your Scottsdale bachelorette party you can request more information by emailing us at ali@fetesdefleurs.com or filling out the form here.