If you are heading to Scottsdale, Arizona for a bachelorette party and are starting to think about all the things that go into planning a bachelorette party in Scottsdale we have your back, ladies. We are here to get you prepped and prepared for everything you need to know in planning a bachelorette party in Scottsdale or even a girls weekend in Scottsdale.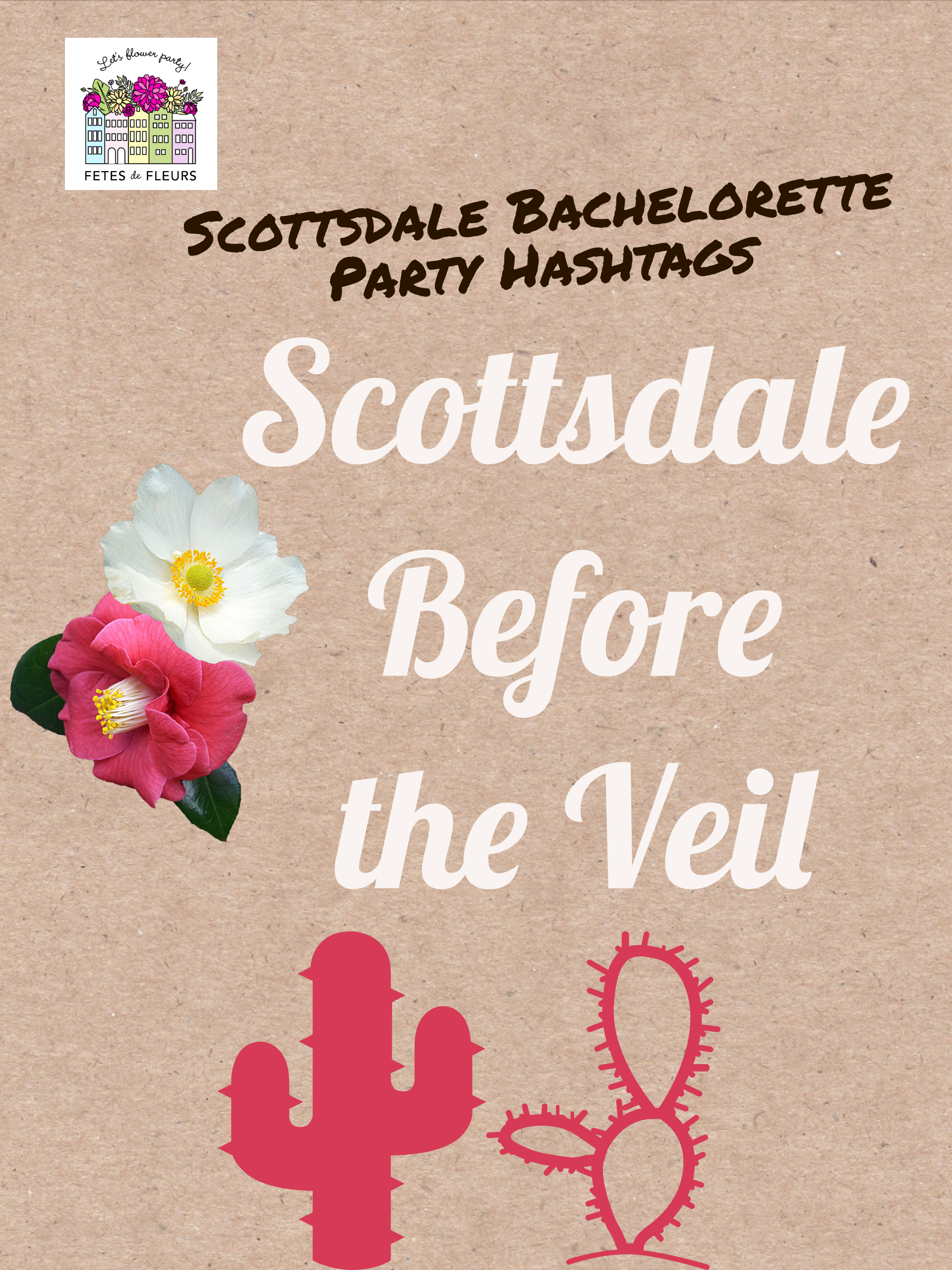 You can always check out all posts that we have done on Scottsdale here on our Scottsdale Guide. We post about things to do, restaurants to eat at, and all things you need to know to plan a Scottsdale bachelorette party there on the guide. Hope it helps!
One of the most important parts about planning a bachelorette party is deciding the bachelorette party hashtag that you are going to use for the weekend. The bachelorette party hashtag will play a role in a lot of the weekend including: bachelorette party favors, bachelorette party decorations, and bachelorette party gifts. So pick that bachelorette party hashtag well, ladies! It will become the bachelorette party theme for your weekend for sure.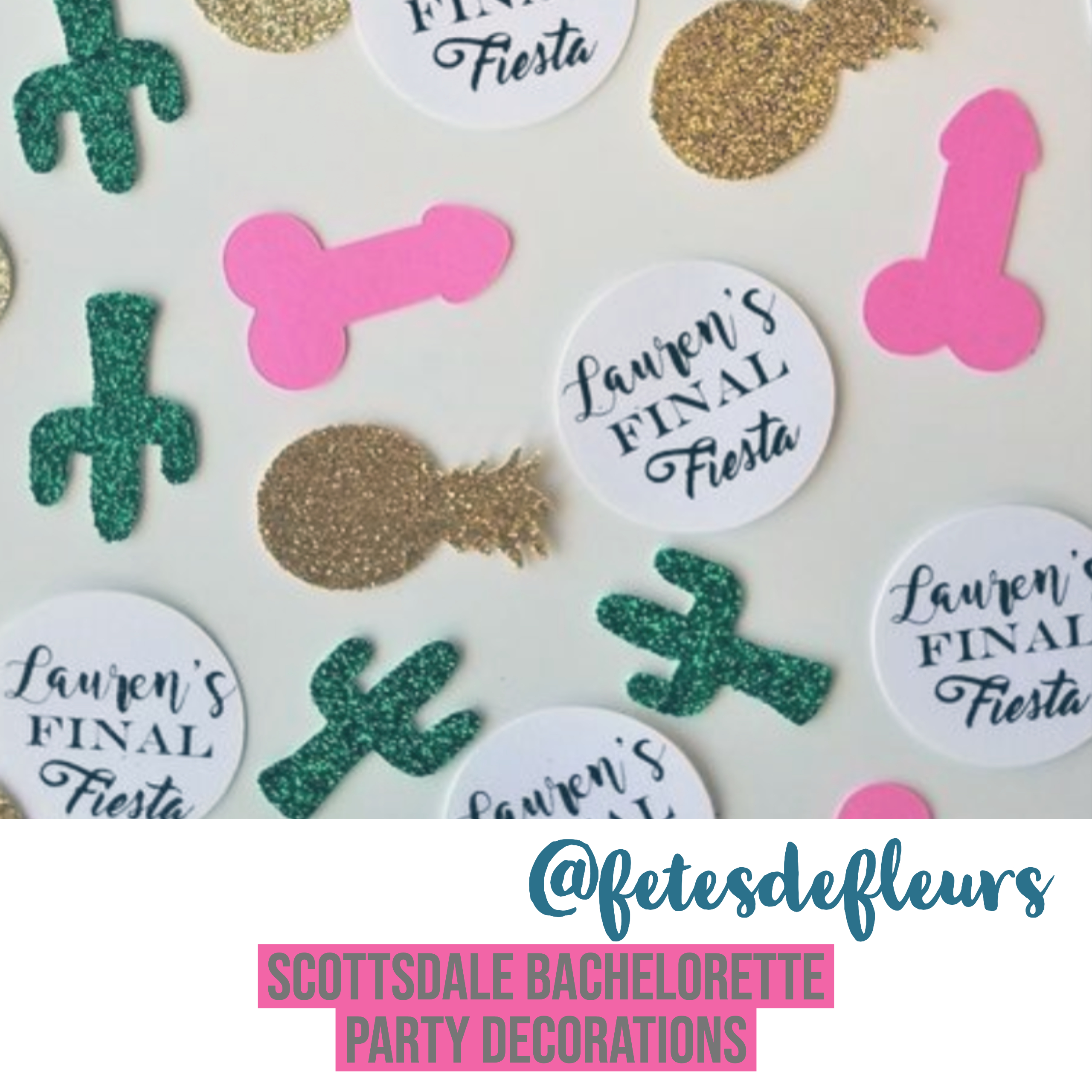 Everyone seems to love this one. It seems very fitting for a Scottsdale bachelorette party since well, it rhymes and all. This is a super popular one for any Scottsdale bachelorette bash and we see why. You can incorporate a lot of different bachelorette party decorations and decor into this bachelorette party hashtag and theme.
Scottsdale before the Veil decorations and gifts that you need to buy:
A Scottsdale before the veil banner to hang on the wall to take photos in front of.
A Scottsdale before the veil balloon sign - this is perfect too for taking group photos in front of throughout your bachelorette party weekend in Scottsdale.
Scottsdale before the veil t-shirts to wear around town while celebrating and to take photos wearing.
Scottsdale before the veil cups to drink fun drinks out of all weekend long!
Here is a link to all of the Etsy items that are for the bachelorette theme of "Scottsdale before the veil." You can also visit our Pinterest board that is for all things Scottsdale bachelorette party here.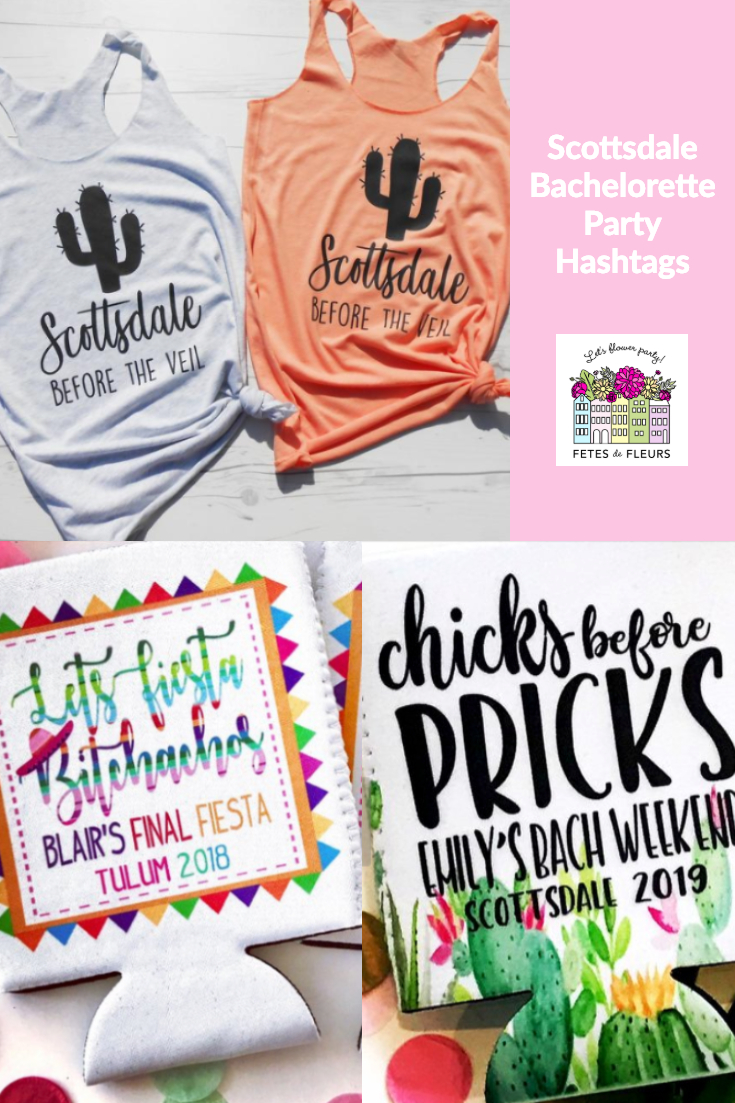 Chicks before Pricks
This made me laugh. I love the idea of the bride tribe wearing shirts that say this. I think this hashtag is so on point with the cactus that you will find in Scottsdale.
If you are looking for cute decorations and bachelorette party supplies/favors you will want to look at Etsy again for a great selection of items for the airbnb or hotel you are going to stay in. You can see all the cactus and chicks before pricks bachelorette stuff on Etsy here.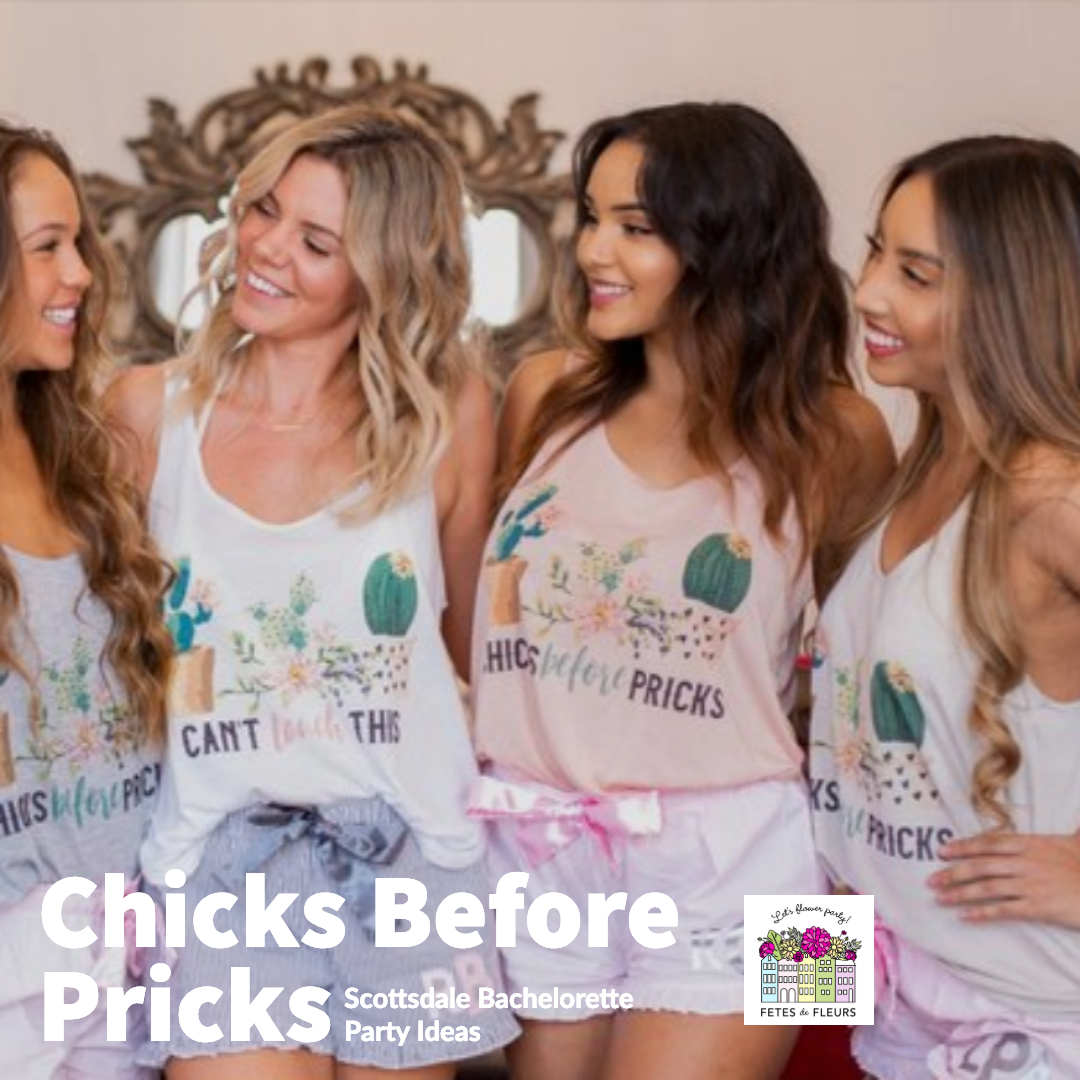 Chicks before pricks bachelorette party decorations and ideas:
Bachelorette party t-shirts that say, "Chicks before pricks." I really love this tank top on ShopRushCrush with the cactus and that hashtag.
Once again with any of these you will want to get a banner sign with the hashtag.
You can always also grab some coozies with the hashtag too or cups for your drinks on the bach bash weekend.
I love the idea of asking your bridesmaids to be a part of your bachelorette party by giving them a small succulent or cactus with a card that says your hashtag too.
Cactus if you CAN
This is super fun and on brand too for a bachelorette party in Scottsdale or any desert location. You can do a variation on this bachelorette hashtag with "can't touch this." Here is a link to all the Etsy stuff with this theme of Cactus if you CAN!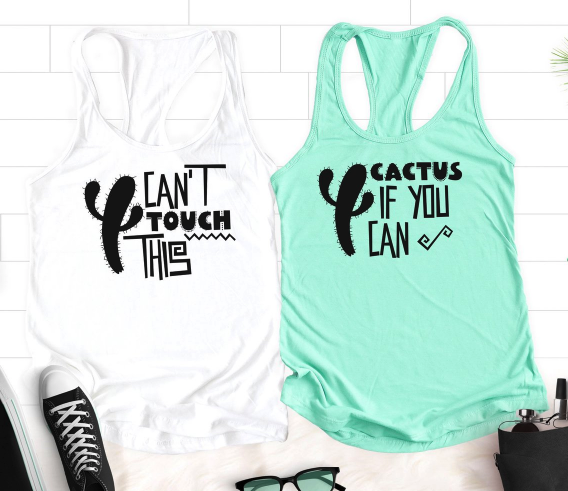 A couple other bachelorette party hashtags that seem to be popular for a Scottsdale bachelorette party are:
But First Scottsdale
Final Fiesta
Final fiesta bachelorette theme and hashtag can be used for many locations too. So can But first, X CITY. We hope these were helpful as you start to plan your Scottsdale bachelorette party weekend. We are here to help you in your planning so just reach out to us by filling out the form here. We host what we call "flower parties" in Scottsdale for bachelorette parties and all kinds of celebrations. So if you are looking for a fun activity to do with your bride tribe or girlfriends while in town reach out to us! We come to your hotel or airbnb with all of the flowers, greenery and supplies to help your tribe make flower crowns to wear out on the town. We can do silk flowers or real flowers. Fill out the form here to request more information on how our flower parties work. We hope to flower party with you soon and also see which Scottsdale bachelorette hashtags your group ends up using!