There are a lot of cool, chic hotels for you to stay at for your Scottsdale bachelorette party weekend.
Think beautiful gardens, spas and golf courses for your bride tribe to enjoy. We thought we would give you some recommendations on some of our favorite Scottsdale hotels that would be perfect spots to stay at for your bachelorette party. Scottsdale is a great spot because there is beautiful architecture everywhere you turn plus beautiful gardens and desert vibes. So if you are looking for a desert vibe-y bachelorette party weekend Scottsdale could be a perfect spot for you to spend your bachelorette party weekend at.
Also you get to use the coolest hashtag ever for your weekend in Scottsdale:
Scottsdale Before the Veil.
That in itself is super cool. So without further ado here is our take on what we think are the coolest, chic options for hotels in Scottsdale for your Scottsdale bachelorette party weekend. We hope you like our picks. Of course, you can use airbnb as well but these are the hotels we think look like great options for bach weekends and girls weekends trips in Scottsdale. We put some options that are more on the higher end - pricier (nice side) plus affordable options. The thing that we love about weekends away with your girls is that you get to split the cost of the room/s with each other. Makes things more affordable than traveling by yourself solo.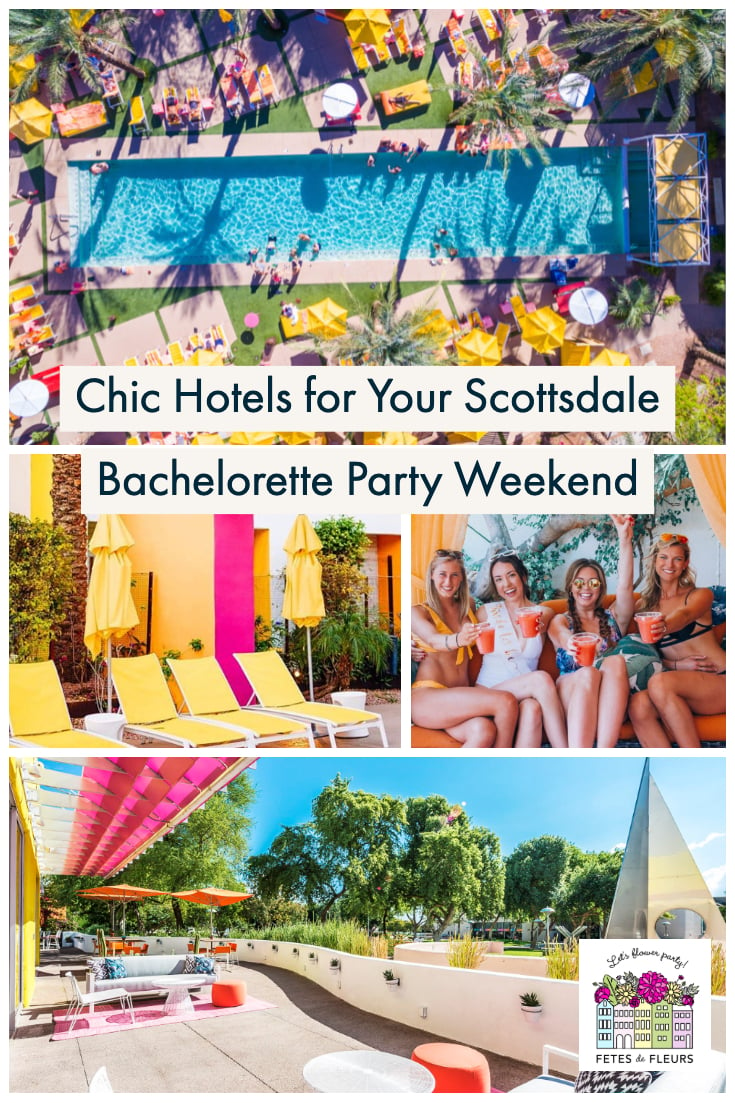 If you dig bright colors and accommodations that are cool we love the Saguaro in general. They also have one of these in Palm Springs where we also have 2 flower party hosts. :) There are over 109 restaurants, shops and lots of beautiful art galleries right near by this fabulous hotel. You just have to walk 3 blocks from the Saguaro and you are in the heart of it all. They have pools for you to relax at over day drinks as well a cruiser bikes to bop around Scottsdale on to spa services that you can do. The Saguaro has this super cool map on their website that shows you some of the places and things to do nearby the hotel here. The Saguaro also offers bachelorette groups some cool things too that you can read about here on their site. We love to get inspired by photos on Instagram of hotels that we think are cool so check out the Saguaro Hotel's Insta here.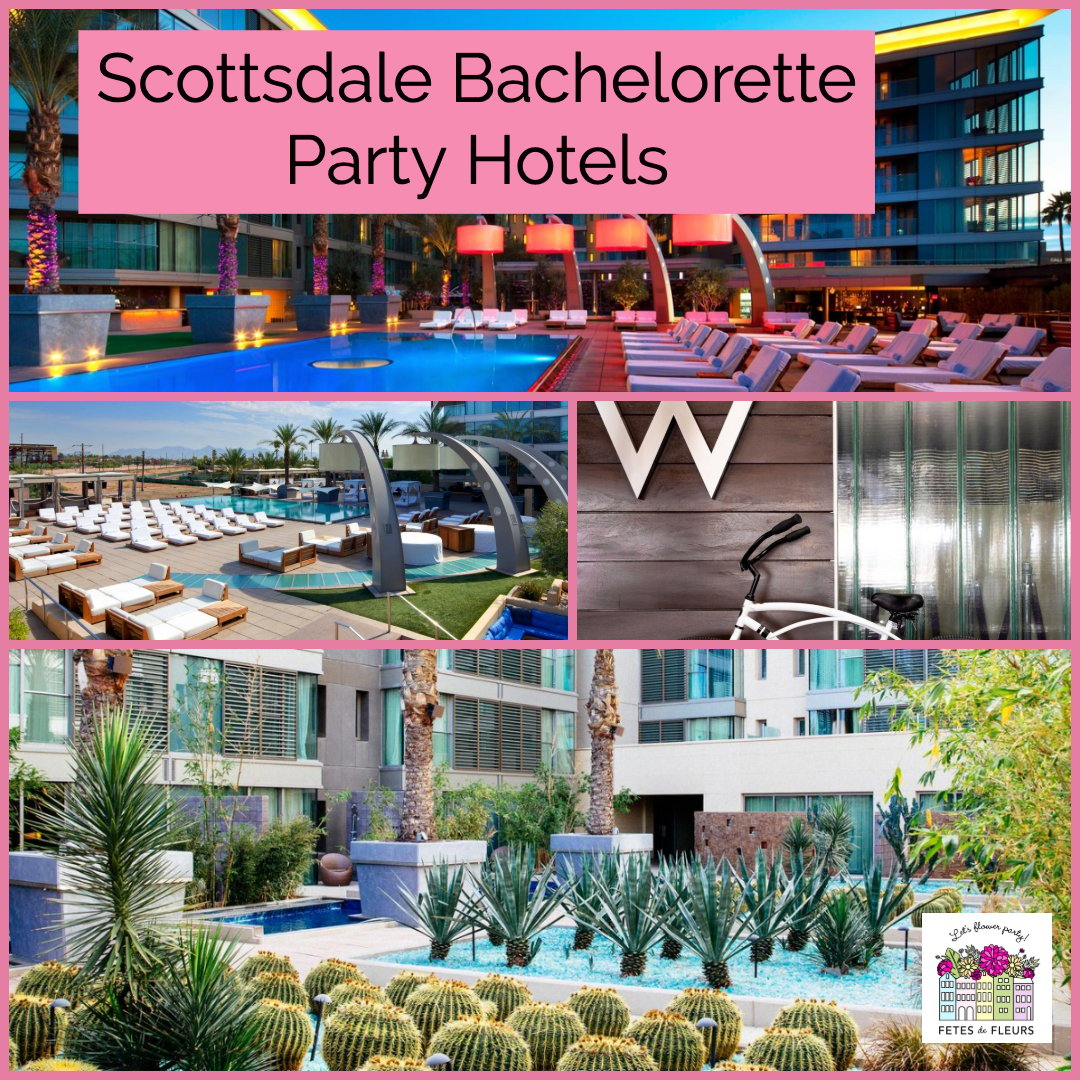 We love a W hotel in general. So we know that you can't go wrong with this hotel if you are in the midst of figuring out where to stay in Scottsdale for your bachelorette party. This hotel is located in the oldtown area too which we highly recommend being in or near for your bach weekend. Think modern amenities that we all know that W Hotels tend to have with bright colors. They have a pool deck that is beautiful as well as restaurants right there for you to enjoy on your stay. The pool has under water lights and music which we love! So fun to have a cool and fun pool scene when you pick where your bachelorette group is going to stay.
These are always good options for a bachelorette group because they are on the more affordable scale for your group. This hotel is in the entertainment district of Scottsdale with many nightclubs, bars and restaurants right nearby which is always a key thing when planning a weekend away. Good option if your group is looking for something still chic and fun but with price taken into consideration.
If your group coming to Scottsdale for a bachelorette bash is ready to ball out and wants to spend some money we have a couple of really beautiful, nice, posh hotels that could be up your alley.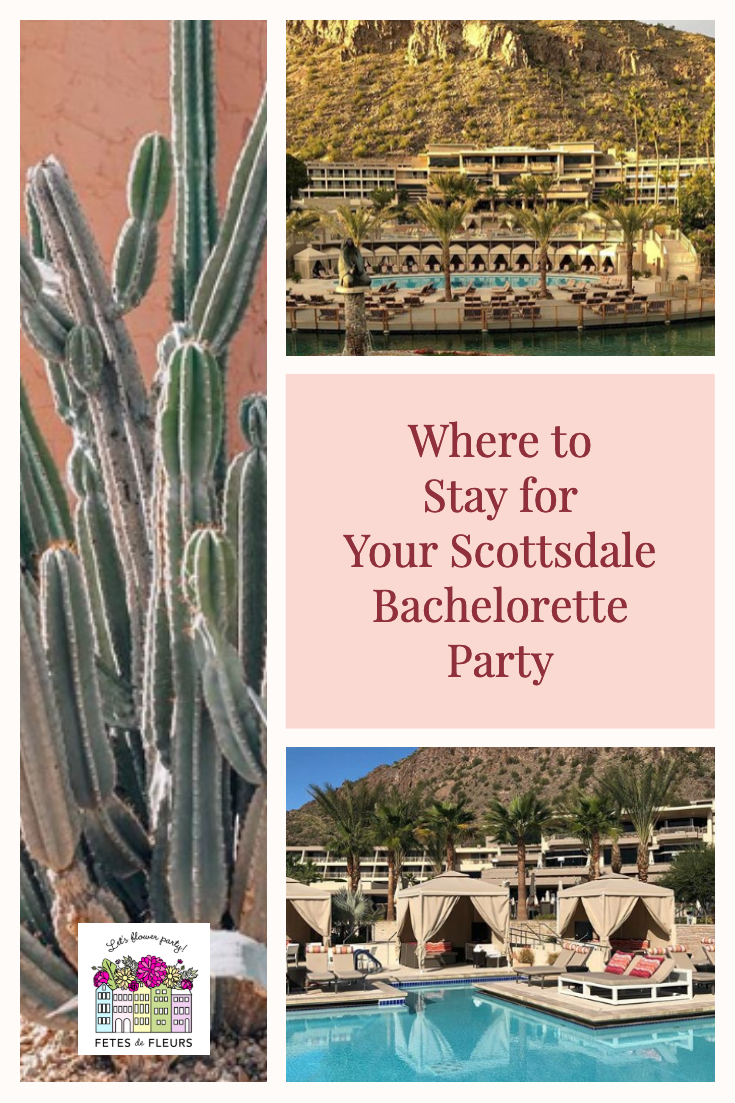 This is Arizona's premier luxury resort destination. So if you are looking for somewhere really, really nice this could be where you want to spend your weekend. This resort is beautiful and so well done. Tons to do right there for your group like pools to spend time at, restaurants to eat at and lots of drinks to be had. You should really take a gander of their INSTA here because it will get you in the mood to stay here.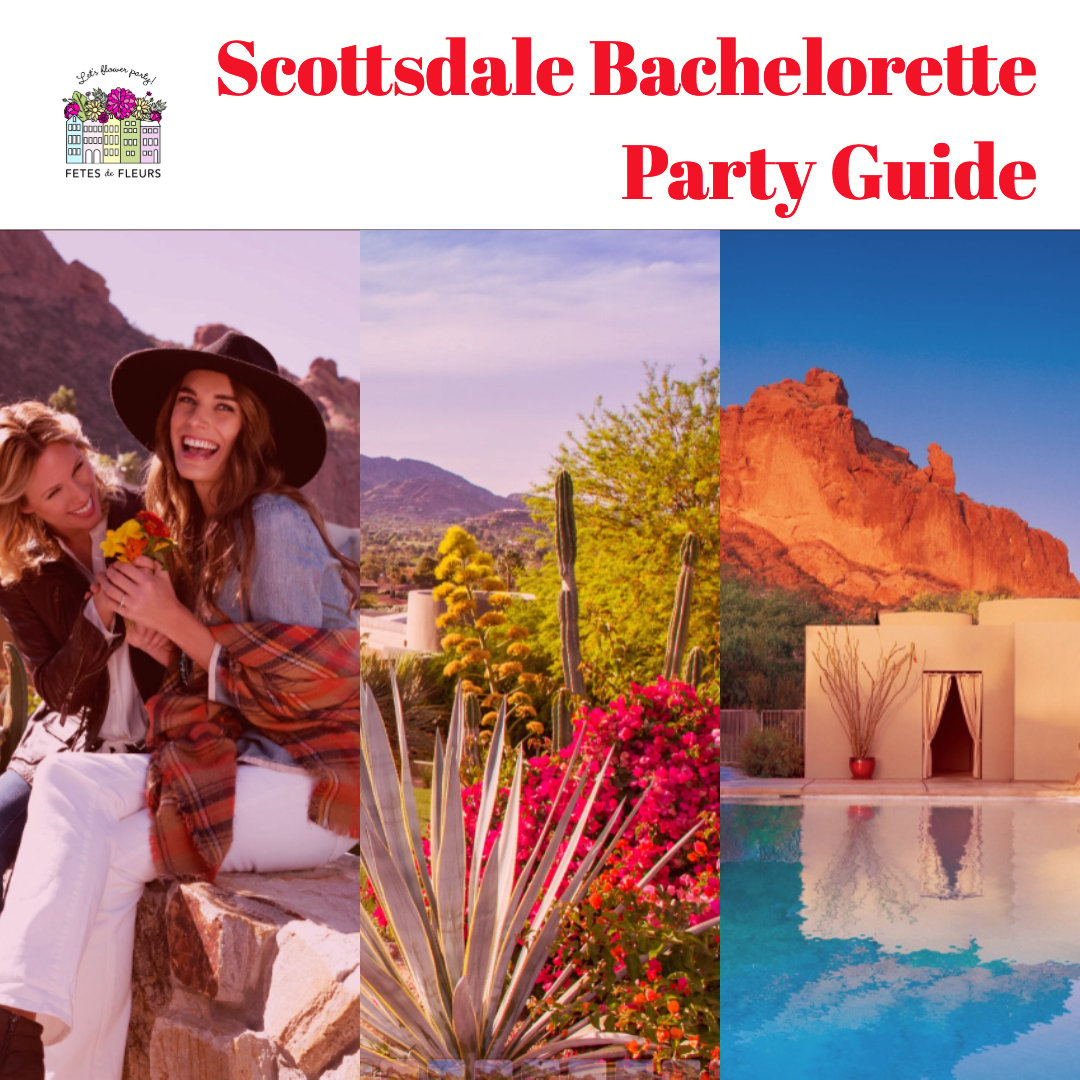 This is also a more high end hotel in Scottsdale that is located in the landscapes of Camelback Mountain. There are 53 acres of resort area here for you to experience and have a nice time at this luxury resort. If you want a more spa like, nice experience you could stay here with your bachelorette party group. Just really depends on what you want to spend your money on that weekend. We love to give you examples so check this place out if you want something nice.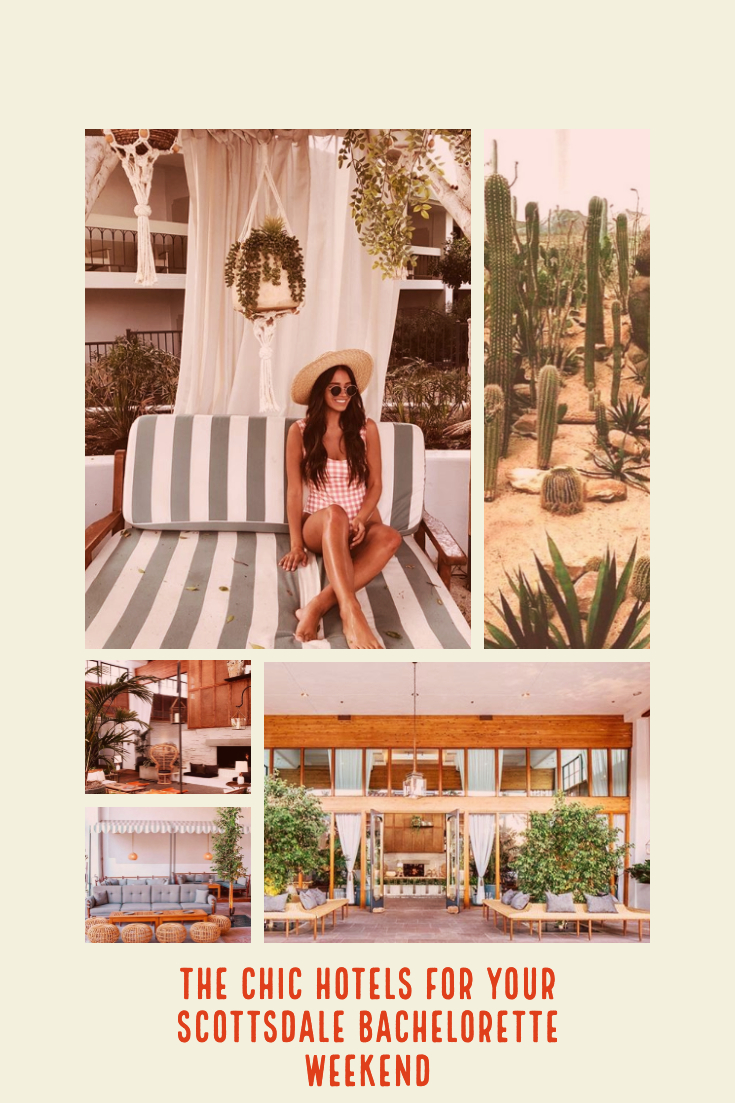 This is a true boutique hotel in the heart of Scottsdale. The Scott does a great job blending indoor with outdoor. They have a restaurant on site called the Canal Club with a cuban twist on their food. They also have a spa on site as well as 2 pools, a hot tub and sandy beach area. Check out the Scott Hotel's INSTA here to see how great this place is!
Andaz Resort and Spa was recognized by Conde Nast Traveler 2018 Reader's Choice awards as one of the top resorts in the Southwest and on the IT LIST for 2018. This is a mid century modern design vibe with tons of local art from Scottsdale artists. Think desert palate with a mix of color popped into the hotel. 185 bugalow urban oasis that is away from the hustle and bustle of the main area of downtown Scottsdale. Just check out their beautiful instagram photos here to be just an inspired as we are by this magical place.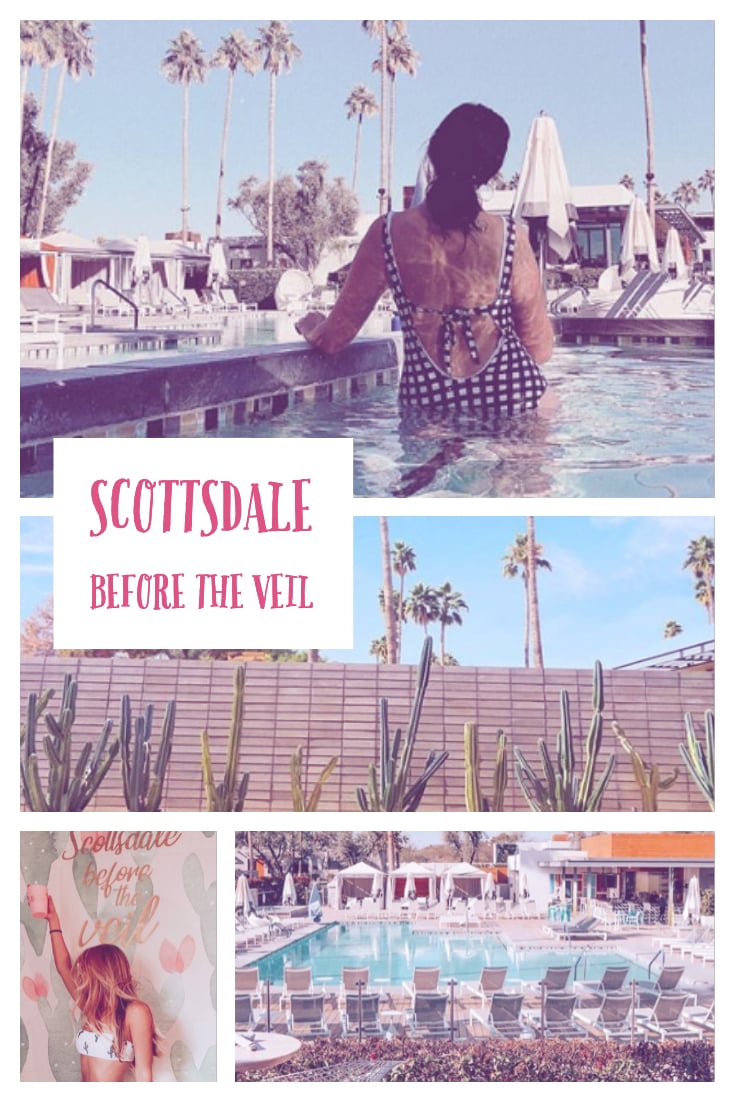 There are also some amazing airbnbs that you can stay at in Scottsdale. We love going to airbnbs to setup our flower crown workshops. So if you are looking for a fun activity that involves flowers for your Scottsdale bachelorette party you can fill out a form here. We will then send you more information on how our flower parties work as an option for your bachelorette party in Scottsdale.
Make sure you check out our Guide to a Scottsdale bachelorette party here. We are always posting there on things we think you should know about as you plan your bachelorette bash in Scottsdale.