To make the trip out to Scottsdale and not explore the beauty of the outdoors would be a bachelorette blunder, ladies! Whether your bride tribe is also a fit fam, or if your group prefers to take it easy, there are plenty of outdoor options of all activity levels for your Scottsdale bachelorette party to choose from. Here are some popular hiking (or walking) destinations that you should DEFINITELY be allocating some time to check out during your stay here in Scottsdale. Even if you are not a hiker, you will find these trails and hikes to be a memorable part of your weekend in Scottsdale. Scottsdale is a great place to take in nature in between having fun with your bride tribe.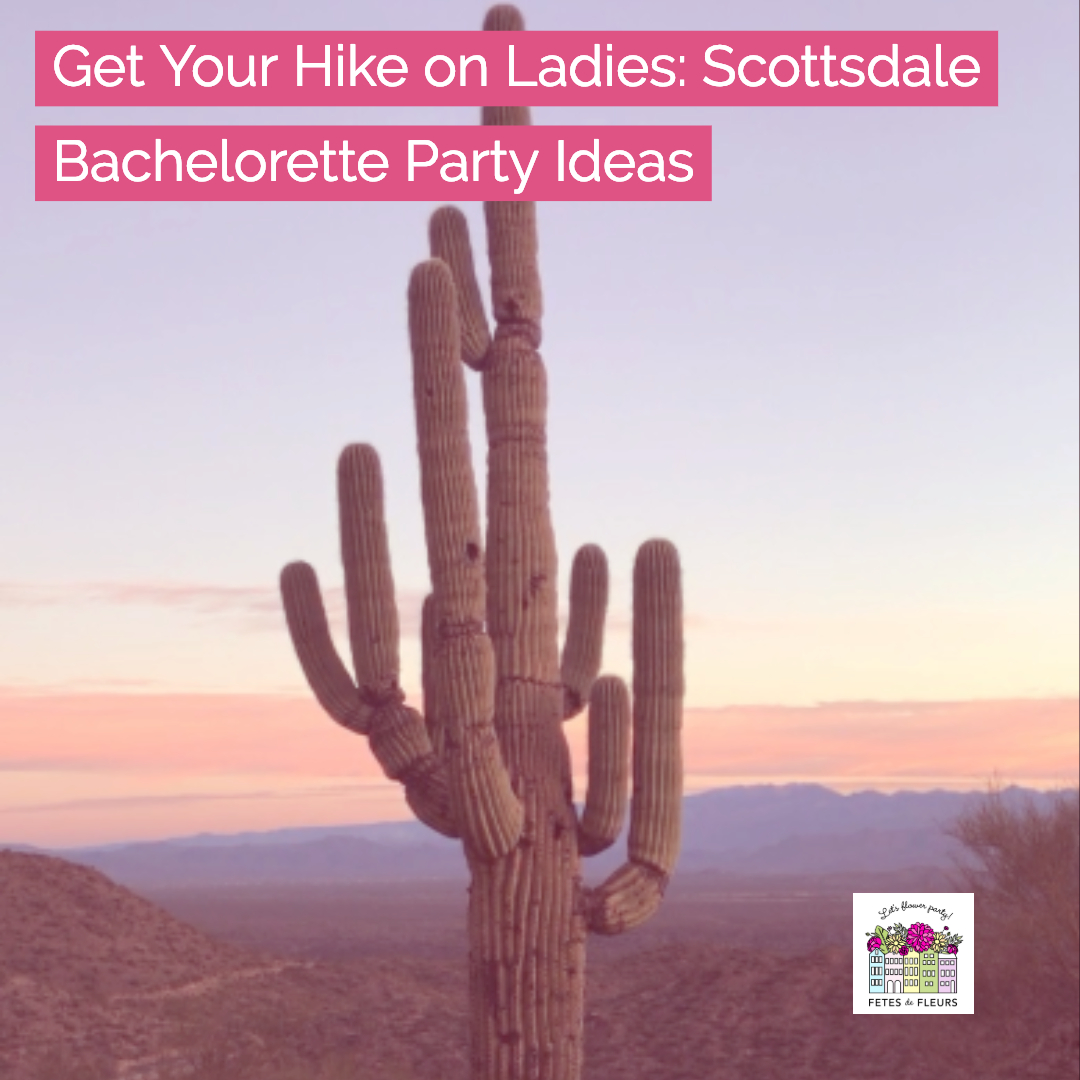 From most –> least difficult, we have listed out some of our favorite hikes for your Scottsdale bachelorette party group below.
1. Camelback Mountain
Roughly 2.4 miles round trip
1,100-1,400 ft. elevation
Trailhead is about 4 miles from Oldtown Scottsdale
An extremely popular destination for both locals and tourists because the views are incredible. The parking lot is often full, so the less vehicles you take the better off you will be (an uber or a lyft would be ideal especially coming from out of town). Here you will have two great trails to choose from: Cholla and Echo Canyon. Both are described as being "difficult," with Echo Canyon being steeper and Cholla being longer, but both reaching the same summit (Fetes tip: Go up one, come down the other!) Trails are clearly marked, but there will likely be plenty of other people on the mountain to keep you on the right path. At an average pace, and with a brief stop at the top, it probably takes 1.5-3 hours to complete. This is a great thing to do one morning before enjoying yourselves around Scottsdale having cocktails or day drinks in the sun by the pool.
You can check out the Camelback Mountain website here for more information, guided hikes that they have and to check out photos of the mountain. Looks like there are some great guided hike packages in case you want more 1-1 help taking you through the mountain. We found Jason's instagram here for his hiking tours - they look like a ton of fun, ladies.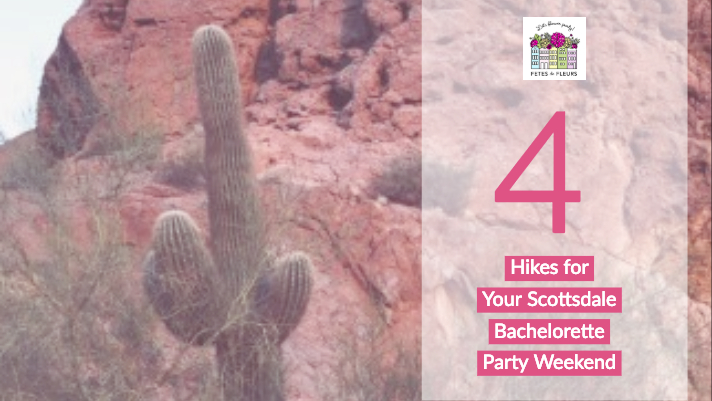 2. Sunrise Peak via Sunrise Trail
Roughly 4 miles round trip
1,100 ft. elevation
Trailhead is about 16 miles from Oldtown Scottsdale
You will not be disappointed when you reach the top of this mountain and witness a breathtaking 360-degree view of the valley. There's also no shortage of gorgeous scenery throughout the entire journey, so make sure you have enough gigs of memory left for at least 100 photos! Charge those phones up, ladies, and get going on this hike. The trail is described as "moderate," but there were definitely some short spurts where it got fairly steep for us. If you're looking for somewhere less-trafficked than Camelback - this is your place. Time allotment should be 2-4 hours.
3. "A" Mountain / Hayden Butte
Roughly 1 mile round trip
262 ft. elevation
About 6 miles from Oldtown Scottsdale
Located on ASU's campus, this hike is a quick, but steep, trek to a great photo-op with your girls. It also boasts a location rich with solid happy hour spots and an authentic Sun Devils vibe. Garage parking is located across the street, and most of the time, the first hour is free. Only takes about 20-30 minutes to get to the top, and there are a lot of stairs, so it is great for all skill levels. Great spot to go if you are looking for a fairly short hike but still with great views.
Trail lengths vary
No elevation gain
About 4 miles from Oldtown Scottsdale
Open 8AM-10PM (11PM on Thur-Sat)
Admission is $25
Electric Desert starts at 6PM. Running Now - May 12, 2019 (separate admission purchase required).
Here at Fetes de Fleurs, we LOVE the Desert Botanical Garden of Phoenix because it is just brimming with gorgeous flowers and all the native flora of Arizona. Plan to spend a few hours here, and leisurely stroll along the 5 thematic trails and capture some beautiful photos with your besties with the red rocks of the Papago Buttes in the background. Voted the 3rd best thing to do in Phoenix on Tripadvisor, this low-key "hike" will not disappoint. This should definitely be one of your top things that you do while in Scottsdale for your bachelorette party or ladies weekend. Especially since you probably love flowers and fauna like we do.
Be sure to check their website before you head out, as they always have special events and limited-time exhibits on the calendar. Make it a day and grab a fantastic lunch at Gertrude's or the Patio Café. We want to experience everything about this lovely, beautiful place.
You can view the trail map here.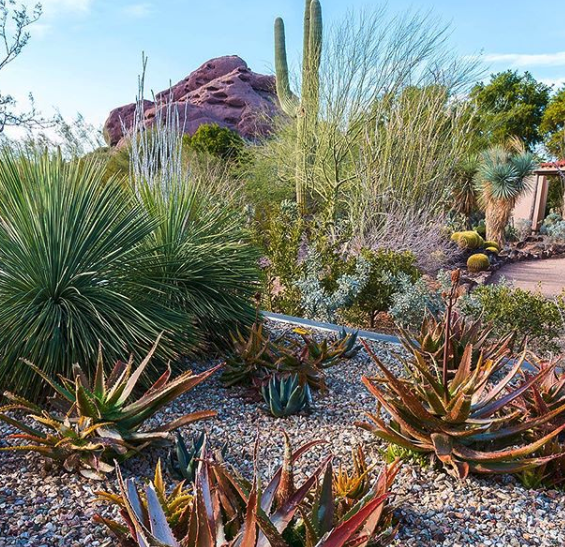 Be sure to check the weather and temperature before embarking on any outdoor, grueling excursions. Many of these trails offer little to no shade, and ALWAYS remember to bring plenty of water to stay hydrated- regardless of how hot it is! If it's summer, It. Will. Be. Hot. It gets hot here ladies - so just make sure you bring water and are hydrated before heading out for your hiking.
Proper footwear is imperative to gracefully trudging up and down the sides of mountains. If you know you're going to have an active group, make sure everyone is reminded to pack the proper attire. The last thing anyone wants is a #fetefoul of a rolled ankle! :) (See what we did there). Maybe even wearing fun, coordinated bachelorette t-shirts would be a fun thing to do for a hike.
For trail hiking, I like to use an app called "AllTrails." It tracks the whole trek and sends you a complete summary - total distance, elevation gain, time, calories burned, AND includes a picture of your exact path, which you can then share directly to social media! We hope you will try it out and if you do send us what you did!
I cannot express enough how much of a game-changer it is when you time these trips to correspond with the sunrise or sunset –especially if you're ultimately heading for a summit. Arizona sunsets are legendary. The view from the peak is always great, but with the sun on the horizon it's truly next-level. And don't forget your selfie stick for capturing the ultimate group shot from the top! We know bachelorette groups and ladies weekend groups are always looking for those insta worthy moments to capture. You will be sure to capture plenty on your hikes here in Scottsdale.
I have always been a fan of bringing along a little booze to either celebrate reaching the top (also a perfect toasting opportunity), or just to sip while you take a minute to soak up your surroundings. Obviously, getting drunk while participating in strenuous activity is NEVER a good idea, but I would support bringing along some mini champagne bottles or one beer/person. Just don't forget the solo cups! (Not allowed at Botanical Gardens). A little rose at the top never hurt anyone, right?
Either way, we hope you have the best time on your hiking bachelorette part of your Scottsdale bachelorette party weekend. We could be waiting at your airbnb or hotel to do a flower crown workshop after your hike before getting ready to go out for drinks and dinner. If you are interested in planning a Scottsdale flower crown party with us please fill out the form here to learn more about how our parties work.