You have decided to come to Charleston, SC for your bachelorette party weekend!!!!?!?!?!?
Say, YES, YES, YES we have! WOO HOO- we cannot wait to have you here and meet you all. We have good news for you lovely ladies coming to our fine city...we have some very, VERY cute instagram worthy spots for you to take cute photos in Charleston. Did you know Charleston has a ton of bloggers and influencers? Yes, that is also a known fact. We are home to lots of bloggers and influencers who have really made it easy to pick up on the instagram worthy places here in our city. Since our founder (me here writing this) lives in Charleston, SC it is easy for us to round up our favorite spots. These will only be pretty places where we would suggest going to take some instagram worthy photos on your Charleston bachelorette party weekend.
This is kind of a random compilation but we think it does the trick. We can continue to add to this list over time. Some of these are restaurants, bars, lounges and an overall neighborhood that you would be silly not to visit while here for a weekend.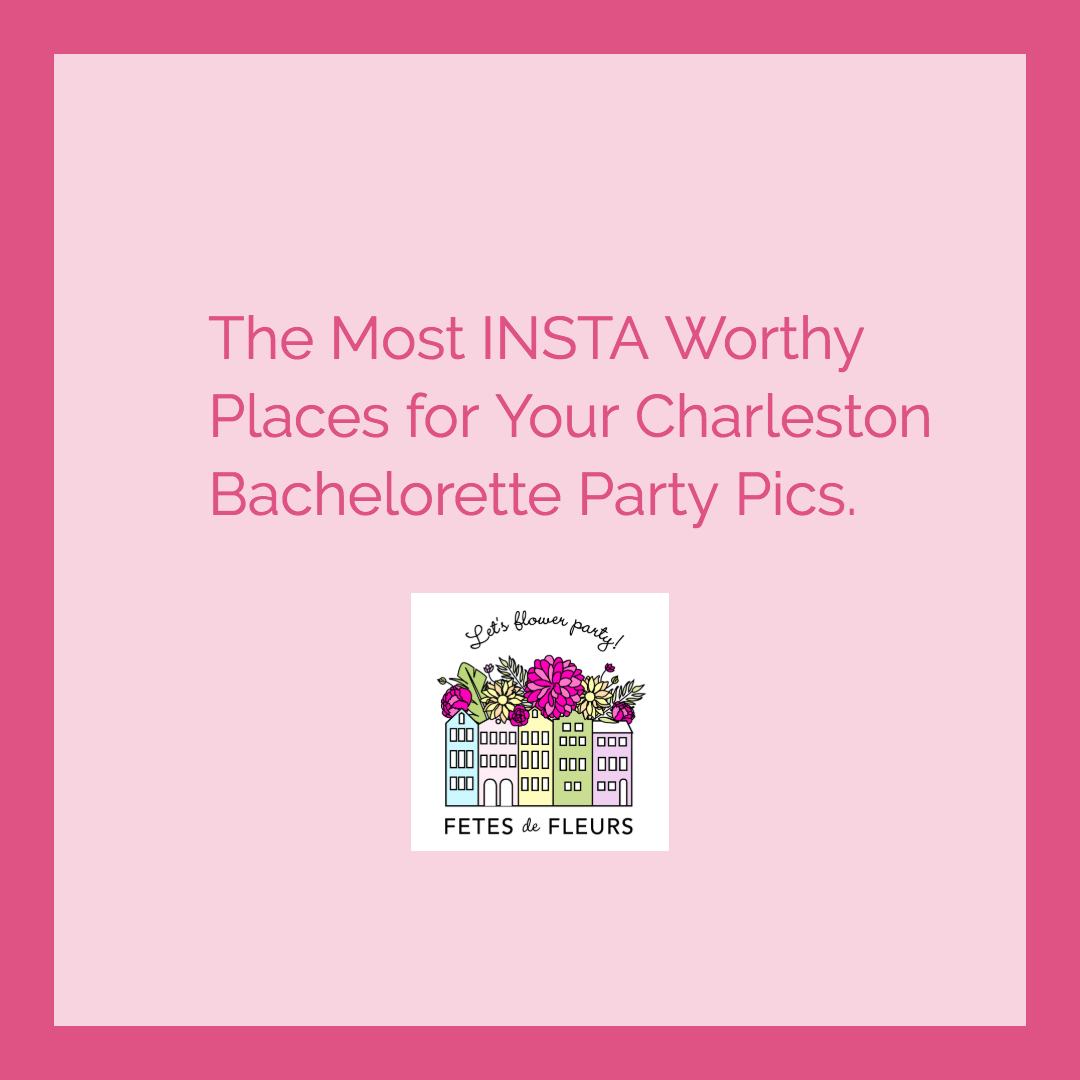 A quick tip for you chicas who are planning bachelorette parties anywhere: If you search on instagram things like #Charlestonblogger, #charlestonbloggers you will find influencers and bloggers in the city that you are going to (this example, CHS) that post at cute insta worthy places. You probably have figured that out on your own but thought it was worth mentioning. :) You are welcome if this helped you out.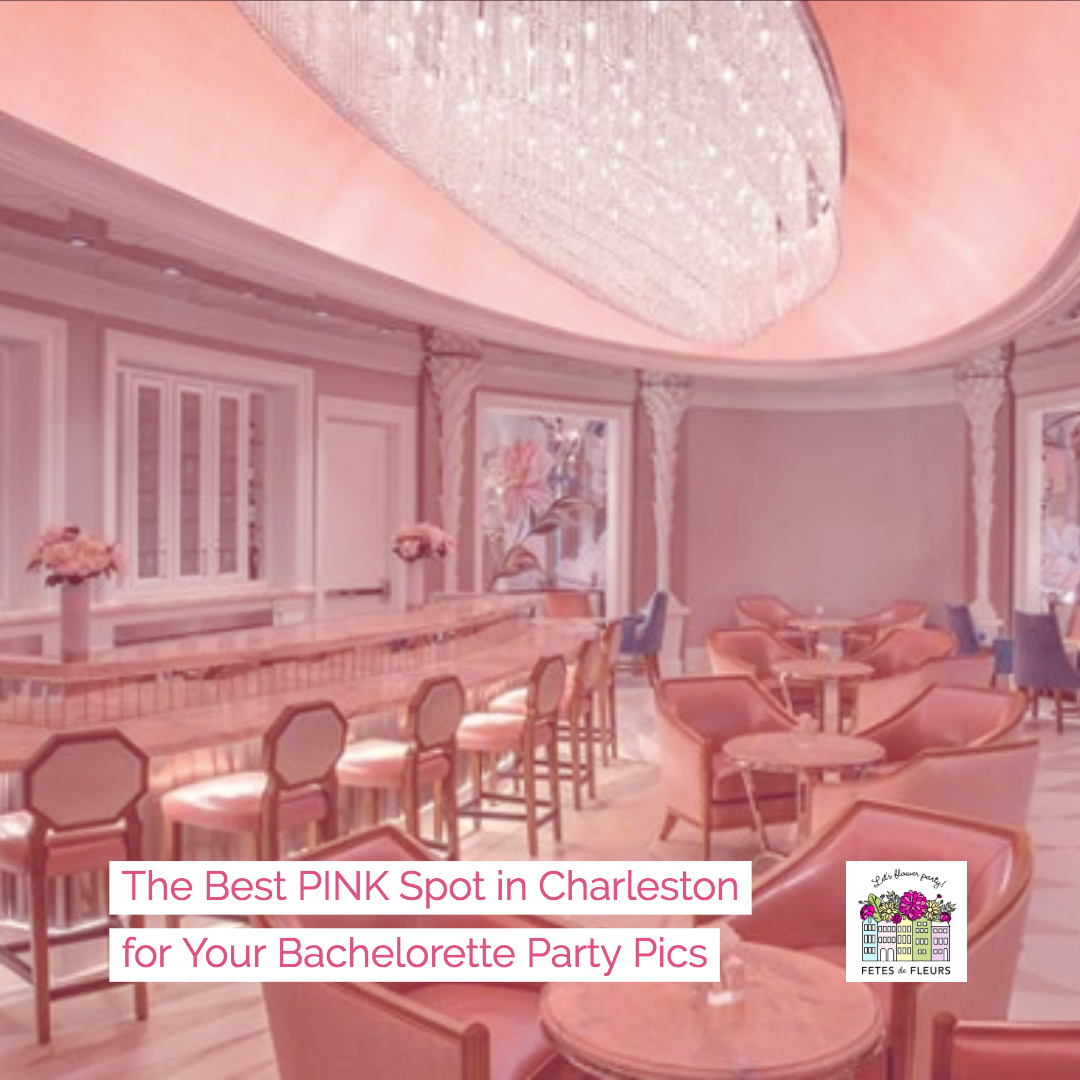 Alright you PINK LOVERS YOU! That is definitely me too. I am obsessed with anything pink and all pink everything. If you love pink you have to put this place on your must do for your Charleston bachelorette party weekend. I swear you will not be sad you did. Hotel Bennett just opened here in Charleston this winter of 2019. It is a BRAND NEW SWANKY hotel which I would highly recommend checking out if you are looking to stay at a hotel for your Charleston bachelorette party weekend and not an airbnb. This bar is all PINK and seems like it honestly could be my newest favorite place to take the best photos in Charleston with your bachelorette party or ladies weekend here.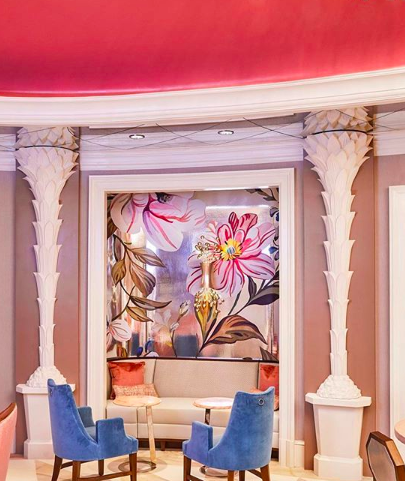 Here is what we love about this magical place and why we think you MUST hit it up:
Any bar that is named after the Camellia flower is a must do.

It's a champagne bar that seems to die for color wise.

You can bottle saber there- I mean who doesn't want to do that on their Charleston bachelorette party weekend? We do.

They have a selection of cakes and desserts that are to die for. Must do.
The pink hues of the bar is a tribute to Charleston's history. If you are a pink lover then Charleston should be a high pick for your bachelorette party planning. Reminds me of the place I have always wanted to go to and on my pink bucket list, Sketch in London. So grab all your pink outfits ladies, and your pink flower crowns from a flower crown workshop and let's get to the GRAM!
I have been watching this get built for a while now and have been super excited about it for a while now. A total #girlboss who I admire here in CHS owns this and also owns another bar/club that we recommend for your Charleston bachelorette party weekend too called Republic on King Street. It is quite possibly the most chic, well thought out decor that makes you feel like you are in a true CITY spot like in NYC or something. Just makes you feel SWANKY right when you walk in.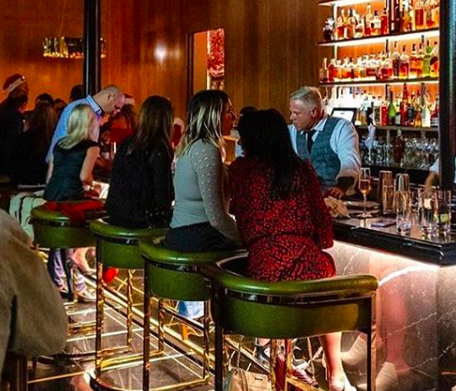 Bourbon n' Bubbles is Charleston's newest luxury restaurant and bar. Located at the corner of King and Spring Streets. This is a great spot for small plates and entrees coupled with a premier selection of Champagne, Bourbon and hand-crafted cocktails. I mean what is not to love about that? Since this whole article is on Instagram worthy spots in Charleston - we picked this because the space is just so freaking beautiful. It is swanky, hot, hip and chic. Everything we love for a bachelorette party weekend. So we highly recommend if you are planning your nights out for your Charleston bachelorette weekend that you go here with your girlfriends after getting ready for a night out on the town. We also think of course, wearing your flower crowns out here would be beautiful. You can go to their instagram handle here to see some photos that people have tagged there or that they have tagged to their own handle.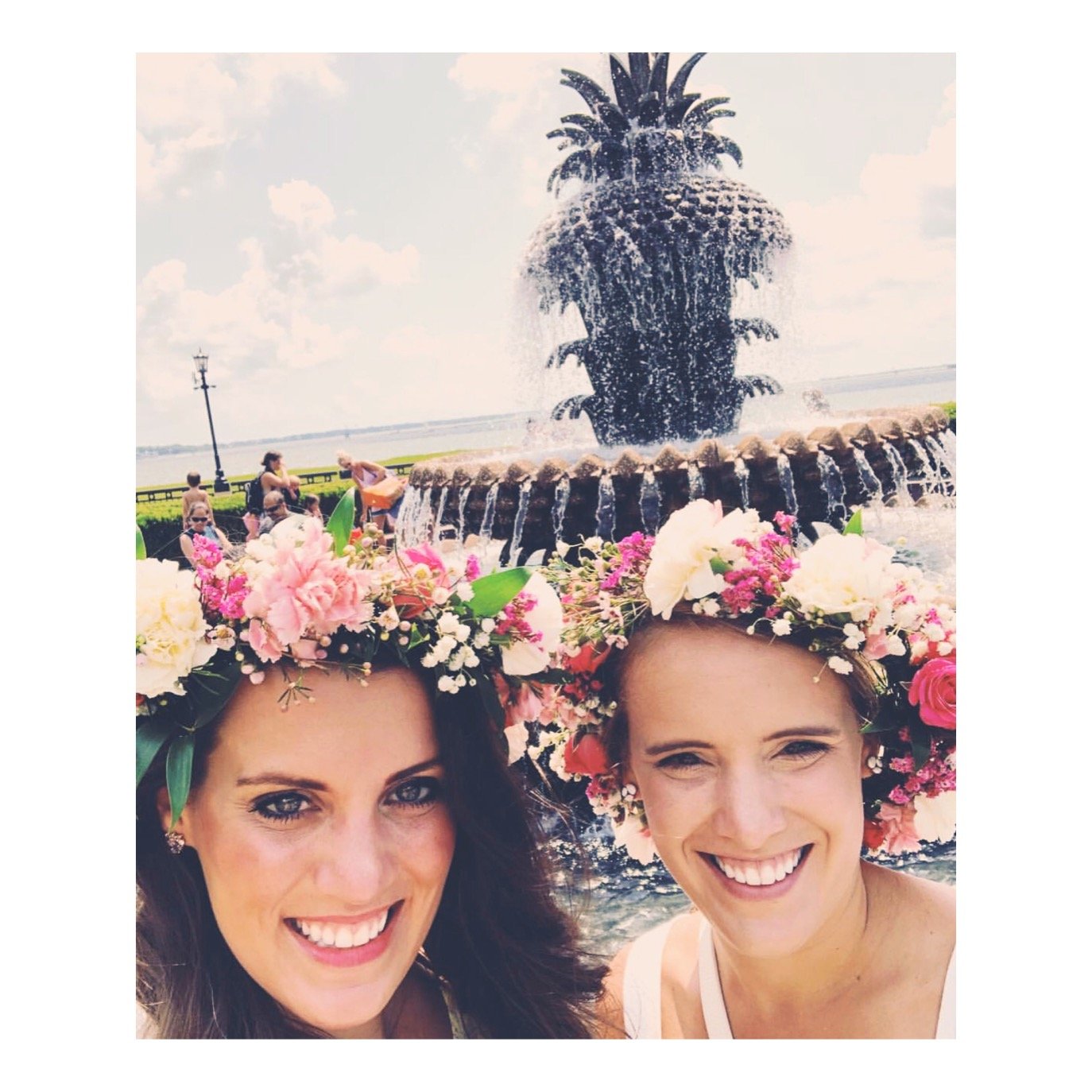 The Pineapple Fountain down by the Battery and Rainbow Row
Okay, so you have had brunch and now want to walk around town- shop, bop, eat and drink. Don't forget to stop by the Pineapple fountain for some photos ladies! This is a must do spot to make sure that you walk by while here on your Charleston bachelorette weekend. You should go here to take some photos with your girlfriends (hopefully wearing flower crowns that you made with us or ordered - wink, wink) and then go to Rainbow Row. After that just meander around the south of Battery Street area. This is where you will see all the most beautiful houses and the oldest houses in Charleston. You will have so many photo worthy ops down in this area because its all of the prettiest houses here. Great colors, beautiful flowers, architecture, etc. This is the epitome of Charleston so you must walk around this area or even bike this area.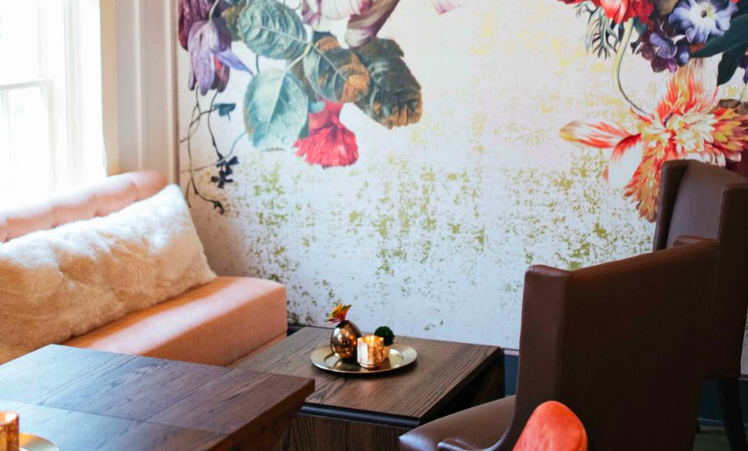 This is also a fairly new spot for us here in CHS. It is LOVELY. One thing I can say about walking into Parcel32 is that you will feel like the queens that you are ladies. There is a wall of greenery when you walk in and the space is also done so well, and so chic. You would be silly not to have this on your list. I like this spot for brunch too so if you want to do one of the others for drinks at night and this spot for brunch you will hit a lot of the pretties.
WHAT TO KNOW: This space is on the 2nd floor at Parcel32 and it overlooks King Street. Chic space, beautifully designed and done. It is a chic space that is inviting and allows you to get together with your girls on your bachelorette party to enjoy some local food and cute, beautiful drinks. We love it all.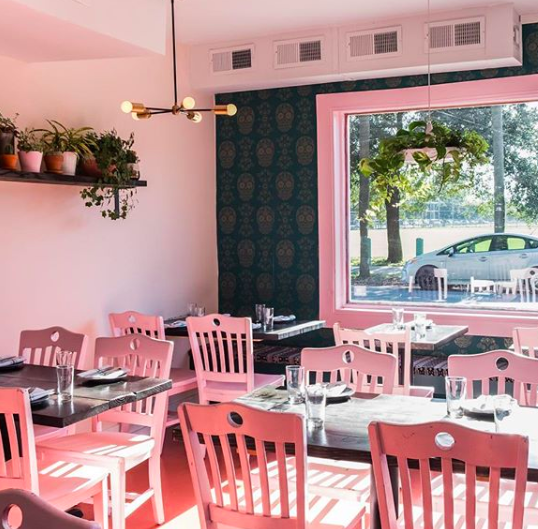 So this is another PINK GEM ladies!!! I love anything that is pink and this will knock your socks off. You will want to go here for lunch (in my opinion). It is beautiful and so so cute with all pink decor. This is a contemporary Mexican joint here in Charleston close to where I live :) It is more low key and down to earth than anything else in this list so far. So if you are looking for something more relaxed and not as expensive then you should check this place out. You will see all pink walls. They have pink walls and pink chairs PLUS lots of beautiful plants. What is not to love about pink and plants? NOTHING, I know! So make sure you hit this up if you want good mexican in your flower crowns. Nothing would make us happier. Oh I think a good glass of rose or sangria to go with that would.
There are so many amazing spots and places to visit while you are here in Charleston for your bachelorette party. These are just some of our favorites. Remember, really ANY WHERE YOU GO you are going to think it is beautiful. It is hard not to think things are pretty here. One of the main reasons you should come here for your bachelorette party weekend is if you like pretty things. I moved here for that reason alone. If you love flowers, the color pink, drinks, good food and overall pretty things- you will love your Charleston bachelorette party weekend!