Coming to Charleston, SC? GOOD. You will of course love it here. It is a lovely place with lots of great weather, food choices, many things to do, fun to be had, a cute downtown and well, BEACHES to experience. You have great options on where to stay for your Charleston weekend. You have to think about where you want to spend a majority of your time while in Charleston. Do you want to be out at one of our beaches and spend your time at the beach enjoying the weather and the waves or do you want to peruse downtown Charleston more?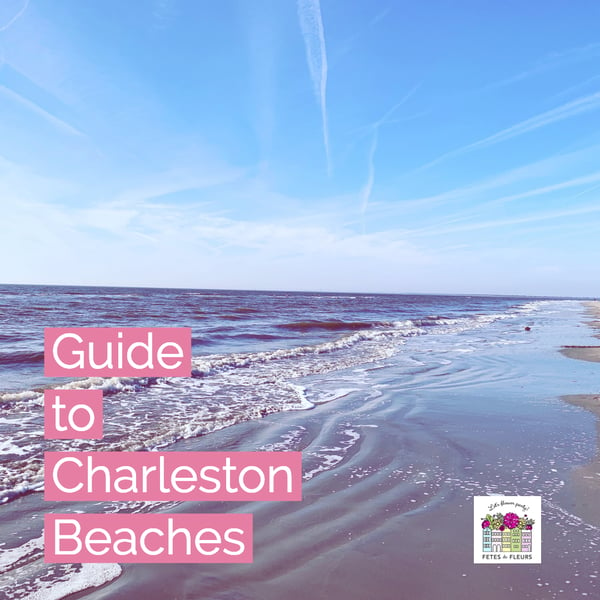 Really think about what you want to do while you are here. Do you want to spend more of your time relaxing by the beach or pool at your hotel or beach airbnb? Or do you want to be right downtown so you can walk to all the bars, restaurants and shops?
Either way you can't go wrong...it just depends on what your group really wants to spend the majority of their time doing while here on their Charleston bachelorette or Charleston ladies weekend.
Whenever people start thinking about coming to Charleston for a bachelorette party or a girls trip the first thing they will start asking me is, "where do we stay?!?!"
Do we stay at a beach or do we stay downtown in Charleston?
That is hard for me to answer because both options are lovely! I can give you an idea of what each area is good for and hopefully that will help you in making your decision on whether to stay downtown in Charleston or out at one of our beautiful beaches.
If you do end up staying at one of the beaches you will likely want to come downtown for dinners and going out. You can of course go out and eat out at the beaches too but you might want to come downtown for one night or a day out to shop and bop around. Either way all of the beaches (except Kiawah Island) are about a 20 minute uber ride so you won't have trouble getting downtown.
Sullivan's Island: a locals beach with cute food options.
This is a small island community where a lot of locals live. There are some airbnbs but it's not necessarily a place that I think a lot of bachelorette parties stay at. From what I have seen most Charleston bachelorette party groups tend to stay at Folly Beach of Isle of Palms if they are going to stay at a Charleston beach vs downtown.
Sullivan's Island is somewhere that I would recommend you visiting for a Saturday day or if you are staying in Charleston until Monday I would recommend going here on Sunday for the day. This is my favorite beach that we have because it is beautiful, big and not touristy. There is a little main street at Sullivan's Island with some great brunch and lunch options too. There are some fun bars I would recommend too.
If you didn't rent a car or you flew here take an uber to Sullivan's Island. Grab breakfast or brunch at Obstinate Daughter. If you want a sit down experience I would recommend going here before hitting the beach for some sun and a dip. This place is uber cute and definitely a Pinterest worthy place where you will like the great decor. You can sit inside or outside (smaller outdoor area) but if you are lucky you will get a spot. (And if it's not TOO, TOO hot yet). You can check out the Obstinate Daughter's Instagram here.
If you want something a little more low key than this you could stop at the Daily downtown on your way out to the beaches or at Vintage Coffee on your way to Sullivan's Island. The Daily downtown has the best breakfast options and coffee options. You can also grab some things to go like chicken salad and hummus for the beach in their fridge area. Vintage Coffee is SUPER cute and has a TON of outdoor spots for you to sit at. You can get toasts, acai bowls and eggs here with good coffee options to start your day.
Once you are done with breakfast wherever you had it I would recommend going to the COOP Sullivan's Island and grabbing some rose or FROSE to go. They also have good sandwiches to go too and breakfast sandwiches too. They will give you frose in a to go cup that you can bring on the beach with you. This is a must do! Head out to the beach and get some rays and get in the warm water. Another one of my faves for smoothies, rose to go and wraps is the Middle Street Market. Get the chicken salad sandwich or a hustle smoothie. Middle Street Market is also a really great place to buy locally made food goods if that is your thing. It's our thing and we think you would dig it.
Once you have had enough I would say to hit up Home Team BBQ for game changers and some nachos. If that is not your speed then go to Mex One for some margs and tacos. We also love Poe's Tavern there if you are wanting a burger. If you go here try and sit outside on their patio. You can walk to all of these places from the beach area and then once you are nice and full from drinks and some apps you can catch an uber back downtown to where you are staying to take a cat nap and get ready for your night out downtown.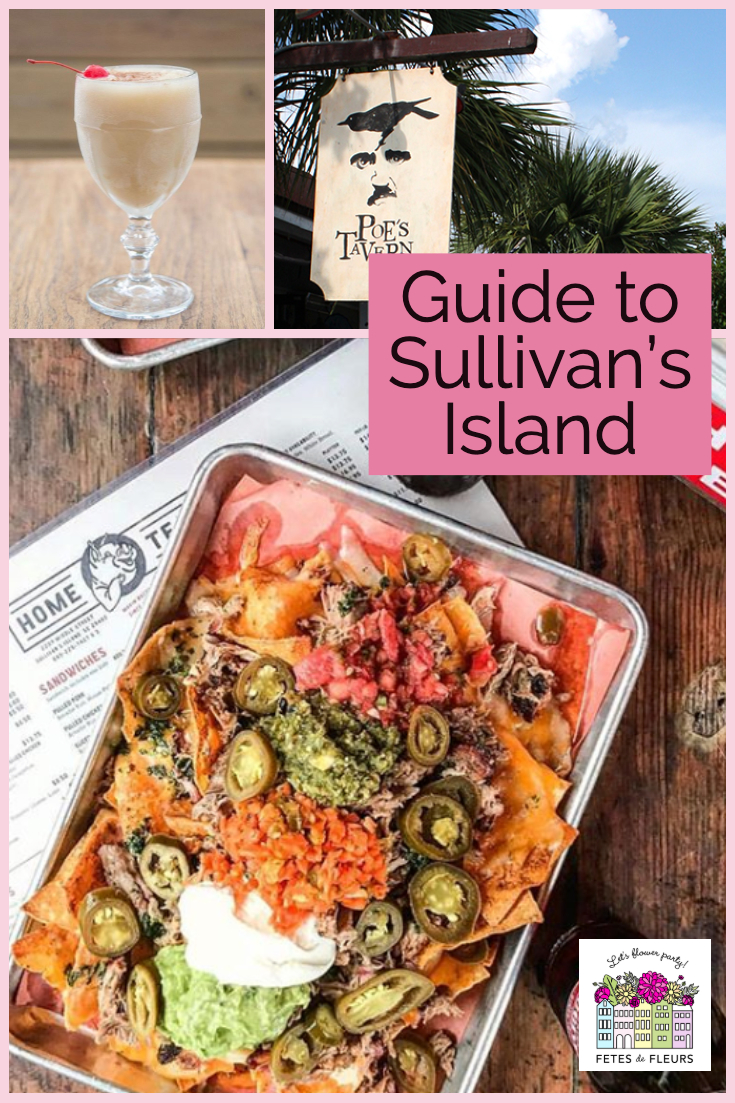 Isle of Palms: good for AMAZING, luxury beach house rentals and Wild Dunes Resort life.
A lot of our Charleston bachelorette parties stay at IOP (Isle of Palms). It is a great place to pick if you want to rent a BIG, luxury house to stay at that likely is steps from the beach and also has a pool. A a lot of our flower crown workshops and parties have been spent heading out to beach rentals at IOP. These houses tend to be huge so they are perfect for big groups who want to be walking distance to the beach. If you are wanting to live that beach life on your Charleston bachelorette or Charleston weekend I would highly recommend IOP as the place you make home base.
There is a little "downtown" area here in IOP but it is VERY BUSY. In the summer and spring you will have long traffic lines in the downtown area and there are LOTS of people. Not my thing really but once you get off the beaten path you will be loving it at your rental on the beach.
TIP: Pick IOP if you want to stay at big rental house if you have a big group. I would pick one with a pool for sure. I would also recommend IOP if you are looking to stay at a resort while in Charleston. If that is your thing you should most definitely stay at Wild Dunes Resort.
Wild Dunes Resort is a dream come true. So if your group wants the perks of being on a golf course, food options, pools and being on the beach in a resort environment then I would stay here. Just remember that IOP and especially Wild Dunes is OUT there. So you are really out of the downtown area and you will have to take a big longer uber rides to get back and forth between downtown.
There are fun beachy bars that you could go to while staying out in IOP. So if you are staying out in IOP I would recommend doing most of your time out there and at Sullivan's Island vs going back and forth between downtown and the beach all weekend. That could get annoying spending that much time in a car and paying for all of those uber rides. Do one night out downtown for dinner and drinks and then spend the rest of your time out at the beach. I would actually recommend this for if you are spending your time staying at any beach area. Only go downtown once. Do downtown for dinner one night and drinks or for a day time thing. But, don't keep driving back and forth. That is why I said you should decide if you want beach mostly or downtown mostly. Pick your poison then stick with it.
If you are planning on doing a Charleston flower crown workshop with us while you are here on your bachelorette weekend we travel to all beach locations so don't worry about that!
Bars and Restaurants to go to at IOP: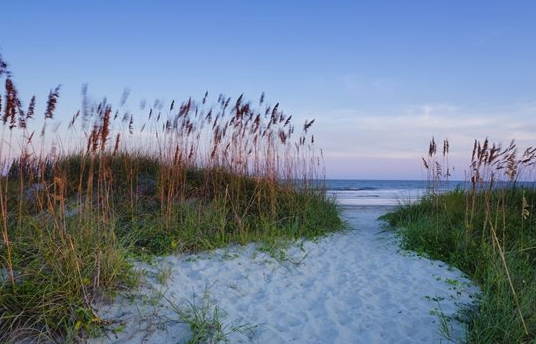 Folly Beach: the more FUN beach with lots of restaurants, hotels, airbnbs and things to do. (very touristy, more relaxed type of surfer beach area).
Folly Beach is super fun and a lot of people LOVE staying out here for their Charleston vacation or Charleston weekend at the beach. We have PLENTY of Charleston bachelorette parties out here and highly recommend Folly Beach as your home point for your weekend if you want to really live that beach life while here. You can rent some super cute houses out here and there are some bigger hotels that you can stay at too. You could also rent a golf cart for the weekend and just bop around from your house to beach to restaurants and bars on this cute little, surfer island all weekend.
Folly Beach is definitely very touristy in the summers and spring time. This is a place you should stay at if you want to party and want beach. There are plenty of fun bars and restaurants to go if you are staying out here.
Things you must hit up while staying on Folly Beach or if you decide to go to Folly for a day while in Charleston.
While out on Folly make sure you drive all the way out to the end of Folly Beach where the tourists no longer are. Take your golf cart all the way out and park, walk out on the beach. Visit the "Washout" - google it.
Whatever you decide for your weekend in Charleston you won't be disappointed. Just think about what you want most. Do you want beach time mostly or do you want to be downtown for food and drinks more? Remember even if you stay downtown at a hotel or airbnb you have the option to get an uber ride out to any of the beaches. The best part is that all of our beaches are so close by- so like 20 minutes- sometimes in the summer and spring on weekends it could take WAY longer like 40 minutes or more if there is a ton of beach traffic. But just plan ahead and get out there early.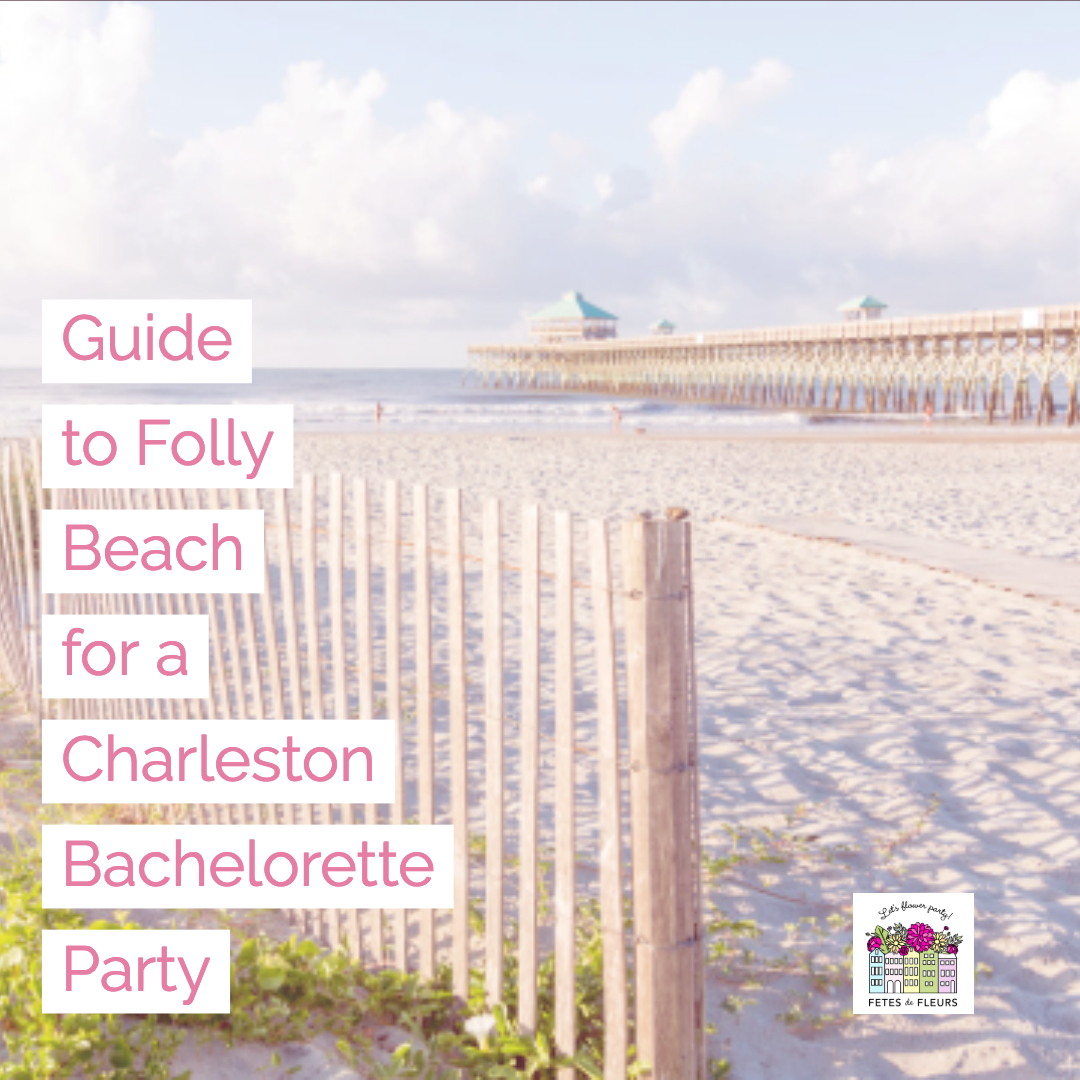 We hope you enjoy your weekend in Charleston and hope you plan on spending some time at our beaches even if you don't stay at one of them.
Oh, and don't forget to order your flower crowns for your Charleston bachelorette party or book us for a Charleston flower crown workshop while you are here. There is nothing more perfect than flower crowns and beach pics, ladies. See you soon!