Hi guys! Annie here. This month in Charleston there are two chances to do a gold hoop wreath workshop with me!
I am so excited to partner up with Hampden Clothing and Candy Shop Vintage for both of them.
Hampden Clothing is known for their upscale and unique couture offerings and Candy Shop Vintage is revered for their vintage jewelry creations and rice beaded accessories.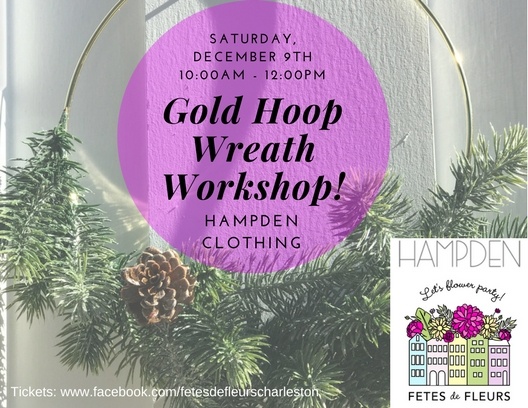 Hampden Clothing Wreath Class:
Saturday, December 9th 10:00am- 12:00pm at 314 King Street, Charleston, SC.
This class is the perfect workshop to do with your mom, sister, friend before brunch and shopping on King Street!
Come enjoy mimosas, shopping and some modern wreath making.
Order tickets here for our gold hoop wreath party at Hampden Clothing.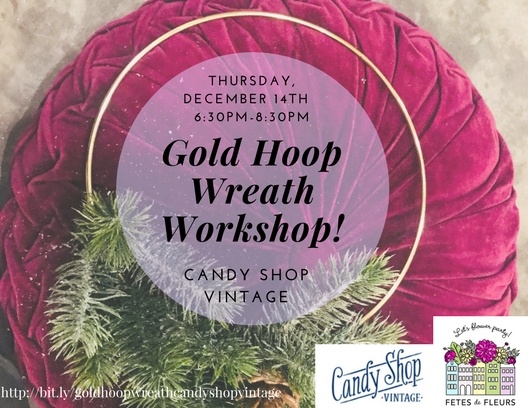 Candy Shop Vintage Wreath Class:
Thursday, December 14th 6:30pm-8:30pm at 9 Cannon Street, Charleston, SC.
This class will take place at the store's adorable little shop on Cannon Street.
Come enjoy some wine, shopping and wreath making with some girlfriends!
Order tickets for the Candy Shop Vintage Gold Hoop Wreath Making workshop here!
Can't make it to a class but still want to make a wreath?
Email me at annie@fetesdefleurs.com to book a private class at your home with a group of friends!
Or read our wreath making tutorials on our website here.
Happy Holidays! Looking forward to getting our wreath making on with you this month!
Annie-