If we're being completely honest, the bachelorette party theme is the most important! It is what makes a party a PARTY! I have picked some of my favorite bachelorette party themes and put an Atlanta twist on them for your party planning purposes. Keep reading to explore the best bachelorette party themes for a bachelorette party in Atlanta!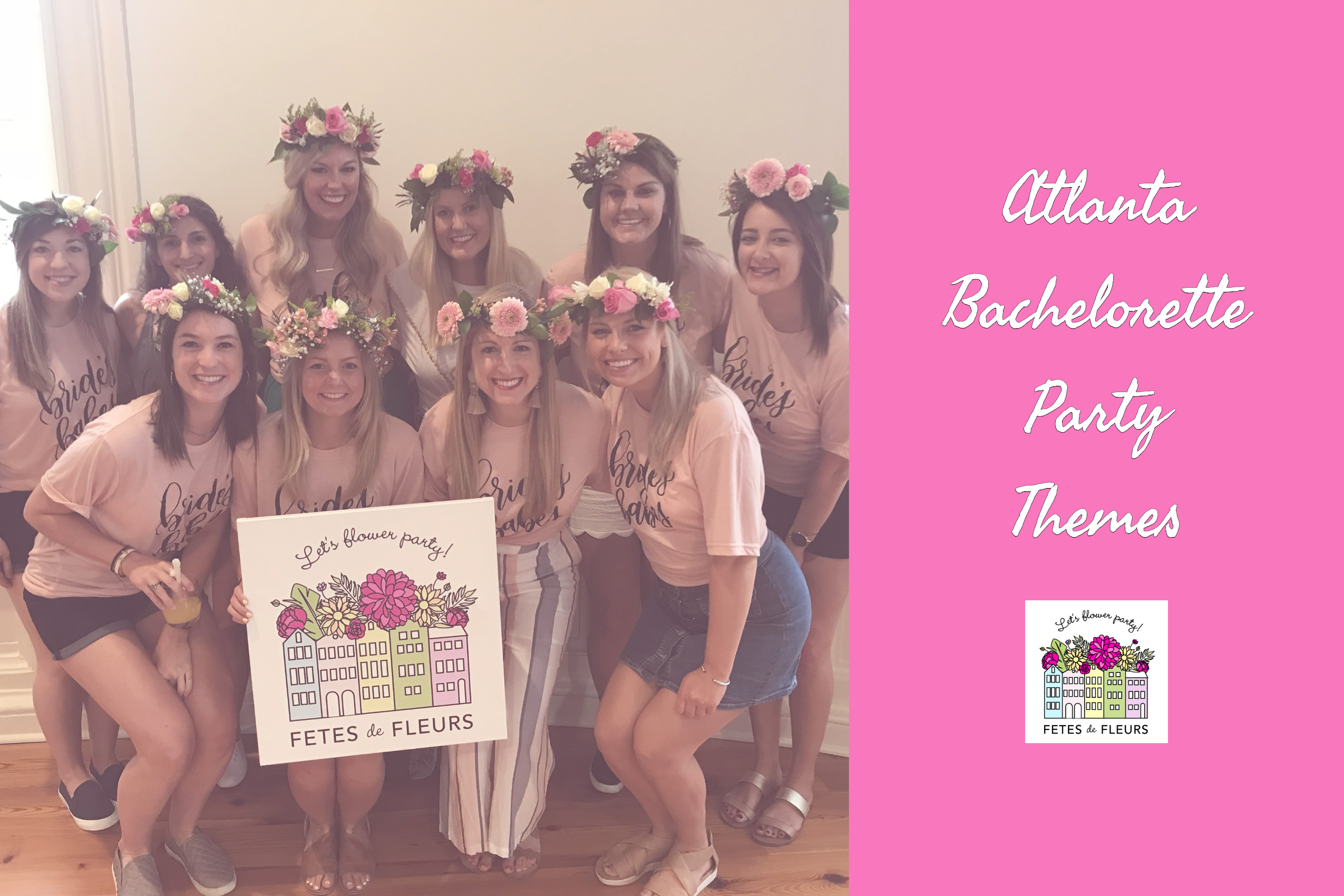 The Final Fiesta Bachelorette Party Theme
Margaritas, tacos and bright colors make this bachelorette party theme so fun! There is no better way to celebrate your bride to be than with a good margarita of FIVE (hehe). Atlanta has some great restaurants that are known for their margaritas- you should definitely check out my favorite tacos places while you are here: Bartaco, Superica, The El Felix, and Red Pepper Taqueria for a fiesta-themed bach lunch or dinner!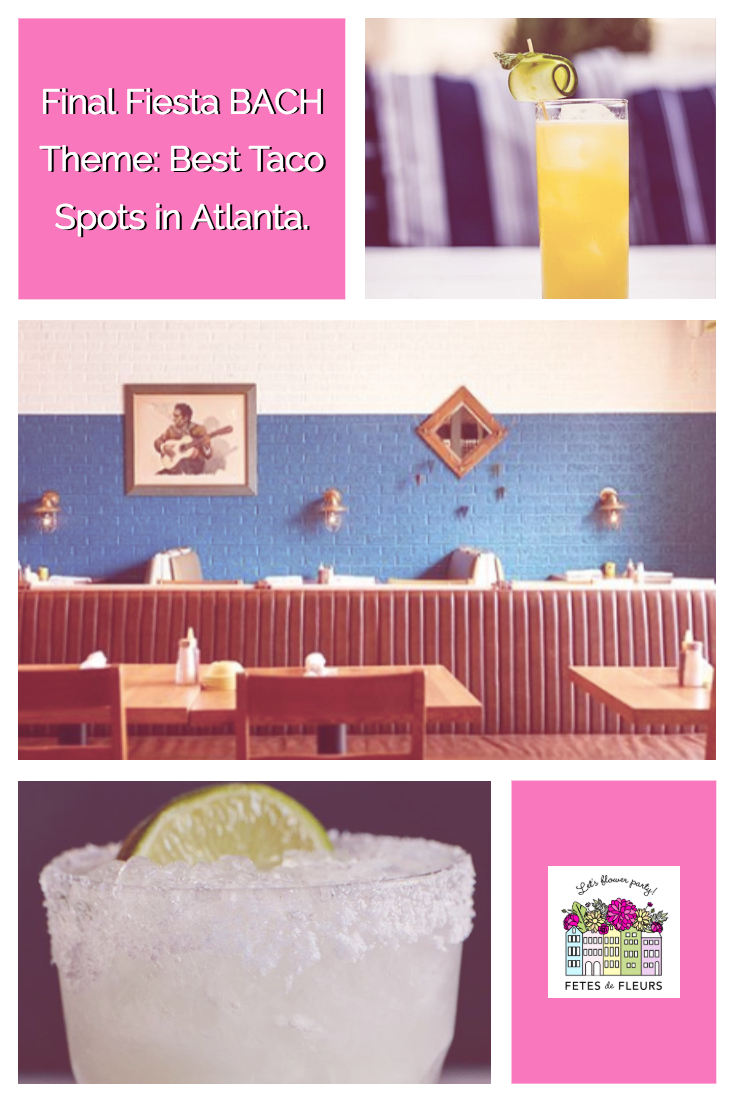 I found these SUPER cute tanks on Etsy that would be great for a final fiesta party bachelorette party theme. These would be so fun to wear if you and your girls are hanging out by the pool at your hotel or just walking around and exploring the city. Etsy is also full of fun little fiesta favors like tattoos, cozies and balloons! Just add flower crowns with these cute shirts and you are ready to rock and roll around Atlanta.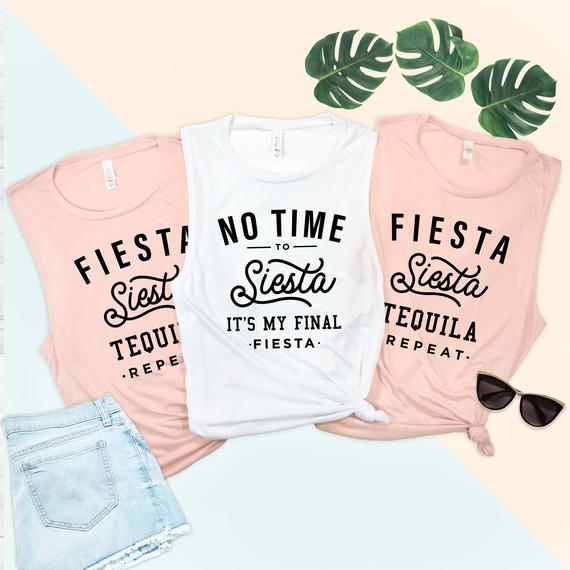 We could help you with hosting a flower crown making party at your hotel, airbnb, or other location of choice! It would be so fun and super cute to create flower crowns with some bright pink, purple or blue colored flowers to match this final fiesta theme. :) Some of the t-shirts say the cutest things like:
No time to siesta, it's my final fiesta!
Fiesta, siesta, tequila! (we agree).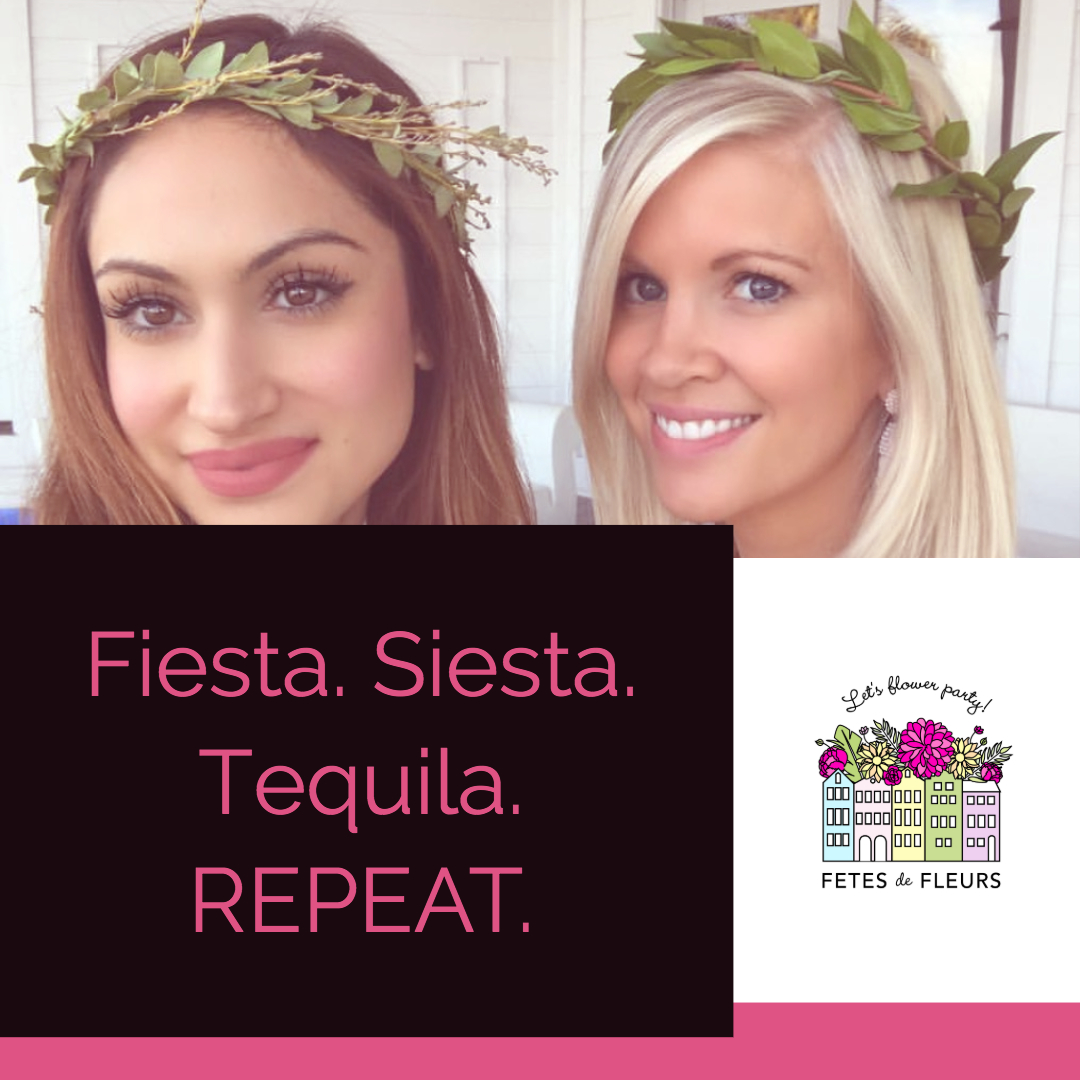 Bride on Cloud Wine
Not every bride is down for a wild weekend for her bachelorette party weekend. Or maybe you want some wild with some chill. Whatever your vibe is we can help you have a great time with a fun activity making flower crowns.
I love this theme for a low-key, relaxing bachelorette party. This is perfect for a weekend of pampering, wine-tasting, and celebrating! Atlanta has some great hotels with even better spas for you and your bride to be to relax before the wedding. Mani/pedis, masks, and massages would be so fun with your girls! Then head out to some of Atlanta's best restaurants or wine bars to continue the fun! Check out my other blog post about some of the best wine spots in ATL to try!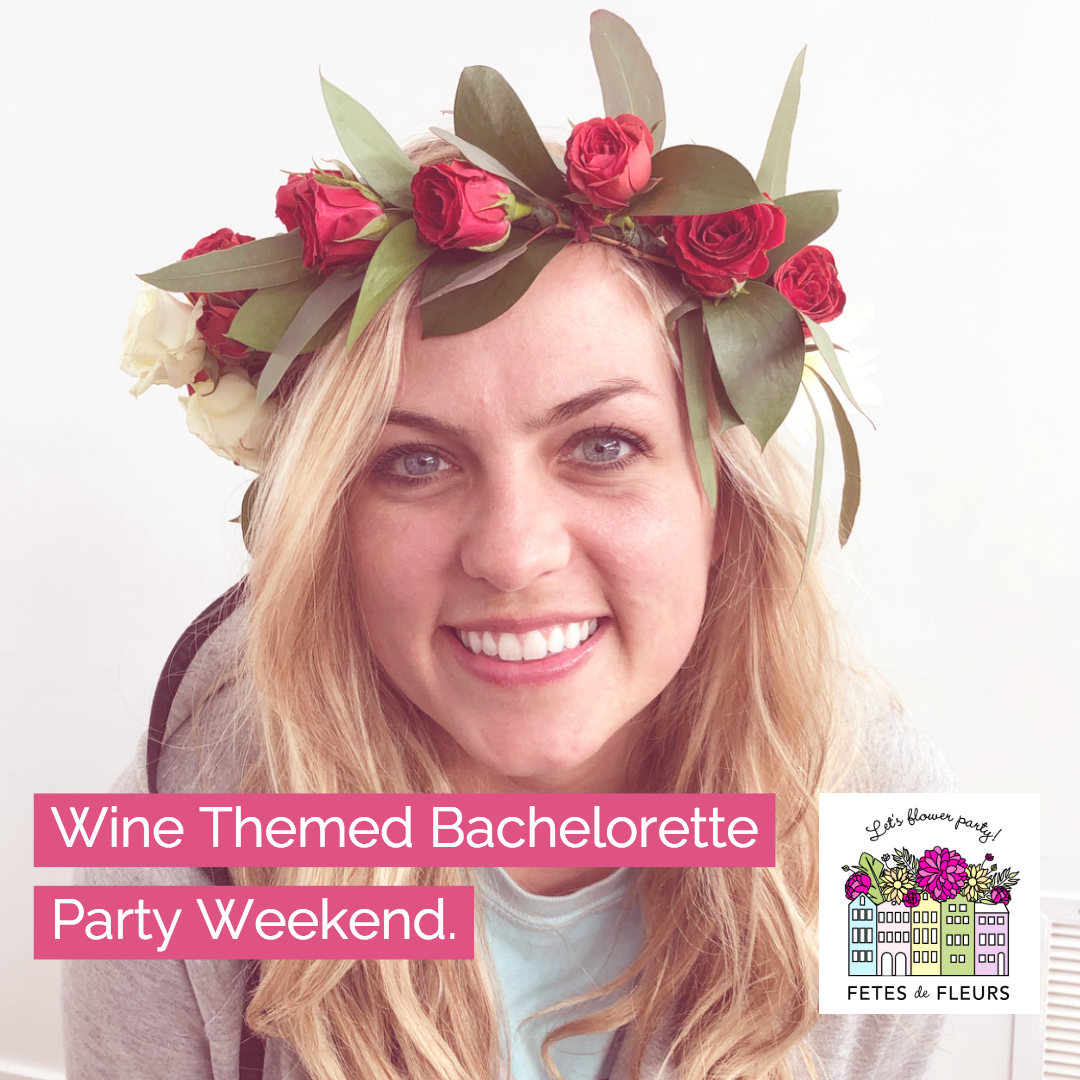 Custom wine glasses would be a super cute party favor to go along with this bachelorette party theme!
Some of our favorite hashtags for a WINE THEMED BACHELORETTE PARTY ARE:
#VinoBeforeVows
#OnCloudWine.
This is such a classy and fun them to use when celebrating your favorite bride to be! Just add flower crowns in pink or red shades and we can match your wine themed bachelorette party weekend.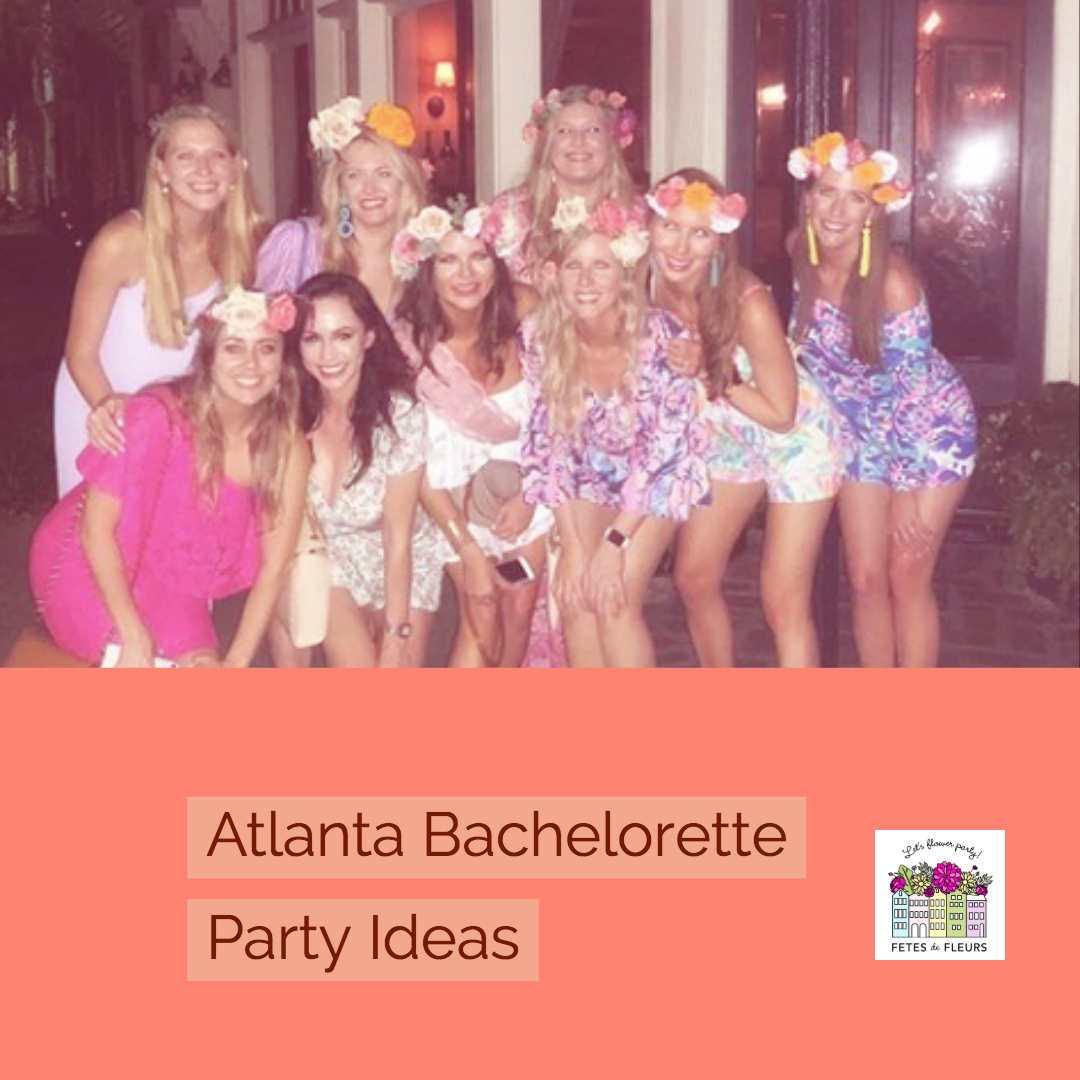 Peachy Bride
This one might be the most ATLANTA bachelorette theme ever! If your bride is a true Georgia PEACH, then you have to go with this theme! You can do all things Atlanta with this theme, from eating the best burgers at The Varsity to shopping at Lenox and everything in between. Atlanta has so many fun things to do that will make the bachelorette party one to remember!
I found some really cute tanks on Etsy that would fit this peachy bride bachelorette party theme.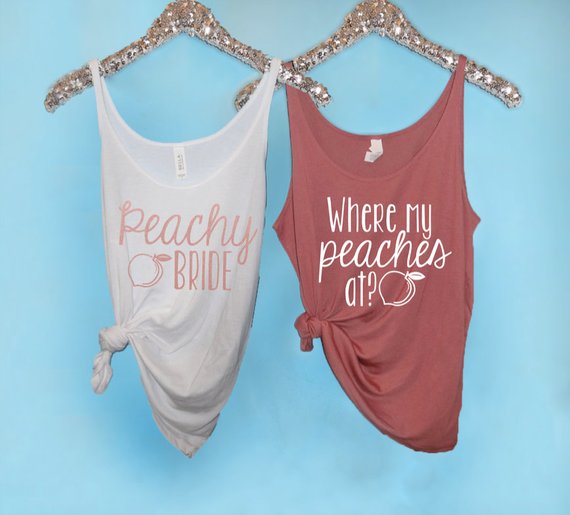 They are perfect for Hotlanta's summer days by the pool or exploring everything to do in the city.
Flower crowns in peachy colors would fit in perfectly with this bachelorette party theme! Peachy colored flowers mixed with some white is so pretty and would looks so cute with those tanks. They would definitely add some girly, fun flair to your bach party!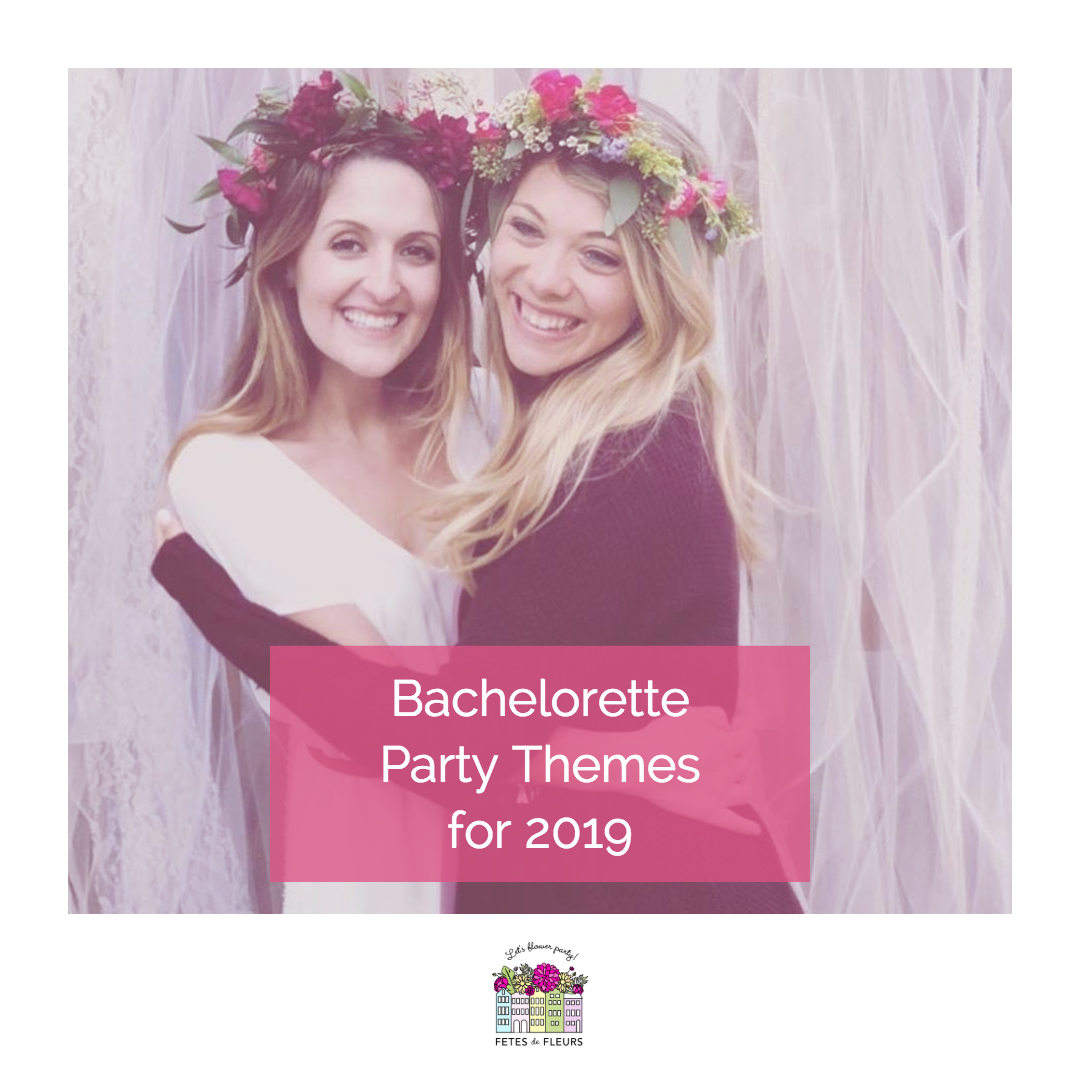 Some other themes that I love for your Bachelorette Party Weekend are:
Last Fling Before the Ring
Bride Squad (so many ways to do this one!)
Boots & Bling
I Do Crew
Pop the Bubbly, She's Getting a Hubby!
Bachelorette party themes can be customized to where ever you decide to get away to for the weekend celebrations. Atlanta has so many great attractions, restaurants, and scenery that any theme would be fitting. No matter what the theme is flower parties are always a MUST on any bachelorette party weekend. We can bring a party to you and help you create the PERFECT flower crowns for you and your girls to wear around town for your celebrations in Atlanta.