If you are planning a bachelorette party or a girls weekend in Austin, Texas we are excited for you. Austin is such a special city with a lot of fun things to do. Usually when someone mentions Austin people think of FOOD and DRINKING. Yes, we get it- those are some of the things that you should do while in Austin, Texas for a girls weekend or a bachelorette party but there are other things that you can do while in Austin as well.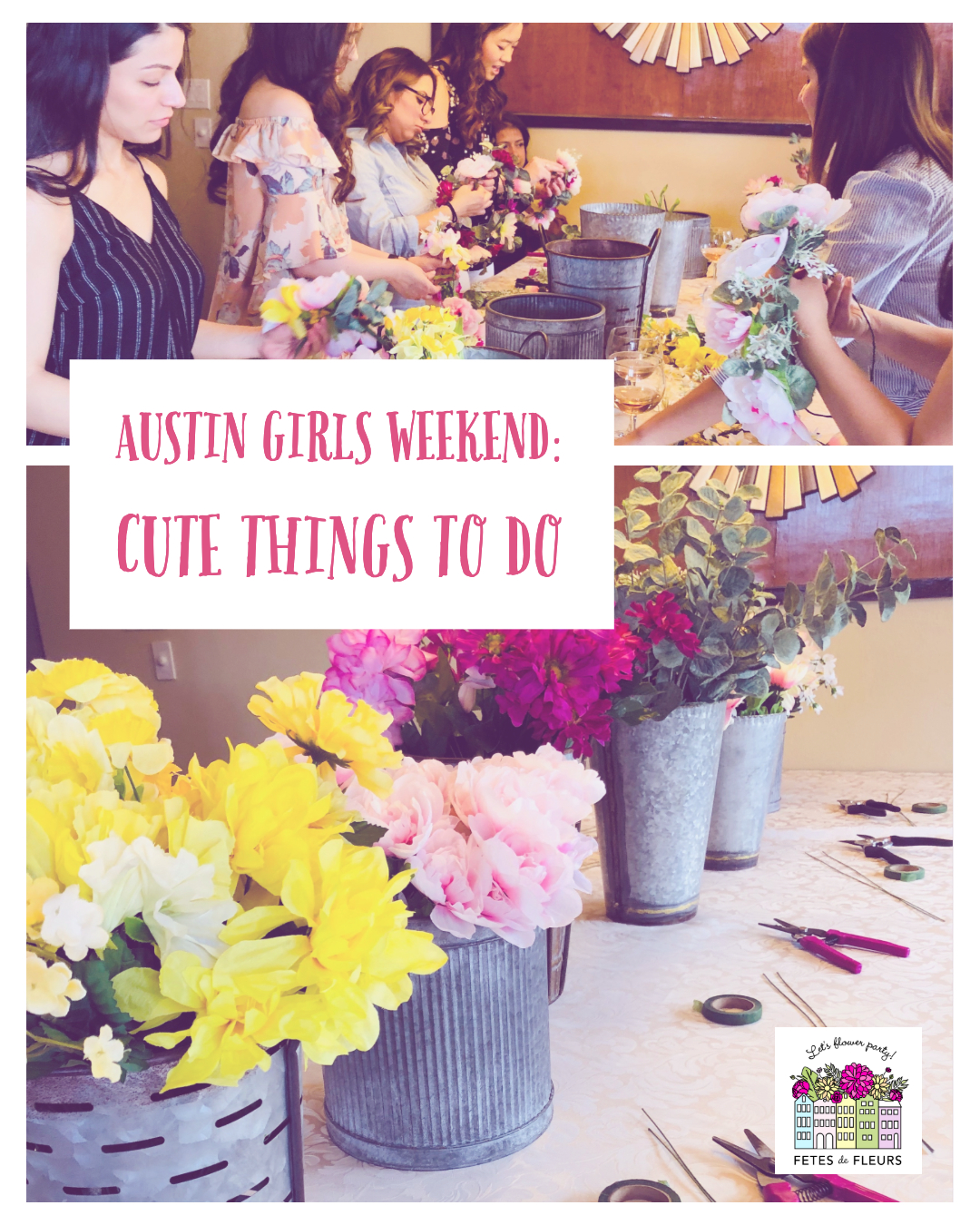 We thought we would help you in your planning process for a girls weekend or a bachelorette party in Austin by giving you some pretty, girly ideas of things to do while on your weekend trip in Austin. A lot of these are going to be places where you can eat or drink but remember anywhere that we put in a post of ours is going to be decorated beautifully and that is typically why we add them in here. We like PRETTY places and we know you do too! So grab your phones ladies and get ready to take some photos for that insta hashtag. Your besties back home will be jealous of all the pretty things you did and visited while in Austin.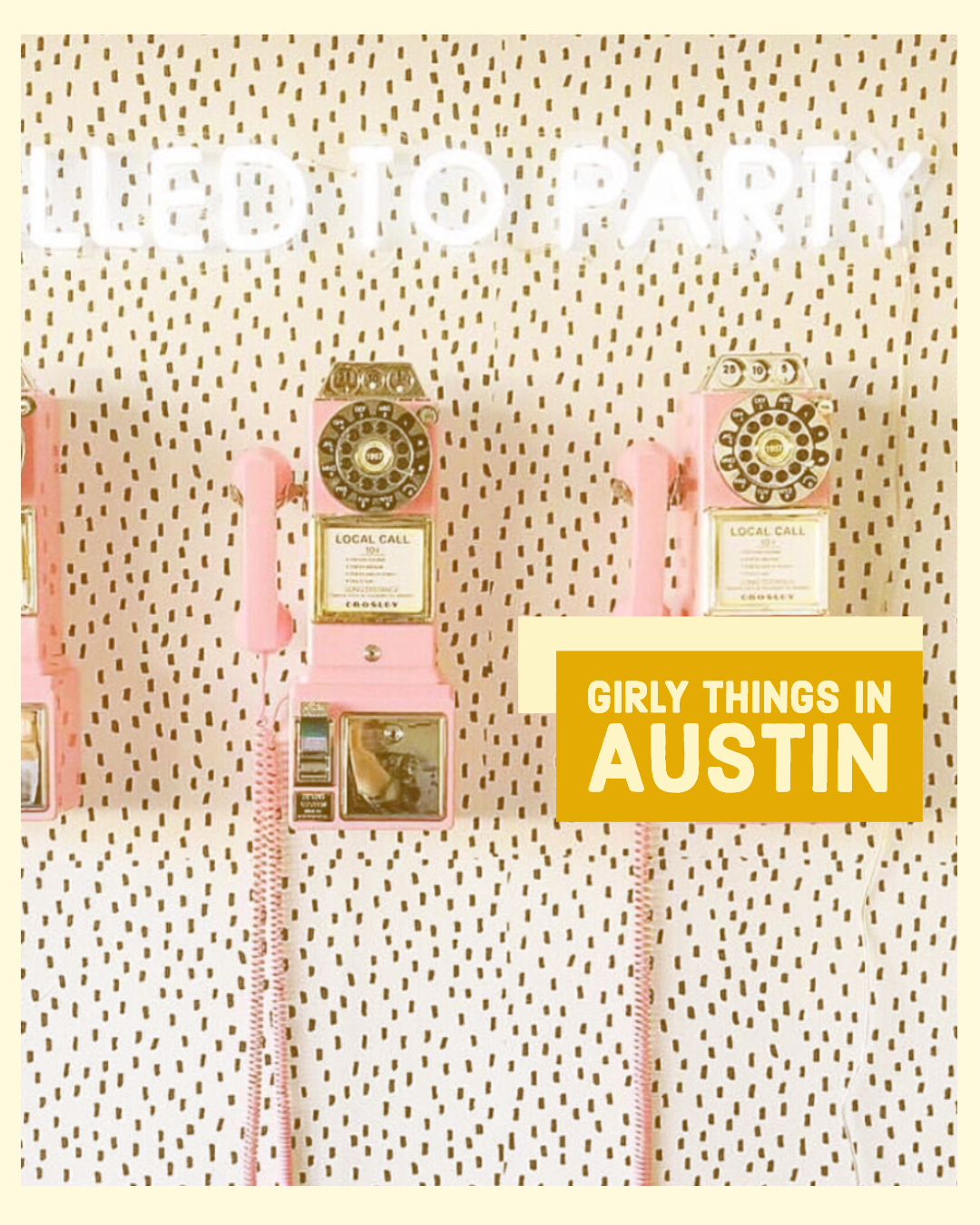 We also wanted to showcase some of our recent photos from some of our flower crown workshops in Austin from the past couple of weekends. So we will sprinkle those throughout this post as well so you can see what our flower crown workshops entail. ENJOY!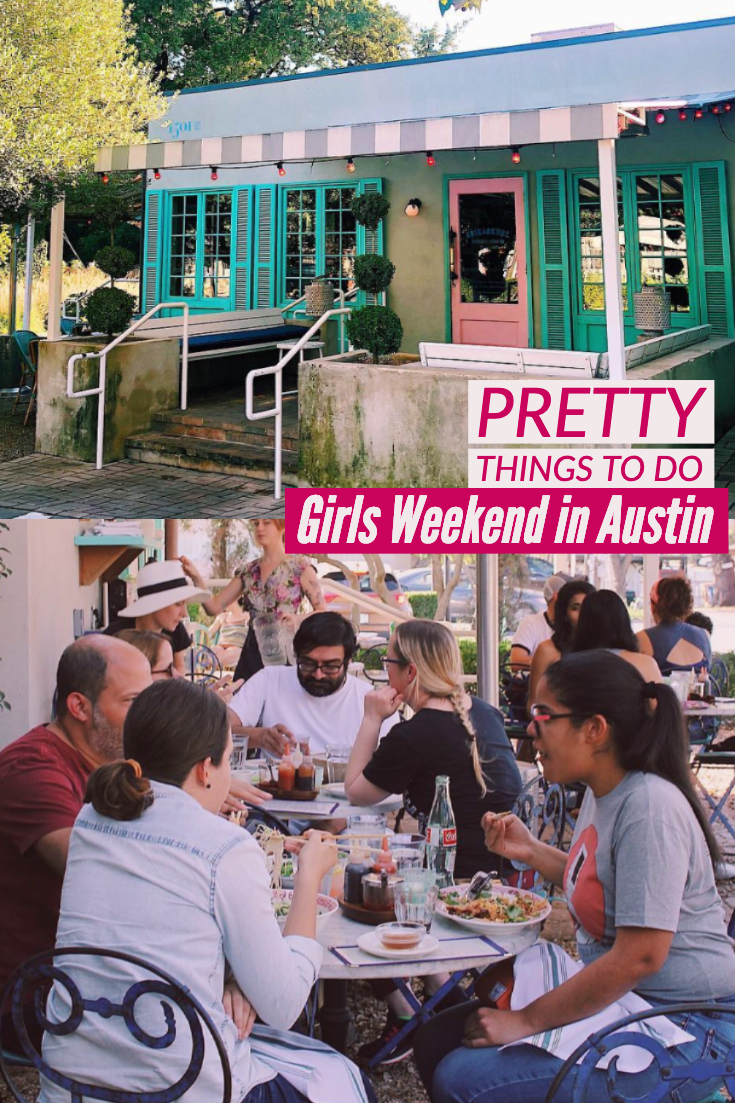 Here are some NEW and PRETTY spots in Austin that you might want to try out with your bride tribe or Girls Group:
Bar Peached: BAR PEACHED IS A BAR-FOCUSED RESTAURANT CONCEPT SERVING COCKTAILS, TACOS AND ASIAN-INSPIRED COMFORT FOOD. Located in the historic Clarksville neighborhood, the restaurant features a large 13 seat bar, cozy indoor dining accented by shiplap walls and a large outdoor patio featuring a historic heritage tree. Check out their insta here to see how cutesy this place is. They have this thing called social hour listed on their site that looks like a great spot for a happy hour before your night out. They also have this cute mural on their patio that says, "practice what you peach!" We like murals and Austin loves a good mural. So if you want to take cute photos this might be the spot. We love the idea of wearing bachelorette party t-shirts here and flower crowns. We love a spot that is beautiful with good colors as we all know our bachelorette parties and girls weekend trips look for pretty spots. NEW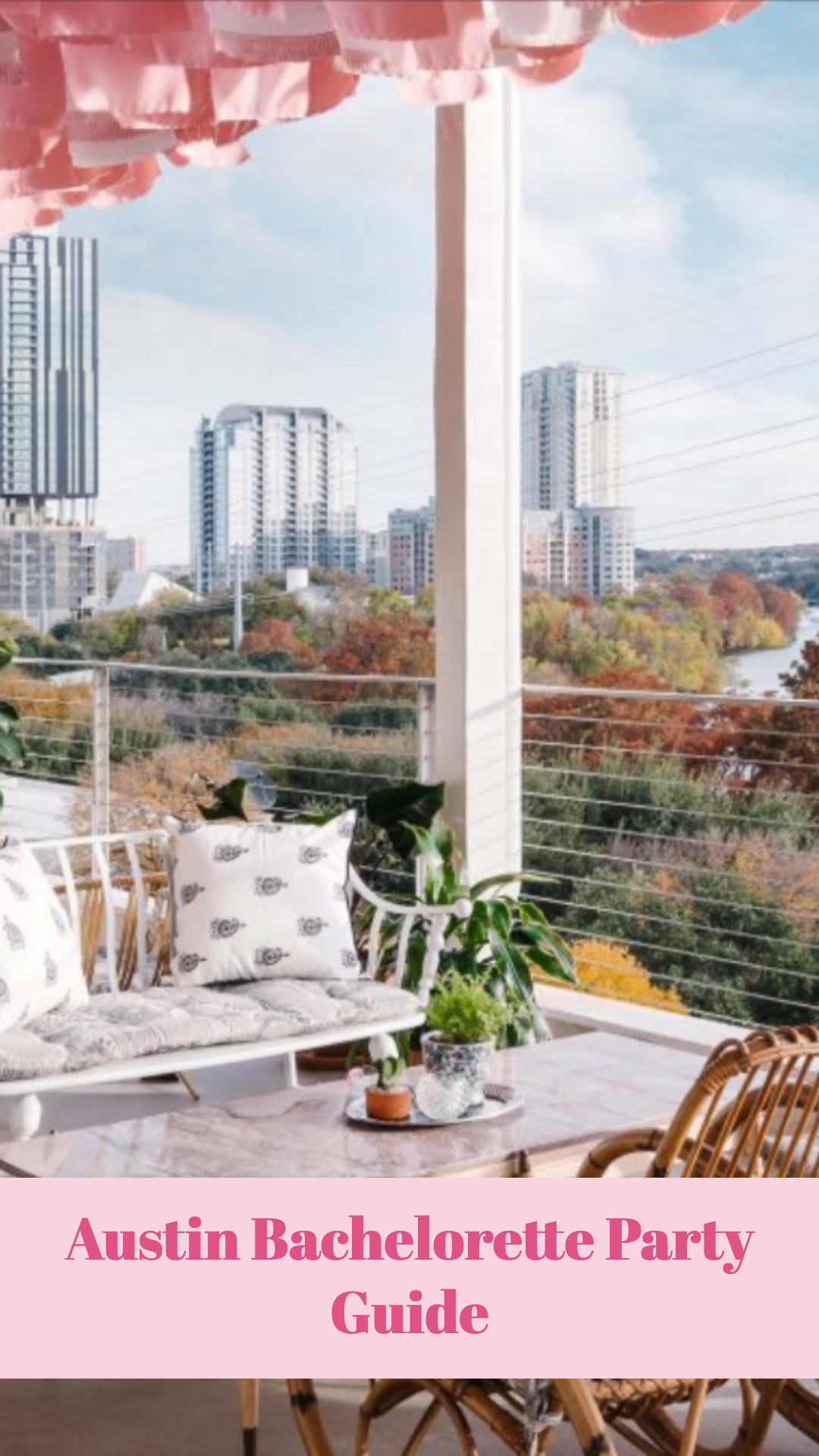 P6: New rooftop bar at the Line Hotel. When I saw photos of this spot I immediately knew this would become a great option for our bachelorette parties in Austin and our girls weekend trips. Who doesn't love a chic and beautiful rooftop bar? It is also located at the top of one of the prettiest hotels so we hope you will stop by here and favorite this on your google maps for your trip to Austin. P6 looks like a painting that somehow came to life on a rooftop in Austin, Texas. This spot looks so pretty with the pink hangings from the rooftop and overlooking the lake. We would love to spend an afternoon here having some rose and apps with the girls. In general, the Line Hotel is somewhere your group should check out. If you like pretty things and girly spots this one should come up high on your lists. NEW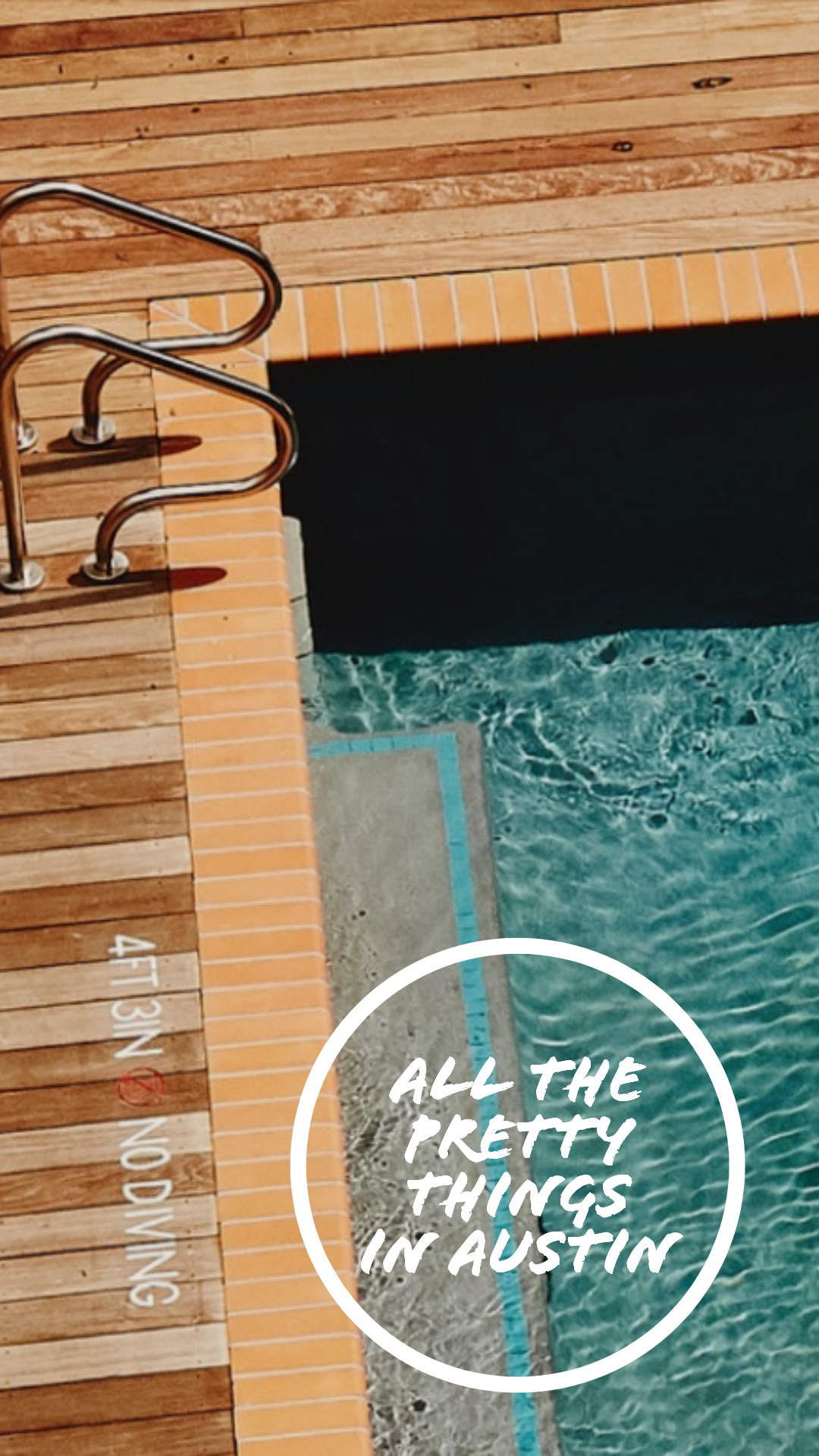 The Carpenter Hotel: This place has a lot going on. Of course it is a great option for a stay while in Austin on your girls weekend or bachelorette party weekend. They also have a pool for lounging by. We found out they have this private space called the Q Hut which is part event space and part pavilion, pool cabana thingy. We think this would be perfect for a group to rent out for a flower crown workshop. NEW
Here are some oldies but goodies for your Austin Girls Weekend or Bach Bash Planning:
Cafe no Se: located in the South Congress Hotel is one of our favorite spots to stop in for brunch or drinks or just looking to see something beautiful. I love well decorated spots and this one does NOT disappoint. If you like rose they have 25 percent off rose from sun up to sun down too. Last time I was personally in Austin I stayed at this hotel and frequented this restaurant quite a bit. I love it here. It is a magical space with great service and great food. If you happen to be staying here it would be a perfect spot to meander down to after pool time and relax with some rose in the afternoon.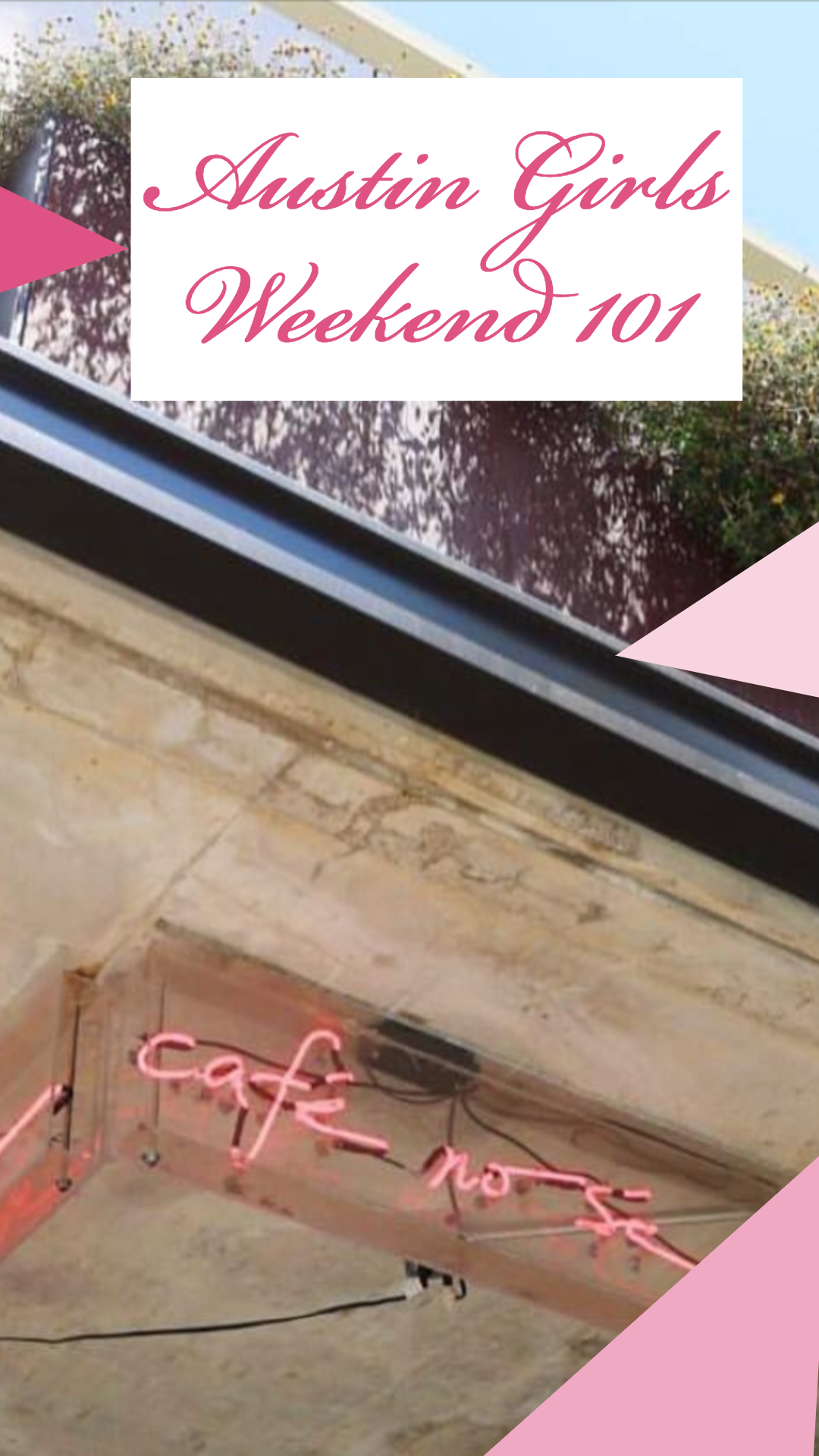 Elizabeth Street Cafe: This place is always a good spot to swing by. I love to sit outside here. Once again this place is PRETTAY and has beautiful ambiance inside and out. Plus, of course good food and drink. I am partial to places and things on my trips that are pretty and well decorated. So anywhere we ever mention will have those things. They will also always have good food and drinks. You can't go wrong with Elizabeth Street Cafe. They also have a good happy hour from 3-6. So if you find yourself walking around Austin bopping from place to place of maybe scootering around Austin you should stop here for an afternoon of fun and good food! Check out their insta here to see how pretty this place is.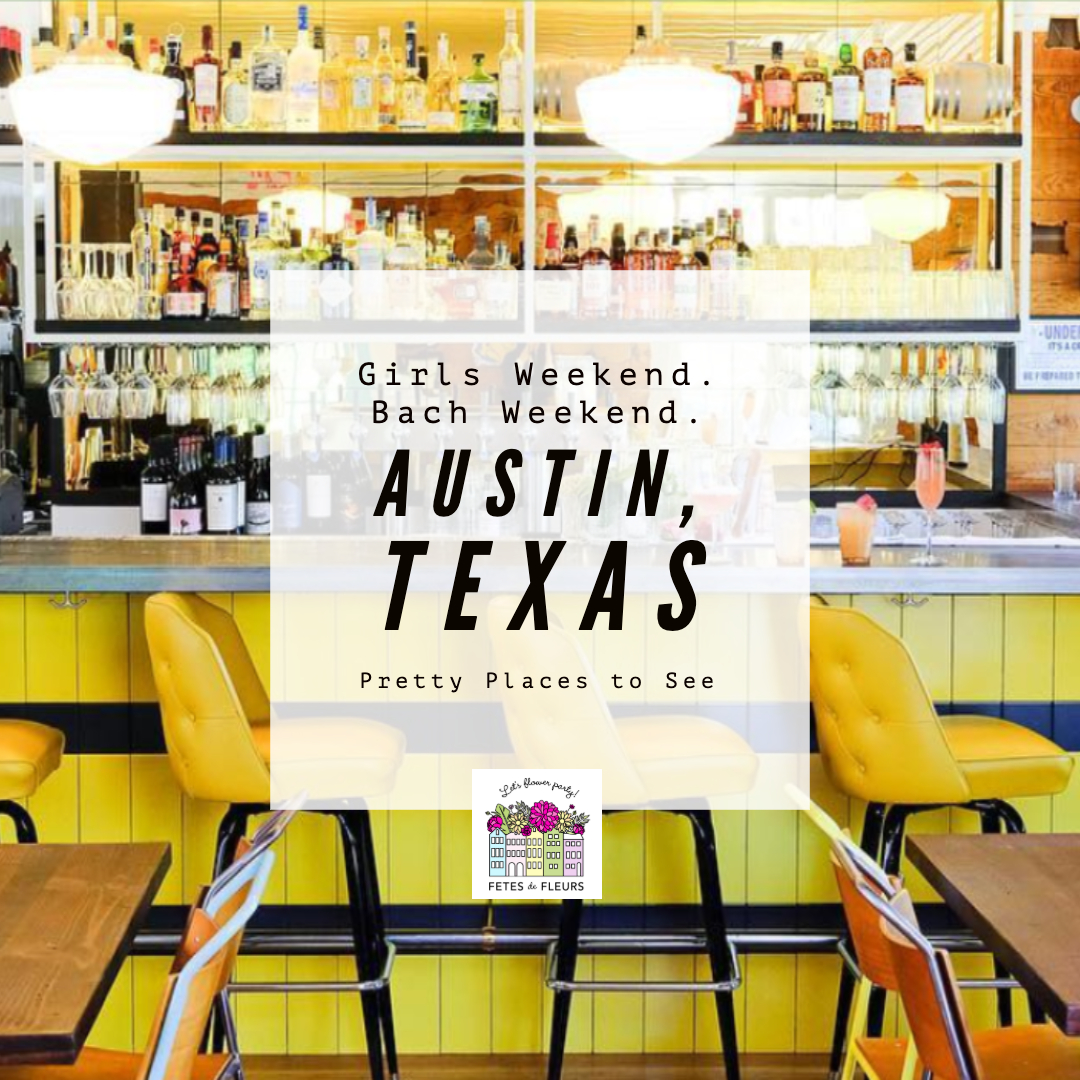 If you are planning a bachelorette party in Austin or a girls weekend in Austin we highly suggest thinking about the activities that you want to work into your weekend too. We are a flower party business and what that means is that we host what we call: flower crown parties/workshops. We come to your airbnb for the weekend that you rented or your hotel with all the flowers and greenery that you need to make flower crowns to wear out on your weekend in Austin. We have flower party hosts in cities around the US including of course, Austin. So if you are interested in maybe adding in a flower crown workshop to your weekend in Austin, Texas we would love to hear from you. You can fill out the form here to learn more about how our flower workshops work. We would love to work with your group coming to Austin by providing you with a fun, girly experience to add into your weekend away!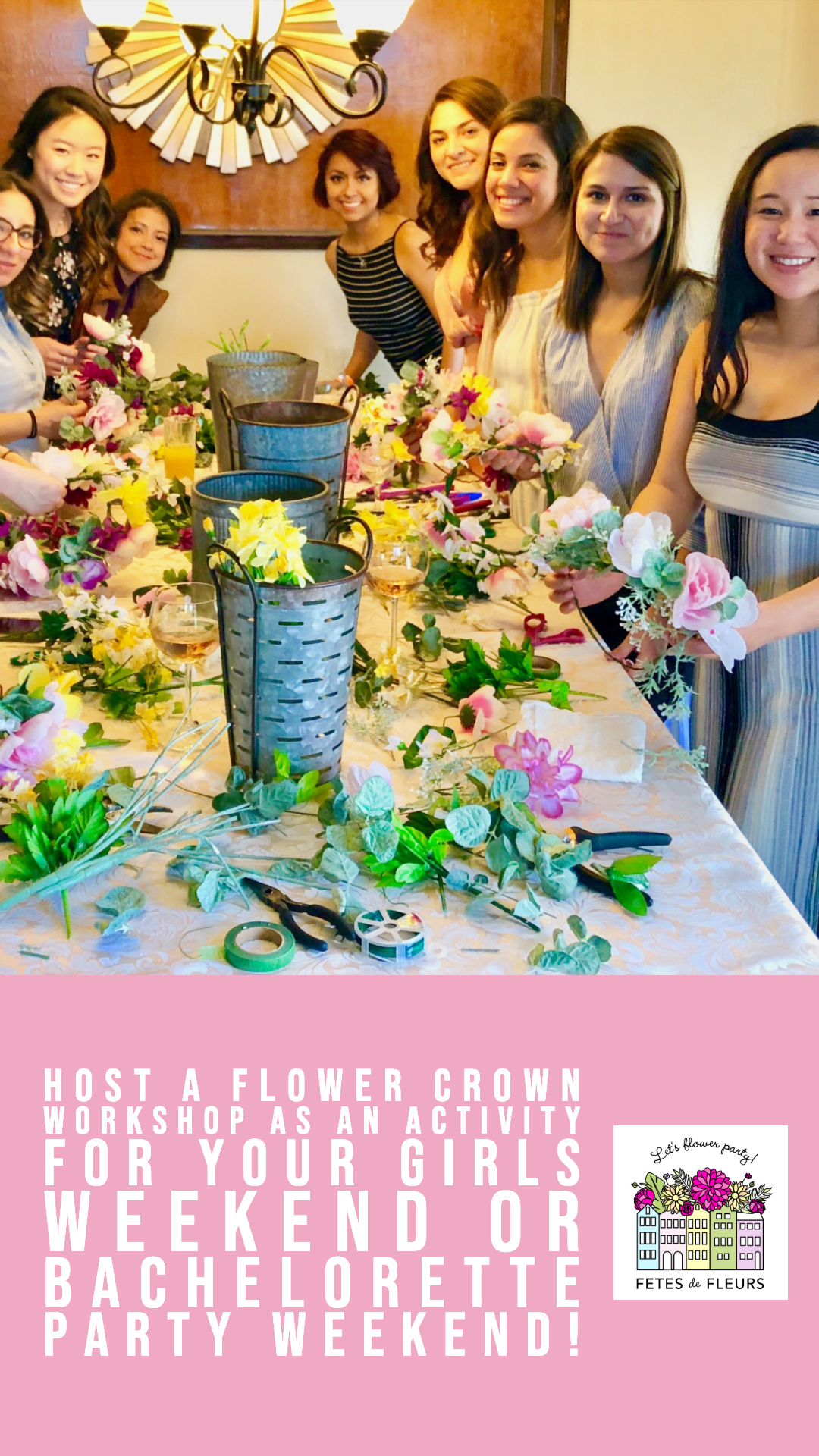 Here are some photos from some of our recent flower crown parties in Austin for bachelorette parties that we have had. You can request more information about how our flower parties work in Austin here.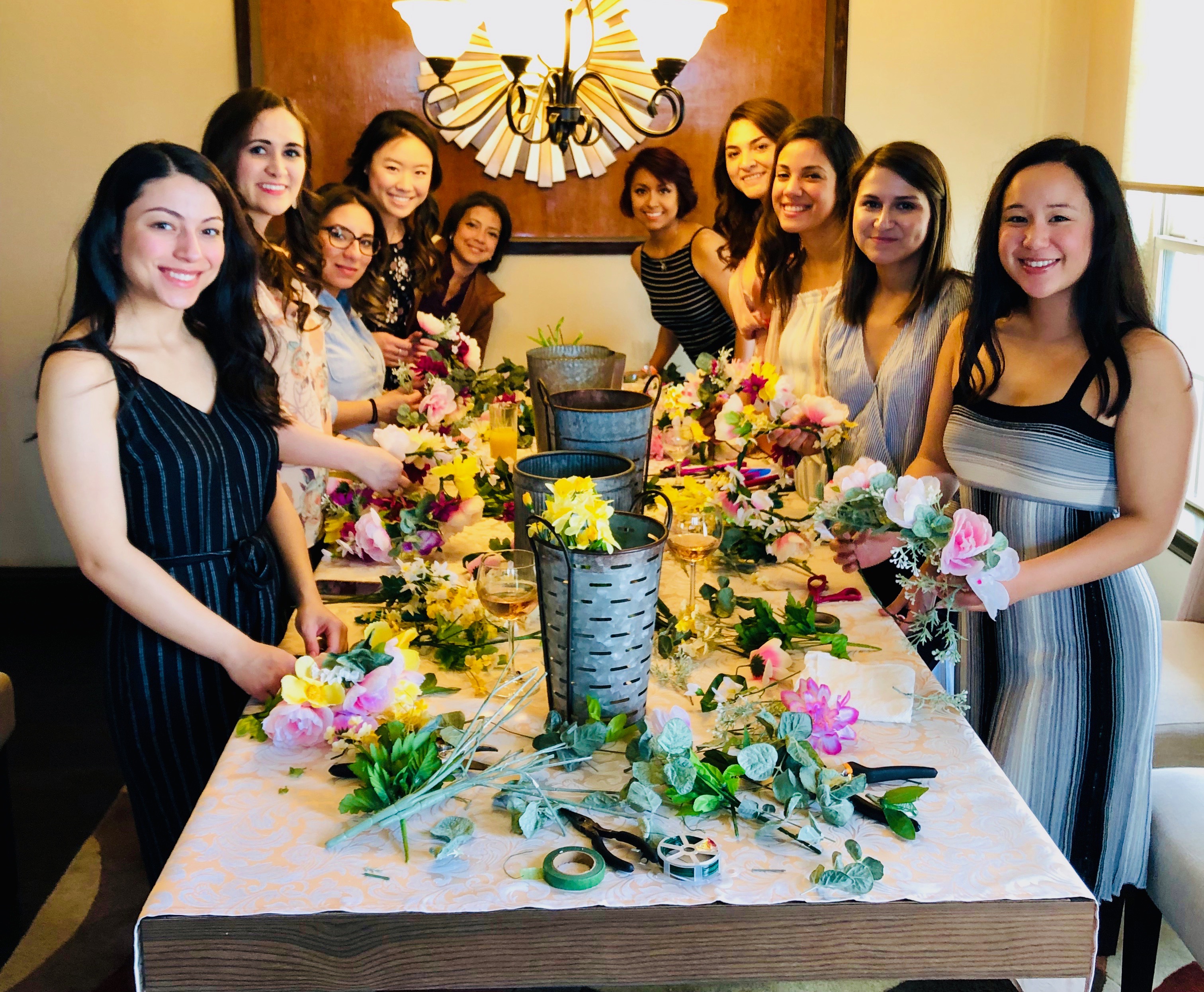 This group of ladies did a silk flower crown workshop. We work with your group in the planning and booking process of your party to see what kinds of flowers you would prefer. Your options are silk flowers or real flowers. We will also want to know what colors your group wants or doesn't want. We bring all of the supplies and flowers to your location to put on a flower crown workshop. Our flower party hosts will teach your group how to make beautiful flower crowns so you can wear them out on your bachelorette party weekend celebrations or girls weekend!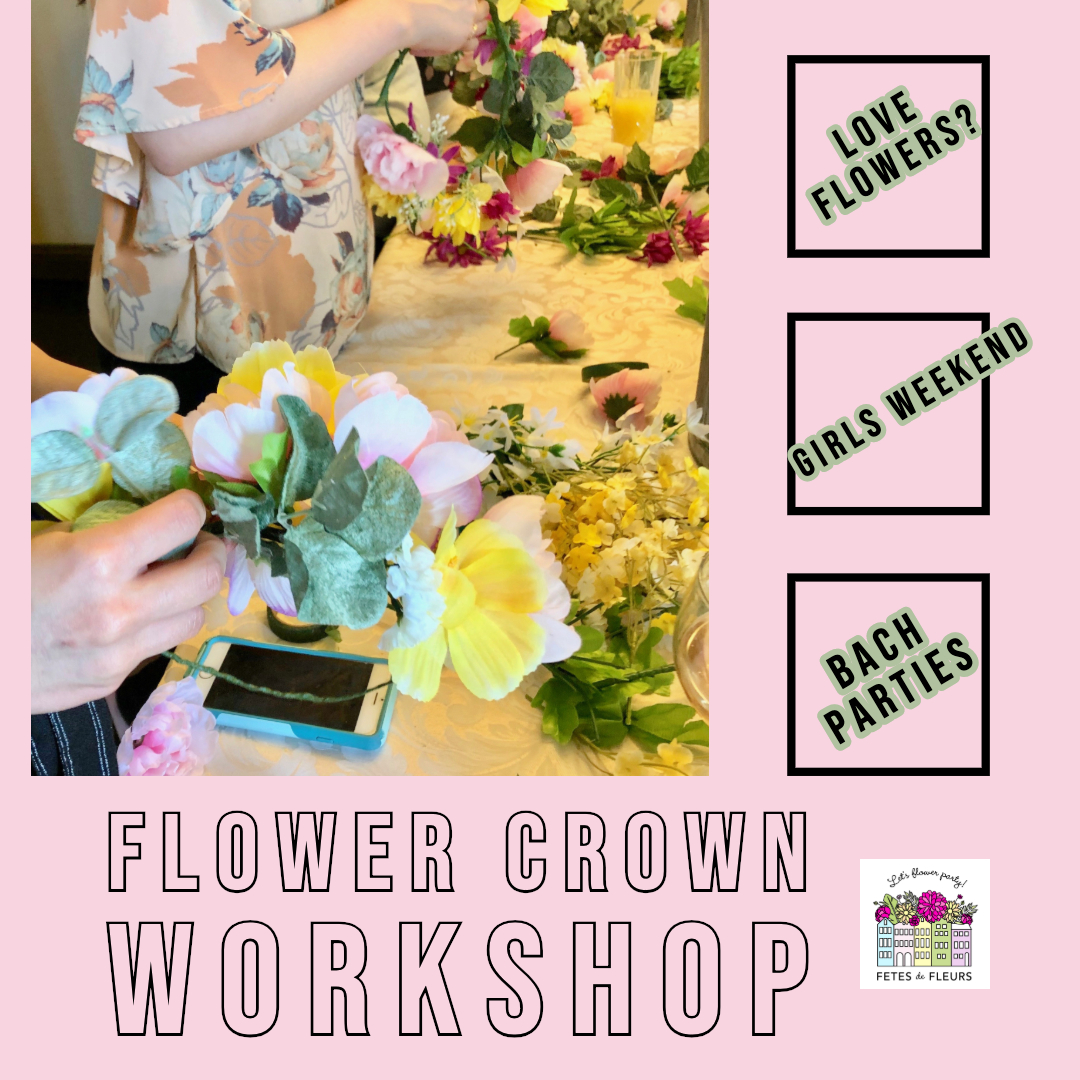 Here are some ladies at an Austin bachelorette party getting in on the action during their class with us!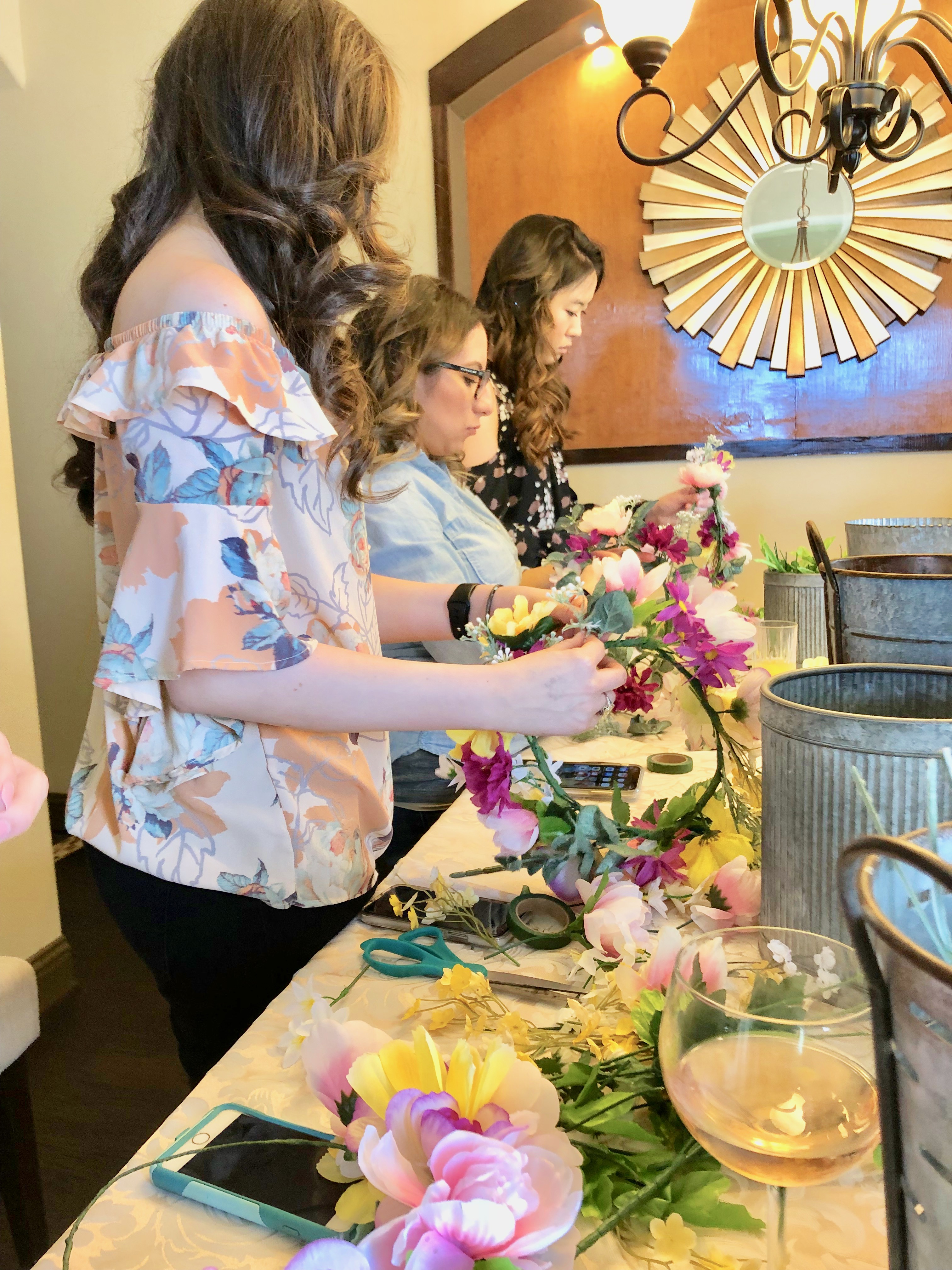 How cute is this bride tribe once they were done with their flower crowns?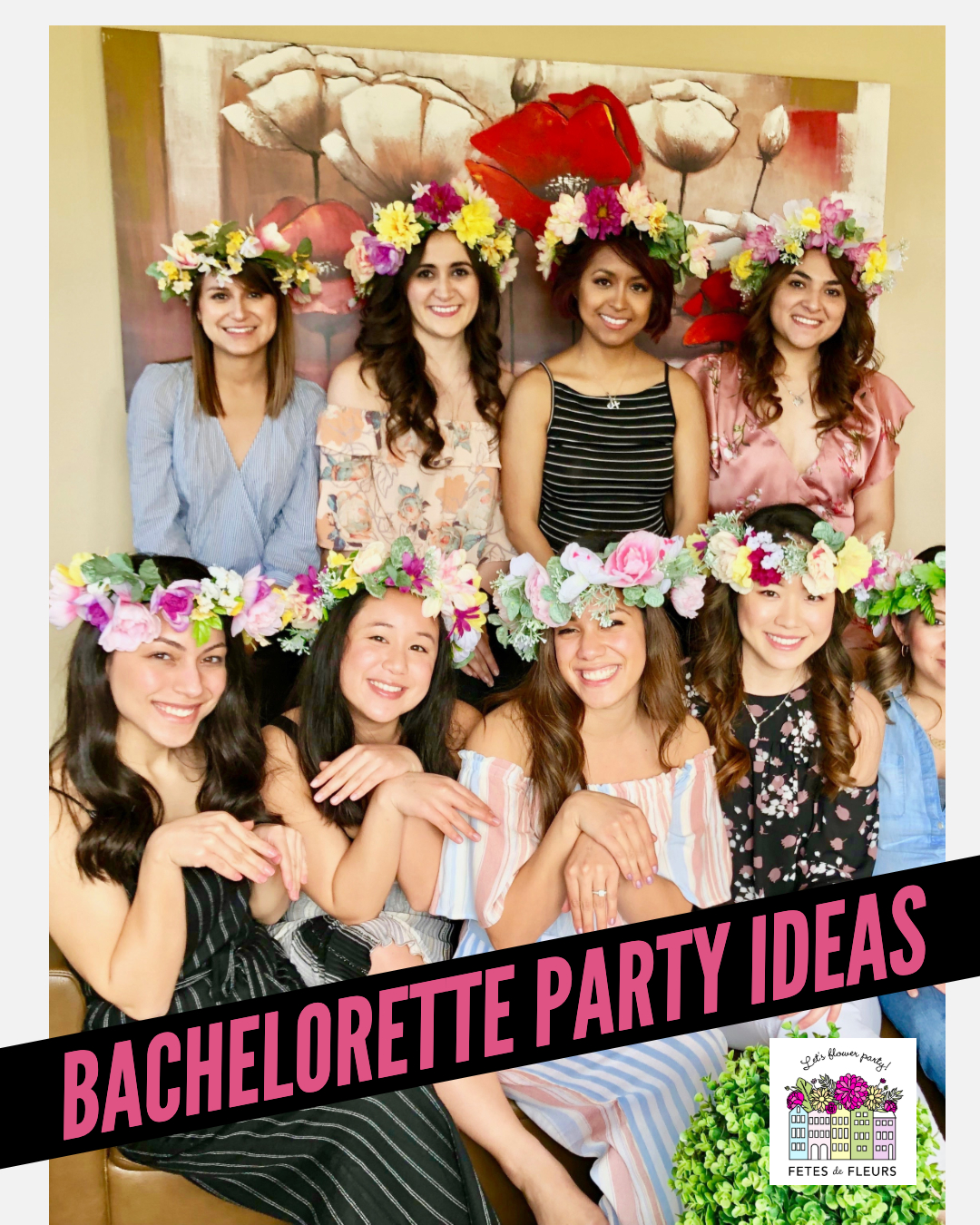 And this MISS to MRS group at their Austin flower crown workshop picked to use real flowers for their group. Check out their cute photos below...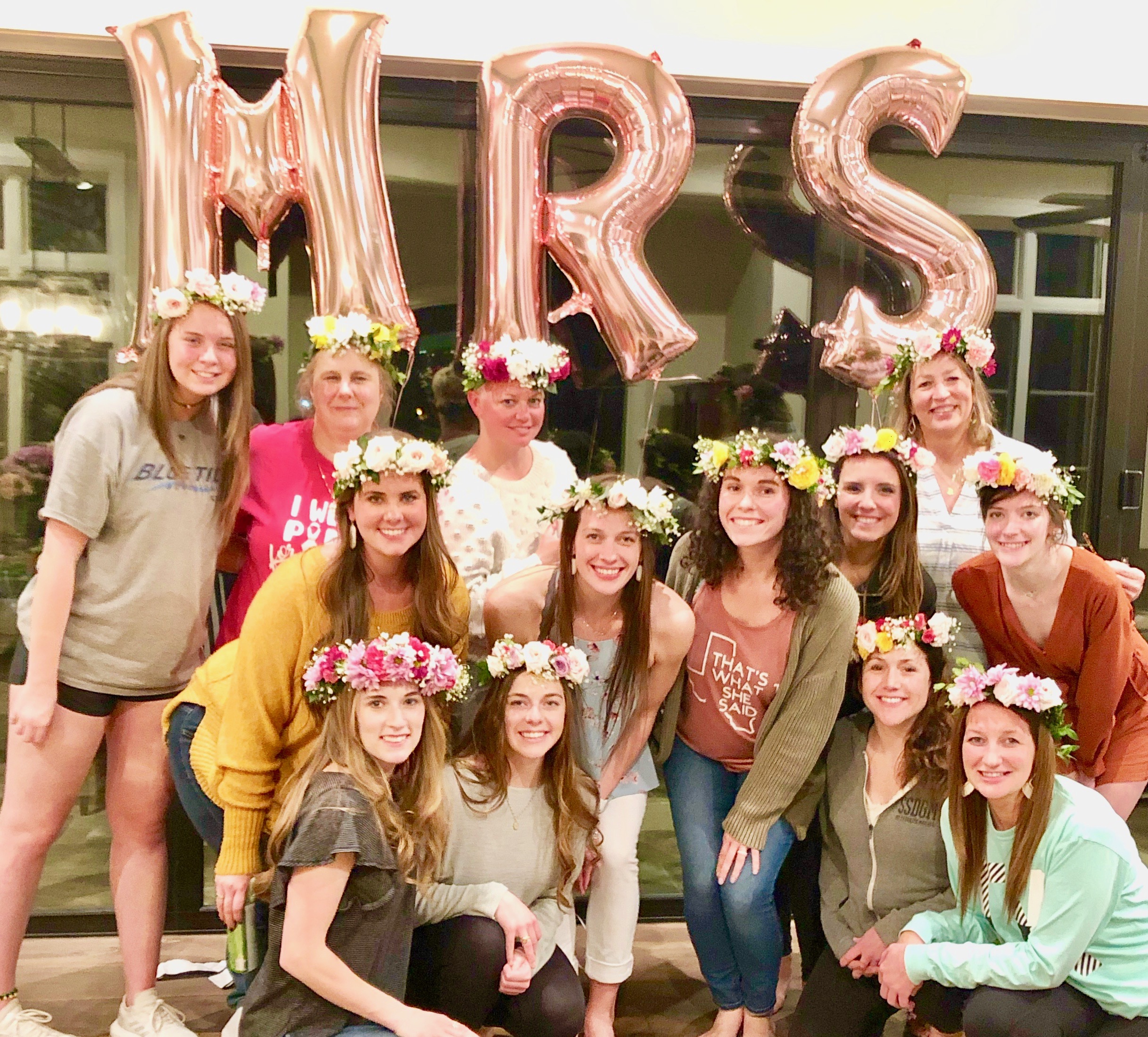 We hope you enjoyed some photos from our recent parties in Austin, Texas. If you have a girls weekend coming up or a bachelorette party in a city around the US make sure you keep us as an option! We can either come to you with the flower workshop or make the flower crowns for you for delivery or pickup too if you don't want to do a full workshop. Hope to flower party with you at some point!