Well, we say HECK YES, YEEHAAAAWWWWW and giddy up, to that! We can't wait to host you here in Austin, TX for your bach weekend ladies.
Let's get your bride tribe ready to party in Austin with the best, most fun bachelorette party activities for your 2019 Austin bachelorette party weekend.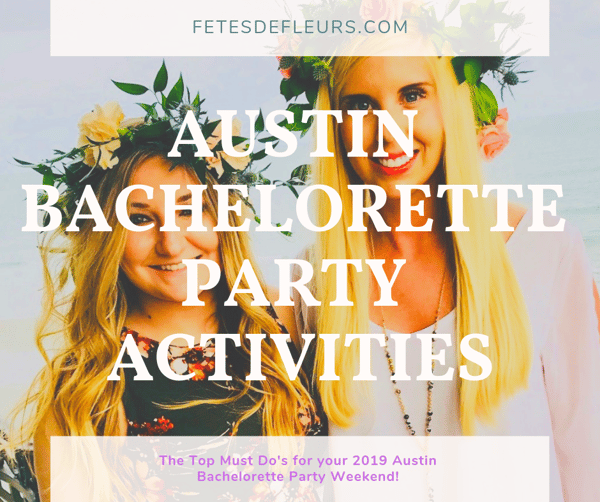 Whenever we are looking to figure out the top activities or things to do in a city where we have our flower party hosts helping bachelorette parties we check Instagram hashtags, Pinterest, Blogs, Yelp, etc to figure out the top things to do in that city or town for our groups. You can always rely on searching hashtags for your locations you are going to for great ideas for your bachelorette party activities.
Austin is an ideal place for a bachelorette party because it is in the middle of the US which means it is easy for groups from the west coast to the east coast to get to. It is a fun place with lots of food and drink to be had. As well as a place where you can plan a lot of fun activities for your bachelorette party group to do while in Austin.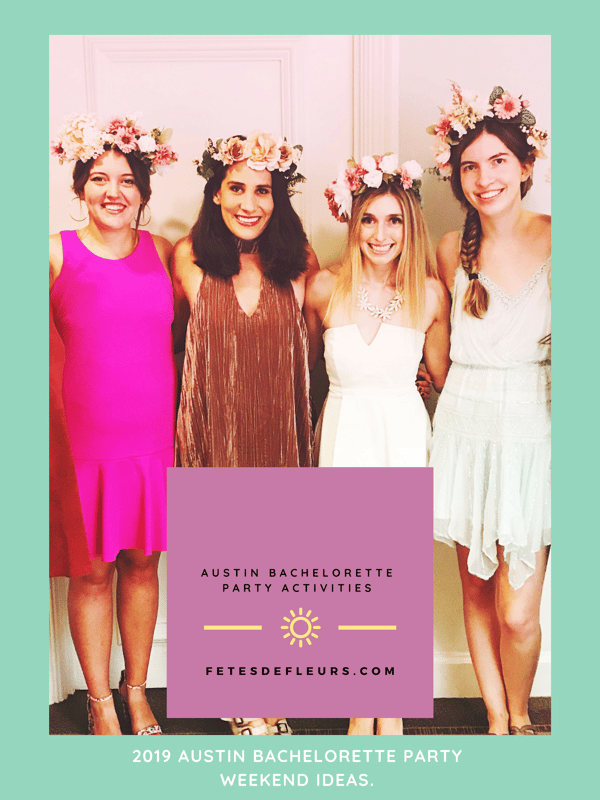 The 2019 Must Do Bachelorette Activities for Your Austin Bachelorette Party are Below.
Float On Boat Rentals
They can help you with all of your boat rental needs but the thing we like the most about this company in Austin is what is called their Aqua Lily Pads. This is the cutest idea ever for if you want to spend the afternoon or day out at Lake Travis floating on these fun big raft pads. Think of these as similar to lily pads that you see on a lake in real life. Perfect for floating and soaking up some rays.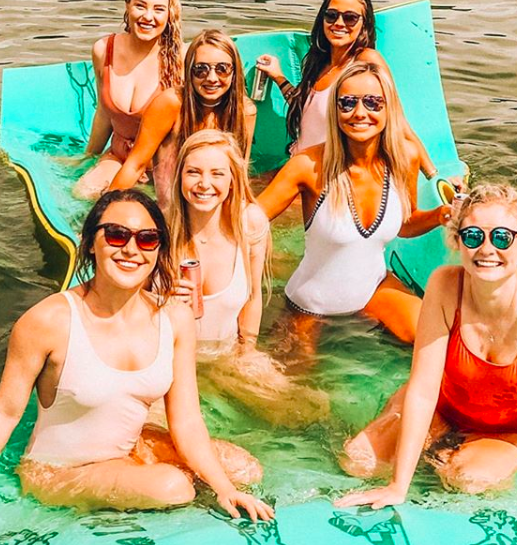 We would love to help you add in flower crowns to the mix if you want to have flower crowns dropped off at your hotel or airbnb before your day out on a lily pad or boat. They have all different sizes that you can request for your day out on the lake depending on how big your Austin bachelorette party group is. Check out their website here to read up on the lily pads as well as request more information about a day out on the lake. They also have a super fun video that you can watch on YouTube here about their boat rentals for bachelorette parties in Austin.
Diva Dance ATX
Okay, we LOVEEEEE to get our dance on and get some exercise on while on a bach weekend. Diva Dance actually has franchises all over the US and Austin happens to have a great one. Check out Diva Dance ATX's instagram here for some fun photos to get you in the dancing mood for your Austin bachelorette party weekend.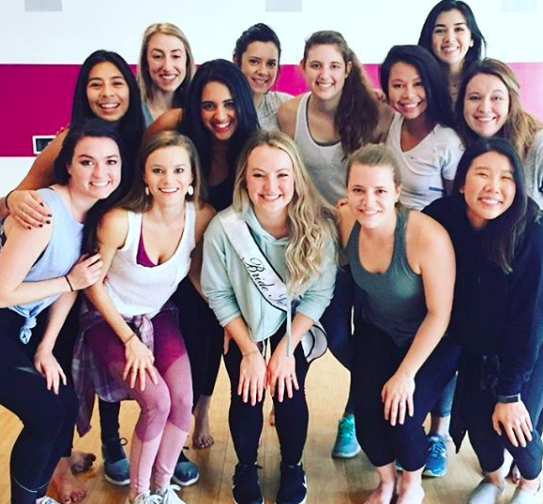 How cute would it be to add in a flower crown workshop before your dance class so you could take photos in the flower crowns after your class? We would be happy to drop off custom flower crowns to your class so you can have them or do a class with you before hand. Just fill out our form here on our Austin bachelorette party landing page to request more information about a flower crown party with us.
Candles and Co
This company is super cool! They do candle making classes for celebrations like bachelorette parties. We love this idea. Any bachelorette activity where you can take home a bachelorette favor or bachelorette gift is a good one in our books.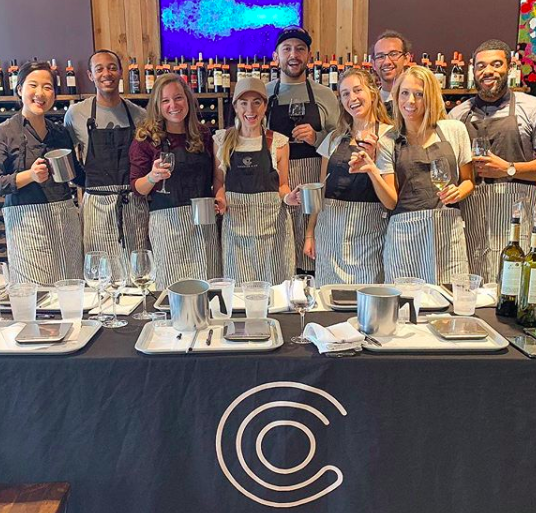 Sometimes you bachelorette group needs a more relaxing option and we think the candle making class at your hotel or airbnb is a great one. It also looks like you can book them at local venues like bars and restaurants too. Check out their website here to learn more about booking a candle making class or workshop as part of your Austin bachelorette party weekend.
Fetes de Fleurs Flower Crown Parties
We can't leave ourselves out, can we?!?! No way Jose. We have flower party hosts in cities around the US for your floral party needs. If you are looking for a chic bachelorette party activity where your group can learn a thing or two about flowers while create flower crowns to wear for their weekend in Austin or for a night out in Austin then we have the activity for you.
We come to your hotel or airbnb to setup a beautiful flower bar. We then teach your group how to make flower crowns that you will wear out and about. You will have a great time with Myranda, our Austin flower party host. You can do flower crown workshops as well as flower arranging workshops if that is more your thing. Just fill out the form here to learn more about hosting a flower party for your Austin bachelorette party. We hope to flower party with you on your Austin bachelorette weekend.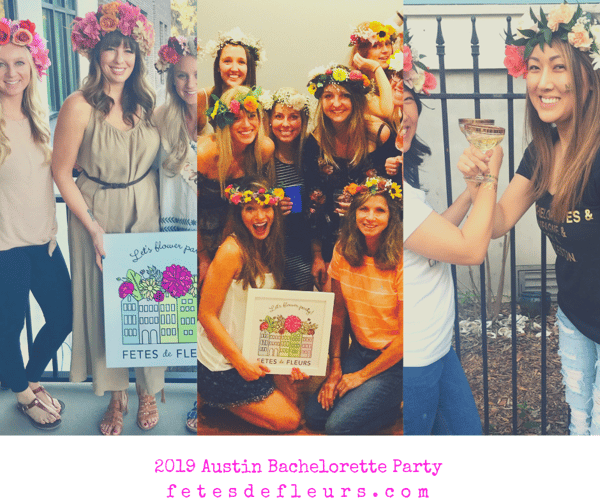 We will continue to add in fun bachelorette party activities into our post here as we find out about more fun things that we want to recommend to our bach parties in Austin. If you would like to request more information about hosting a flower arranging party or a flower crown party for your Austin bachelorette party please reach out using the form here.