Thanks for stopping by! We are happy you are here and likely researching some fun bachelorette party activities and ideas for your upcoming bachelorette party to Austin, Texas. We are a flower party business with locations throughout the US in cities where bachelorette parties frequently happen.
We host floral workshops in cities including Austin, Texas for celebrations like bachelorette parties. We will come to your hotel or airbnb to setup our signature FETES FLOWER BAR with all the supplies to do a fun, floral activity for your bride tribe. If you are looking for a fun, different, classy activity for your bachelorette bash we would love to work with you on a flower crown workshop or a floral arranging workshop for you and your bride tribe.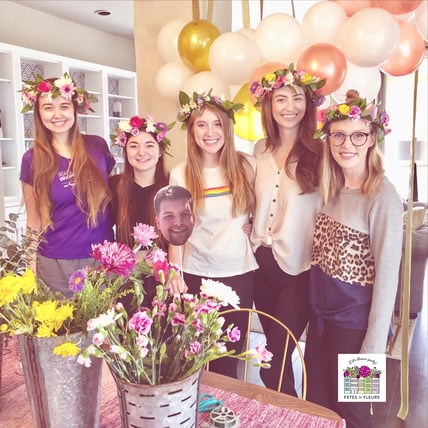 This past weekend we had a flower crown workshop for a lovely group of ladies with our flower party host, Myranda in Austin. Austin is a top spot for any bachelorette group and we are so happy to provide you with a fun, girly, floral activity for your Austin bachelorette parties.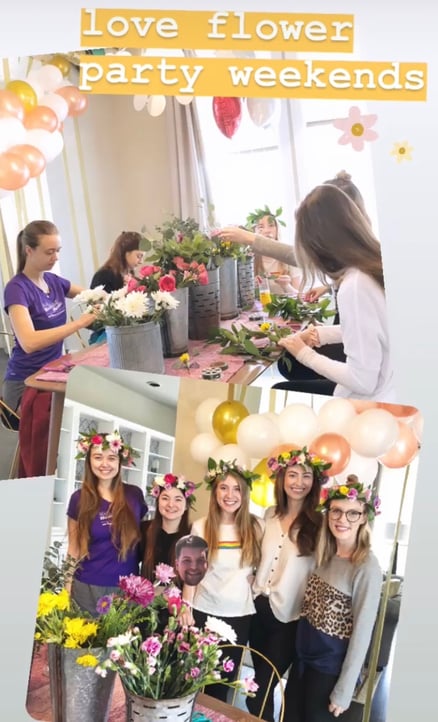 This past weekend we headed out to an airbnb to setup for a flower crown workshop for a group of 5 ladies. We worked with Nikki who owns A Fling Before the Ring on this party.
A Fling Before the Ring is a bachelorette party planning company that we partnered up with this year. She is amazing and will help your bachelorette party group plan all of your activities for your bachelorette party. Read up on them here on their website and inquire about how they can help you in your bachelorette planning too. We highly recommend them if you are in need of help! You can also check out A Fling Before the Ring INSTA here to be inspired on things you might want to do on a bachelorette party weekend that you might be thinking about planning this year.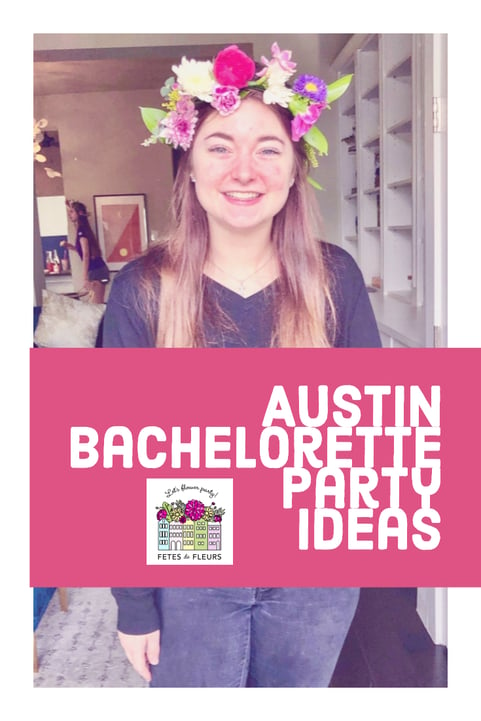 Check out this balloon install that they did at the airbnb that our Austin flower party hostess got to go to this weekend for their floral activity. We also love the idea of getting the bachelorette's hubby-to-be's face on sticks like this as photo props for the bachelorette weekend. Also, wait until you see a photo of what one of the girl's did with a flower crown for one of these photo props below.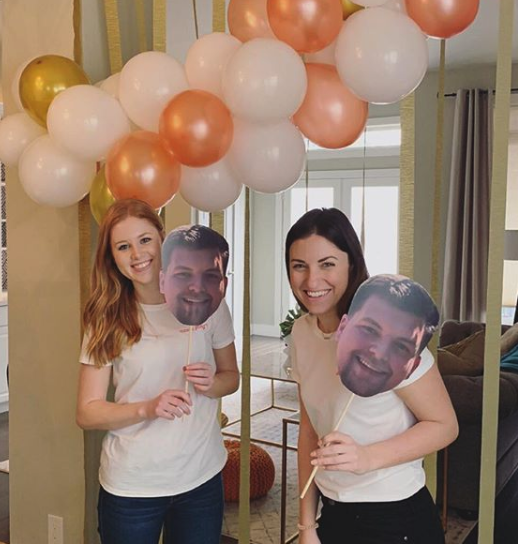 These girls had so much fun making flower crowns with our flower party hostess in Austin, Myranda. Myranda always goes above and beyond in picking the best selection of flowers for your flower parties in Austin. We are super lucky to have her as our hostess there for you.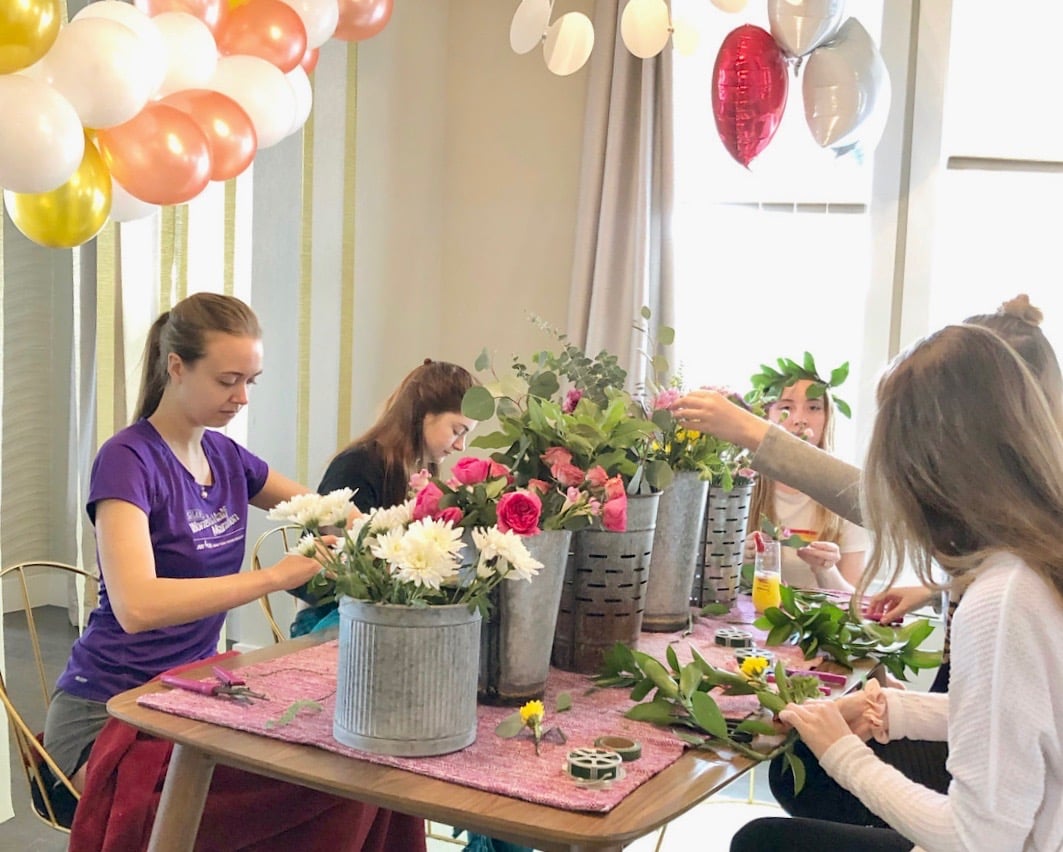 We will come to your airbnb or hotel to setup our flower bar (as we said above). We will work with any space that you give us so don't worry about a thing. All we need you to do is tell us how many people are in the party, the time and date you would like to do (a 2 hour slot) and then we will plan the rest with a point of contact from your group.
As you can see in the photo we come to your space and setup our flower bar with all the real or silk flowers for your group to make flower crowns with. Our flower party hostess will teach the group how to make the flower crown and how to attach the flowers and greenery. Then we will get to work. We will help your group as much as you need along the way. Don't worry if you don't think that your group is crafty. We will figure it out and help you along the way to make the flower crowns just perfect for your bachelorette party group.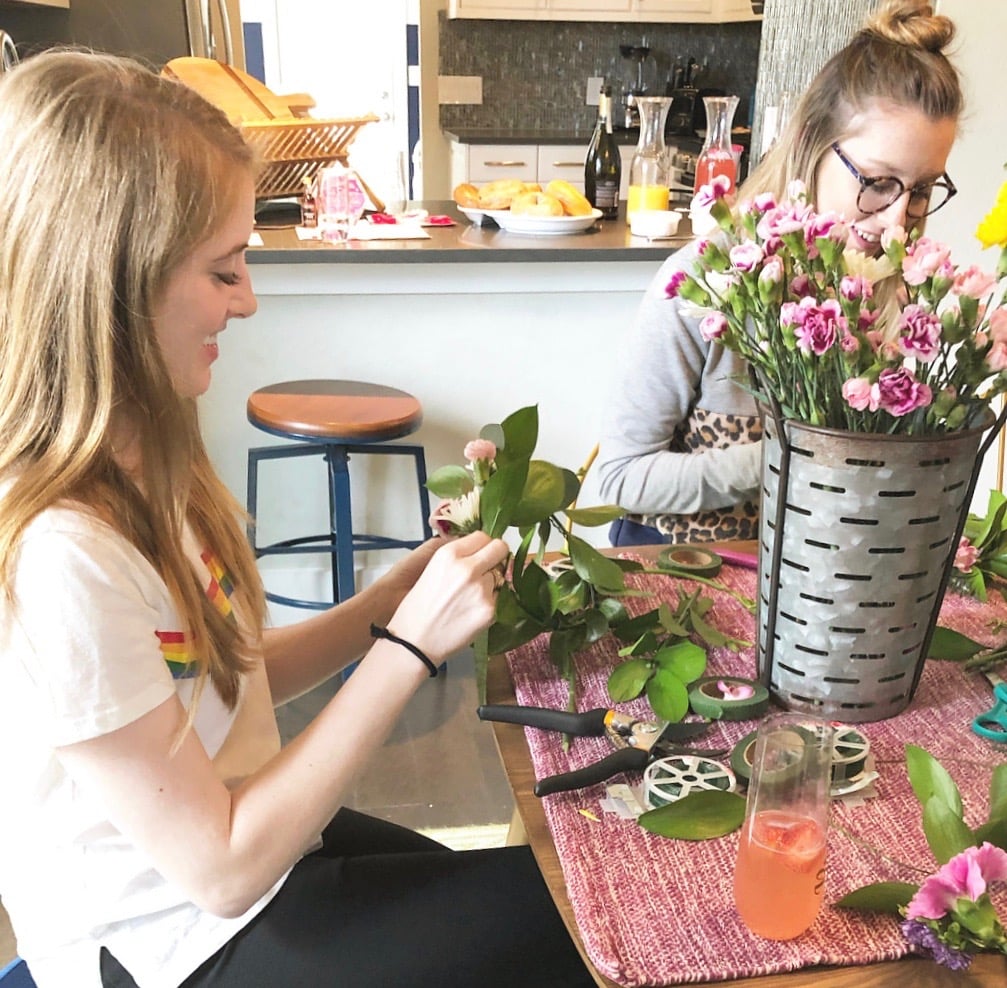 We could NOT believe it but Myranda told us that this group's husband to be planned this whole weekend for them!! Can you believe that!??! Seems like an ideal man to us and we can't wait to find us a man like that!
She hit the marriage jackpot!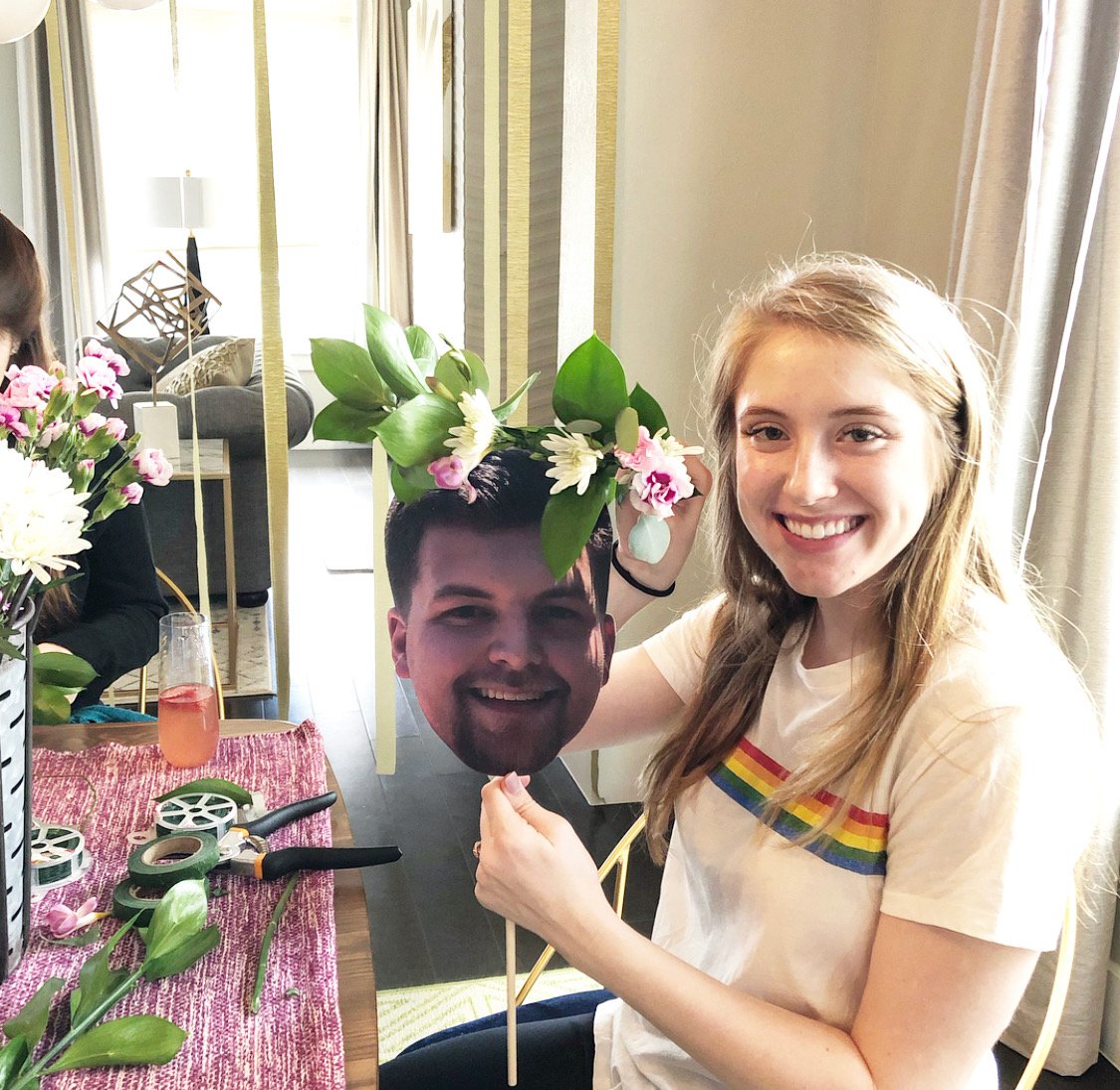 How cute is she and funny? I love that she put a flower crown on the photo prop!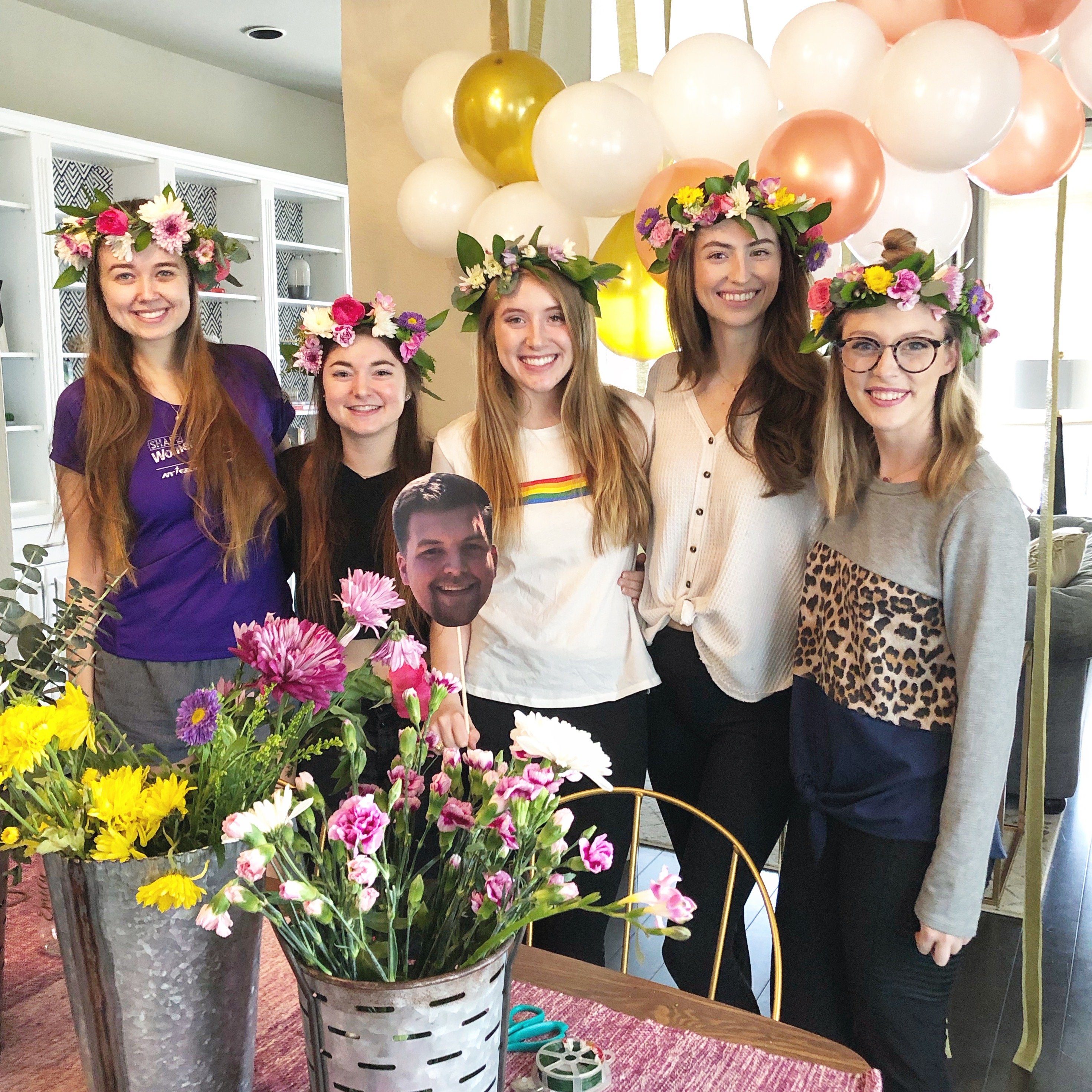 We hope you enjoyed this flower party recap for an Austin Bachelorette Party activity. We would love to help your group of ladies and friends celebrate in Austin with a flower crown workshop. You can fill out the form here to request more information on how our floral parties work.