Are you heading to Savannah for your bachelorette party weekend in 2019?
WELL CONGRATS GIRLIES BECAUSE YOU HAVE PICKED A WINNER OF A CITY FOR YOUR BACHELORETTE PARTY WEEKEND.
WE LOVE SAVANNAH for bachelorette party weekends. It is legit one of the cutest southern cities in the US and we can't wait to help bachelorette parties coming to Savannah this year to party in FLORAL STYLE with our flower crown packages.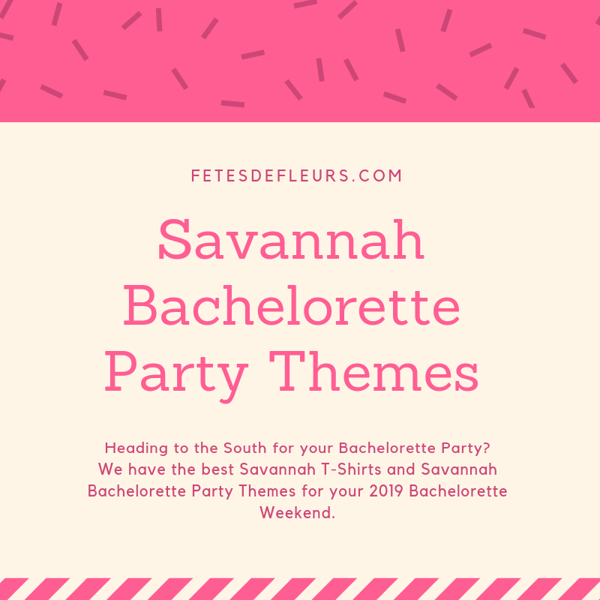 1. You love southern charm.
2. You want to eat good food.
3. You want to be able to drink cocktails in the streets. Yes, you read that correctly. You can drink while you walk around Savannah.
4. You love flowers!!! There are beautiful gardens, and flowers in Savannah.
5. You want to stay at a chic hotel or airbnb with once again, southern charm!
6. You want to be close by to beaches and have good weather.
7. You love a good roof deck with Frose.
8. You want to be in a city with lots to do but that is manageable to walk around in.
9. Top restaurants and bar scene in the US.
10. You want to have options for tours, cultural things to do, etc on your bachelorette party weekend.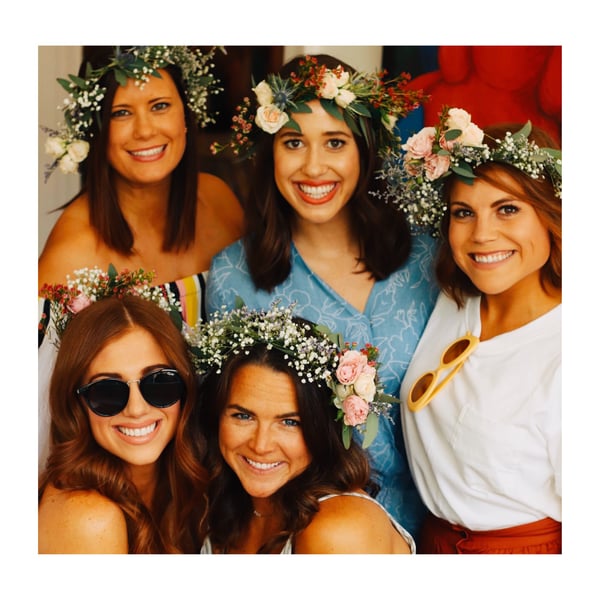 If you have picked to have your bachelorette party in Savannah you probably are now deciding on what bachelorette party favors and bachelorette party gifts you should have for your bride tribe crew.
If you are heading to Savannah you can definitely do a theme that is in line with the Georgia Peach. Here are some cute bachelorette slogans that you could revolve your Savannah bachelorette theme around if you are going in the PEACHY direction.
Where my peaches at?
Feeling Peachy
She is Prettier than a PEACH!
Peachy bride
We love the Peach theme for a bachelorette party weekend because it is just so cute. Add in Savannah to the mix and you have yourself a great theme for your weekend. Throw in peach colored flower crowns with us as well and wear your peach bachelorette party shirts with those flower crowns around town.
Here are a couple of Etsy shirts and Koozies for your drinks around Savannah that we LOVE for the peach bachelorette party theme:
And if a bachelorette party t-shirt with a slogan is not your PEACH then you can do a peach colored bridesmaid t-shirt instead that isn't so in your face with a theme slogan.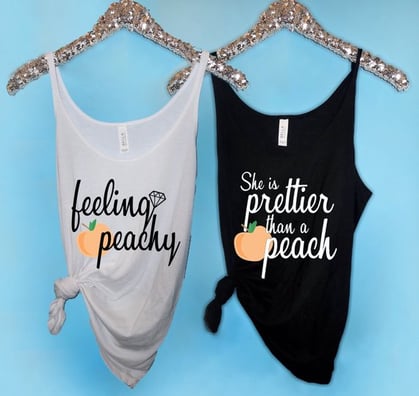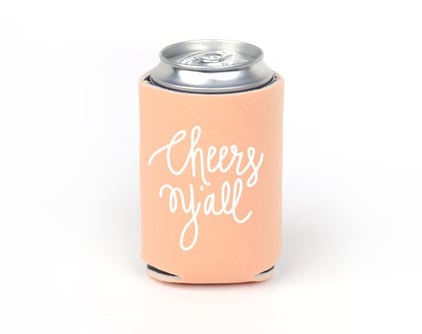 If you haven't found this out already ladies, you are allowed to drink wine, cocktails, frozen drinks, etc on the streets of Savannah. Yes, we know! How cool is that!??! You are in for a real rocking time in Savannah for your bachelorette party weekend ladies.
There are these super cute tote bags that you can have made on this etsy shop here. I would also get t-shirts made or even towels made that match this "sauced in Savannah" bachelorette party theme. These would be great for a day trip out to the beach at Tybee Island. Pop your flower crowns into the beach bag and some rose- head out to Tybee Island or another beach off the coast of Savannah and get sauced in your flower crowns that you made before your beach trip ladies!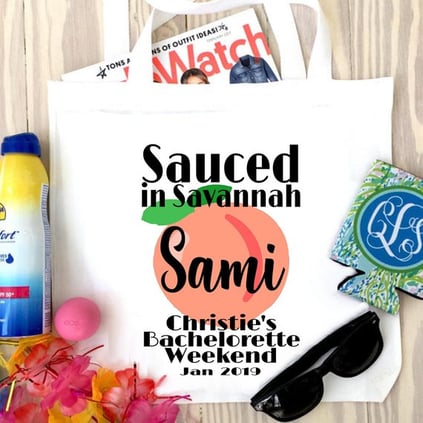 We just adore these cute Koozies with the flower wreath around them! They are such a perfect match for our flower crown parties in Savannah.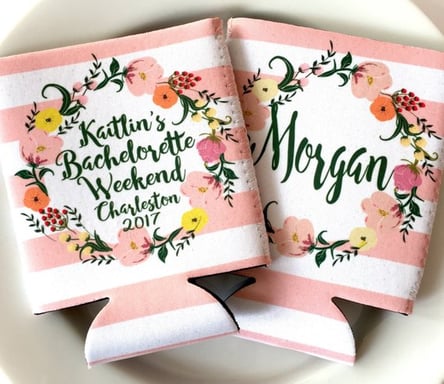 We hope these bachelorette party themes and bachelorette party t-shirts/koozies were helpful as you plan your Savannah bachelorette party weekend. We hope you will consider a flower crown workshop as part of your Savannah ladies weekend or if you don't want to make the flower crowns we can always make them for you and drop them off at your hotel or airbnb so you can just pop them on your head and wear out and about Savannah. Either way, we hope you have the best time in Savannah! If you are interested in learning more about our flower crown parties in Savannah you can fill out the form here for more information!