OMG. You have decided to go to Palm Springs for your bachelorette party! YES, QUEEN. You are about to live it up and have the best freaking weekend of your lives. Palm Springs is a dream place for any kind of trip but Palm Springs SCREAMS girls weekend, ladies weekend or a bachelorette party. We can't wait to help you plan your dream Palm Springs bachelorette party, ladies. One of the first things to think about when planning a Palm Springs bachelorette party is where the heck you are going to stay. So let's get to it.
Palm Springs is the perfect place for a bachelorette group that wants to chill poolside and take some amazing photos with all of the best instagrammable places that Palm Springs has to offer.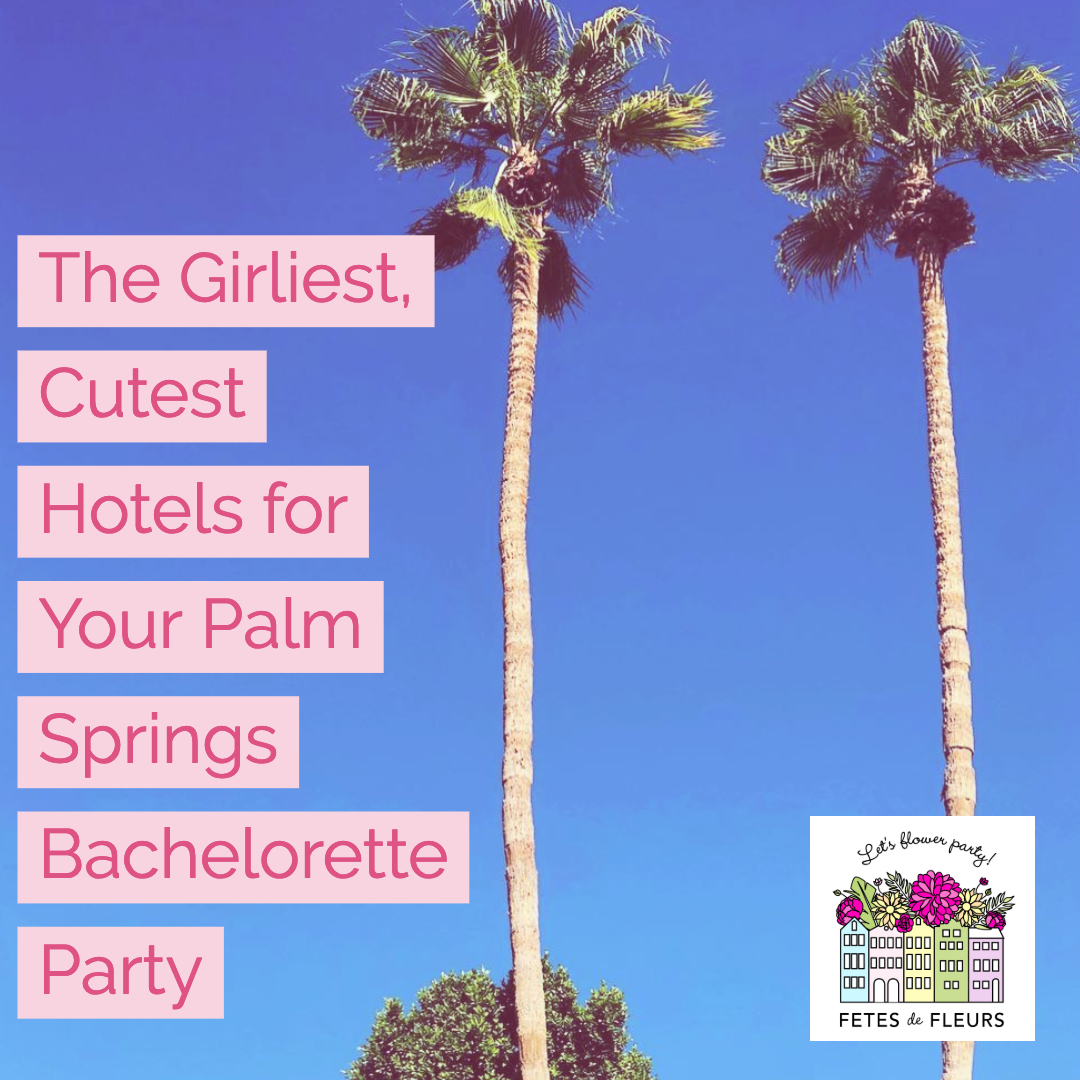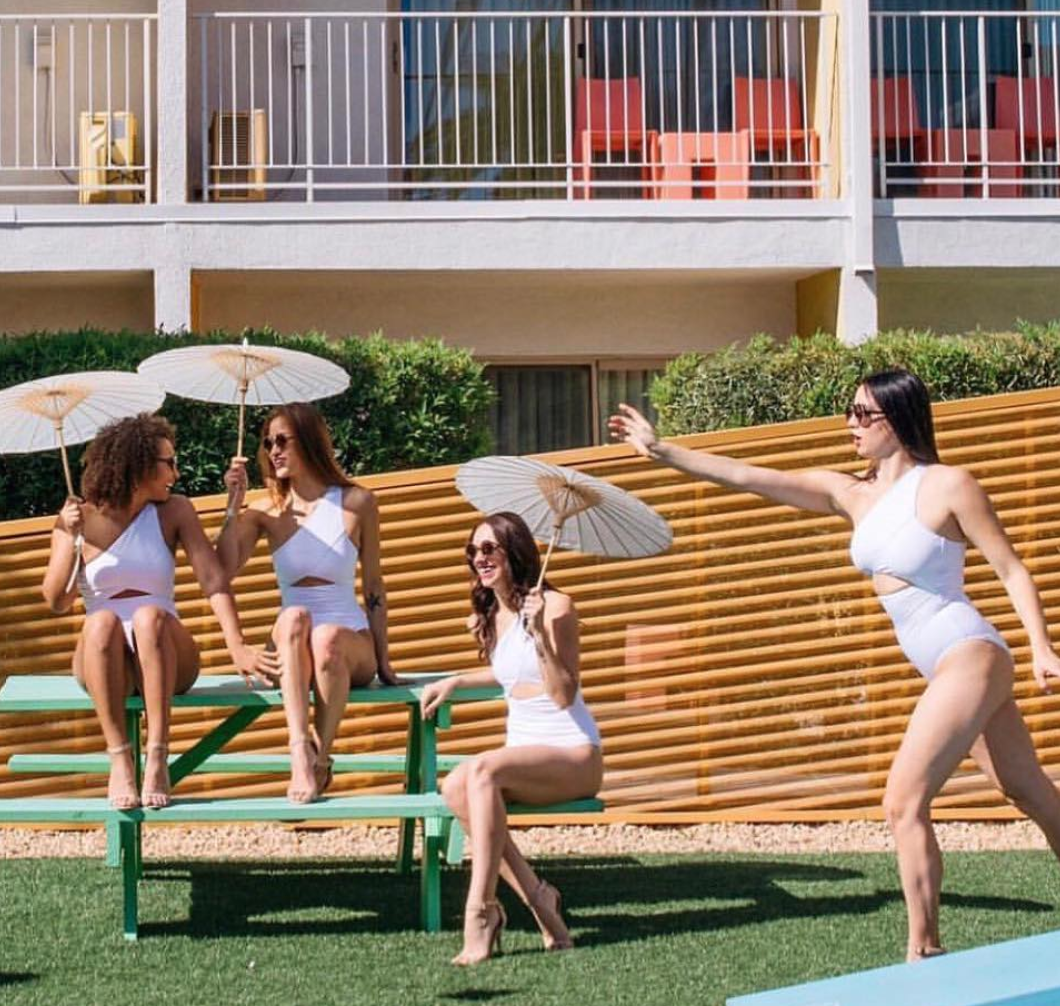 This place always comes up on lists and I can see why. It is a Pinterest lovers dream place. If you love colorful spaces and pink places this might be the right fit for your group. They have amazing palm trees everywhere, a sick pool for sunbathing with some frose and drinks. Oh, and there are colors everywhere. What else can we ask for? You can check out their site for their bachelorette party packages here.
Check out their instagram here to be inspired by beautiful colors and dreamy vacation planning.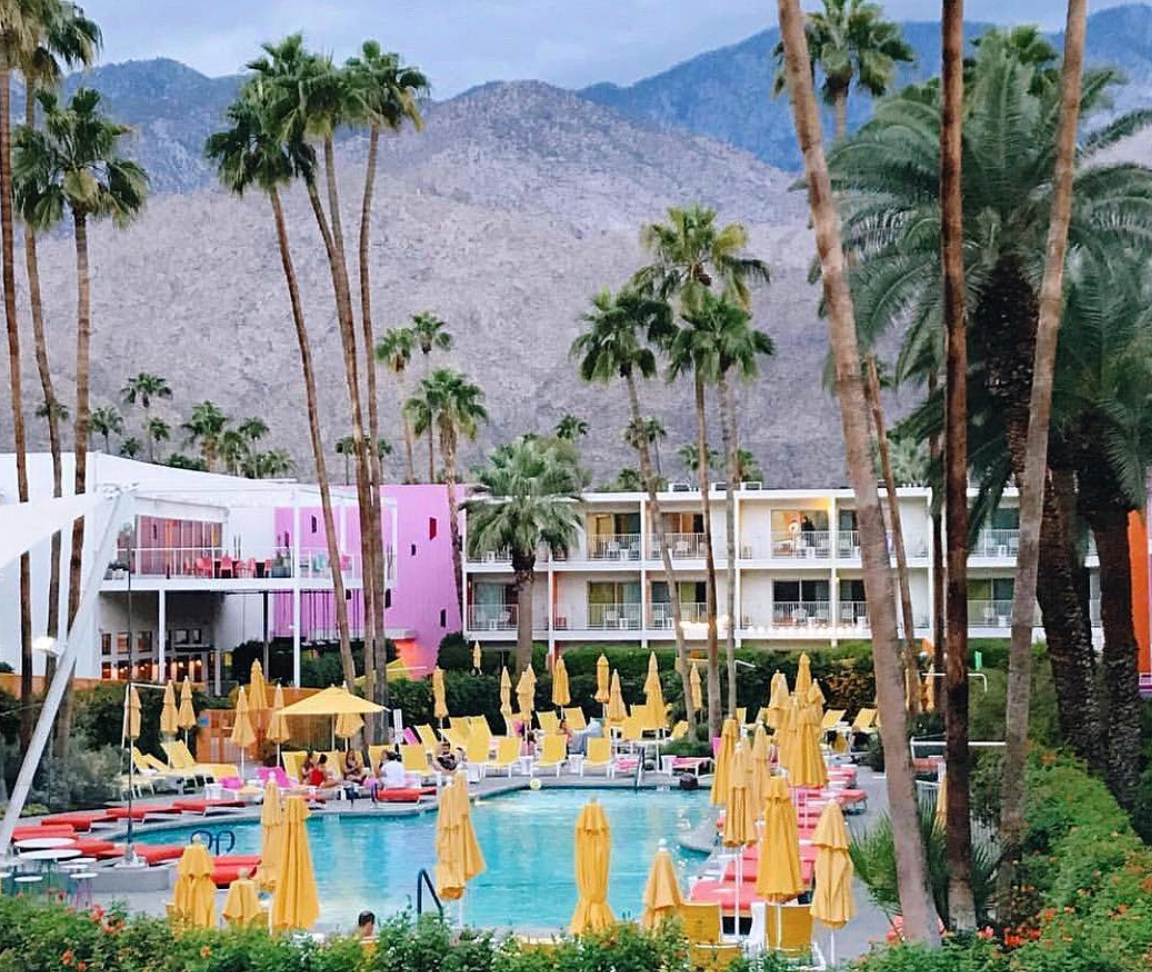 They have desert cruiser bikes, daily yoga and a 24-hour gym plus a spa to take care of all of your bachelorette party fantasies that you can dream up. They also have a select number of poolside daybeds & cabanas for guests and visitors of the hotel to rent out. We can definitely see some bachelorette parties wanting to do this and adding in the flower crown workshop poolside. We love it! Poolside drinks and flower crowns for your Palm Springs bachelorette party.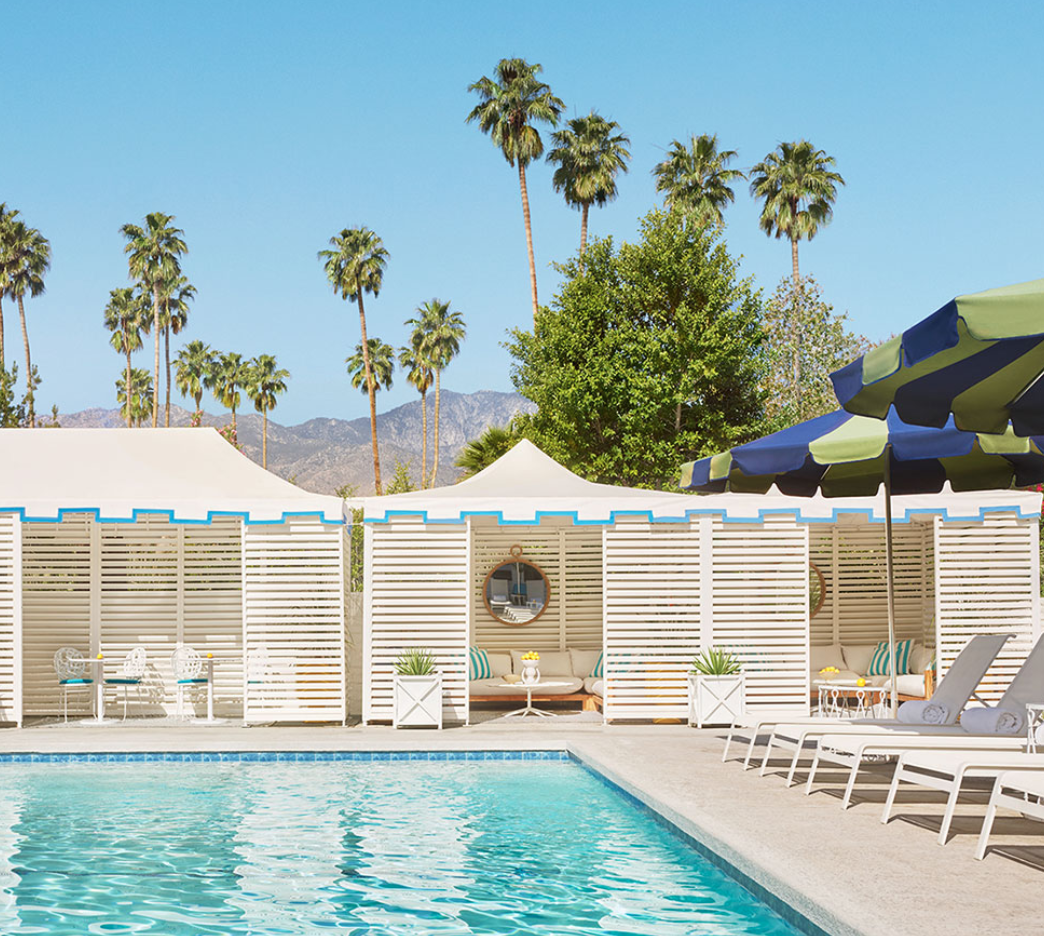 OMG. I could look at their website for probably a whole day and then maybe just book a flight right then and there to get myself here ASAP. On the home page of their website they take you through this dreamy itinerary which shows the most magical photos. I could see myself and our Palm Springs bachelorette parties following this guide to have the best day ever.
They have a few different options for how you want to sleep and stay from villas, to private houses and regular rooms. I think if you have a big group this could be a really special place to stay at and feel oh so pampered and fabulous. Whatever rooms or situation you pick I don't think you will go wrong. Check out their rooms here on their website to see all of the ridiculously beautiful options they have.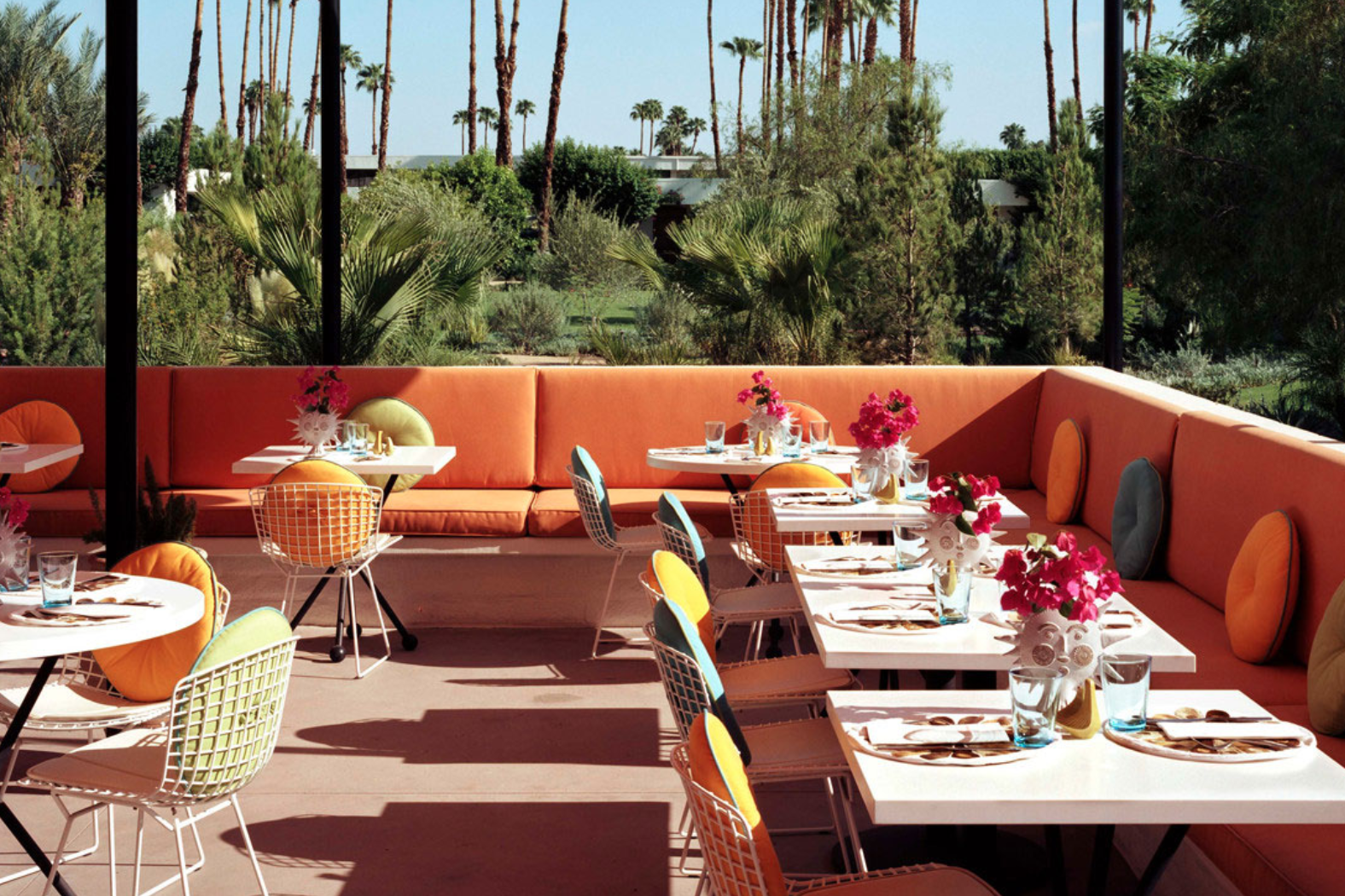 They also have plenty of on site options for your food and drink needs including:
Norma's: the brightly colored open-air Terrace restaurant that serves breakfast all day and night.
Mister Parker's: a darker looking joint that looks chic and perfect for some drinks or dinner.
Counter Reformation: Perfect spot for some vino and conversation.
Mini Bar: Might be my absolute favorite thing decor wise. I mean you have to see these gold palm trees and bright blue decor. Yes please, YES!
Lemonade Stand: We like the name of this place off the bat but wait till you see how beautiful this outdoor spot is for some day drinkies.

The Parker also has this amazing SPA that is called none other than the Palm Springs Yacht Club. I mean, what?!?! We are so in. Take a look at their treatments that they offer to come up with a custom spa bachelorette party package for your weekend in Palm Springs. And if I haven't convinced you yet that this might be the most perfect hotel for your Palm Springs ladies weekend or Palm Springs bachelorette weekend then take a gander at their beautiful instagram and I bet you will be booking in no time.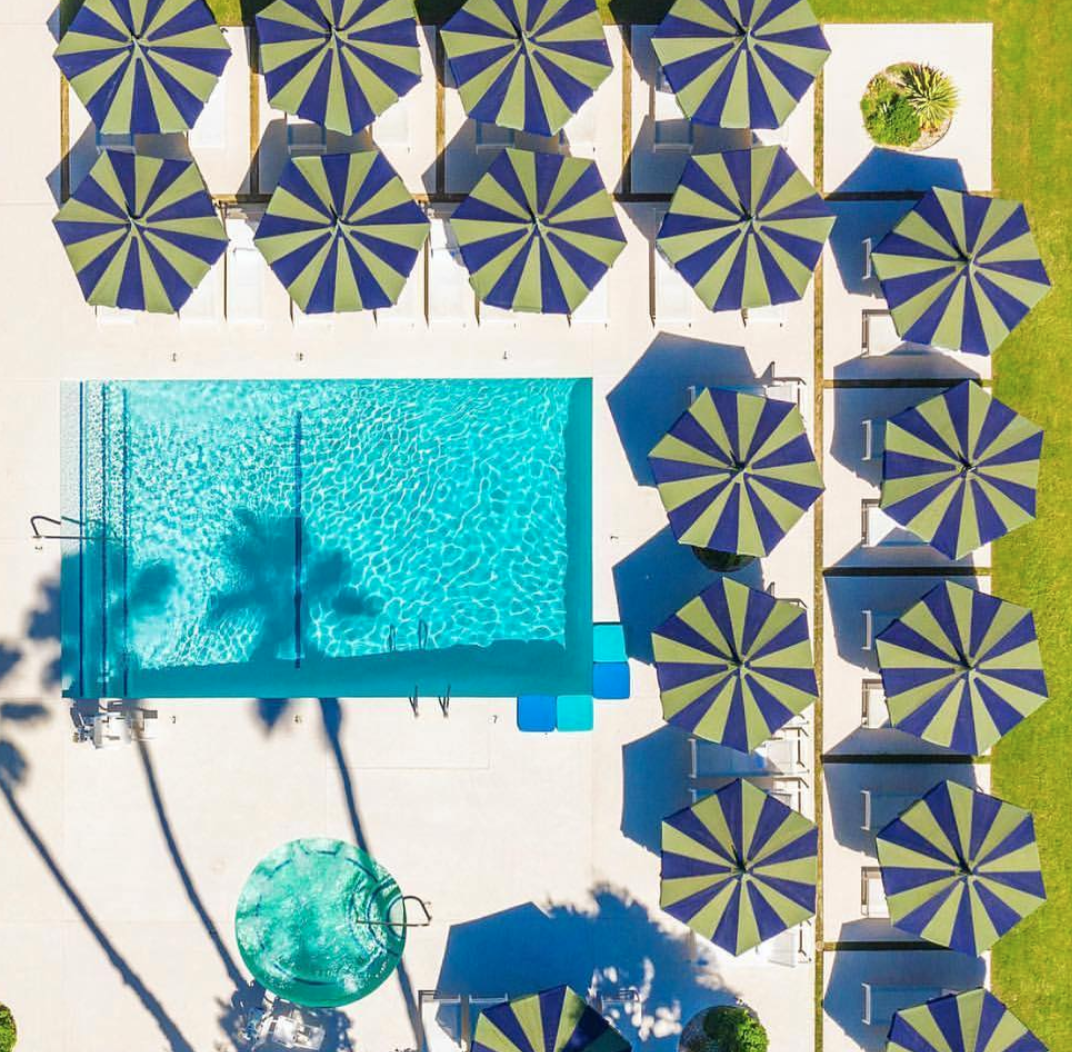 A mid-century desert hotel that has 2 saltwater pools. This is a true desert gem if you are looking to really have that kind of vibe.
Ace Hotel & Swim Club has 179 rooms (some with patios and fireplaces), an organic spa, a roadside diner King's Highway, a vintage photobooth and views of the mighty purple San Jacintos.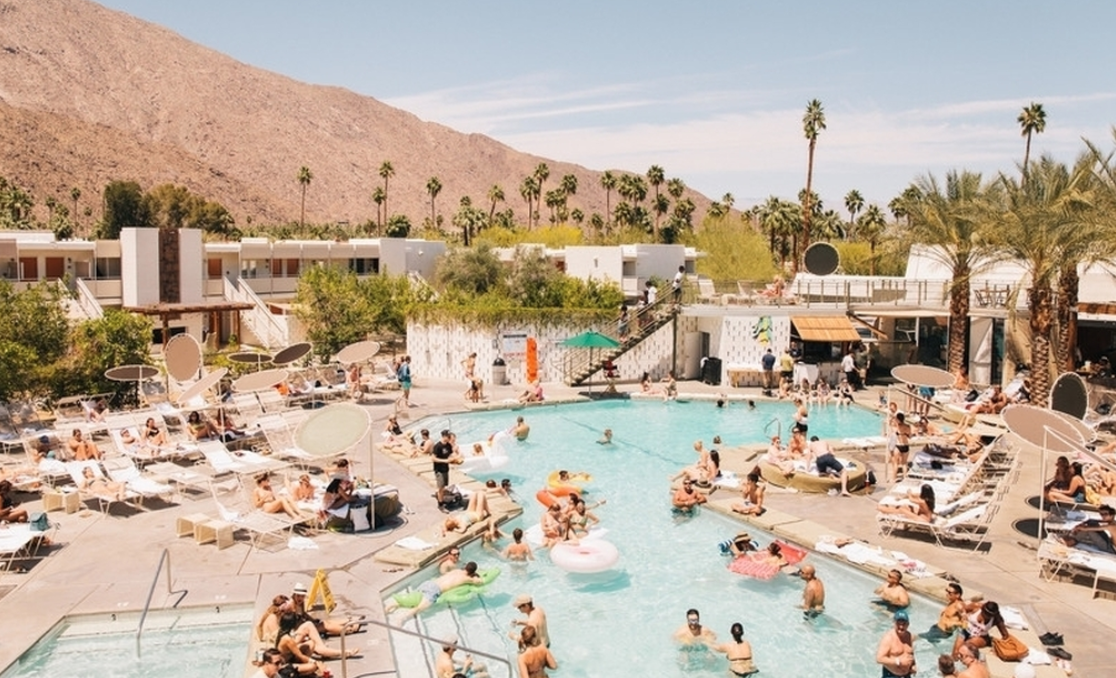 There are fruit and flower trees all around you to experience the real desert vibes you might be looking for on your weekend trip. There are tons of events most nights, like DJ sets or comedy shows that your Palm Springs bachelorette bash can take part in.
You can check out Ace Hotel's INSTA here.
Okay, again...sorry to keep saying this but just get yourself over to their website and you will be thinking- okay yup, we are staying here ladies. They have these cutesy bungalows that you can stay in!!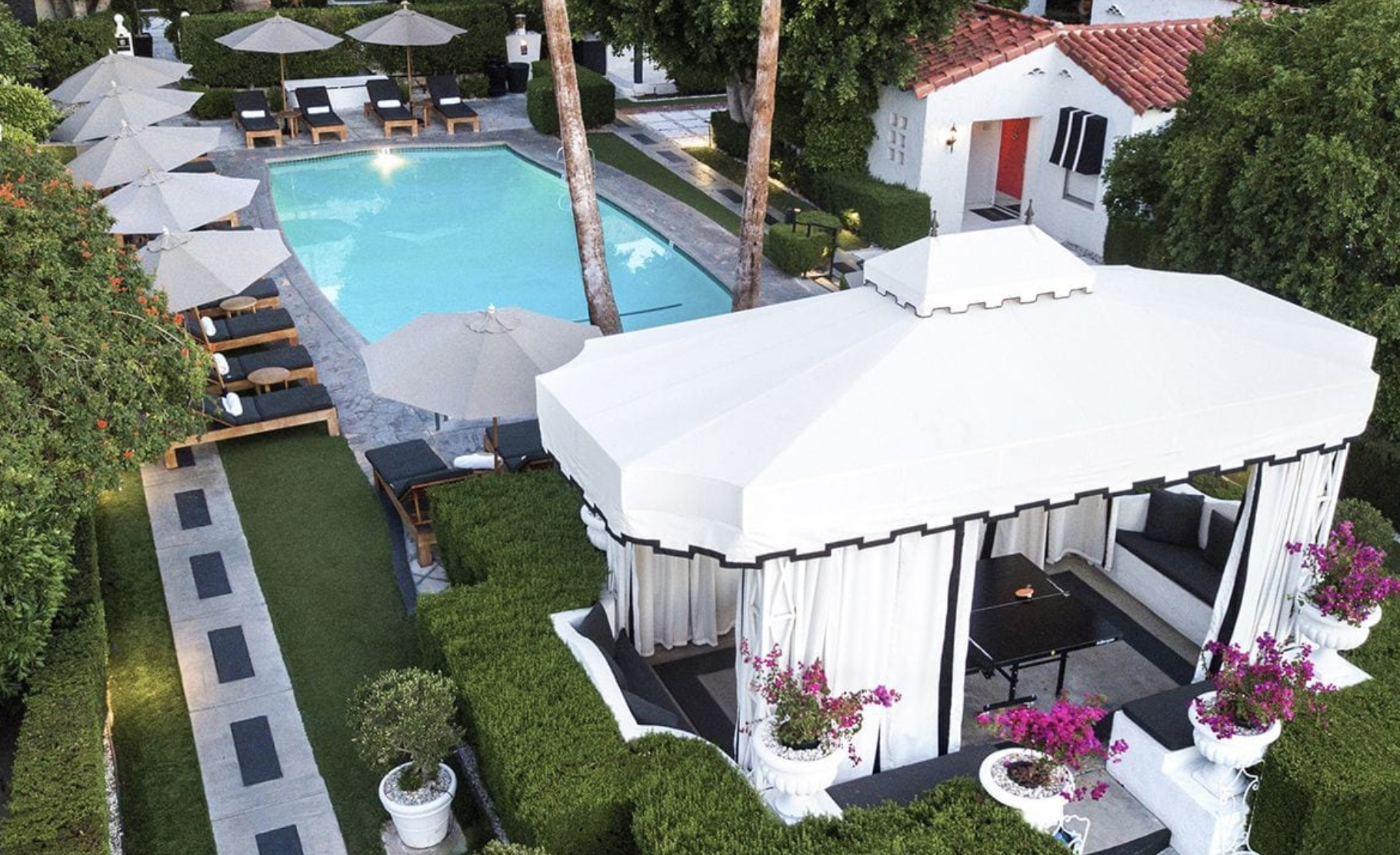 They have all kinds of different rooms and ways to stay which we love having options for our guests and parties. There are 3 pools to pop by and spend some time chillaxing while drinking fun drinks. They also of course have a spa and gym with some Peloton bikes. If you are like me I can't be away from my Peloton for more than like 1 day so its cool that they have these for guests to sweat it out before getting after it again. There is also some rise and shine yoga that is part of staying there. We love a freebie included sweat sesh. We all know that bachelorette parties need some sweat time so this would be a good one.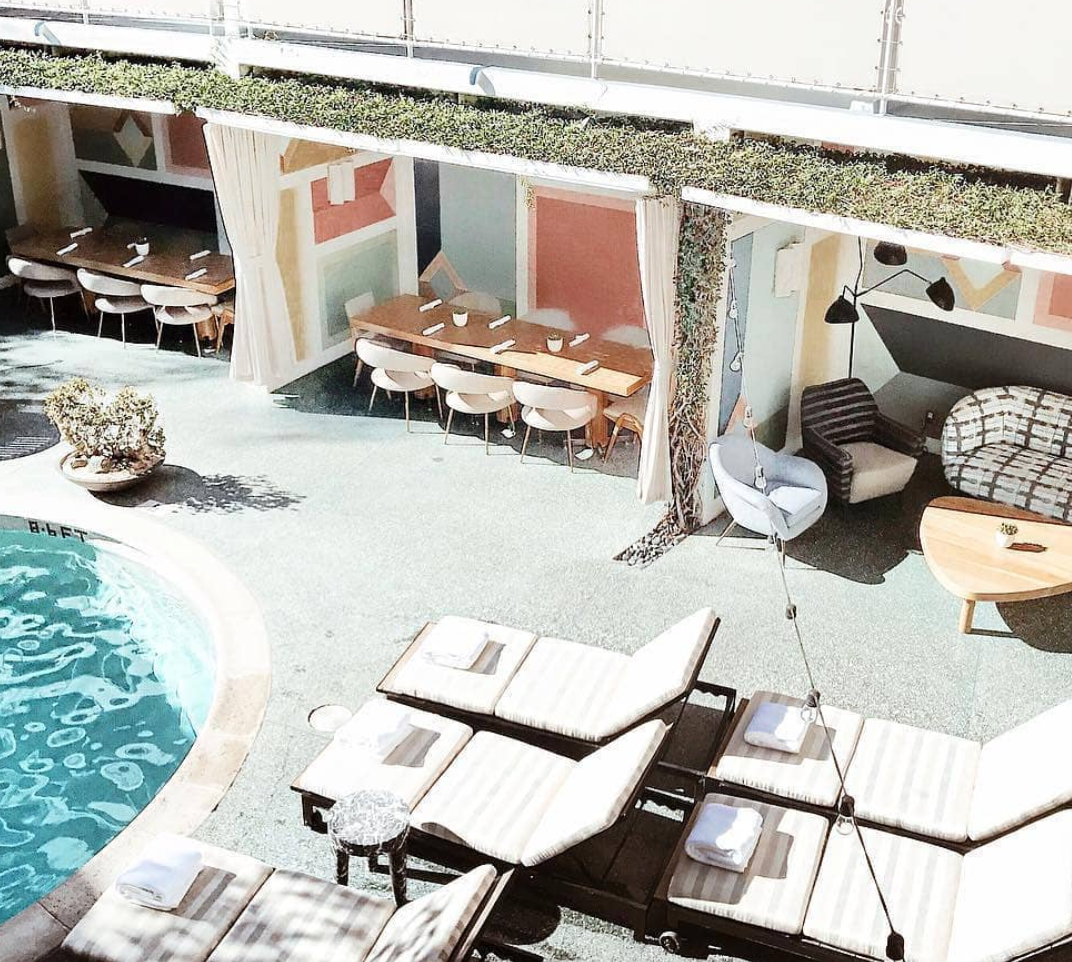 GARDENS!!! GARDENS! They have amazing gardens and flowers and plants for you to paruse through on your time here. Check out their insta here to follow along why I love this hotel so much. They also have lots of games that you can play outside which we love the idea of taking some fun, girly photos playing croquet. Eh?
Wow, just wow. If you are looking for something a little bit different with a mediterranean vibe then this space might be good for your bride tribe.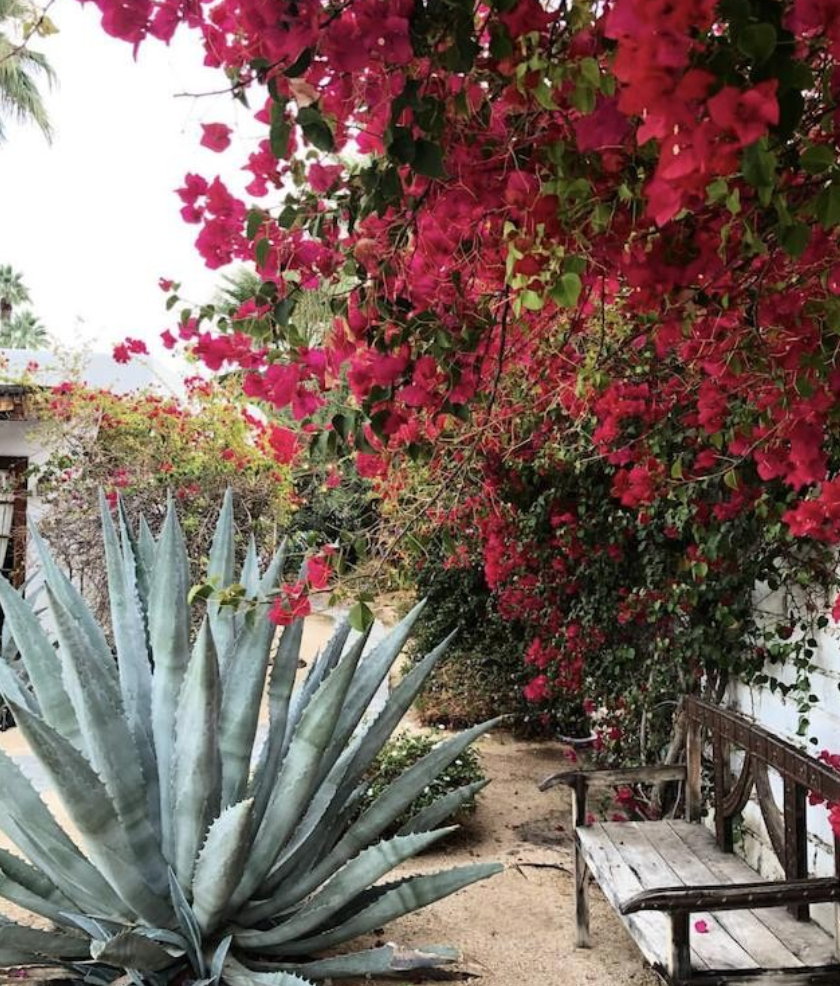 Korakia Pensione offers a unique and relaxing getaway from day to day reality. Crafted after a Mediterranean-style pensione, Korakia blends the silhouette of Tangier with a whisper of the Mediterranean. This place seems so magical and relaxing and nothing like the typical Palm Springs vibe of places we have written about before.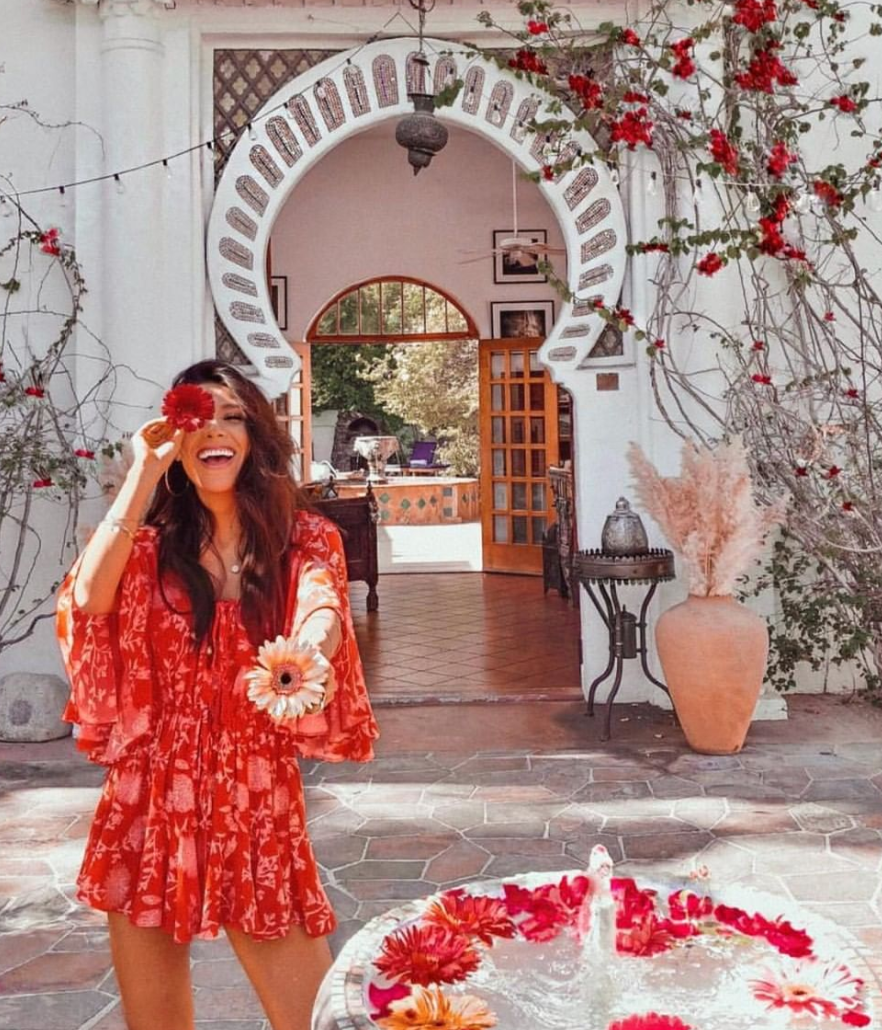 If you are looking for something a little different and more moroccan or mediterranean vibe you should really check this place out! Get ready to be blown away via their INSTA here.
There are so many amazing hotels that your bride tribe could stay at for your Palm Springs bachelorette party or Palm Springs ladies weekend so whatever you pick or whatever your vibe you will be HAPPY. There are also some amazing airbnb's and house rentals that you can pick from too. We will be doing a post on that too so expect that soon. Make sure you check out our Palm Springs bachelorette party guide to stay up to date on all the things we think are the coolest and cutest in Palm Springs.