This past weekend was the kick off to the first bachelorette flower party in sunny Palm Springs, CA. We are so excited to start doing more floral workshops with your groups in Palm Springs. Palm Springs is the perfect PLACE for bachelorette parties because it includes all of our favorite things to make for a girly, fun-filled weekend with friends.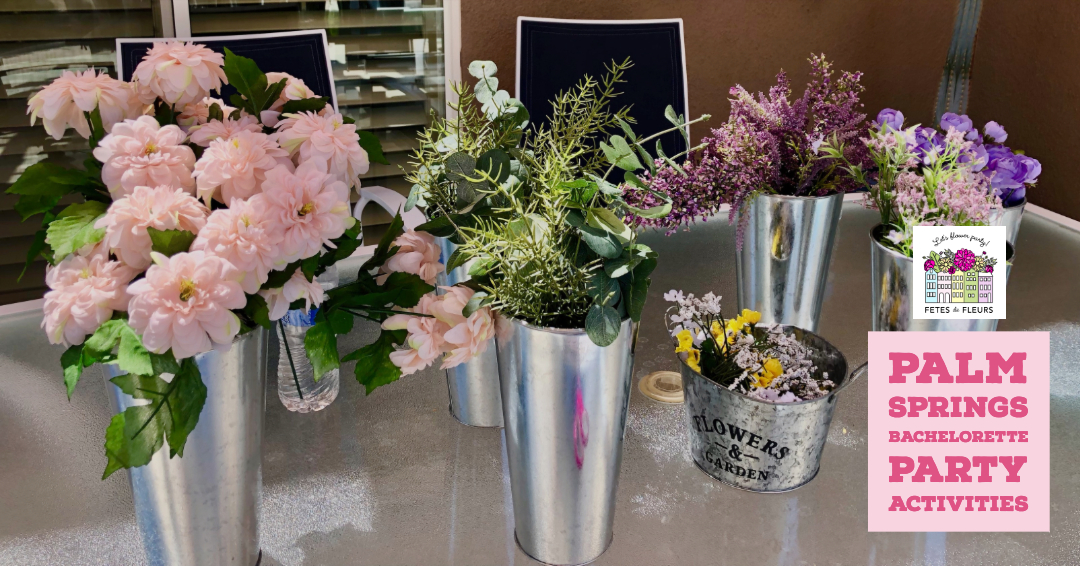 Palm Springs has all the right things to make for the best time away with your girls or bride tribe:
Great weather to enjoy with your friends.
Beautiful places with great architecture.
Great food and places to drink- with beautiful interior design.
Outdoor activities so you don't feel bad about the drinking and eating that you are doing. :)
Wonderful architecture and COLOR, COLOR, COLOR everywhere you turn. Just think of all the fun photos and instagram posts your girls will have!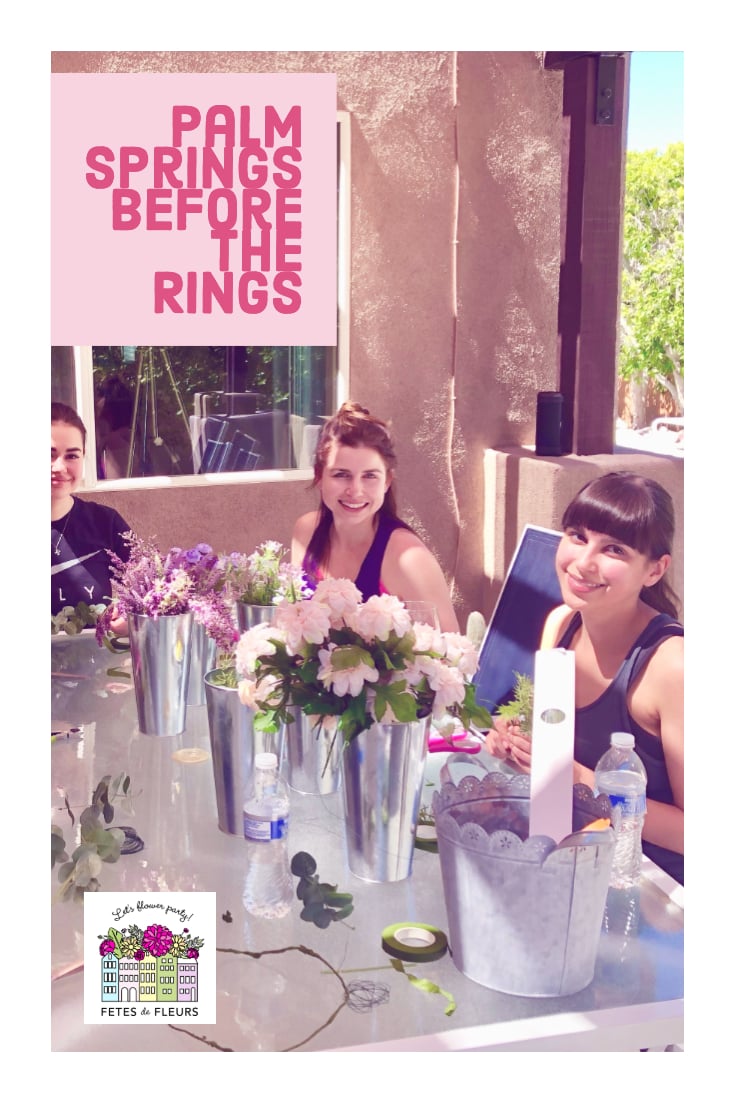 How could you not want to celebrate a bride to be in Palm Springs? Palm Springs SCREAMS bachelorette parties or girls weekend trips.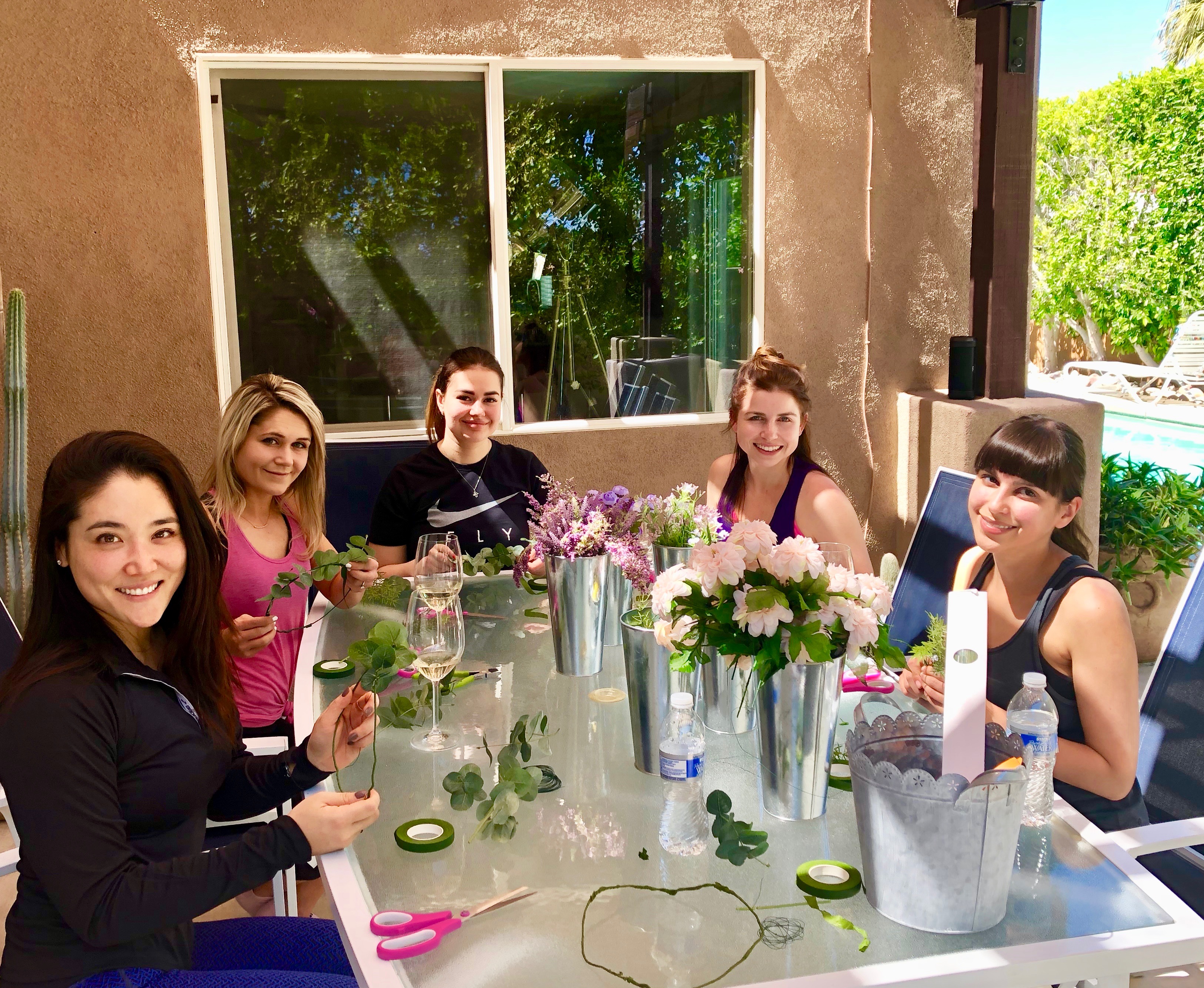 We are pumped to share with you some photos and details on our 1st Palm Springs bachelorette party. It has been a dream of Ali's (our founder) to open up a location in Palm Springs. So I am personally excited to be a part of the team and can't wait to hopefully help you celebrate over floral activities for a girls weekend in Palm Springs or a bachelorette party in Palm Springs in the future.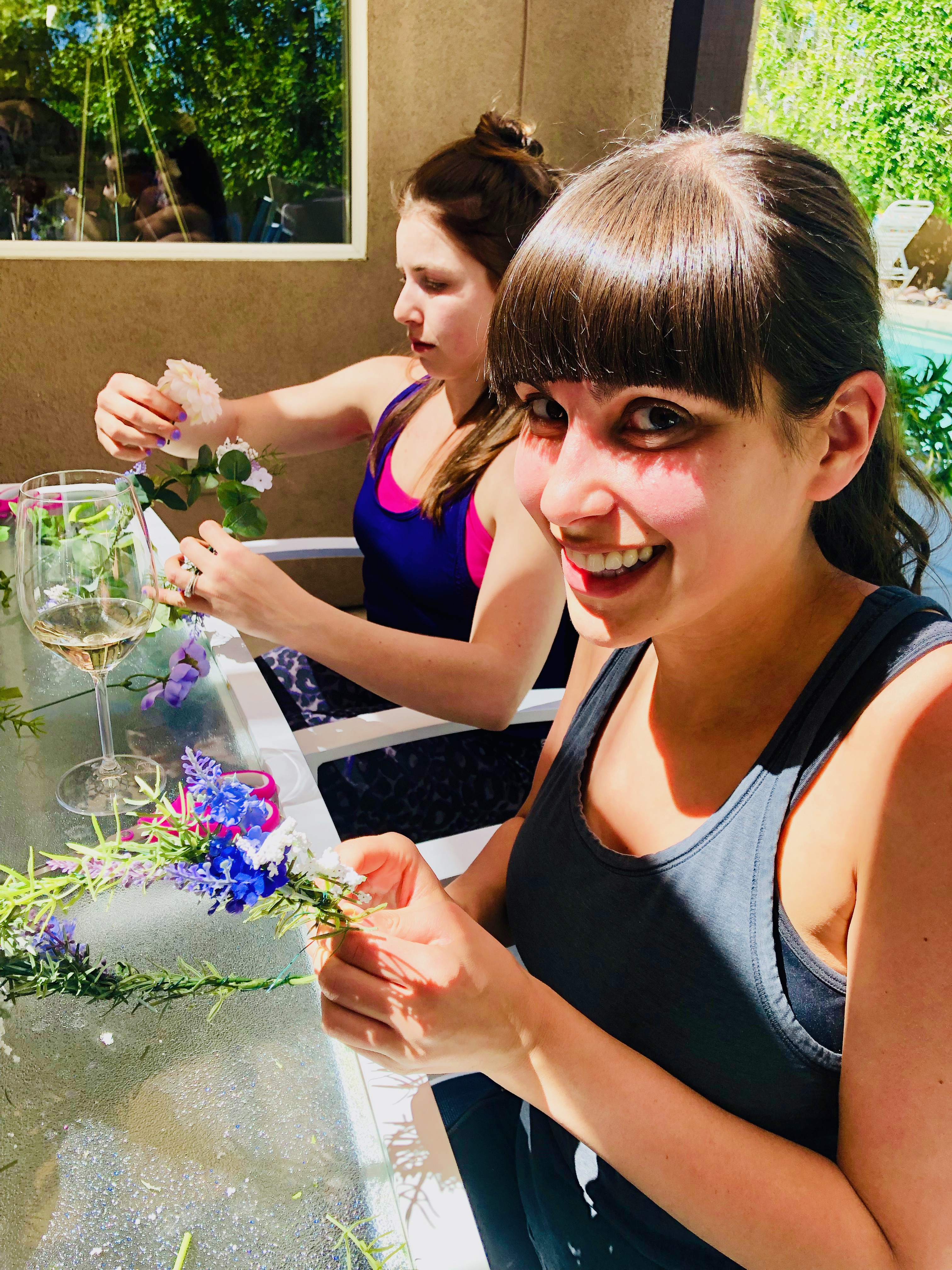 Here are some of the ladies hard at work on getting their greenery onto the bases of their flower crowns out on their beautiful patio overlooking the pool.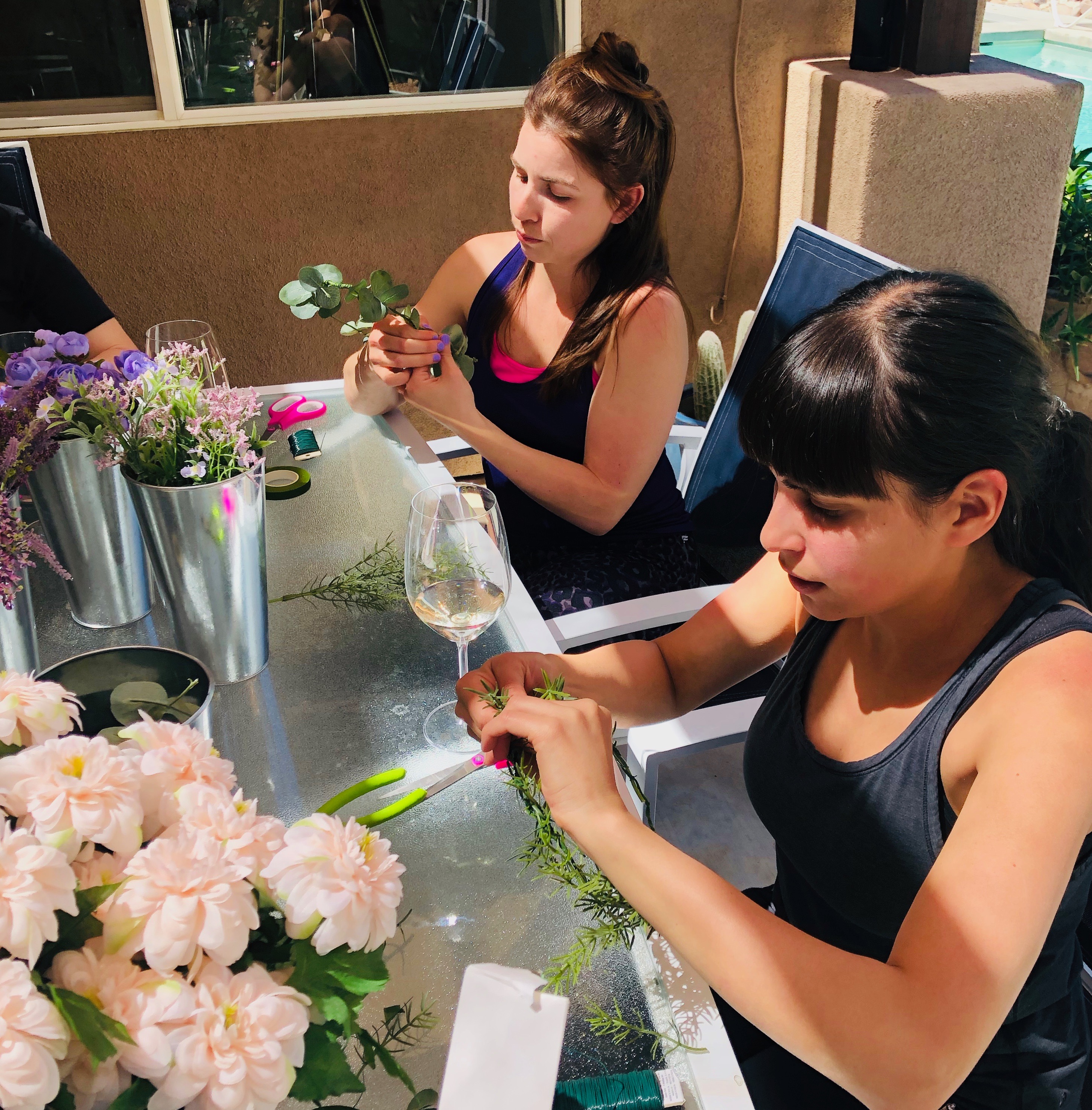 The group of five lovely ladies drove down from Los Angeles, CA to stay at a private home rented from Turnkey. If you head to Turnkey or Airbnb you will find amazing homes to rent in the Palm Springs area. We also wrote up a post before about some of our favorite hotels to stay at for a Palm Springs bachelorette party or girls weekend away here.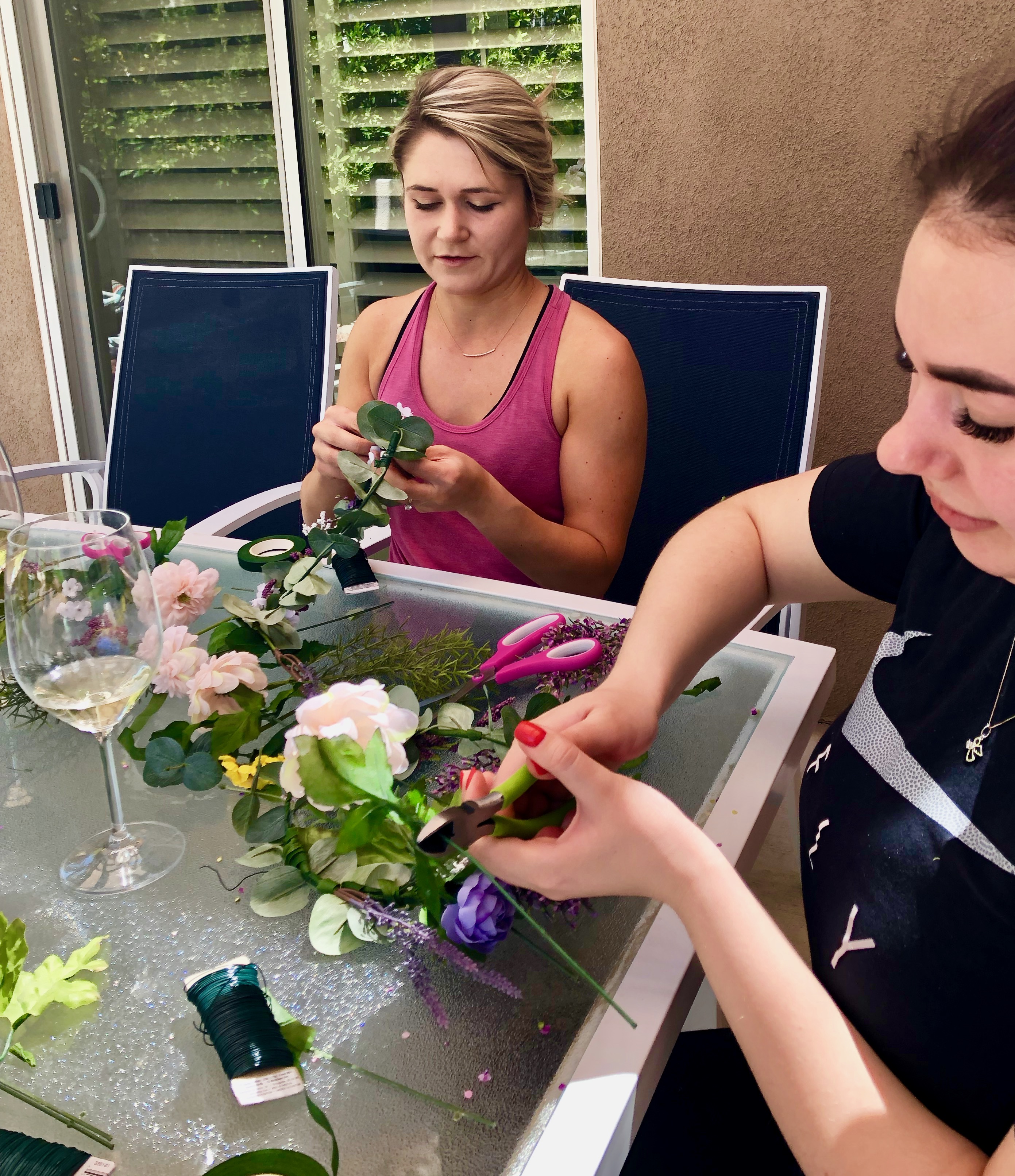 The girls here are working on their silk flowers and attaching the silk flowers to the bases of their crowns. This part can be done with floral wire and floral tape. We explain all parts of attaching flowers and greenery to your crown in the workshop. We love helping groups learn a new skill with florals over a celebratory time like a bachelorette party!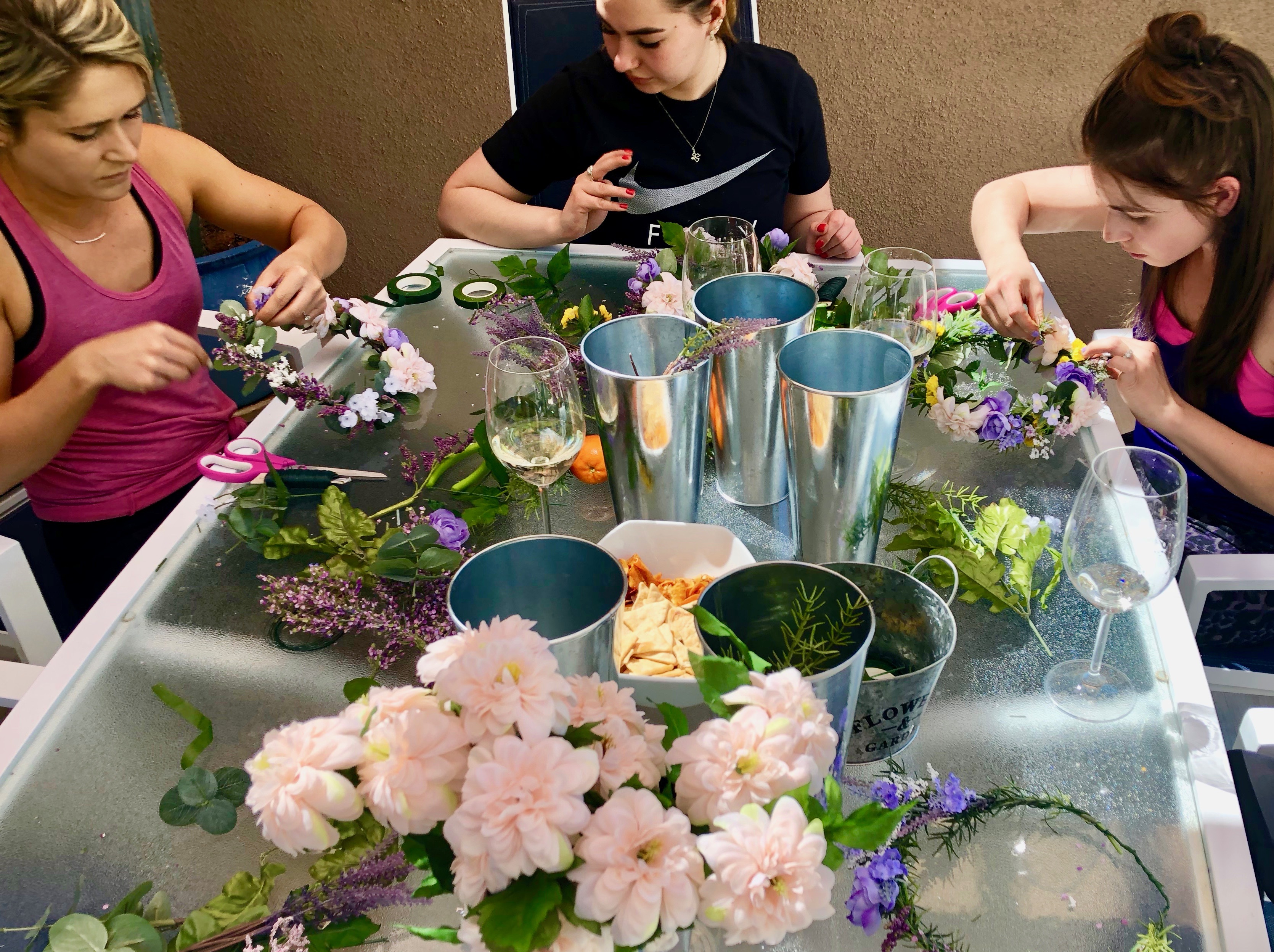 Address of the rental house: 2120 N. Cardillo Ave, Palm Springs, CA 92262
What we like about this location of their rental house: Close to downtown with a beautiful cactus garden and a pool!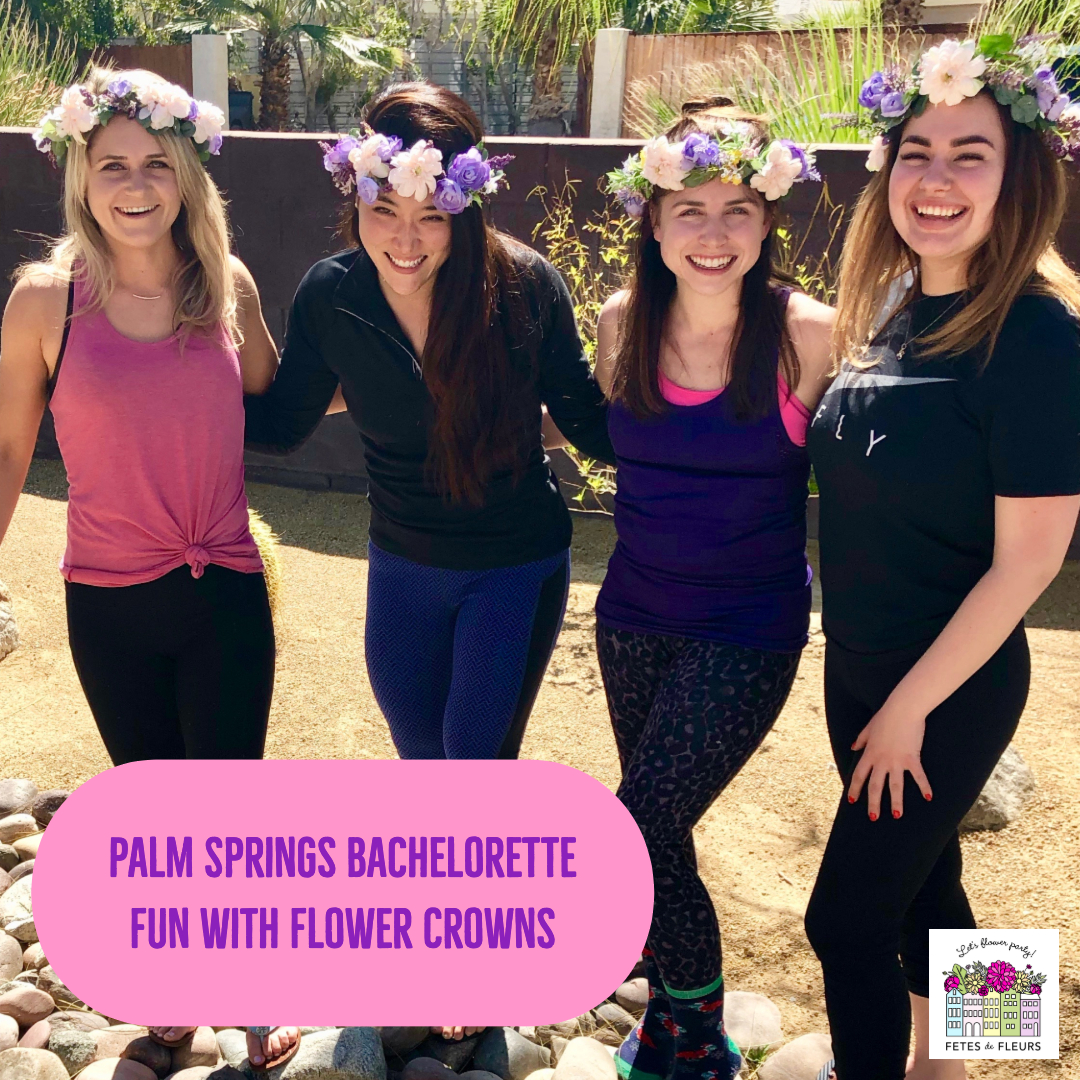 Check out these cuties after they finished their flower crown workshop! We love how cute their purple, white and light pink flower crowns came out. They look like they are having so much fun and just looking at their photos makes us smile.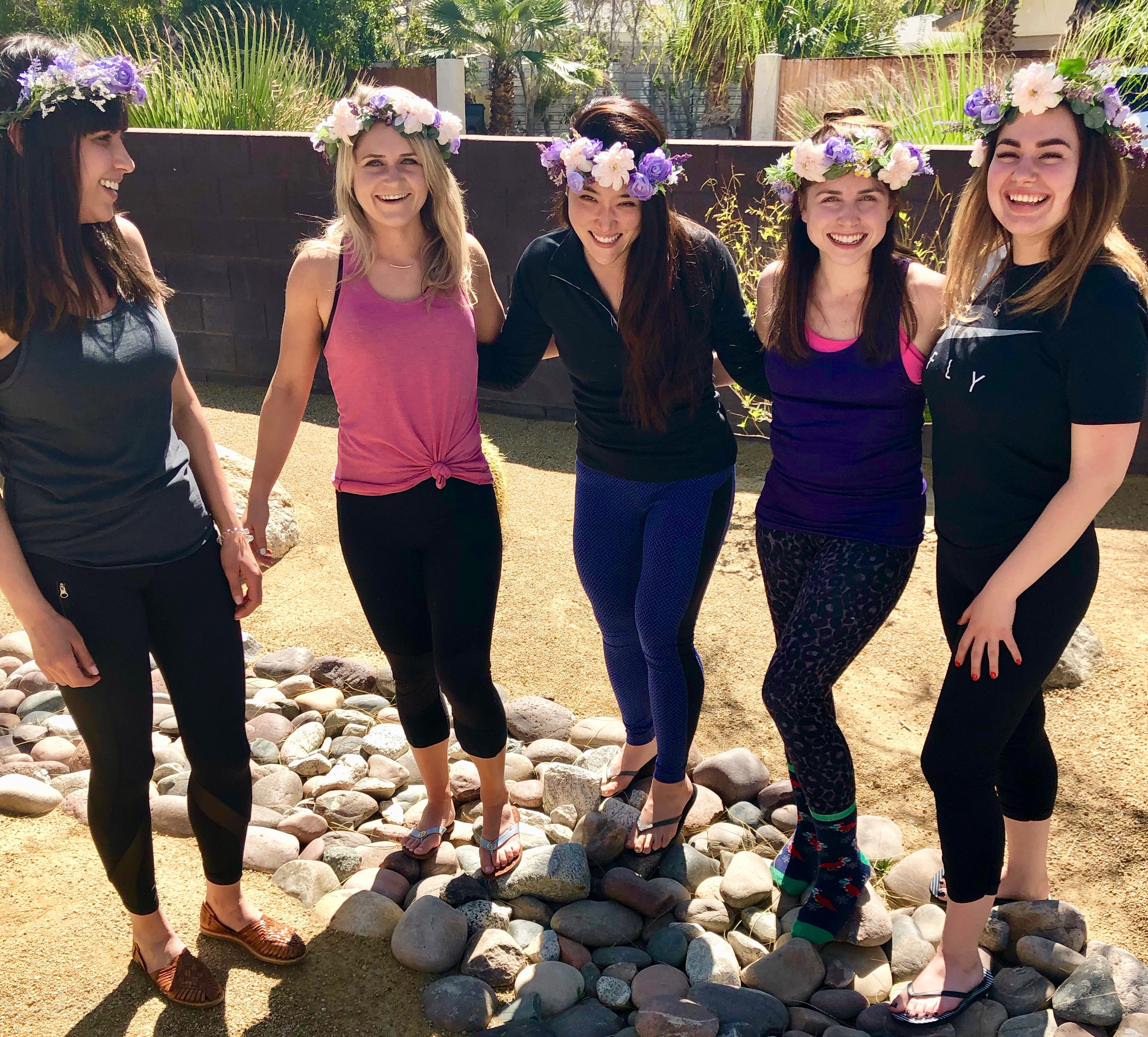 A pool is kind of an important part of wherever you decide to spend your bachelorette party in Palm Springs. It is HOT here so you want to pick a house or a hotel that has a pool so you can enjoy being outside while taking a dip when it gets too hot. This weekend it was about 86 degrees so it was a perfect time for a dip or even some sun bathing by their pool.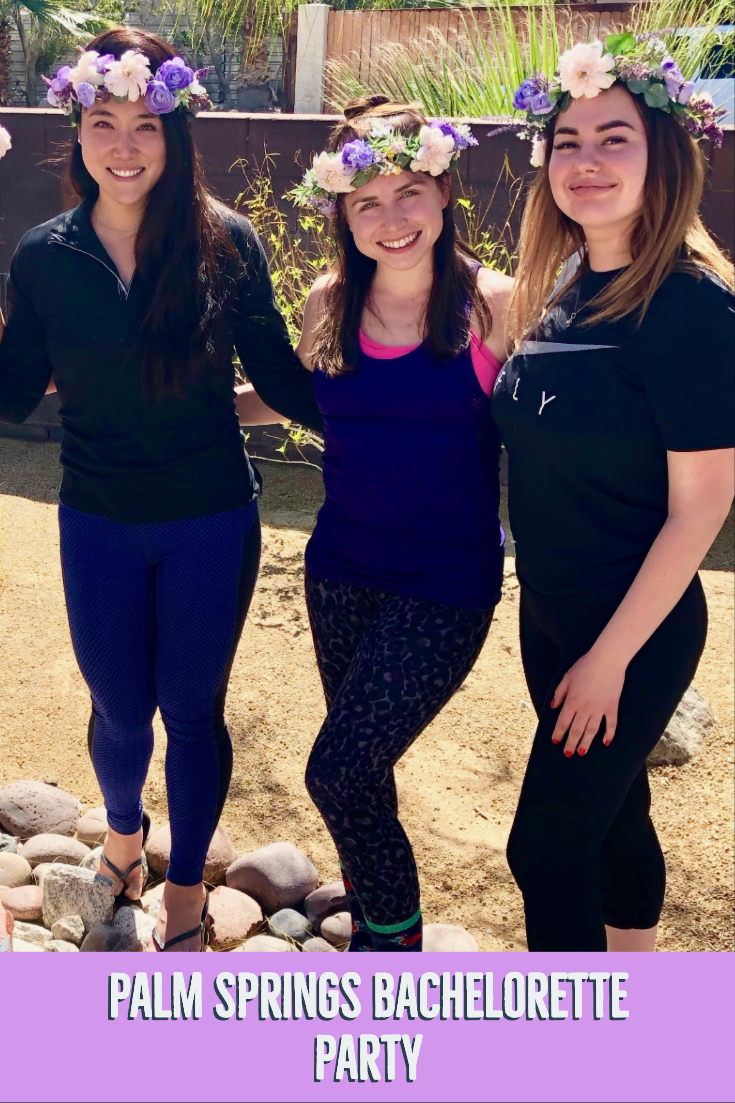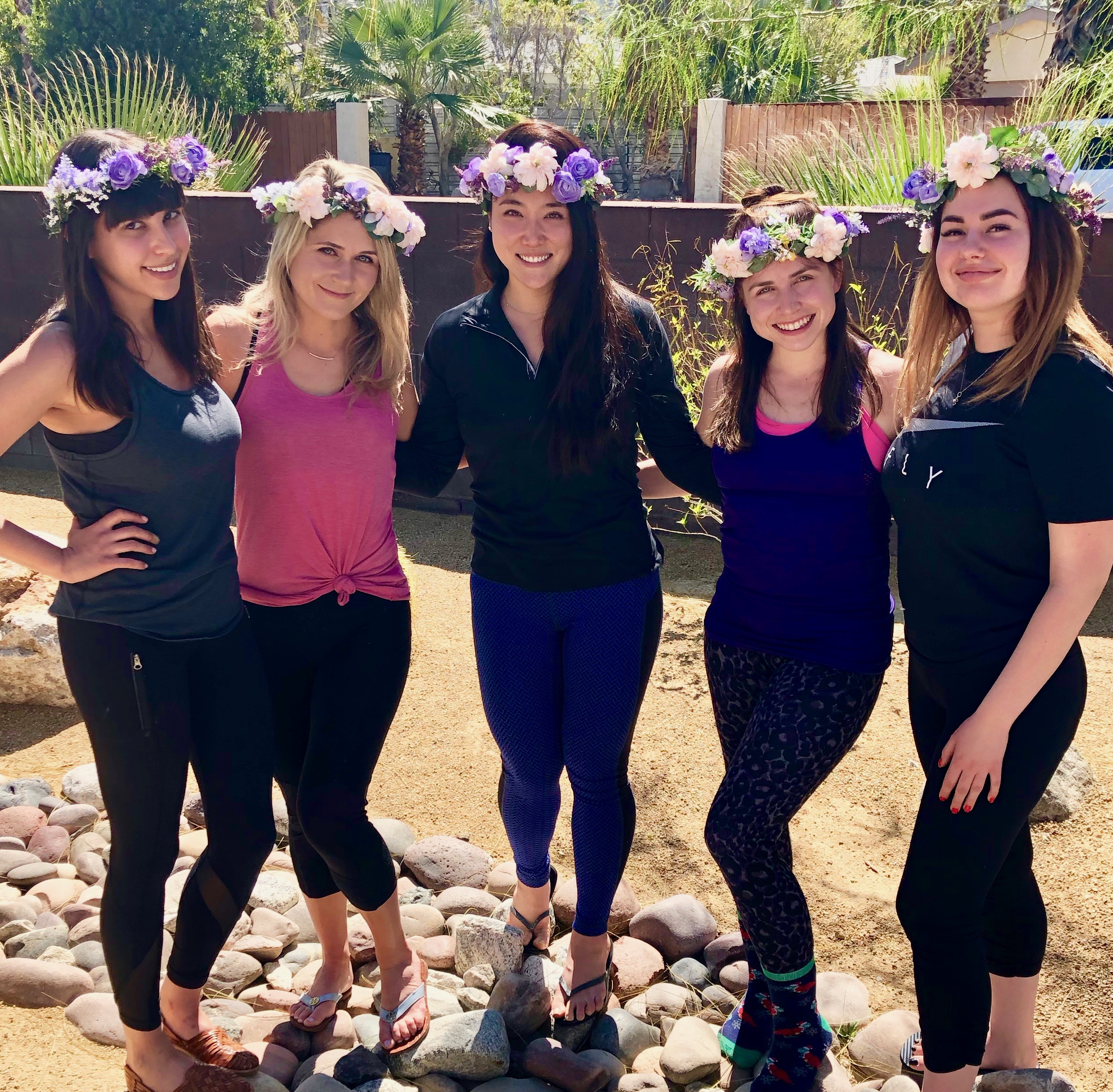 The bachelorette party decided to do their flower crown workshop with silk flowers at noon on the patio near their pool.
The bride loves the colors mauve so we chose silk flowers that played off her potential color scheme that she told us about when booking her workshop.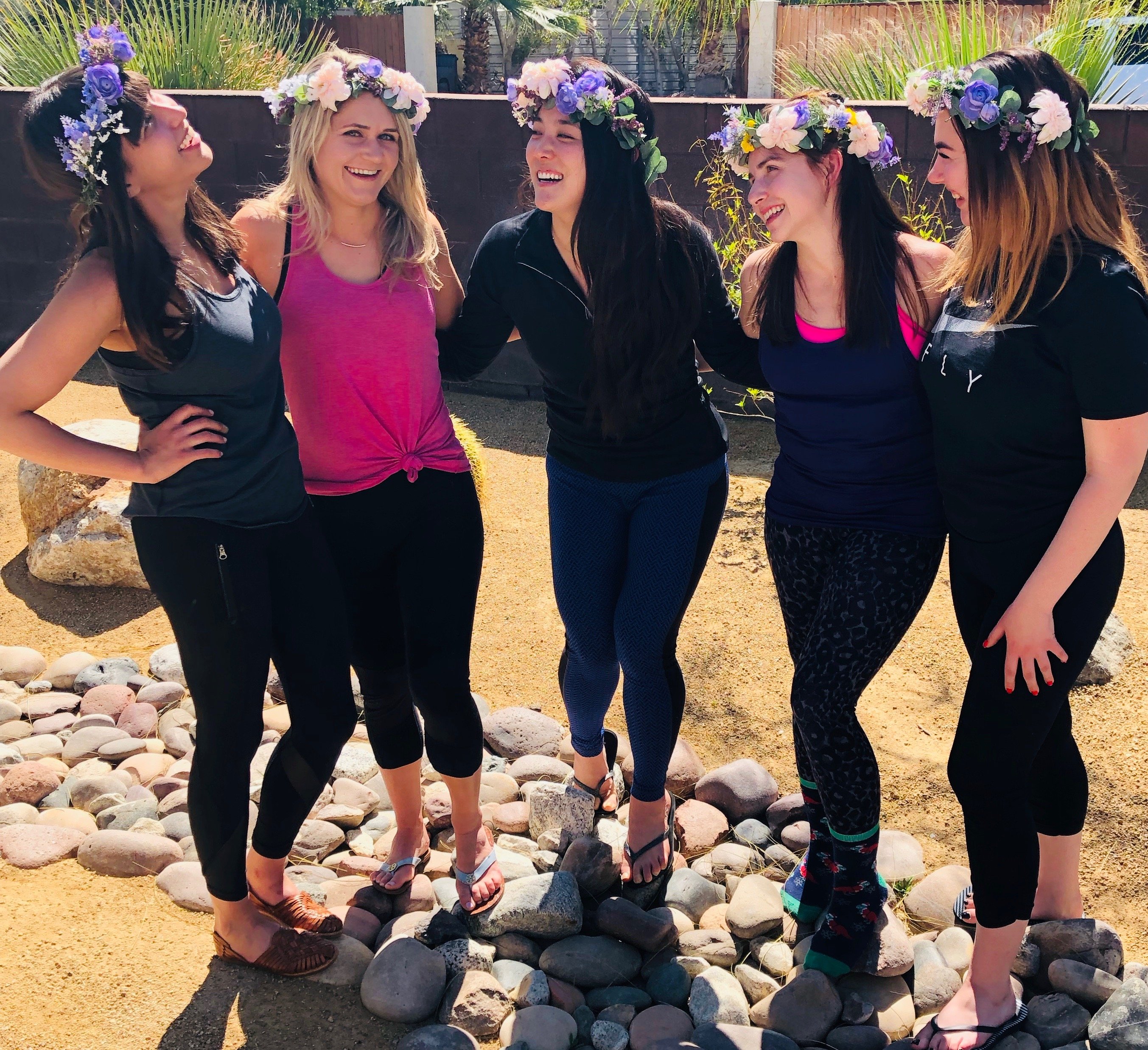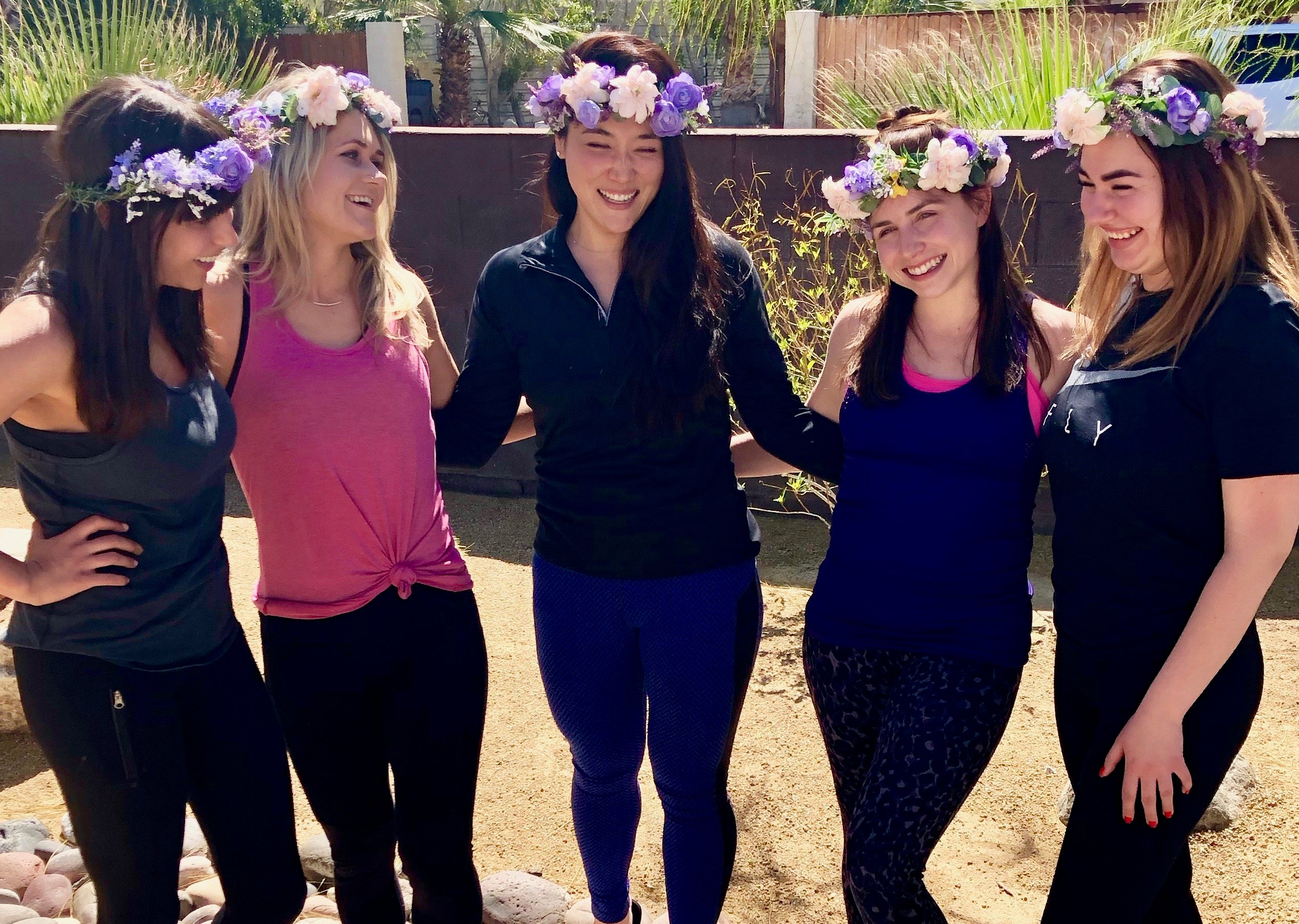 Don't forget to pop the champagne while making flower crowns! The ladies cheered for the bride to be and had smiles about how they all met the bride. We are so excited to start doing more flower workshops in Palm Springs with you all. So if you are heading to Palm Springs for a bachelorette party and want to incorporate a flower crown workshop or floral arranging into your weekend plans you can fill out the form here on our website. We will then be in touch with how our flower workshops work so you can decide if you want to use us as a bachelorette party activity on your weekend in Palm Springs.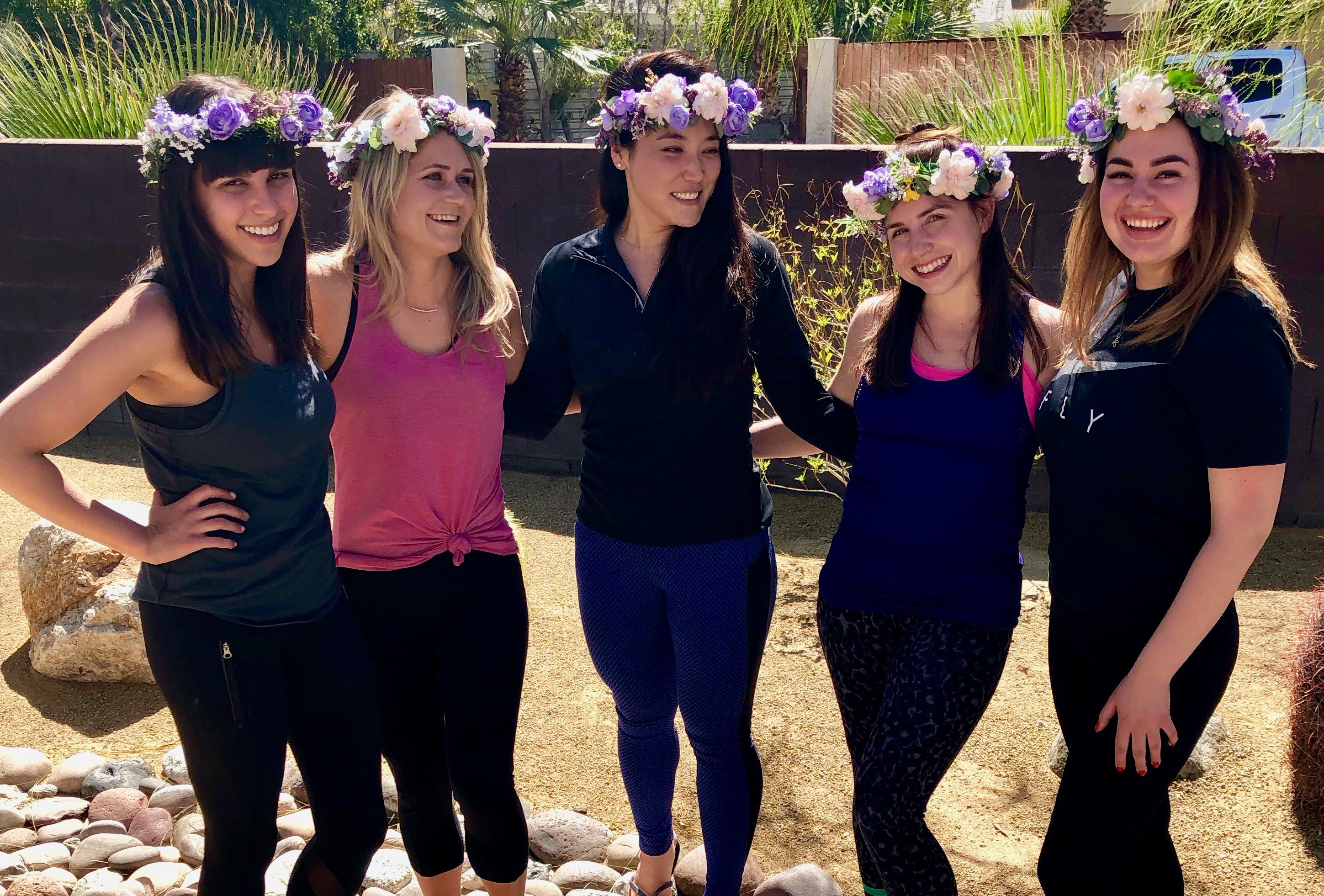 You can check out all of our posts about Palm Springs on our Palm Springs Bachelorette Party Guide here if you are curious about things to do in Palm Springs or what our flower crown workshops are like.