I spent the spring semester of my Junior year of college studying at the Lorenzo de Medici Art Institute in Florence, Italy. I was twenty-one years old and pretending to love cheap red wine. I was so sophisticated, I could barter for leather handbags and say "Go Fuck Yourself" in Italian. What was I going to do when I had to go home for the summer? Little did I know my Mom was thinking the exact same thing. In March she started subtly suggesting my sister and I spend the summer on Martha's Vineyard . She would pay for our rental up front, we would get two other roommates, and could pay her back at the end of the season. She planted the idea in my sister's head too, and we started considering it.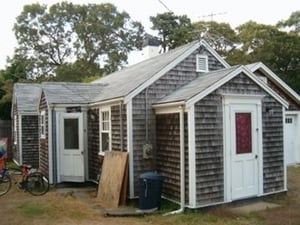 We were no strangers to the Vineyard. We spent much of our childhood summers on the nude beaches up island and were familiar with the dirt roads, general stores, and libraries of West Tisbury, Chilmark, and Gay Head.
Time spent down island in Vineyard Haven, Oak Bluffs and Edgartown was reserved for rainy days when we couldn't be body surfing. So, when Annie and I packed our 1998 Volkswagen Cabrio and moved to a cottage (see shack) in Vineyard Haven we were a little out of our element.
I spent five out of the next six summers and one, slightly ill-advised, winter on island.
My time on island by no means implies that I am an expert on all things Vineyard related- but I have hosted two bachelorette parties and extended my own wedding reception three extra days on island. So if you are looking to host a bachelorette or girls weekend on Martha's Vineyard here are some tips and suggestions. (Conversely- if you are looking to plan a family friendly vacation on island I can probably help you too!)
Plan Early! Ferries get booked months in advance and accomodations sometimes a year before the trip. A good rule of thumb is that it is never too early to start planning.
Getting to the Vineyard can be done by accessing the Steamship Authority out of Woods Hole on Cape Cod- with advance planning you reserve a space for your car on the Steamship Authority website.

Passenger only ferries leave from Falmouth and Hyannis on Cape Cod. You can also catch a passenger only ferry from New Bedford, New York City or Quonset Point Rhode Island. These ferries run summer only.
Jetblue and Cape Air both fly to Martha's Vineyard Airport.
Depending on when you plan your visit accomodations can get pricey and hard to come by. Hotels like the Mansion House in Vineyard Haven and the Harbor View in Edgartown are on the higher end of the price spectrum- but both are beautiful and centrally located. If you choose one of these two rest assured you will not be disappointed.
Your other options are renting homes- this is what I would recommend you do with a larger group. It can take some searching- especially if you are looking to rent "in-season"- owners may only let you rent for an entire week. Try searching VRBO, homeaway and Airbnb, communicating with owners is key! Let them know what you are looking for and when. I have found charming larger homes that comfortably slept ten without problem- in fact many rentals are geared towards larger groups. I try not to be too concerned about where the rental is located ( but remember the island is bigger than you think) because transportation on island can be easy if you navigate it correctly.
When you arrive on Island you will have your pick of cabs at the ferry or airport. Ubers are available too- but I have found the best way to get around island is to try to use the same cab driver the entire time. Let your driver know what your plans - even tentative- may be and ask if you can call them throughout the weekend. Vineyard cab drivers make excellent tour guides too! Ask them about their favorite places to visit, trails to hike and bars to frequent- they live there after all!
There is also an excellent bus system on island especially during peak season. Check out the Martha's Vineyard Transit website.
Stay tuned for my favorite things to do on-island. Celebrate your bachelorette with trips to the beach- hikes in the woods- live music- truly excellent food and a bar for every mood you are in- and don't forget flowers!