Real Flower Earrings is the Hot Bridal Accessories Trend
---
Creating with flowers is when I feel my best. Flowers are beautiful on their own.
When you can combine the love of jewelry and flowers together- we get some beautiful flower masterpieces and works of art that we can wear!
Wearing flowers as jewelry is the super chic wedding look of the year.
LOOKING FOR UNIQUE BRIDESMAID GIFTS? GET YOUR FLOWER PARTY ON WITH BRIDESMAID EARRINGS
---
Getting married?
Trying to figure out what you want your bride tribe to wear on the day of the wedding?
Want a cute bridesmaid gift or way to ask your bride tribe to join you as being your bridesmaids?
Need a unique "will you be my bridesmaid present" or "will you be my maid of honor gift"?
FLOWER EARRINGS ETSY: WELCOME TO YOUR FLORAL THEME BRIDESMAID GIFT & BRIDESMAID EARRINGS SHOP
---
So we all know that we love flower anything here at Fetes de Fleurs. We are based out of Charleston, Sc where it is always nice out (for the most part) and when you walk around town you see the most beautiful flowers EVERYWHERE. It is hard not to be taken aback by the flowers and hard not to be inspired by the beautiful blooms all around you.
We love creating with flowers. Fetes de Fleurs was created from my love for flowers. But, more than just my love of beautiful flowers it is really about being creative with flowers and having fun with flowers. Fetes de Fleurs means "flower parties." We want you to live your best, flowery life by wearing flower jewelry. That is why we launched our flower earrings line and we hope you will love them just as much as I do and my friends!
Here is a link to the purple flower earrings on our Etsy shop.
FLOWER EARRINGS ETSY: WELCOME TO YOUR FLORAL THEME BRIDESMAID GIFT & BRIDESMAID EARRINGS SHOP
THE CHIC ALTERNATIVE TO THE LADIES WEEKEND SHIRTS: FLOWER EARRINGS
---
BLACK FLOWER EARRINGS FOR YOUR HOLIDAY LOOKS
---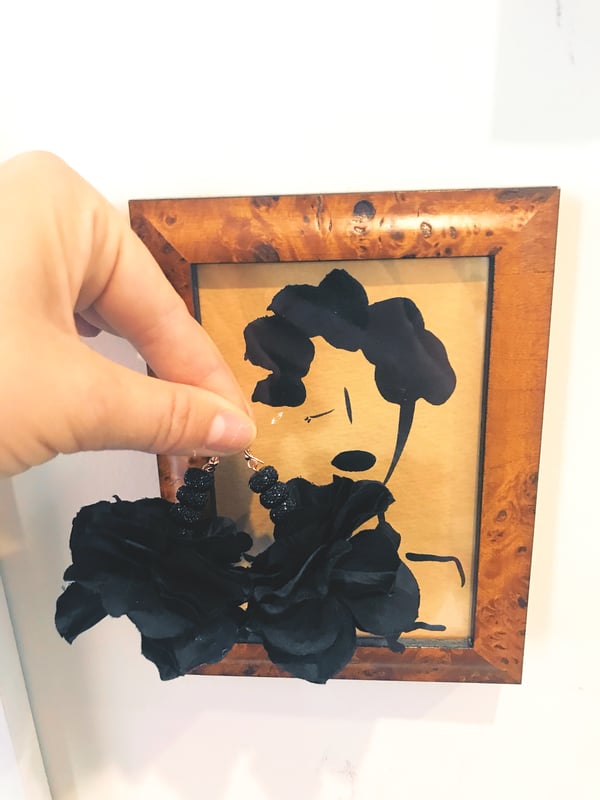 The holidays will be here in no time. That is why we thought we would get to work on our holiday flower earrings collection. Right now we have 2 flower earrings up but we plan on putting more up on the Flower Crown Bar ecommerce site as soon as we come up with our best work!
IRIDESCENT PURPLE FLOWER EARRINGS: LEATHER FALL FLORALS FOR ALL THE FALL OUTFITS
---
We hope that you love these as much as we do. We are really working hard on adding in as many fall colors to our fall flower earrings collection as we can. I love the idea of fur beads with these, or velvet beads and even tortoise shell beads. I am heading out on a work trip this week - going to San Francisco and LA (fun right)...so when I get home I plan on ordering a lot of fun fall beads to help make these fall flower earrings the best they can be!